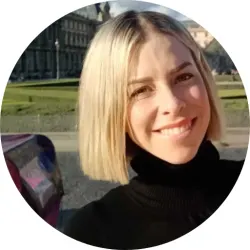 Latest posts by Jodie Chiffey
(see all)
Finding the best antivirus software is important so that your computer or mobile device is kept secure.
This is why I am going to show you how to find the best antivirus software so that you have a high level of protection against threats such as viruses and malware.
We're going to go over the main signs that you may experience if you have a virus on your device, what features you should look out for with an antivirus program, and also what the best antivirus software is to use.
What is a computer virus?
A computer virus is a malicious piece of software or code that is installed onto your device without your knowledge.
It works by infecting one computer and then spreading to other computers to cause more damage. This could be via a local network such as a LAN, or it could be over the internet via email attachments or unsecured websites.
The first-ever computer virus emerged back in the early 1970s, and since then, they have become a real problem for everyday computer users. In fact, there are nearly 1 billion viruses circulating around the internet at the minute, and 350,000 new pieces of malware are discovered on a daily basis.
There are different types of computer viruses, and they are designed to do different things. Sometimes a virus and malware get used interchangeably. Malware is malicious software and is a type of virus that can spread via email, spam links, and other methods. Some more types of computer virus include:
These are just a few examples of different types of computer viruses, and they range from aiming to commit fraud by stealing your details to simply being designed to cause havoc on your computer.
It isn't just Windows computers that are susceptible either.
Both Mac computers, as well as devices that run on Linux, can be exposed to a computer virus.
iOS and Android mobile devices can also get viruses. Here's how to encrypt them.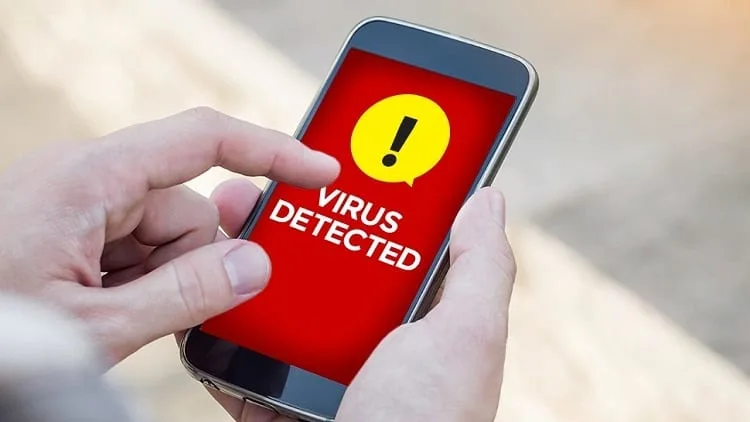 What is antivirus software?
The good news is that even as scary as computer viruses sound, and there are things that you can do to prevent your device from being infected.
Antivirus software is designed to protect you against being infected by a virus. The software itself will have a scan function so you can scan your files and folders to ensure no malicious code of the software is present.
If it is present, the program will delete it, and most antivirus software also comes with preventative measures to help stop your computer from being infected in the first place.
There are differences between antivirus software and wider internet security programs but there is often a crossover in terms of features.
Signs that you have a virus on your computer
Some computer viruses are very easy to spot – ransomware, for example – because they are designed to be intrusive and obvious.
However, not every type of computer virus is immediately noticed, and they often work in the background of your computer. There are some signs that you can look out for to see if you have a computer virus before you run an antivirus scan.
Your computer has slowed down
Most viruses are created to cause damage, and this can result in using a lot of processing power or even eating into your hard drive space.
If you have found that your computer takes a lot longer to load up, has much less storage space, or that programs aren't opening as quickly as they used to, your device could be infected.
Your homepage has changed
If you open up your browser and instead of your usual homepage, a new site has popped up, and you can't remember changing it, then you might have a virus.
This is one of the most common signs that your computer has been infected, and you might also be unable to change it unless you get rid of the virus itself.
Intrusive pop-ups
One way a virus can crash your computer or just cause a lot of annoyance is to have frequent pop-ups appearing on your desktop.
We're all used to pop-ups on a website, but if you find ads or malicious windows appearing on your desktop, then this is usually a sign that you need to scan your system for malicious software.
Sending out spam emails
Maybe your friends have contacted you to say that they received a spam email from your account, or you've gone into your sent folder and discovered a load of emails you don't remember sending.
This could also be a sign that you have a computer virus, and you need to take action to get rid of the infection.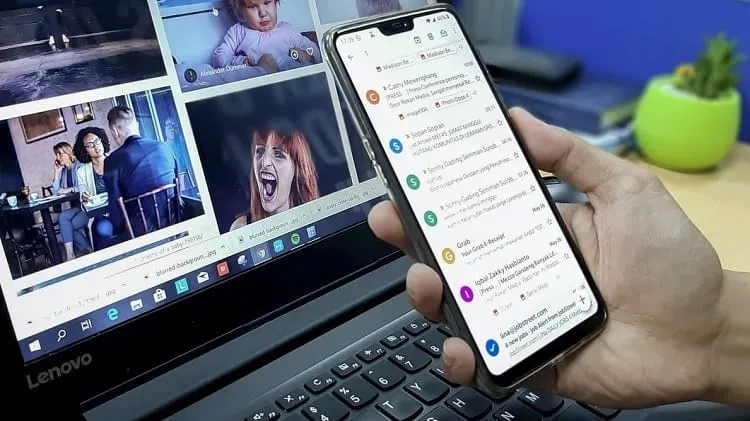 What is important with antivirus software?
Antivirus software varies greatly in terms of the features it offers and how good it is at detecting threats.
You may only need an antivirus scanner to find out if your computer is infected, however, it is worthwhile exploring some of the additional security features this type of software can offer.
Scanning your system
First and foremost, you need your antivirus to be able to scan your files and folders for potential threats.
This is its primary job.
Some antivirus programs do this better than others, and some have deeper scan functions that can get right into all the hidden files on your device. The deeper the scan, the longer it will take, but you will have more of a chance of uncovering viruses and other threats on your system.
Every antivirus program will let you scan your computer or device, and detection rates can vary.
Automatic updates
New virus threats are emerging every day. In fact, they can emerge by the hour, and millions are discovered every year.
This is why you need your antivirus to update automatically in the background. It gets information about new viruses and makes sure that your system is protected from them. If your antivirus software requires you to search for updates manually, then this can leave your computer very exposed.
You might forget to do this or only do it every so often, and by the time you get around to it, new threats will likely be floating around the internet and ready to infect your device.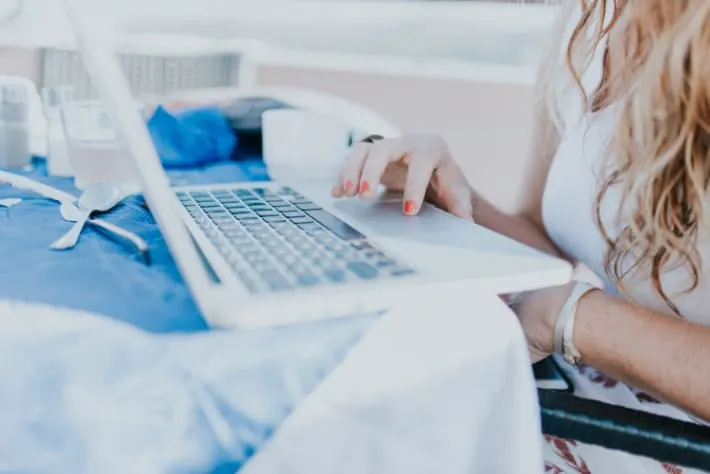 Easy to use
Let's face it, even though ensuring your computer is free from viruses is important, it isn't the most exciting job out there for most people.
Many see it as a distraction from what they are doing. This is why your antivirus software needs to be easy to use. You won't want to spend a long time trying to navigate a difficult and confusing UI when you could choose an antivirus that has a very clear layout so you can make sure you are protected and up to date.
Luckily most antivirus software is quite easy to use as it is designed for mass use among casual and expert internet users alike.
Simultaneous devices
It used to be the case that you would buy an antivirus product and just install it on your desktop PC or a laptop.
This is because it was the only way you could access the internet, and even when mobile phones began to get internet access, they weren't really used for this function. Nowadays, we use so many different devices that are constantly connected online.
From your laptop or desktop to your Smartphone and/ or tablet. The market has changed rapidly, and now we need to have several devices protected at the one time. Depending on what subscription you take out, most antivirus software will allow you to use it on various devices at once.
This is important because if you only have a license to install it on your laptop, for example, you will be leaving your Smartphone exposed, which is a real danger, especially if you do things such as online banking and emails. To find out more on how you can improve your email security, check out this link.
Support options
Most antivirus programs are easy to set up .and scan your system however if you do encounter any problems then you will want to get help.
Some antivirus companies offer better support than others. If they just offer email support, then you could be waiting days for a reply, whereas with live chat, you can get a response right away.
Also, look out to see if they have a knowledge base that often has many articles, FAQs, and even videos to help you.
Complete security online
While just having the ability to scan your system and remove threats is great, you may want to have a more comprehensive internet security solution.
Many antivirus programs now have extra functions and features to help you stay safe online.
This can include a VPN to provide further encryption, browser shield which will warn you if you click on an unsafe link or visit an unsecure website, parental controls so you're in charge of what people can access from your network as well as a password manager to ensure your passwords are safe.
These are all things that are important in today's connected world, and alongside protection against viruses, malware, and other malicious programs, they will help to keep you safe on the internet.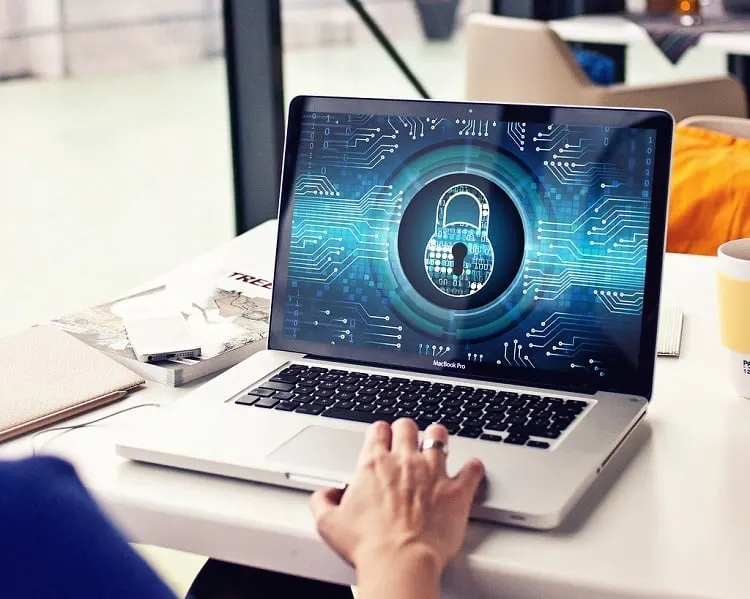 Best antivirus brands
If you search for antivirus software, you'll find a vast amount of different brand names and programs.
I've chosen some of the best antivirus brands that have consistently put out really good software to help protect people against computer viruses.
Norton
Norton Antivirus is one of the most recognizable names as they have been around for so long and have been marketing towards a mass audience for decades.
The set of antivirus programs are developed by US company Symantec, and their first antivirus software came out in 1991.
Avast
This Czech based company has been creating antivirus software for a long time as well, and they produced the first antivirus that was compatible with Windows 95.
Nowadays, these have a variety of different software available, but their main focus is still a computer and internet security.
Trend Micro
Perhaps not as well known as the likes of Norton and Avast, Trend Micro is based in Japan, but they have emerged as a real worldwide trusted antivirus software developer.
They provide a variety of security programs and tools that are aimed at home internet users.
Webroot
Another company that you might not be too familiar with but who is rising in the antivirus market. They are based in the United States.
They weren't founded until 1997, which is a relative newcomer compared to some of the other brands that I've mentioned here, but their antivirus and computer protection software is highly regarded.
Bitdefender
This Romanian company wasn't founded until 2001, but they produce a solid suite of security and antivirus products.
In fact, Bitdefender has been installed in over 500 million devices across the world.
Best antivirus software to protect your computer
What is the best antivirus software you can get to enhance your safety?
I have come up with the top 5.
#1 Norton 360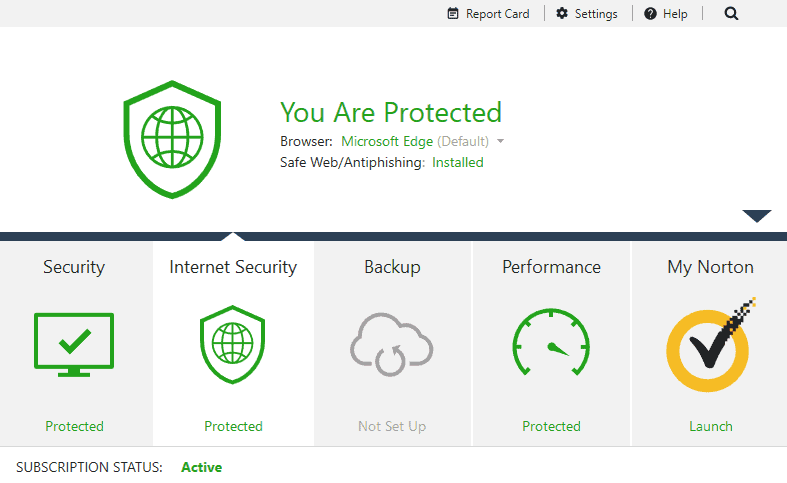 Norton 360 provides a really comprehensive suite of antivirus and online security functions, and this is why I have chosen it as number one.
Aside from the fact that you can easily scan your system and keep it protected in real-time, you also get a lot of other features too.
This includes a firewall to add further security to your system and a secure VPN for added encryption and safer use of things such as public WiFi networks. A password manager is available if you need to create strong passwords and also store your current ones to keep them safe from theft.
Norton 360 can be used on up to 10 different devices as well, which is fantastic if you have a range of laptops of mobile devices in your household. It is compatible with Windows, Mac, Android, and iOS too.
The parental controls let you limit what people on your network can view online and is a handy content restrictor while you'll also benefit from the 75GB of cloud storage if you take out the right subscription. Finally, they have an in-depth support section and knowledge base with articles and FAQs, or you can contact them via social media, phone, or live chat feature.
Symantec is one of the biggest names in the antivirus market, and the Norton range of products is well known for providing a comprehensive set of features to keep you safer online.
Check out how Norton 360 Compares to Other Antivirus options:
#2 Bitdefender Total Security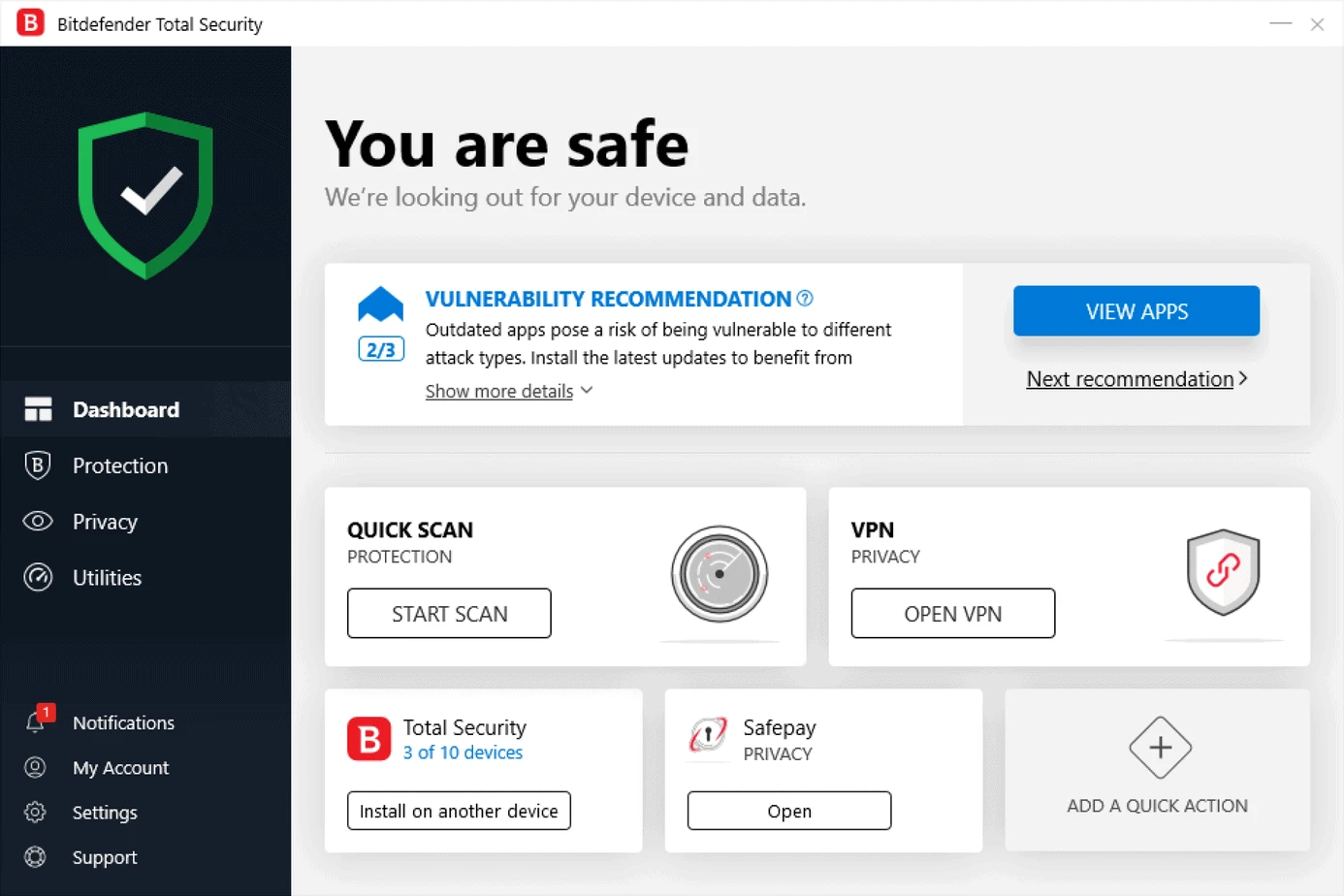 Next up is Bitdefender Total Security, and this is another well-rounded security package that can be used across a variety of devices.
Aside from the basic antivirus scan, which will detect threats and remove them from your system, there are a variety of other features too. This includes a VPN with up to 200 MB of daily encrypted traffic to keep your data secure.
You can use Bitdefender Total Security on up to 10 devices as well, and they have compatibility with Windows, Mac, iOS, and Android devices.
With their real-time security, firewall, and automatic updates, new threats are recorded as they emerge, and it works well to ensure your system is actively secured against viruses and malware.
They offer a password manager, file encryption, and a dedicated browser for online banking as well.
BitDefender has several support options available such as a knowledge base with articles and videos, live chat, phone support, or you can post to their online forum.
Check out how Bitdefender Compares to Other Antivirus options:
#3 Webroot Internet Security Plus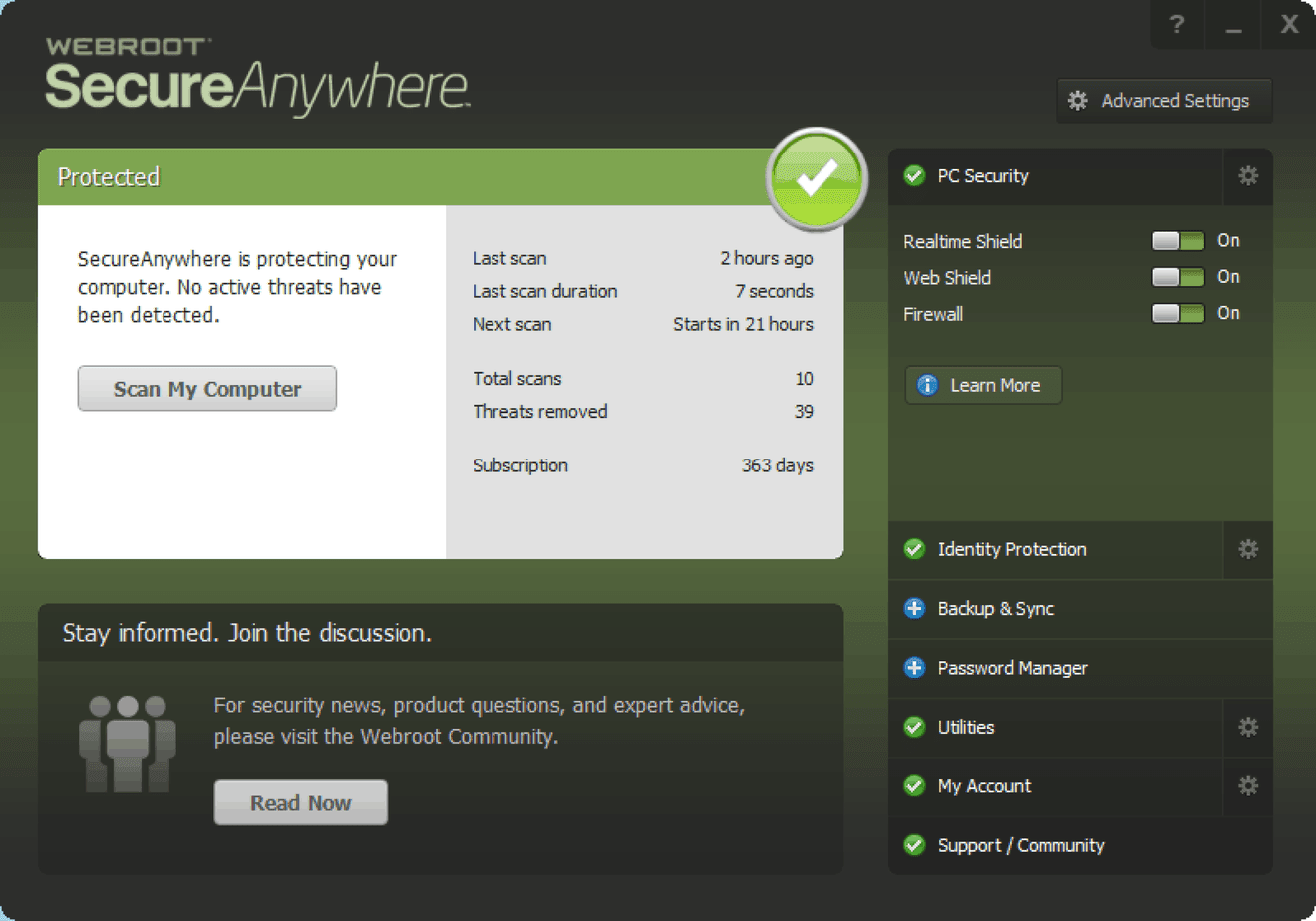 Webroot Internet Security Plus also has a range of great features that will help to keep your device secured against potential threats.
You can use their antivirus and internet security package on up to 5 different devices, and it is compatible with Windows, Mac, Android, and iOS.
They have a secure browsing feature which alerts you if you are potentially visiting an unsafe site or opening a suspect email. Their password manager will encrypt all your passwords so they can't be stolen, and there is even a webcam protection feature so that it can't be turned out by malicious programs.
Webroot's scan speeds are lightning quick as well, so you won't need to wait around for it to dive deep into your system, and overall they offer a very good internet security package.
Check out how Webroot Compares to Other Antivirus options:
#4 Avast Premium Security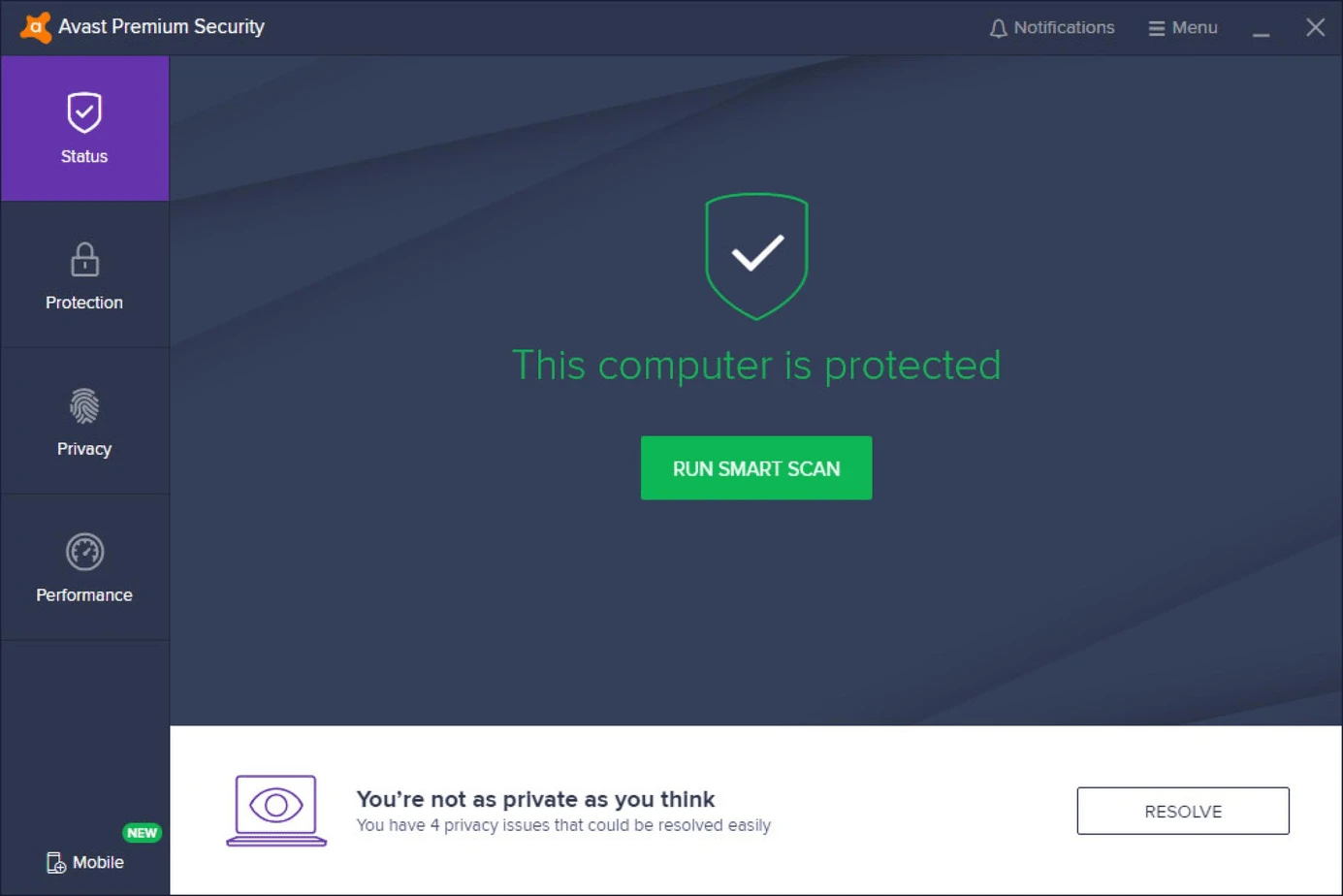 Avast Premium Security allows you to use their product on up to 10 different devices across Windows, Mac, iOS, and Android while they offer a pretty straightforward and easy to use program.
While they offer a free version of their antivirus software, the premium model provides much more protection. The free software really just lets you scan your system while the premium version offers a firewall, webcam protection, and browser security.
For support, they offer a knowledge base, or you can use their online forum to ask questions. You can also get in touch with Avast via phone.
Check out how Avast Compares to Other Antivirus options::
#5 Trend Micro Maximum Security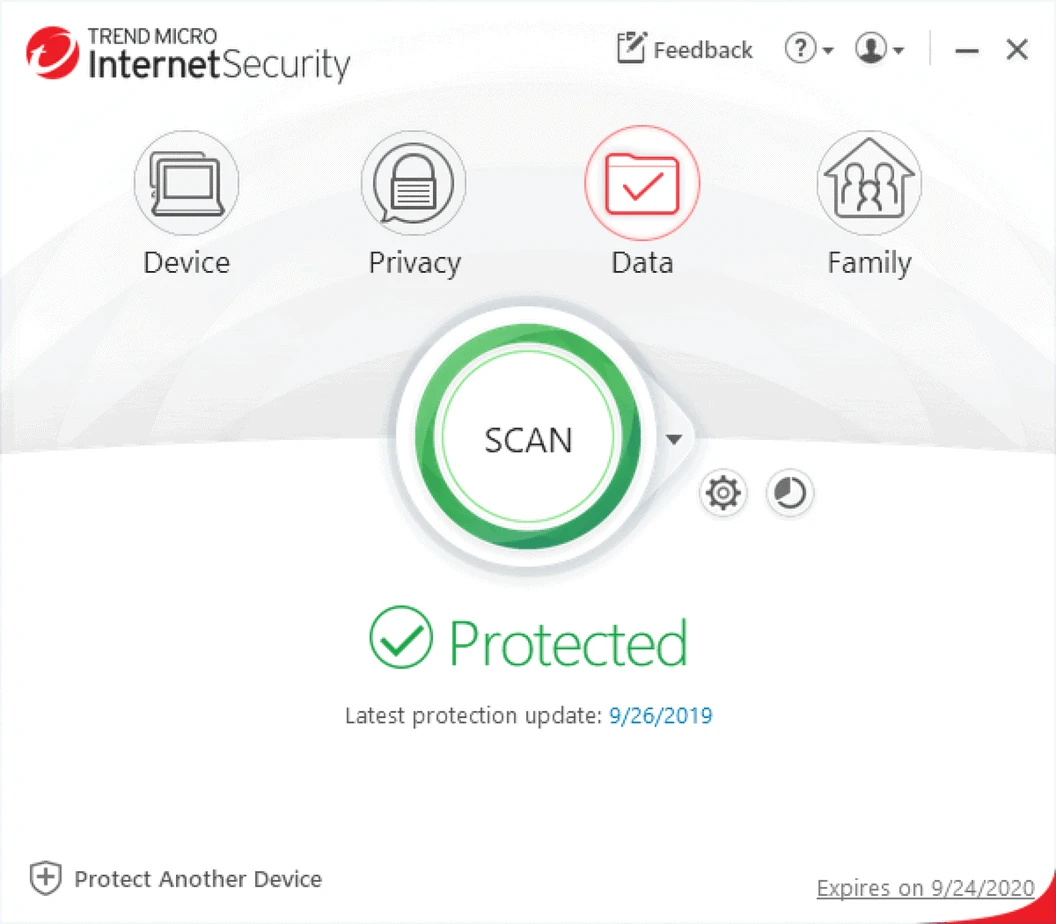 Trend Micro Maximum Security comes with the basic functionality you need for a good antivirus program.
This includes scanning your system for threats such as ransomware, Spybots, viruses, and malware in addition to additional features like parental controls.
It also has a password manager to help keep your passwords secure, and it can be used on mobile devices as well. Trend Micro Maximum Security is compatible with Windows, Mac, Android, and iOS.
They have premium support with this subscription, and there is a fairly good knowledge base with how-to videos, although their support system isn't as good as some others on this list.
You can also use Trend Micro on up to 10 devices as well.
Check out how Trend Micro Compares to Other Antivirus options:
Frequently Asked Questions
Do I just need an antivirus scanner?
While you should scan your computer for viruses regularly – most software can set an automatic time to do this – you should also take preventative measures. This can include choosing antivirus software that has a firewall, enhanced browser security, and other features to stop your computer from getting infected in the first place.
I have a Mac, surely I don't need antivirus software?
Macs are just as susceptible to being infected as a Windows computer or one that uses another operating system. They might not be as frequently targeted as Windows computers, but you still need antivirus protection.
Do I need antivirus on my mobile devices?
Yes, it is a good idea to ensure that all the devices you use to access the internet are protected. Most antiviruses allow you to use their products on multiple devices, depending on what subscription you have.
What are the main signs of having a computer virus?
Look out for things such as your computer running slow, crashing regularly, pop-ups appearing, and your browser's homepage being changed unexpectedly. These are just a few signs, and you should run antivirus scans regularly to check.
Conclusion
Computer viruses have been around pretty much as long as computers have so they aren't anything new.
The problem is that they evolve and become more sophisticated, so you need to be aware of potential threats. New viruses are emerging every day, and each one can cause havoc with your system and your data.
A computer virus has the potential to not only cause damage to your computer or mobile device, but it can result in losing personal information and even financial loss as well. This is why you need to have the proper protection in place. While there is some free antivirus software out there and some of the programs I have recommended here come with a free option, the paid software offers a complete security solution.
This is why I believe Norton 360 is an antivirus software to keep your system and your data protected.
It not only provides scanning and real-time protection for your system, but it also has a variety of advanced features like a VPN, password manager, parental controls, safe webcam, and ability to install the software on up to 10 devices.
There are new threats on the internet every single day, and it is vital that you have the right protection in place to keep your data secure and device safe.
Alternative Antivirus Options
Here's a list of further great Antivirus alternatives you can consider for protecting yourself and our in-depth review of each:
Antivirus Comparisons 
Guides