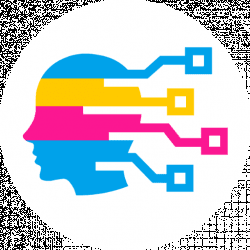 Latest posts by Digital Guyde Team
(see all)
Identity theft protection is key to keeping yourself and your identity safe. As with most crimes, the more quickly you can catch the thief, the better off you'll be. Identity theft protection can alert you immediately when something happens.
It also provides credit monitoring from all three bureaus instead of just one. This provides you with a more comprehensive view of what's going on with your identity and your credit score in case one bureau picks up on suspicious activity before the other one.
Identity theft protection provides assistance in the case of an identity theft event and can also provide protection for your family members. If someone were to steal your identity, some identity theft protection services will help you recover what was lost and rebuild your life.
It's obvious that a service like this is worth the cost, but there are a lot of different options out there, so we'll take a look at two of them to see what they offer and which one might work best for you.
Identity Force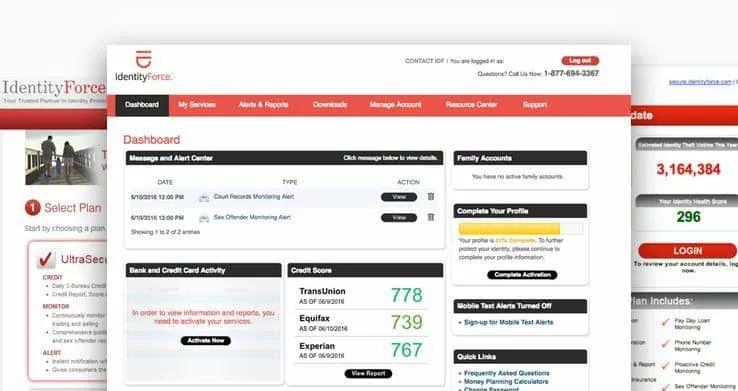 Identity Force is a competitive option when it comes to identity theft protection. As far as features and pricing go, they have what it takes to offer a comprehensive package and service. They've been in business for over thirty years, so they know what customers need.
Features and Pricing
You can get two different plans with Identity Force. The UltraSecure plan costs just under $20 per month and the UltraSecure+Credit costs just over. They're a little bit more expensive than some of the competition.
With the UltraSecure plan, Identity Force monitors the black market to see if your personal information is circulating in a buy, sell, or trade capacity. It will alert you of any activity and tell you when someone is making a fraudulent purchase with your bank or credit card. You can set these alerts to notify you when there is a withdrawal, transfer, or charge.
When there has been an identity theft, Identity Force's experts will help you restore your identity by helping with paperwork to both cancel your current cards and replace them with new ones. It comes with $1 million worth of insurance to repair the damages that arise from identity theft.
The UltraSecure+Credit plan is identical to the UltraSecure, but it also includes includes credit reports and monitoring from all three bureaus. The reports alone would cost around $12 per month, so it pays for itself right away. Identity Force tracks your credit score monthly, monitors your credit daily, and provides a credit score simulator.
Identity Force has also mentioned the possibility of a kids plan, but no family plans are available at this time. Other members of your family can register for their own accounts and then turn over management of their accounts to you.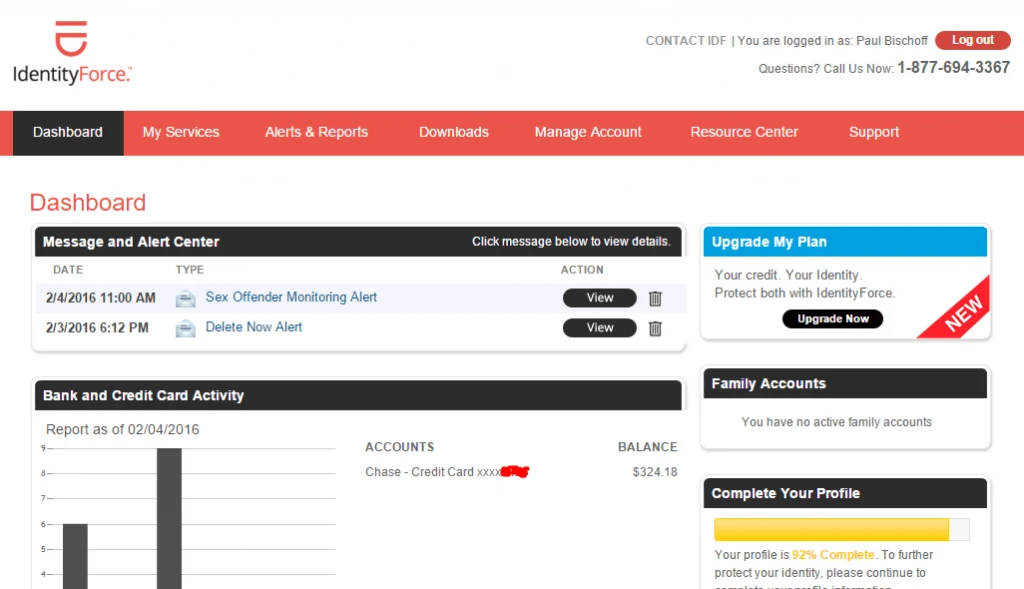 It's not as easy as some other identity theft protection services make it, and you have to pay the full subscription price for each since there are no bundle options available.
Identity Force's strength lies in its ability to monitor a lot of information at once. It is constantly tracking your medical benefits, driver's license, court and sex offender records, payday loans, and more, all in one package. They will also monitor the post office records for address changes pertaining to any of your addresses on file in case someone is trying to receive your mail.
SentryBay makes Theft Protection Software, much like they make antivirus software, and it comes free with each account. It monitors your computer for keylogging viruses that can be an indicator of hacker and phishing scams. It's meant to supplement your existing antivirus software, not replace it, so you should still keep what you already have.
If you attach both your credit cards and your bank cards to Identity Force's service, they'll monitor any online accounts that may be associated with the cards. It puts all of your notifications in one place, so you don't have to watch several different sites.
The only problem you may run into is if you bank with a smaller institution. Some small banks and credit unions aren't recognized, and they can't be linked. You can still record the routing and account numbers so they can be monitored, but you won't get alerts.
Alerts and Reports
Identity Force automatically sends alerts through email, and SMS alerts are optional. Your Identify Force online account also archives your alerts so you can view them all in one place if you prefer.
On your online account, you get access to your overall risk level based on several different factors. Because there isn't an industry standard practice for identifying risk levels, there usually isn't much to worry about unless your risk level is high.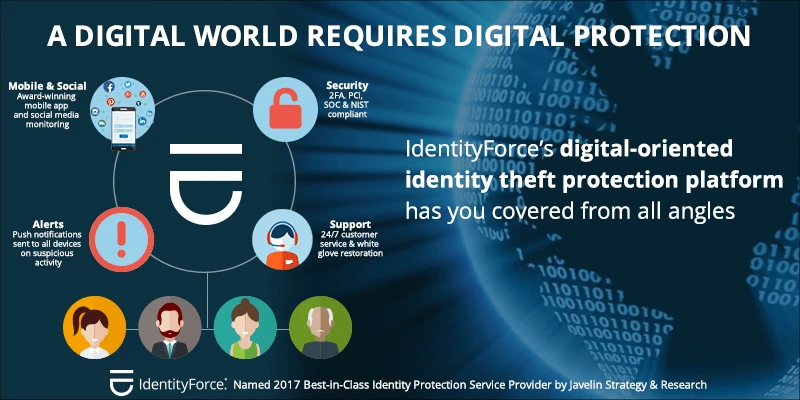 You also have access to a list of recent data breaches, indicating whether your information is at risk or not. Linking your online accounts gives you a dashboard to keep track of your spending every month.
The most useful report you'll receive as an Identity Force member is the Delete Now Report. It shows you where your information is displayed online. From the list of sites, you can see what information is there and what information the site is selling.
Identity Force provides a Delete button as well as an Opt Out button, so you choose right then and there whether you want that site to continue to have access to your information or not. The Delete button sends a request to the site administrator asking them to remove your record with the Opt Out button asks you to verify who you are by uploading your state ID photo. Identity Force them opts out on your behalf.
Setup and Interface
Identity Force is very clean and intuitive. The dashboard gives you an overview of your account with alerts and recent activity. You can view a checklist of information being monitored actively and see messages Identity Force has sent to you.
The setup is easy. It requires a lot of personal information up front, but that's for your benefit later. With a little time investment, you'll be ready to go, and it won't require a lot of work later. The service is web-based, so there's no mobile app, which proves to be a downside for some.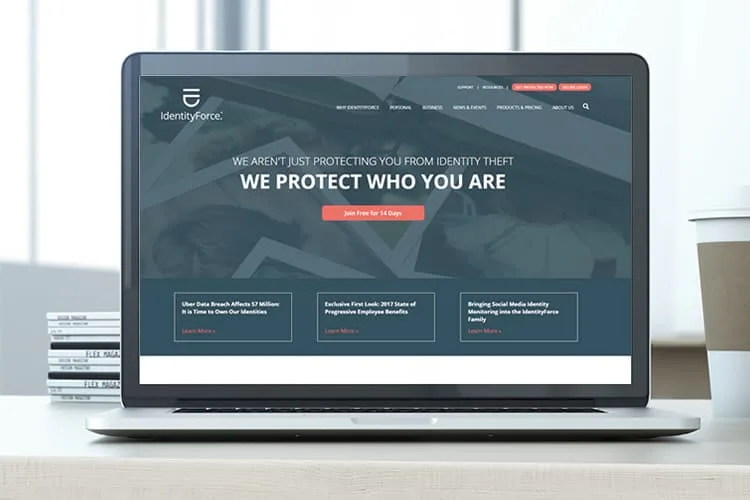 Customer Service
You can call or email Identity Force for support. Identity restoration experts are available to members all day every day. FAQs are available on the website, and they provide calculators for credit card, loan, auto loan and leasing, and mortgage consolidation comparisons.
If you subscribe to the UltraSecure plan, your account will display a prompt to upgrade, which can be annoying, but it's otherwise free of spam and advertisements. The alerts are professional and useful rather than inappropriate or fear-mongering, which is the way some other services operate.
Why Use Identity Force
While Identity Force is more pricey than others, they provide comprehensive protection in areas where others don't. The interface is well-designed and easy to use, though not on mobile. The reports like Delete Now as well as the expanded monitoring options are definitely worth the cost.
Identity Force Pros:
Offers the most comprehensive monitoring and reporting of many services
Great user interface and design
Easy to take action with Delete Now reports
Identity Force Cons:
More expensive than other similar services
Identity Guard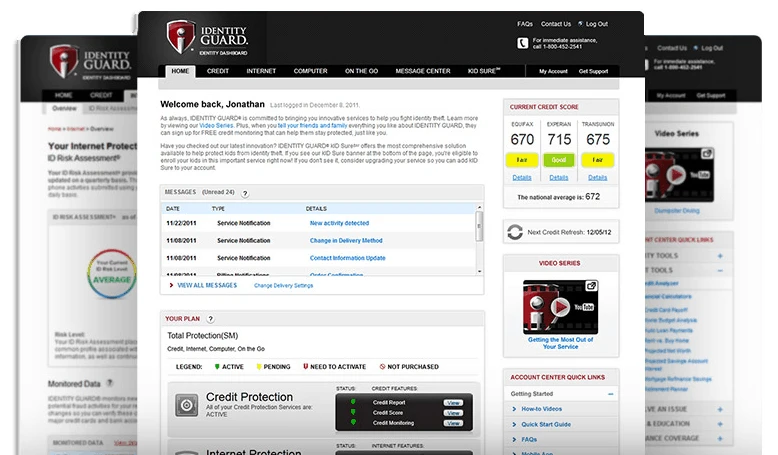 Identity Guard's parent company has been around since 2001. They initially offered credit monitoring services, but have since expanded to offer more products like identity theft protection and antivirus software.
Identity Guard launched in 2013, so they're much newer than Identity Force's parent company, but it's been very well-reviewed by several sources on the market and is a viable solution for anyone looking at identity theft protection services.
Features and Pricing
The Identity Guard plans start at just under $10 per month. The Essentials plan is the most basic and offers monitoring, protection, alerts, and victim assistance. They monitor the internet for instances of your personal information like social security number, credit card numbers, and bank account numbers on websites, in databases, and on the online black markets.
While you can do a lot of this monitoring on your own, Identity Guard has the resources to look faster and cheaper than you can, and access to the black market monitoring is definitely worth the price.
Identity Guard's lost wallet protection will cancel your old cards and replace anything lost or stolen like your driver's license, credit cards, and insurance cards so that you don't have to worry about it while you're recovering from a traumatic identity theft incident.
With the Essentials plan, you also have access to the Vault app. The Vault app will store your passwords securely, making them easy to recover with a click. They're not vulnerable to someone finding them in a document on your computer or on a post-it at your desk.
It comes with a free thirty day trial of the service but requires a credit card, so if you decide not to use it, cancel before the thirty-day trial is up to avoid being charged.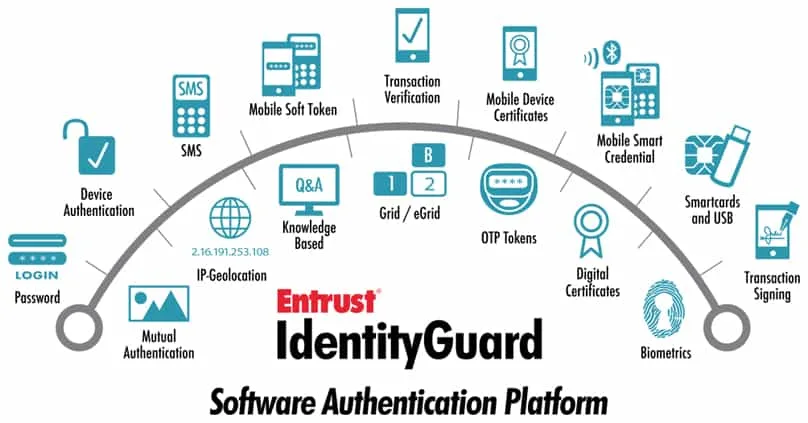 The Total Protection plan costs just under $20 per month, and the Platinum Protection plan costs just under $25 per month. The only difference between these two plans is that the Platinum plan provides monthly credit score updates instead of the quarterly updates from the Total Protection plan.
Because these reports are from all three bureaus and would cost $12 per month each, you're getting a bargain no matter which plan you choose. If you're worried about monitoring your credit reports for suspicious activity, these plans are worth their face value and more.
The Total Protection plan and the Platinum Protection plan will monitor public records and address changes. You have access to a mobile app, keyboard encryption software, and antivirus software.
The Essentials, Total Protection, and Platinum plans all come with $1 million insurance as compensation for an identity theft event.
Alerts and Reports
You will receive alerts from Identity Guard anytime you need to verify an activity. That includes when information is updated like passwords or addresses, or when someone tries to open a new account or a subscription in your name.
While credit card companies and most banks offer free activity alerts, they don't track when people try to open accounts under your name who aren't you. You receive all alerts via email, and they also appear in your account on the message center.
If you subscribe to a premium tier, you'll receive notifications via your mobile app, but you can't set up push or SMS notifications on the Essential plan.
You can register as many as twenty credit cards and several bank accounts using the Essentials plan, but you can't register more than one phone number, email address, or even a driver's license.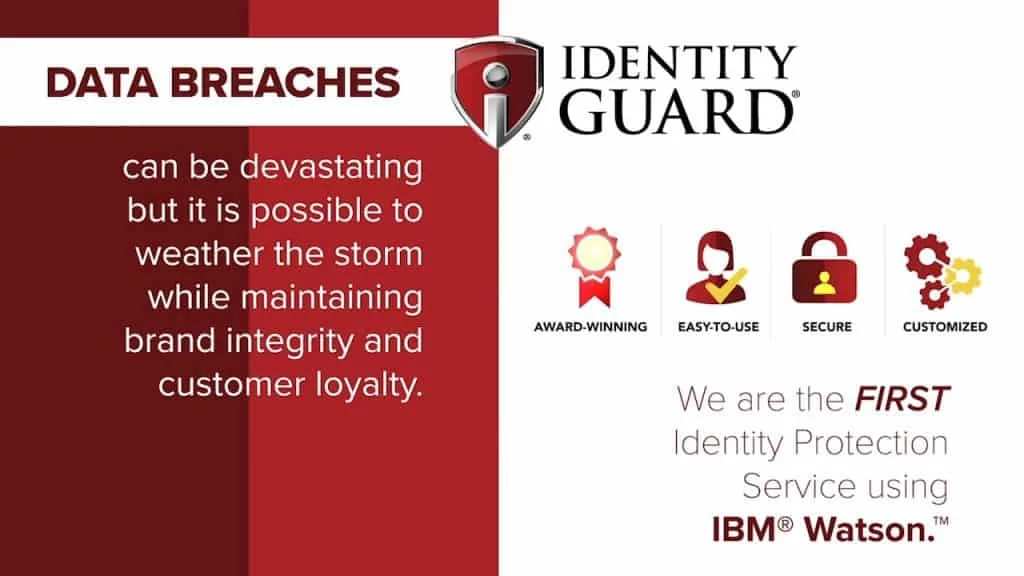 Interface and Setup
Identity Guard makes it easy to set up your account. Simply input personal information, social security number, bank account information, and a few others, and you're done. The verification questions are tedious and annoying, but necessary if you want to secure your account thoroughly. You definitely need to set up these security questions because there's no way to set up a two-step verification process. There's also no email verification.
On your Identity Guard homepage, you can see your alerts and notifications as well as sort and filter them. You can also see a current list of what features your account has access to with statuses like active, pending, not purchased, and need to activate.
Unfortunately, the whole right side of your account is full of advertisements asking you to upgrade to higher tiers of Identity Guard as well as other offers from other sites. If you're on the Essentials plan, you'll be berated by reminders that you didn't pay for credit reports.
Other tabs on your account include a message center, wallet protection, identity, and computer. The identity tab displays all of the data currently being monitored. You can add more credit cards and bank accounts here.
The computer tab allows you to download the password manager, antivirus software, and keyboard encryption software. The wallet tab gives you instructions on what you should do when you lose your wallet. There's a phone number you can call, but no way to report it stolen on the website.
The user interface is intuitive and easy to understand but could improve the labeling a bit.
Customer Service
Identity Guard gives its clients a 1-800 number to call with questions or problems. There isn't a live chat or any way to reach out via your online account or the website. It can be aggravating if you are in a panic about something being stolen.
However, the customer service reps are easy to talk to, friendly, and helpful. There are FAQs on the website and other resources available to you if you need to file an insurance claim or credit dispute.
Why Use Identity Guard
The Essentials plan is affordable and offers a lot of protection similar to that of other companies. The Premium tiers offer services like public records monitoring or SMS alerts that seem like they should be included in a basic plan.
While customer service is effective, it would be nice to see some online support, and the constant advertisements prompting you to upgrade to a premium tier can be annoying. Overall, Identity Guard is worth it for the black market monitoring, and the premium tiers are worth it if you really want those credit reports.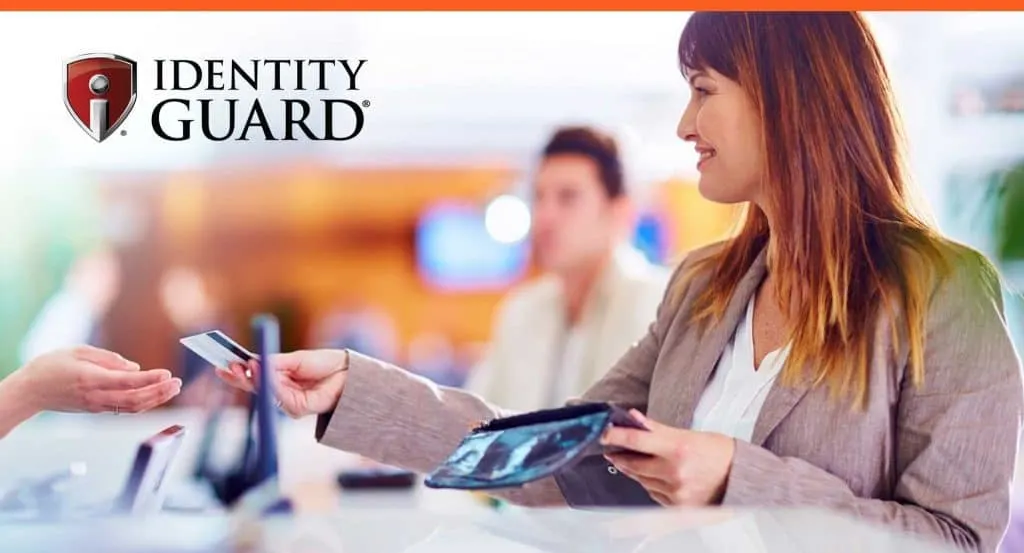 Identity Guard Pros:
Affordable low-tier plan
Polite customer service
Perfect for monitoring a lot of cards and bank accounts
Identity Guard Cons:
Most features require a premium plan
Website is covered in advertisements
Can't have more than one phone number or a driver's license
Comparison Chart
| | | |
| --- | --- | --- |
| | Identity Force | Identity Guard |
| 3-bureau credit monitoring | X | X |
| 3-bureau credit reports | Quarterly | Monthly |
| 3-bureau credit scores | Quarterly | Monthly |
| Advanced fraud monitoring | X | |
| Bank and credit card activity monitoring | X | |
| Change of address monitoring | X | X |
| Court records monitoring | X | X |
| Credit score simulator | X | X |
| Credit score tracker | Monthly | Monthly |
| Fraud alert reminder | X | |
| Fully managed restoration | X | Victim assistance only |
| Identity monitoring | X | X |
| Identity theft insurance | $1 million | $1 million |
| Identity threat alerts | X | |
| Junk mail opt-out | X | |
| Lost wallet assistance | X | X |
| Medical ID fraud protection | X | |
| Mobile app | X | X |
| Online PC protection tools | X | Anti-phishing, anti-keylogging |
| Payday loan monitoring | X | |
| Sex offender monitoring | X | |
| Smart SSN tracker | X | |
| Social media identity monitoring | X | |
| Toll-free customer service | X | X |
| Two-factor authentication | X | |
Last Word
It would seem that the Identity Force plan offers more value because of the features included in the basic plan. However, the basic plan is more expensive than some other services that offer a lot of the same features at a lower cost.
The Identity Guard plan gives you a lot of plan options so you can choose a less expensive plan without all of the upgraded features, but you'll deal with advertisements constantly trying to get you to upgrade.
Both offer great services with the customer support you need to help you when your wallet or your identity gets stolen. It's up to you which one you choose based on your budget and your needs.
Recommended Reads