In today's online world, one can never be too careful, which is why it's imperative that you protect yourself while spending time connected to the internet. Whether you're checking your email or confirming the balance of your bank account, it's wise to ensure your information is protected and secure.
One way you can keep your information safe is through the use of an antivirus, and one of the best options on the market is AVG. Let's take a closer look at this high-ranking software and find out exactly what it has to offer its users.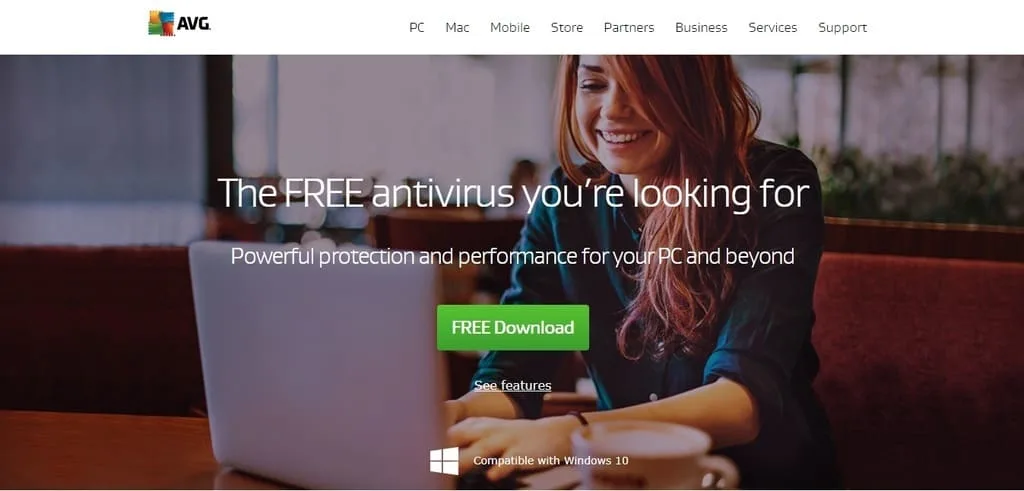 All About AVG
AVG – or Anti-Virus Guard – is suite of antivirus and internet security products developed by AVG Technologies. They are a publicly traded company, formerly known as Grisoft. AVG's first product was launched in 1992 in Czechoslovakia. AVG products first appeared in the US market in 1998.
Over the years they have acquired other internet security companies as well as incorporation with Microsoft Windows Vista. They are currently a Dutch-based company and have over 100 million users of their antivirus software (free and paid).
Like many other companies, they have adopted a free model – or "freemium" – with paid upgrades for more robust services. Whereas other security companies have focused on streamlining their offerings, AVG has a wide array of services and products available.
Their comprehensive internet security suite combines AVG Anti-Virus, Anti-Spyware, LinkScanner, and additional features in one package. They also offer packages specific to certain threats (e.g. "AVG Anti-Spyware).
Their free version is quite popular and doesn't skimp on features, offering many of the same core features as the paid version, just without the "frills".
AVG Anti-Virus has been well received over the years by industry publications like CNET, PC Magazine and others. They have been certified by the ICSA, one of the industry leading certification organizations.
AVG Antivirus
AVG is arguably the best free antivirus available. Of course, there are plenty of benefits to upgrading and using paid features, but even with its free option, AVG will do an excellent job of defending your devices.
Many within the industry praise AVG as a user-friendly, easy-to-use, and intuitive antivirus. Additionally, it's not a resource hog, which is something many antivirus programs are known for. WIth continual PC scans and updates that occur in real-time, you can be sure malicious files won't gain access to your device.
AVG's interface is straightforward and will work for both those new to the world of antiviruses and those with plenty of experience. As a result, many find that AVG's free option is a better package than other entry-level choices.
The company that owns AVG antivirus is AVG Technologies, which has been around for more than 20 years. So, if you're in the market for solid protection against hackers and viruses, but you're not ready to pay for it yet, AVG antivirus might be just what you need.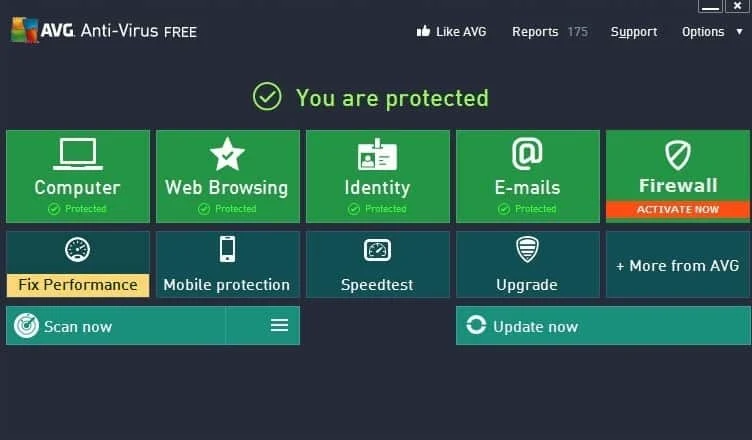 Security and Reliability
Reliability and security are two of the most important features you want to have in an antivirus. Even though there are paid options out there that can offer more than AVG's free version, you're still getting a high-quality antivirus.
Malicious Content
If any malicious or nefarious content wants to get into your device, it will have to go through multiple levels of defense if you're using AVG. Before it will execute a file or program, AVG thoroughly scans it to ensure it will not harm your device.
Anytime AVG detects a suspicious or unknown file or application, it will block it. It then performs an evaluation of said file or application, which can take a few seconds to complete. However, I'd much rather wait a few seconds longer to confirm a file is clean than suffer significant damage to my computer.
Multiple Scanning Choices
Smack dab in the middle of the main dashboard is a green button you can select that will kick off a quick scan session. AVG is efficient at reviewing the most susceptible areas of your operating system to ensure you're not harboring any damaging files or viruses.
However, should you need something that reviews things more thoroughly, AVG has a Deep Scan option as well. With this scan, AVG is going to get into the darkest nooks and crannies of your operating system, which is exactly what you want it to do.
These two scans are pretty common with most antivirus platforms, but this is one area where AVG sets itself apart. For example, you can also run a DVD/USB scan, which will examine any external or removable drives you want to review.
AVG also offers a Performance scan, which will find any problems or issues with your system and begin the process of fixing them. Or, you can also select specific folders to scan, if you want to focus on certain areas of your OS.
Protection Against Phishing
One of the most common ways people are tricked into providing personal information nowadays is through phishing attacks. Most users fall victim to email scams, social media messages, or phone calls that ask for their personal or financial data.
There are also fake websites created to closely mimic official ones that users fall for as well. This would be something along the lines of PayPal or Amazon, which asks for banking or credit card information. Before you know it, they've charged thousands of dollars to your account.
Unfortunately, these types of situations are all too common today. That's why AVG provides anti-phishing software, even with its free package. Upgraded packages also protect you from more sophisticated attacks, including options that immediately detect malicious websites and block unverified email addresses.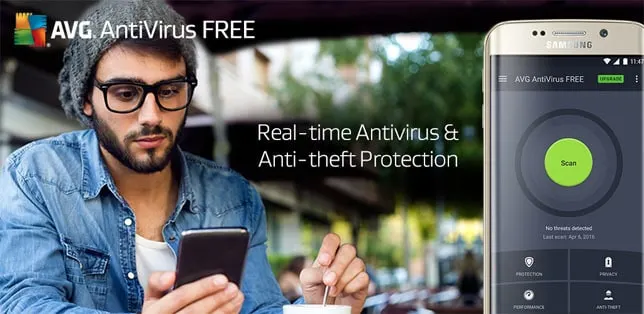 Real-Time Defense
More than ever before, it's important to have a real-time defense against viruses and other malicious attacks. Why? Because even a short delay in response could wind up having significant consequences. That means every second counts with your antivirus protection.
AVG believes this is so important that it provides some level of real-time protection in every single one of its packages. This also includes automatic updates that run in the background so any activities you're in the middle of performing aren't disrupted.
With AVG's real-time protection, you don't have to scan every single file on your computer every single time. That's because AVG has already gone through the process of analyzing it before it gets to your device.
User Friendly
If AVG is known for anything, it's for having a  platform that is user friendly. It has perfected its product over time, doing everything it can to provide a reliable, fast, and easy-to-use interface. That's why its current interface is one of the best for both new and advanced users.
Installation Process
To get started installing AVG, you'll first need to head over to its website and find the appropriate installer for your operating system. Most of the process is automated, which means you're not going to have to do much more than click on the install folder and choose where you want the program to go.
Installing the antivirus takes less than fifteen minutes, which is fairly standard. There are options on the market that can take much longer to install, something that AVG wants to steer clear of. The one drawback, however, is that you can't do anything else on your computer while AVG is installing.
On the flip side, you don't have to have an account to use AVG, which is something that appeals to those who prefer to keep things anonymous. If you do create an account, you can add other devices so you can ensure all your important hardware is protected.
Performance Impact
The last thing you want is for your antivirus to put significant strain on your computer's resources. That's why AVG puts its software through rigorous tests to ensure that your device doesn't bog down while it searches for malicious content.
Ideally, you should see around a 5% drop in performance, which is on par with some of the best antivirus programs available. Of course, if you have an older computer, you will experience a great slow down. If that's the case, it might be best to start your scan and leave your computer until it's done.
Available Packages
There are only three packages available with AVG, however, all of them have the ability to give you the coverage and protection you need for your devices. Plus, with any of their plans, you can purchase additional tools or drivers if you need them.
AVG Antivirus Free Package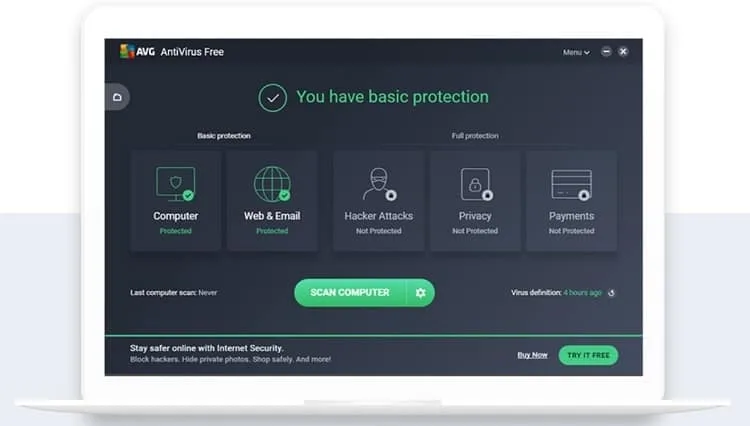 The package most people who use AVG are familiar with is the basic free option. With this package, you'll be able to scan your devices anytime you need to, receive updates to your software, protect your computer against viruses and malware, and block malicious emails.
You can download AVG Free for either macOS or Windows, so most of your PCs and laptops will be covered. This option makes sense for a lot of people since it doesn't require a lot of in-depth knowledge but still offers the necessary tools and features.
AVG's free package gives users real-time protection, which is provides based on continual system updates. As a result, users have the defense they need against new threats as they arise.
The AVG Antivirus Free package will scan for spyware, malware, and viruses, and will also determine what, if any, problems are occurring as a result of performance. It will also keep you from installing nefarious programs, bringing concerns to your attention before it begins downloading.
Additionally, the software will scan both links and email attachments to ensure your messages are secure. The advantage here is that AVG's free version doesn't have a lot of pop-ups or irritating reminders which often accompany other free options.
With an easy-to-use dashboard and an intuitive interface, it's hard to pass up on AVG's free package. It's great for those who want a reliable and efficient antivirus without shelling out a lot of money.
AVG Internet Security Package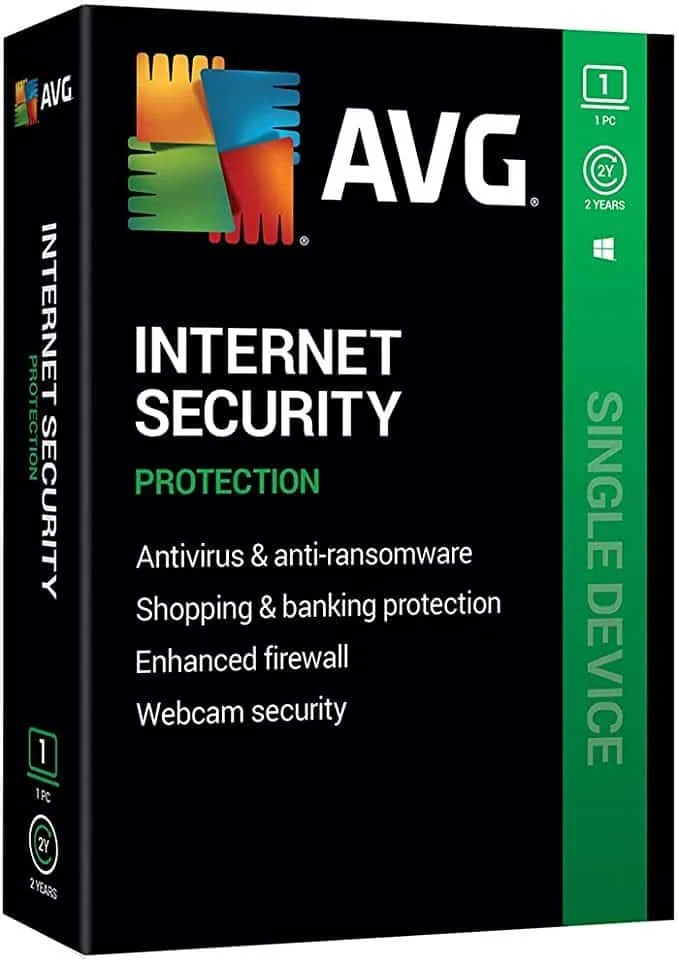 AVG's Internet Security option is a package that offers you additional security for your devices. You get all the features that come with the free package, plus additional options that plague modern-day operating systems.
With AVG Internet Security, you'll get additional security against threats that often attack connected browsers and computers. This includes its advanced AI software, which aims to protect against sophisticated attacks, along with almost any type of malware you might encounter.
This option will also scan your wifi networks, providing greater protection against hackers. With Internet Security in place, AVG is providing a wall that makes it very difficult for your financial information or personal data to be stolen.
Not only does Internet Security provide protection for your financial information, but it also provides defense for your webcam, along with allowing you to hide specific files or folders that you don't want anyone else to access.
Additionally, Internet Security uses anti-spam and fake website detectors to ensure that any payments you make online are safe and secure. Unfortunately, the AVG Internet Security package is only available on Windows.
AVG Ultimate Package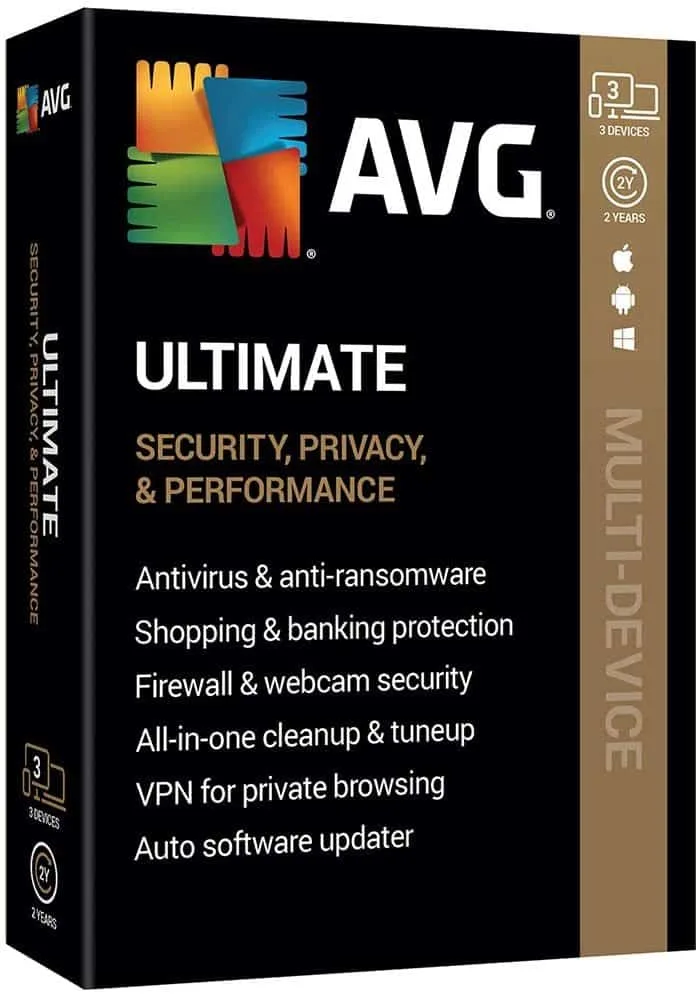 AVG's Ultimate Package, as you might suspect, is the platform's highest option. With this package, you'll get everything included in the previous packages, plus additional features. One of the most essential tools you'll have access to is AVG's TuneUp package.
TuneUp performs a thorough scan and does everything possible to increase the speed of your PC. It removes junk files, addresses severe problems, and improves the battery life of your device.
This is a great feature to have on both old and new devices, as it aids in maximizing the potential of your laptop or PC. Additionally, you'll have access to other tools like Device Lock and Data Shield, which help keep your privacy safe and secure.
These features include a password vault, which lets you store private passwords so you don't have to worry about losing them when you need them most. Also included is a disk cleaner, which helps remove outdated and useless files, along with other tools that keep your PC clean.
If you have a family that needs a lot of protection, this might be the ideal package for you. You'll have the peace of mind that all their devices are secure against security threats anytime they're online.
FAQs
Here are some of the more frequently asked questions about AVG's antivirus software.
Is AVG a good antivirus option?
We believe AVG is a reliable and trustworthy antivirus software option. It's one of the best choices available on the market whether you're going with its free package or a paid tier. Overall, AVG antivirus is a solid option if you're in the market for free protection for your devices.
Is AVG truly a free antivirus?
AVG is truly a free antivirus that provides malware and virus protection for your devices. There is a zero-pay choice with no hidden fees. No payment is required for downloading the software, however, if you want additional features you will have to pay for those.
Is AVG trustworthy?
All versions of AVG's antivirus software are trustworthy and safe to use. Be sure you're downloading it from the company site so you don't have to worry about getting infected while installing the software.
How do I update my AVG antivirus software?
If you want to be sure your antivirus software is up to date, you have a few options. First, you can manually update the software through the settings in the software, or you can enable the auto-update option so the antivirus will automatically update anytime an update is available.
How does AVG remove malware and viruses from my device?
When AVG performs a scan on your computer, it's locating any type of malware that might be hiding in your operating system. As it does so, it quickly identifies malicious files and removes them. AVG's Ultimate package can detect and remove more than 95% of all known viruses from your computer.
Is AVG Antivirus Worth It?
Arguably the best thing about AVG antivirus is that its free. Other options on the market don't come close to offering the features and tools that AVG provides with its free version. Plus, if you want to try out other tiers, AVG offers trials of both the Internet Security and Ultimate packages.
If all you want is basic protection for your devices, AVG's free antivirus software is a great option. You'll get plenty of features, have the protection you need against malware and viruses, the ability to customize your software, and high-ranking security that keeps your personal information safe and secure.
AVG Reviews
For specific product reviews, see below:
AVG Antivirus Review: The 2014 version was well received by the industry at large. It was in the upper tier of antivirus solutions, but didn't win major awards. We thought it was worth an 8.1/10 overall rating. You can read our full analysis here.
AVG Comparisons
For specific head to head comparisons of AVG vs other industry leaders, see our comparisons below:
Antivirus Comparisons
AVG vs Avast Antivirus: We contrasted these two leading antivirus platforms and Avast came out slightly ahead of AVG. Overall, Avast had better detection rates and a very competent free version. AVG put up a good fight and will still be a good option for some users. You can read the full comparison here.
Internet Security Comparisons
AVG vs Avira Internet Security: Avira is another major player in the market and we wanted to compare AVG head to to head with it. Overall, we liked AVG much better as a full internet security suite. Avira's free version was nice, but not if you are looking for a robust all-in-one security solution. You can read the complete comments here.
Further read: