Latest posts by Conner Sinclair
(see all)
If you are looking for a clear breakdown and decision point between Bark and Canopy parental control services, you are in the right place.
In this article, I'll conduct an in-depth comparison of Canopy and Bark, two of the most popular parental control applications on the market. This is based on my experience from the perspective of a parent to 3 young kids (so I might miss a few things on the teen side!).
I'll will delve into their features, pricing plans, installation and setup process, ease of use, and customer support, giving you a comprehensive overview to make an informed decision.
Main Differences Between Bark and Canopy
To cut right to the chase, these are the main differences I found between Bark vs Canopy:
Monitoring: Bark offers comprehensive monitoring across 30+ platforms including social media, texts, and email, while Canopy does not provide monitoring across such a wide range of platforms.
Screen Time Management: Both Bark and Canopy offer screen time management, but Bark provides more granular control, allowing parents to set time limits for individual apps.
Internet Filtering: Canopy has advanced internet filtering, allowing parents to block inappropriate content – a feature not as advanced in Bark.
Sexting Recognition: Canopy uses Sexting Recognition Technology which can identify and block inappropriate images, a feature that Bark doesn't have.
Pricing: Bark offers different plans with varying features and price points (Bark Phone, Bark Premium, Bark Home), while Canopy offers a more straightforward pricing plan based on devices.
Alerts: Bark sends alerts to parents for potential issues, whereas Canopy's alerts are not as detailed or comprehensive.
Trust: Bark allows more complete access, whereas Canopy works on fostering dialogue and building trust between kids and caregivers / parents.
My TL;DR having tried both is that Bark offers more features, data, and control, while Canopy focuses on the major threats and fosters healthy dialogue and communication. There's good reasons to consider both!
Canopy vs Bark: A Quick Glance
Before we dive into the details, let's have a quick overview of Canopy and Bark.
What is Canopy?
Canopy is a "Digital Parenting App" that aims to keep children safe both online and offline.
Canopy monitors a child's device and alerts parents when it detects potential issues, such as inappropriate content, cyberbullying, and signs of depression or suicidal thoughts.
Unlike many parental control apps, Canopy encourages open communication and trust between parents and children.
What is Bark?
Bark, on the other hand, focuses on monitoring a wide range of potential issues on a child's device by using advanced AI algorithms.
Put simply, Bark connects to more than 30 apps, sends parents real-time alerts when children may be in trouble online, and encourages trust-building between parents and kids.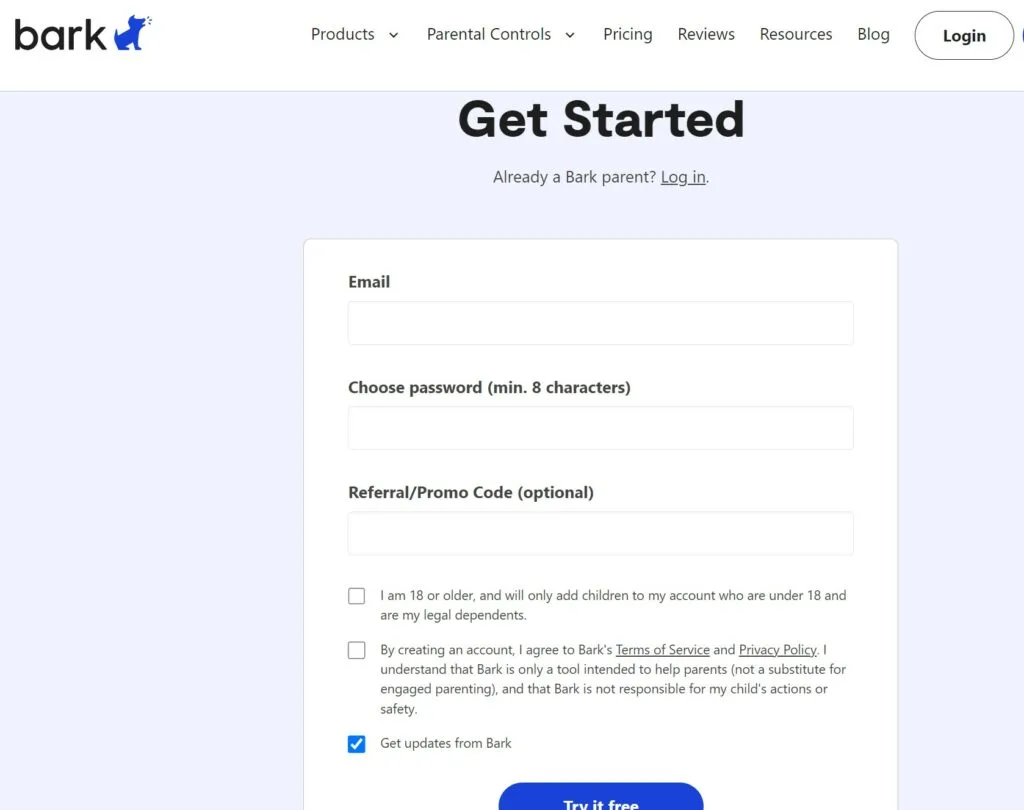 Content Monitoring: Keeping Tabs on Online Activity
One of the primary functions of parental control apps is content monitoring, which involves tracking a child's online activities.
Canopy's Content Monitoring
Canopy employs a SafeSmart Internet Filter, which uses an AI algorithm to identify and eliminate explicit content. Rather than relying on outdated lists of inappropriate websites, Canopy's AI algorithm provides real-time monitoring for a safer online experience. However, it's worth mentioning that Canopy cannot block images within apps.
Bark's Content Monitoring
Bark takes a different approach to content monitoring. It uses machine-learning algorithms to scan texts, emails, photos, videos, and over 30 social media platforms for 15+ categories of potential issues, from anxiety and bullying to weapons and drugs. Bark only shows parents the content that triggers an alert, ensuring a balance between oversight and privacy.
Time Management and Screen Management
In a world where screen time can often get out of hand, time management features are a crucial component of parental control apps.
Canopy's Time Management
Canopy allows parents to set schedules for device usage, which can be particularly useful for managing screen time during school hours or bedtimes. However, it doesn't provide a feature for setting time limits for particular apps.
Bark's Time Management
Unlike Canopy, Bark does not offer any time management features. This means parents cannot set time limits for specific apps or schedule periods of device usage. This could be a significant drawback for parents looking to control their child's screen time on a granular level.
Location Tracking and Updates
Location tracking is another crucial feature provided by parental control apps, offering parents an added layer of security.
Canopy's Location Tracking
Canopy provides real-time location tracking, allowing parents to know where their child's device is at any given moment. It also sends alerts when a child enters or leaves certain places, which can be useful for ensuring your child's safety when they're not home.
Bark's Location Tracking
Bark also offers location tracking features, but it takes a less invasive approach by offering an option for children to share their location with their parents. This feature encourages trust and allows for a level of privacy while still ensuring the child's safety.
Pricing Plans Compared
The cost of parental control apps can vary greatly, so it's essential to find a plan that fits your budget and meets your needs.
Canopy's Pricing Plans
Canopy offers three paid plans, with the basic tier starting at $7.99 per month for three devices. The Family tier, which is the most popular, covers up to five devices for $9.99 per month. Lastly, the Full House tier offers protection for up to 15 devices at $15.99 per month.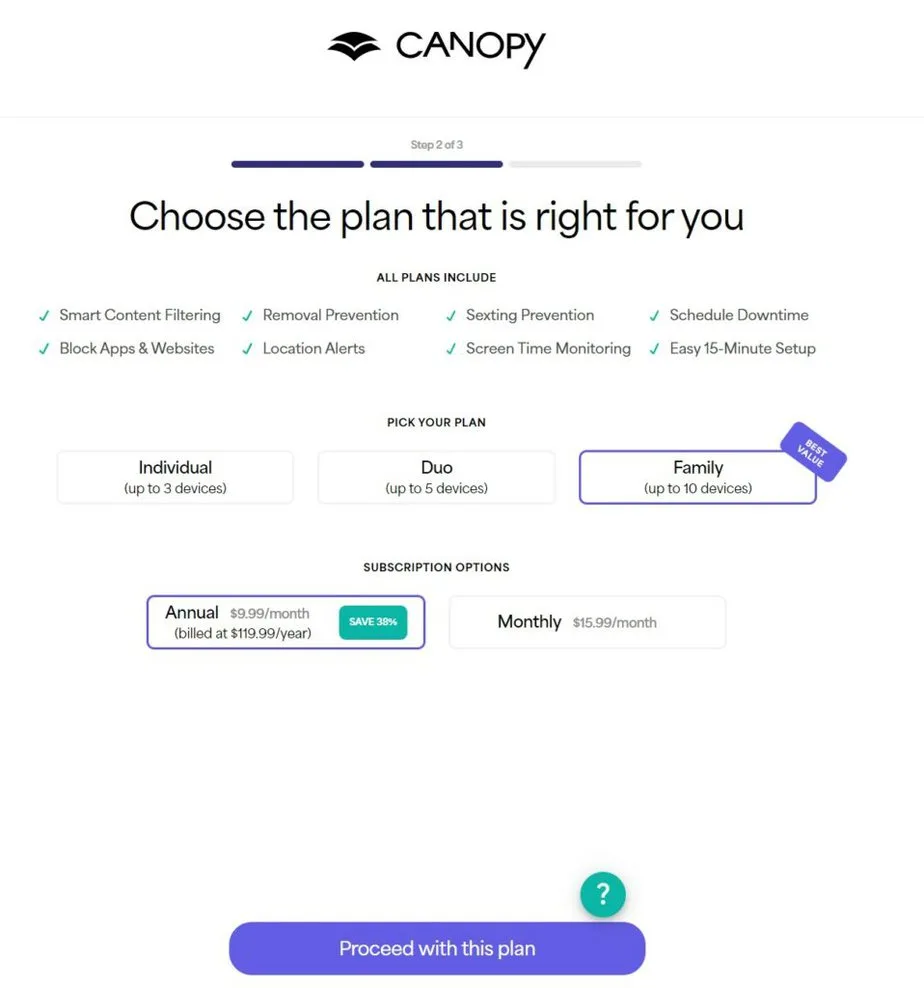 Bark's Pricing Plans
Bark, on the other hand, offers monthly and yearly plans starting at $6.00 per month. It doesn't limit the number of devices you can monitor, which can be a significant advantage for families with multiple children.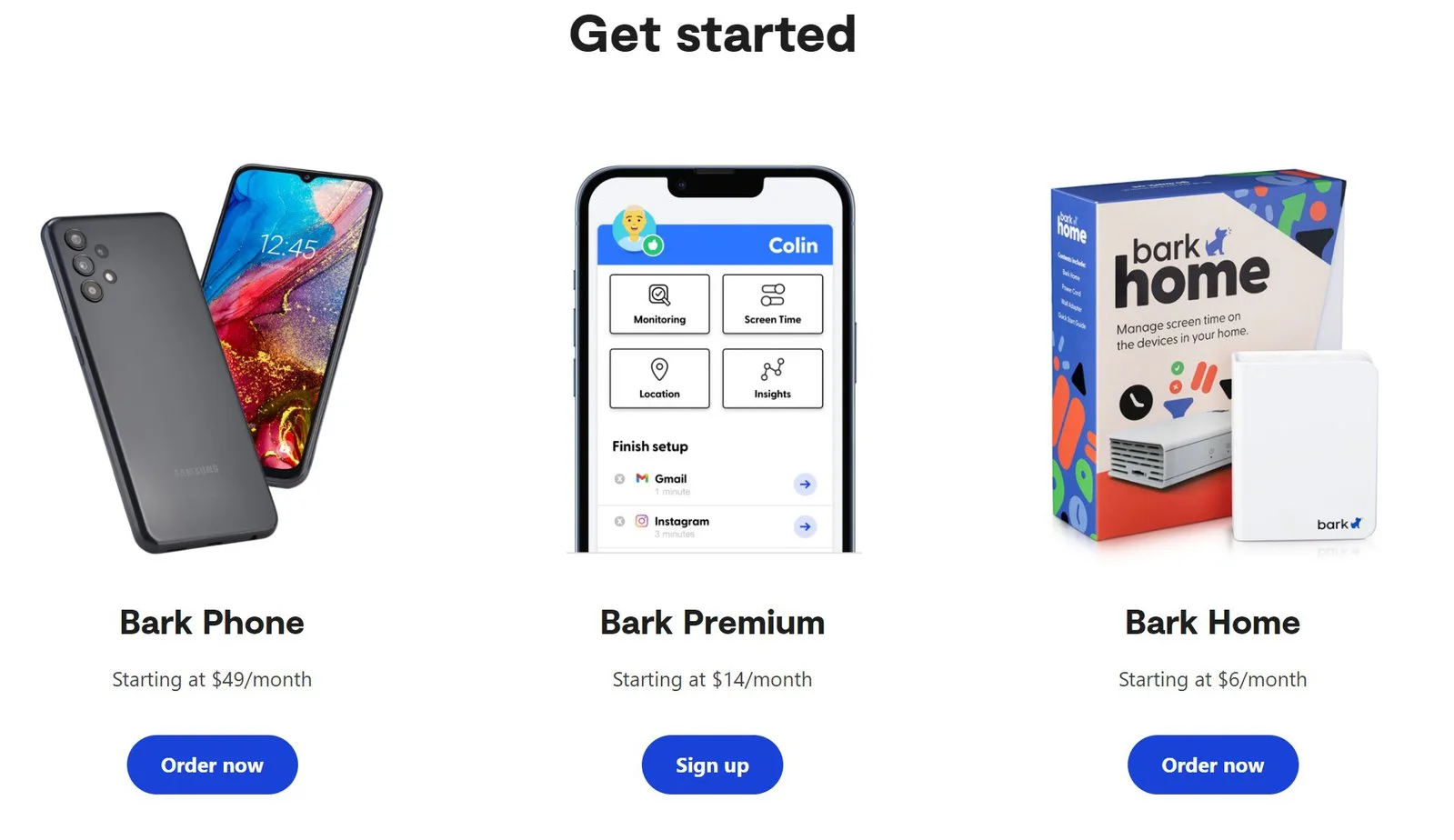 As you can see above, they base their tiers on devices (Phone or Home), with a Premium tier for active web app monitoring.
For the basic "Bark Home" plan, this really just acts as a WiFi filter, but can be used for unlimited devices and allows for website blocking and custom screen time schedules.
For location tracking, you'll need the Bark Phone plan and Bark Premium adds an alert system plus social media controls as a sort of middle tier offering.
Installation & Setup Process
The ease of installation and setup is a critical factor to consider when choosing a parental control app, as a complicated setup process can be a significant deterrent for less tech-savvy parents.
Canopy's Installation & Setup
Canopy offers a smooth and straightforward setup process. Parents can easily install the Canopy for Kids app on their child's device and connect it to their Canopy parent account. The app then automatically monitors the child's online activities.
Bark's Installation & Setup
Bark's setup process is equally straightforward. After creating an account, parents can download the Bark for Kids app on their child's device and link it to their parent account. Bark will then begin monitoring the device and send alerts to parents when it detects potential issues.
Ease of Use Compared
The usability of a parental control app can greatly impact a parent's experience. An intuitive and user-friendly interface can make the task of monitoring a child's online activity much more manageable.
Canopy's Ease of Use
Canopy's user interface is clean and easy to navigate. Parents can easily adjust settings, view alerts, and monitor their child's online activities from the parent dashboard. Furthermore, Canopy's Help Center is filled with useful articles and tips, providing extra support for those who need it.
Bark's Ease of Use
Bark also boasts a user-friendly interface, making it easy for parents to navigate the app and monitor their child's online activities. The app provides clear alerts and reports, allowing parents to quickly understand and respond to potential issues.
Customer Support and Customer Service
Reliable customer support is essential when using parental control apps, as parents may need assistance with setup, features, or troubleshooting.
Canopy's Customer Support
Canopy offers direct support via email, and there's also a toll-free phone number available every day from 12 PM to 8 PM CST. While these hours may seem limited, it's noteworthy that few parental control apps offer phone support at all.
Bark's Customer Support
Unlike Canopy, Bark does not offer phone support. However, it does provide a comprehensive Help Center with numerous articles and resources on various topics.
Canopy vs Bark Free Trial Comparison
Does Canopy offer a free trial?
Yes, Canopy offers a 30-day free trial. However, it does not provide a money-back guarantee.
Does Bark offer a free trial?
Yes, Bark offers a 7-day free trial. However, like Canopy, it does not provide a money-back guarantee.
Can Canopy and Bark monitor social media?
Yes, both Canopy and Bark can monitor social media. Canopy uses a SafeSmart Internet Filter to eliminate explicit content, while Bark uses machine-learning algorithms to scan over 30 social media platforms for potential issues.
Are Canopy and Bark available on both Android and iOS devices?
Yes, both Canopy and Bark are available on Android and iOS devices. They also offer support for other platforms like Windows, macOS, Amazon Fire, and Chromebooks.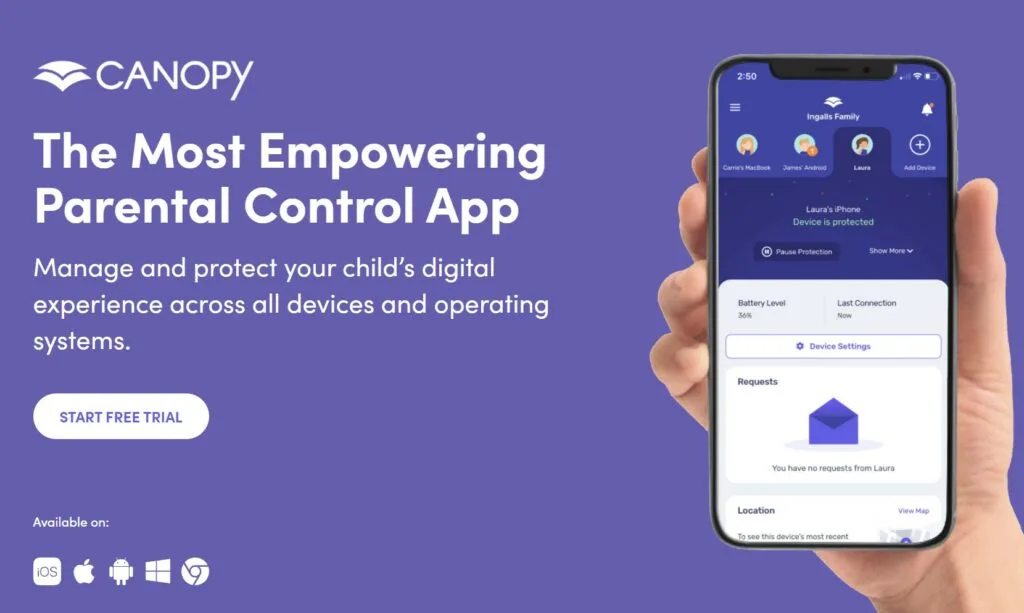 Which One Is Right for You?
In the end, the choice between Canopy and Bark comes down to your specific needs and preferences.
If you prioritize open communication and trust with your child, Canopy's is a better fit here. It encourages parents to talk with their children about online safety and primarily alerts parents of potential issues rather than actively tracking their child's online activity.
On the other hand, if you want to monitor a wide range of potential issues on your child's device and monitor their social media accounts, Bark is a better fit. It uses advanced AI algorithms to monitor texts, photos, videos, and over 30 social media platforms and apps, alerting parents when it detects anything risky or problematic.
Bottom Line Summary: Given the more affordable plans and wider protection features, I generally lean towards and recommend Bark for most families. That said, if you feel super uncomfortable about "snooping" on your kids and need some support fostering open dialogue, Canopy is a solid option.
Other Alternatives to Bark and Canopy
Our editorial team has also compared and contrasted a variety of other parental control apps. Here's how both Canopy and Bark stack up to some popular peers.
Bark Alternatives Compared
Canopy Alternatives Compared