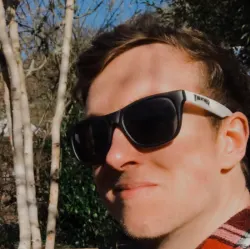 Latest posts by Andrew Nile
(see all)
In 2023 we are more online than ever, and if you're anything like me, you occasionally google your own name just out of curiosity. You may be surprised by how much information comes up in the search results, and perhaps you're concerned by the data that various companies hold on you.
You have every reason to be. In today's world, data is king. All kinds of businesses value your personal data for a variety of reasons. In fact, it's an industry worth billions of dollars. But it's what that data is being used for that's potentially problematic. In particular, your Personally Identifiable Information, or PII.
If you've come here looking for a solution, I have some good news. In the US and EU, data brokers are bound by law to honor opt-out requests.
Meaning if you ask them to, they're legally obligated to remove whatever data they hold on you. This is great to know, but perhaps a little overwhelming to manage when you consider the sheer volume of data brokers out there.
Abine DeleteMe can help you with that. DeleteMe confidently and effectively removes any of your personal information that may be stored and sold online by brokers.
The process is completely hassle-free, with new reports generated for you every quarter. Simply fill out a quick form, and our experts will take care of the rest. You can expect to receive your first report in just 7 days.
What is it?

A simple, effective tool for automating the removal of your information from data brokers.

How does it work?

Answer a few small identity-related questions and your first report will be completed within 7 days, with new reports every quarter detailing the information located and removed from brokers.

Key Features

Automated data removal

DIY Opt-Out Guides

Phone & Email Masking

Card masking tool coming in the future

Embedded self-search tool

Human team for tailored customer requests and assistance

How much does it cost?

A standard plan will set you back $129/year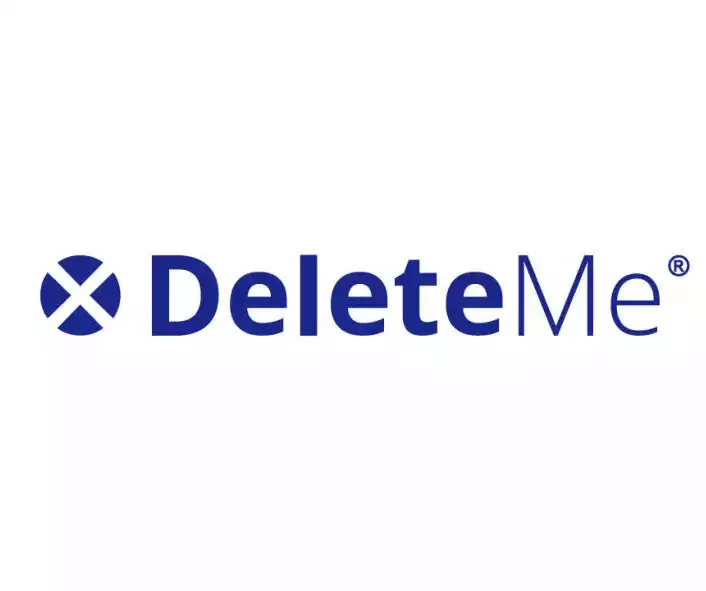 Enhance Online Privacy with DeleteMe
"DeleteMe" safeguards your online privacy by removing your personal information from online databases and websites, giving you control over your digital footprint and protecting you from identity theft.
Join Now
We earn a commission if you click this link and make a purchase at no additional cost to you.
Abine DeleteMe is a service that helps you protect your privacy by identifying your Personal Identifiable Information (PII) on data broker websites and sending removal requests on your behalf. You will receive a quarterly report on the data that has been identified and removed, and you will have access to digital privacy tools such as email and phone masking.
DeleteMe's automated process is supported by a team of experts who can help you with the removal process from data broker sites, potentially saving you hours of manual work if you decide to handle it yourself.
Although it may be a pricier choice compared to other tools in the market, the availability of family plans or bulk purchases can help you save money in the long run. It also provides additional privacy features, such as email and phone masking, which are highly beneficial. Moreover, users can make custom requests based on their specific requirements.
How Does it Work?
The process of removing your personal information from the internet can be broken down into a few basic steps. The first step is to submit your information.
After that, DeleteMe's experts will search for it, start the removal process, and provide an initial report. Finally, they will perform continual quarterly scans for the year to ensure that your information stays off the internet. You only need to worry about step one – submitting your info. The experts will take care of the rest.
Handing over your personal data to a company to scrub it from the web may seem strange, but it is a crucial step to protect your privacy. DeleteMe's experts require some degree of personal information to accurately identify relevant Personally Identifiable Information (PII) and have it eliminated.
It may be comforting to know that DeleteMe is flexible with the type of information you choose to exclude from the initial datasheet. However, the more details you provide, the more precise and complete the service can be. In my case, I decided not to upload a copy of my ID.
Key Features
Automated data removal

DIY Opt-Out Guides

Phone & Email Masking

Card masking tool coming in the future

Embedded self-search tool

Human team for tailored customer requests and assistance
DeleteMe's key component is its automated data removal tool. It's hardly a standout feature amongst the competition, but it does it exceptionally well. Where it sets itself apart, however, is with its human team, who will step in when automated removal steps fail, or challenges arise.
They're also on hand to assist with custom requests if desired. This may be enough of a premium feature to justify the hefty annual cost for those who require such support.
There are also a handful of online privacy tools, including phone and email masking for those looking for such features, and helpful DIY Opt-Out guides for those with the time and patience to attempt data removal themselves.
The Experience
It took the advertised seven days for my initial report to be completed. To my surprise, only one data broker was found to have my information out of the 60 that were checked. After reviewing 2954 listings, one listing was identified with my personally identifiable information (PII), which was promptly removed for me.
I wasn't expecting to find many data brokers with my data, but finding only one result was unexpected. Either I have been extremely fortunate, or I have been responsible with my data. This may come down to DeleteMe having not yet been rolled out beyond the US. Limiting the pool of data brokers they check with.
I had planned to use a VPN to bypass this restriction, but it was not needed. The issues I faced stemmed more from the data brokers currently available to DeleteMe than region-locking the service.
Despite the shortcomings for non-US residents, I was pleasantly surprised by how simple the whole ordeal was. The whole process took about 10 minutes, which could likely be significantly reduced if I hadn't opted to list every address I've ever lived at.
Then it was simply a case of waiting 7 days, which at first seemed like a long time, but I made it a habit to submit and forget. After those 7 days, you'll get an in-depth dashboard of statistics as well as a lengthy PDF report of all the data brokers found to be storing your data.
These reports will be updated and sent to you quarterly, but you can sign back into your dashboard to see real-time changes and updates in a neat, easy-to-digest visual format.
What's particularly interesting is a little statistic showing how much time they estimate they've saved you. In my case, 6.5 hours were saved searching and another half hour on removing. If you end up having more identified listings than me, this could quickly add up to a lot of saved time, making the cost ever so slightly more appealing.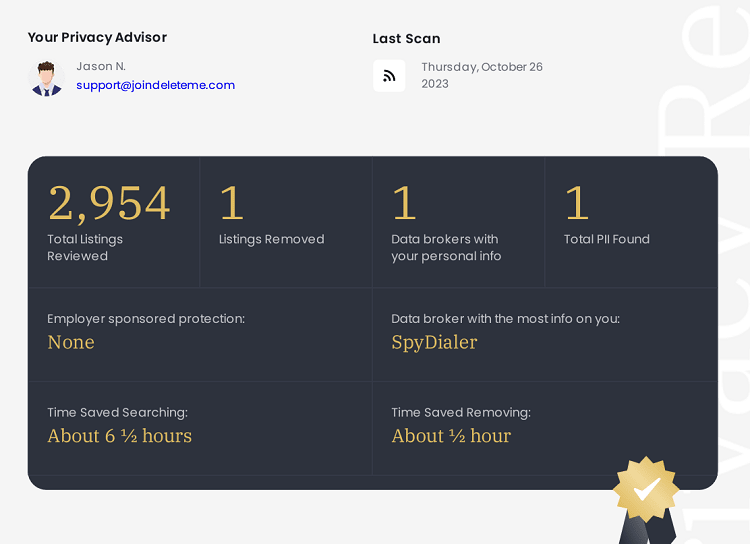 Is It Legit?
Abine DeleteMe is a legitimate and powerful tool that can help you remove your personally identifiable information (PII) from data brokers.
However, the effectiveness of this tool may vary, and you may want to consider the $129 annual price tag before making a decision. In my case, only one out of sixty data brokers had access to my data, and that, too, was just my email address.
Something that is easily publicly available due to the nature of my career. I chose to skip the scan of my passport, but I provided detailed responses to all other sections while filling out the personal data sheet initially.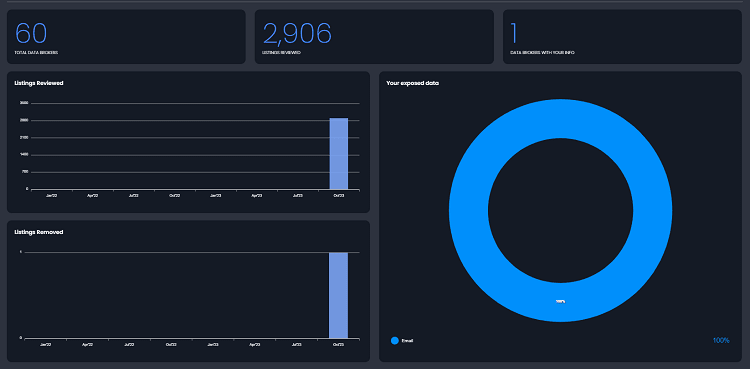 It's worth noting again here that DeleteMe is very much focused on US-based customers currently, and this appears to be where the majority (if not all) of the data brokers they work with are based.
While DeleteMe is usually effective in identifying and removing listings, there may be instances where it is unable to remove something. In such cases, you may encounter a pending removal. If you wish to check on the status of a pending removal, you may find the process to be a bit tedious.
This is because DeleteMe's reports do not contain any URLs or links to the data brokers it identifies. Therefore, if you want to investigate or approach them on your own, you'll need to do some internet detective work with just the broker's name and logo.
Pricing Plan
DeleteMe can only be purchased directly from their website. At the time of writing, a "Standard Protection" package (ie One Person, One Year) will set you back $129.
Add an extra person or an extra year, and you can save 11% or 19%, respectively. There are also family and business plans available, although you will need to contact DeleteMe directly for a quote for the latter.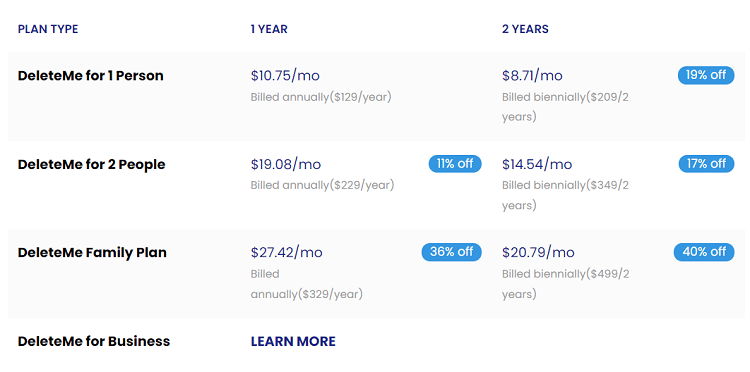 Alternatives
It can be challenging to find the true gems among the many alternatives available on the market. Here are my top three picks, listed in no particular order.
Incogni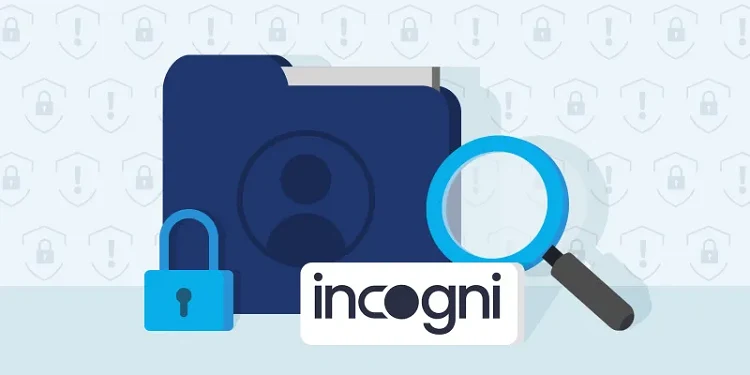 SurfShark, a VPN provider, offers a service called Incogni, which costs $77.88 for an annual subscription. It is currently available in the US, UK, EU, Switzerland, and Canada.
Although it does not have the premium features or the human data removal team of DeleteMe, its automated service is decent enough and a good choice for those seeking a budget-friendly option with simplicity.
Kanary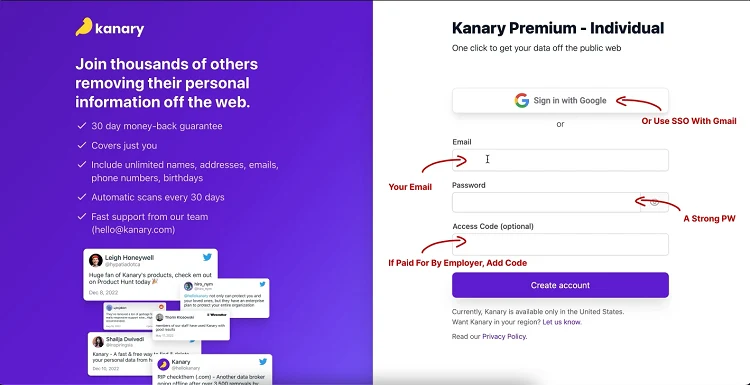 Kanary offers new users the opportunity to try their services with an initial free scan. Additionally, they provide a 30-day money-back guarantee to anyone who is not satisfied with the results.
After 48 hours of starting the service, you will be able to see your first results. The company provides weekly removals and monthly scans. With an individual plan costing $89.99 annually, Kanary provides another affordable option for customers.
IDX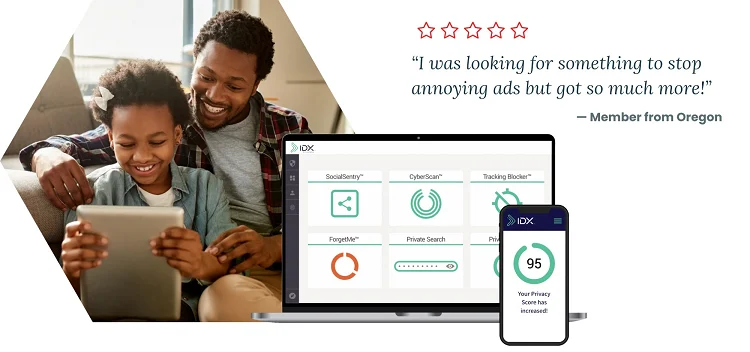 IDX is a user-friendly and feature-packed service that offers additional tools, including credit monitoring, email alerts, and ID Theft Insurance.
Users can select from IDX Identity, IDX Privacy, or the IDX Complete plan, which combines the two, but it does come with a substantial price tag of $32.90 per month or $29.61 per month when paying annually. This makes it the most premium option on the list.
Would I Recommend DeleteMe?
As a UK-based customer, I am not the intended target, and it remains uncertain when the service will be available for customers outside the US. However, overall, the experience has been incredibly positive.
DeleteMe is already well established in the US, and based on the positive feedback from those who are stateside, it seems like a great option if it fits within your budget.
DeleteMe asks for more personal information upfront compared to some of its competitors, and it may disappoint some users due to its request for a scan of government ID. In my case, I opted to skip this step.
Partly because it felt like handing over too much information, and partly because I couldn't imagine my UK passport would be of much use to a tool currently only catering to US residents.
However, I appreciate the transparency behind this request, as some data brokers require proof of ID to accept removal requests. Therefore, it's important to consider what information you're comfortable sharing and if it's necessary for your requirements.
Abine DeleteMe is a premium personal information removal tool that has the potential to be very useful, but there are cheaper options available from other competitors. DeleteMe is leaps and bounds ahead of the competition in one very specific regard.
They have a vast team available to assist you with any specific manual removal requests if, for any reason, the automated service isn't hitting the mark or their in-depth guides aren't enough for you.
Decide if those extra features are worth it for you, or if it's even worth paying at all for something you could attempt yourself if you had the time and patience.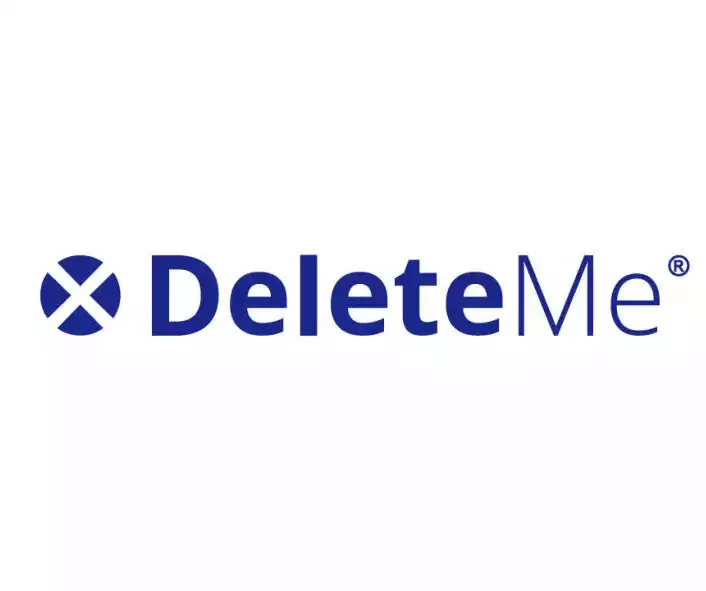 Enhance Online Privacy with DeleteMe
"DeleteMe" safeguards your online privacy by removing your personal information from online databases and websites, giving you control over your digital footprint and protecting you from identity theft.
Join Now
We earn a commission if you click this link and make a purchase at no additional cost to you.
DeleteMe Review: FAQs
Question: What is a Data Broker?
Answer: A data broker, or information broker, is a business that sells personal data for profit. That data could come from social media, government files, medical records, and more. You may not realize this information is publicly available and that these companies are scraping that information to sell to the highest bidder.
Question:
How does DeleteMe Keep My Data Safe?
Answer: DeleteMe received a SOC 2 Type 2 Certificate from The American Institute of Certified Public Accountants after being audited and found to meet high standards under the AICPA's Trust Services Criteria.
Question:
Can DeleteMe Remove Google Results?
Answer: It's important to understand that services like DeleteMe cannot remove you from Google search results. As mentioned in DeleteMe's FAQ, Google is not the source of the information but only displays relevant results from various sources. DeleteMe works by targeting the data brokers, which could potentially address the issue at its source.