It can be challenging to find the extra money to spend on an antivirus for your computer, but that doesn't mean you can't have one. Fortunately, there are several antivirus platforms available that offer a free option. One such option is Avira Free Security, which provides high-level protection at no cost.
Avira not only offers antivirus tools, but also provides a VPN, ad blocking, password manager, and much, much more. While you may not get the robust suite that you might get with other security platforms on the market, you'll get more than just an antivirus with Avira.
All About Avira
Avira is a German based multinational antivirus company, originally founded in 1986, located on Lake Constance in Tettnang, Germany. As a global company, they have footprints in China, Japan, and an R&D center located in Silicon Valley. In the relatively crowded internet security space, they hold about 9.5% market share at the time of this writing (2015).
Antivirus protection is their specialty, however, they do over a series of escalating packages (see table below). A key signature of Avira's technology is the ability to periodically remove and redefine definition files, leading to enhanced speed and overall performance of scans. A strong emphasis has always been placed on creating "lightweight" solutions that are quick and easy, while still being robust.
In terms of industry awards, Avira does not have the same track record of more established companies, however, they have some notable awards. As early as 2008, the venerable AV-Comparatives awarded Avira their antivirus "product of the year". More recently, Avira received "gold" status for malware detection, with an industry-leading 99.6% detection rate. For the 2014 awards, Avira tied for first place according to AV-Comparatives in their "Real World" protection test.  More recently, Avira has maintained their "advanced+" status but seems to have lost a few steps in 2015.
On the whole, Avira is seen as an up and comer, despite having been around for a while. They have made special efforts to target mobile users and cloud security, two growing fields within IT security. Their "free" versions have garnered praise from many in the industry, while their paid offerings are generally viewed as "mixed" or better.
Avira currently offers 3 different security services, beginning with a free (and very functional) antivirus service, a more robust internet security offering, and a "premier" offering at the high end. To easily compare and contrast these 3 offerings, you can check out the table below:
| | Avast Antivirus | Avast Internet Security | Avast Premier |
| --- | --- | --- | --- |
| Antivirus + Malware Protection | Yes | Yes | Yes |
| Home Network Security Scan | Yes | Yes | Yes |
| Browser Cleanup | Yes | Yes | Yes |
| Online Banking Protection | No | Yes | Yes |
| Firewall Protection | No | Yes | Yes |
| Anti-Spam Email Protection | No | Yes | Yes |
| Automatic Patching | No | No | Yes |
| Pricing | FREE (see here) | $39.99 (see here) | $49.99 (see here) |
Avira Antivirus
If you're looking for a reliable antivirus scanner, Avira is a solid option. It's tough to find much wrong with this antivirus platform, as Avira is among the best and most advanced virus scanning choices out there. Throughout lab tests, Avira consistently picked out and removed malware samples during its scan.
This excellent antivirus software blocks all types of malware, even during real-time scanning. Even advanced samples of malware were detected and eliminated quickly and efficiently. With both quick and full scans available, Avira offers all the tools and features needed to keep your information protected.
In addition to the antivirus scan, Avira users can perform:
Scans of their local and external drives
Rootkit scans
Active process scans
Part of the Avira platform also includes its Avira Protection Cloud. This is a default option included for all users which accesses Avira's cloud technology to scan potential threats. As a result, Avira has one of the most powerful scanning engines on the market, which it updates on a regular basis.
Of course, other antivirus platforms offer cloud-based scanning, however, few integrate theirs into a real-time scanning feature. Real-time cloud-based protection is a significant benefit of Avira, which is why many consider it one of the best options out there.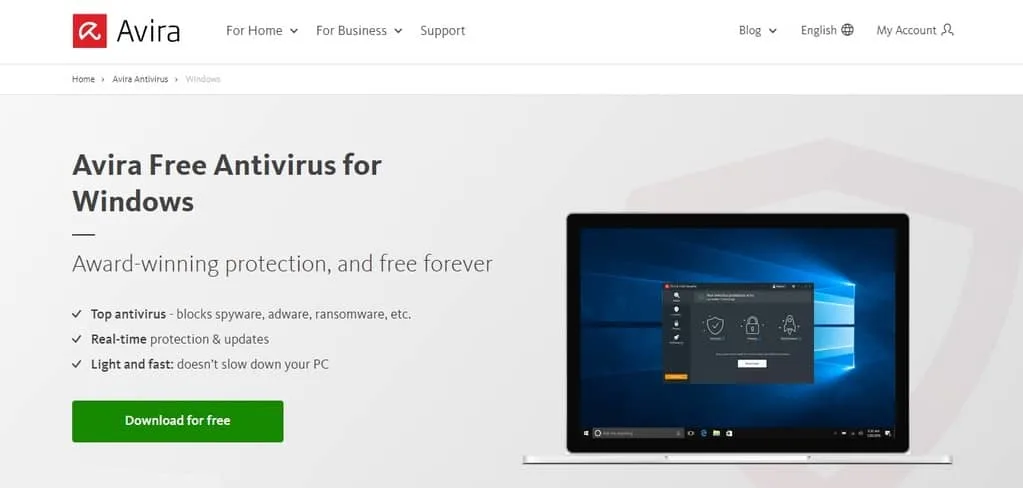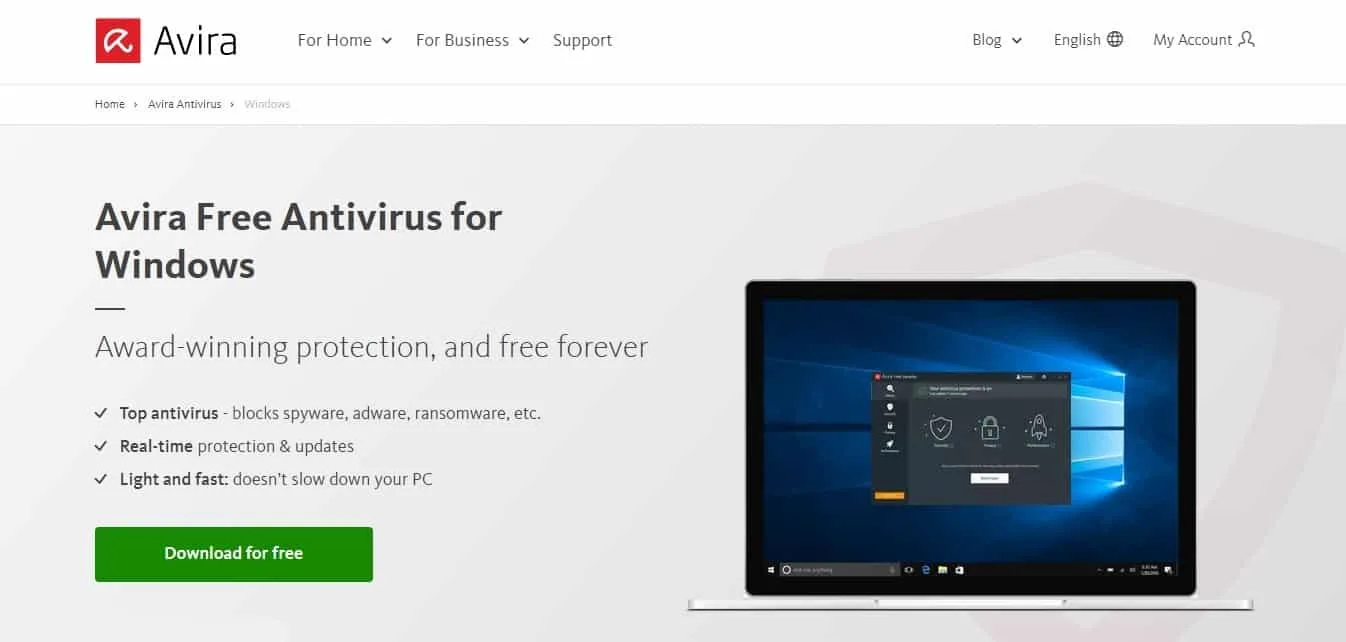 Malware Removal
When it comes to removing malware from your computer, Avira takes immediate action when it recognizes anything nefarious. With its real-time detection tools, Avira notifies you anytime it finds malware attempting to access your device.
The notification indicates the progress made in removing the file from your computer. Once this is completed, Avira will suggest running a deeper clean on your computer to ensure everything is addressed. It's up to you whether or not you do so.
Performance
Some antivirus programs on the market do everything they promise to keep your computer free of harmful malware. However, more often than not it comes at a cost. To keep your device virus-free, its performance is significantly impacted. As a result, your PC may bog down when performing even the simplest tasks.
Avira does its best to prevent this type of problem from occurring by focusing on performance improvement while its antivirus is running. Once everything is done, you'll be shown the malicious or unwanted items separated by category. You decide what stays and what goes, but if you need detailed information, you'll have to upgrade to the pro version.
Security
Avira's security area allows you to launch an antivirus scan or configure your protection settings. However, something to keep in mind is that the free package only allows certain protections. Attempting to enable email, web, or ransomware protection will direct you to a page that asks you to upgrade.
Additionally, Avira offers a software updater, that continuously scans for updates to any programs or applications you have installed. This helps to ensure that any exploits or holes are addressed as soon as possible, which keeps the chances of your device being hacked or infected to a minimum.
Of course, you could always just open each application and update it manually, but Avira is offering something that's much more efficient and much less time-consuming. Plus, Avira's free option comes with a firewall, so don't be surprised to find this feature on the software's Security dashboard.
Using the firewall provided by Avira, you can easily access Windows Firewall, and turn it on and off as needed. You can also tell it to treat your network as private or public, depending on your connection type. If you like to manage your own firewall, you can drill down into the Advances settings to configure the Advanced Security dashboard how you like it.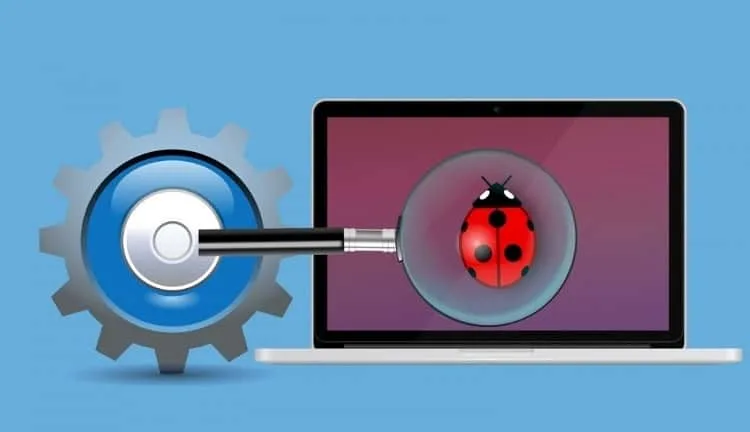 Browser Protection
While Avira's browser protection says that it only protects Firefox and Chrome, there are also reports that you can use it with Microsoft's Edge browser as well as Opera browser. You can install the browser extension on any of these browsers to ensure you get the online protection you need.
With the Avira extension installed in your favorite browser, you're notified if you're attempting to visit potentially harmful or malware-infested sites. If you're familiar with the site, you can continue on, but if you're not, you'll at least have the advance warning so you can avoid it.
Fraud and Phishing Prevention
It takes a lot of time, effort, and know-how to develop and distribute a virus to unsuspecting users. Antivirus programs make it even more difficult to successfully accomplish this task. However, convincing people to give you their personal information is much easier.
Fraud can be something as simple as setting up a website that mimics another, more regularly used site. Think of something like Amazon. A fraudster sets up something that looks similar. When you go to log into the site, it captures your information and stores it, allowing them to log into the real Amazon as you.
With Avira's web protection, you'll be able to avoid many phishing attacks. Like its browser protection, the phishing and fraud prevention tools work in Chrome, Firefox, Opera, and Edge. Thanks to this feature, you visit the sites you prefer without worry that they're attempting to steal your personal and financial information.
Privacy
Privacy with the Avira antivirus includes a browser extension available for all the browsers we've previously mentioned. You already know that Avira steers you away from fake and malicious sites, however, there's more than meets the eye with its privacy features.
The default setting for the Avira privacy tools in your browser is "Do Not Track." As a result, ads and trackers from any website you visit are blocked. Users can also tell Avira to block media from social media sites, or when shopping online.
While there aren't any settings that allow you to do anything other than turn feature on or off, it is nice that you have the ability to prevent sites from tracking your online behavior.
VPN
Additional protection and privacy come in the form of the Avira VPN, which has servers located in 28 different countries. The vast majority of the servers are located in Europe in North America, so just click on the VPN button to connect to the closest one.
One nice thing about these additional features is that they're free. Just keep in mind that they won't be as advanced as other options. You won't get customer support and your traffic is capped at 500MB each month.
If you need additional bandwidth or like to have some type of tech support, you can always upgrade. Of course, keep in mind that doing so will probably require a monthly payment.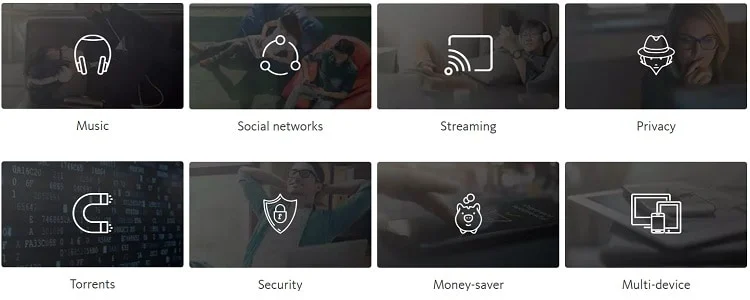 Password Manager
Also included as part of Avira's protection suite is its password manager, which is available with iOS, Android, macOS, and Windows. The tool works by managing your login credentials as you enter them into a site. It syncs across all devices and will fill login information in when you need it.
If you prefer to have more security with your password manager, you can enable 2FA or two-factor authentication. Keep in mind that while you'll have this basic functionality, you won't have other top-tier tools you get from a paid version of the software.
File Shredder
If you have a physical piece of paper you want to get rid of, you usually toss it into the recycle bin. But what if it has personal or financial information on it? Most people choose to run these through the shredder. That's why Avira offers a program for just such an occasion.
This is handy in the event that you need to completely get rid of sensitive data you have on your computer. Why? Because even if you empty out your recycle bin, there are programs available that can recover the files. When you use File Shredder, it's thoroughly cleaning out files, ensuring they are completely gone.
Optimizers
Avira also offers a few optimization tools that come with its antivirus suite as well. A quick optimizer scan will find files you can delete that won't do any harm to how your computer runs. These are typically junk files that you'll recognize as such almost immediately.
Additionally, Avira has a startup optimizer that will measure the amount of time it takes for your computer to completely boot. At the same time, it will find programs that could be slowing down the boot process.
Driver Updates
One last item to talk about that Avira has to offer is its driver updater. While this tool is similar to what a software update feature might offer, it also looks for drivers that might be out of date on your system. This aids in providing better overall performance now only for your computer, but also for Avira's antivirus scan.
Standalone Tools
While Avira offers plenty of features and tools in its free antivirus suite, there are some options that would be nice to have or are available separately. For example, the Avira Home Guard Network Security Scanner will check and validate networks you're connected to as a way to ensure your information is protected while you surf online.
Also available is the Avira Privacy Pal. This program is perfect for anyone who wants additional insight into their privacy settings. The free option offers some privacy settings but in a much simpler form. With this program, you can view every privacy module available with Avira and make the changes you want to ensure your privacy is protected and secure.
FAQs
Here are a few of the more commonly asked questions that pertain to Avira's antivirus software and suite.
Who develops the Avira Antivirus suite?
Avira has merged all of its offerings into a single package it calls the Avira Free Security Suite. This product includes the Avira antivirus, password manager, VPN, update, and more. Avira is owned and operated by Investcorp Technology Partners.
Is Avira Antivirus really free?
Yes. Avira's free antivirus does everything you need when it comes to protecting your personal information, software, browsing history, and even your home wifi network. When running, Avira antivirus protects you and your devices in real-time against online threats and potential malware.
Is Avira a good antivirus option?
Avira gets solid scores from its independent lab testing, but not quite as good as the best enterprise options on the market. It stands to reason that you get what you pay for. However, Avira does a good job of blocking malicious URLs and removing malware before it can cause problems to your operating system.
Is it worth it to pay for Avira Pro?
Avira Antivirus Pro is a good option that provides excellent protection. The pro version will keep your devices safe from ransomware, malware, and other nefarious threats that seek to gain access to your personal information.
If you need email, ransomware, malware, and browser protection, then Avira Antivirus Pro is probably worth the cost to you.
Final Thoughts
Avira's antivirus software does a great job of detecting threats to your devices, however, you're much better off using the Pro version as opposed to staying with the free option. This is especially true since you can get bundles that include Pro versions of Avira's Password Manager and Updater tools.
Unfortunately, if you use an antivirus that typically offers parental controls and spam filters, you might find yourself underwhelmed when you use Avira. On the other hand, if you don't need those things, Avira is a decent option, especially since it's free.
If managing passwords and patch or driver management are features that top your list, Avira might be an antivirus program that's worth a deeper look.
Avira Reviews
You can find our specific Avira product reviews below:
Avira Antivirus Review: In this review, we evaluate the key features of the Avira Security suite, including the pros and cons, and independent lab testing results. Like other competitors, Avira offers an entry-level pure antivirus solution with graduated upgrades (paid) for more robust protection. You can read the full review here. Overall, we have Avira an 8/10 score.
Avira Comparisons
We have also completed a number of head-to-head comparisons, contrasting Avira with various competitors. This list is frequently updated, but so far we've compared the following services:
Avast vs Avira Antivirus: In this comparison, we closely analyzed these two programs to see where they were different. Ultimately, we also wanted to make an overall recommendation about which was better, or at least which was a better option for certain users. We analyzed the key areas of Interface, Protecting, Performance, and Features. It was a close race in the end, but we actually ended up siding with Avast as a better service. You can read the full comparison article here.
AVG vs Avira: Similar to the above comparison, in this article we looked at Avira vs AVG. We primarily analyzed the free offerings as a baseline to evaluated both products. With the "freemium" model gaining significant traction (and users) in recent years, AVG actually provided a better – more fully-featured – experience at the low (free) end of the spectrum. You can check out the full report here.
Avira vs Norton: Avira and Norton are among the few competent leaders of the antivirus and security industry. But how do you know which one is right for you? It's pretty interesting how vastly different competing antivirus applications are. Read my full comparison article here!
Further read: