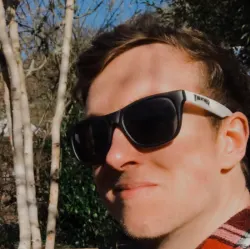 Latest posts by Andrew Nile
(see all)
Parental control applications are a great way to ensure your kids stay safe and protected online. They can also have the added benefit of allowing you to set limitations so you can control how much time they spend in certain apps or on the device as a whole; for example, you may want them to be able to access certain apps during study time but not be able to access any games or streaming services. You may also wish to prevent them from being glued to their device when it's time for bed.
With so many options available on the market today, it can be challenging to know which one is right for you. Thankfully, I've listed a few of my favorites and given tips and recommendations for things to look out for. Now, I don't have kids. There are plenty of them in my family, though, and as the IT professional in the clan, I often find myself being asked for my recommendations and suggestions. 
Bottom Line Up Front:
Despite being an Apple lover, my recommendation for most users is Qustodio. Device support is almost unmatched, and it's easy to set up and get to grips with. It may be one of the more premium options cost-wise, but you certainly get what you pay for.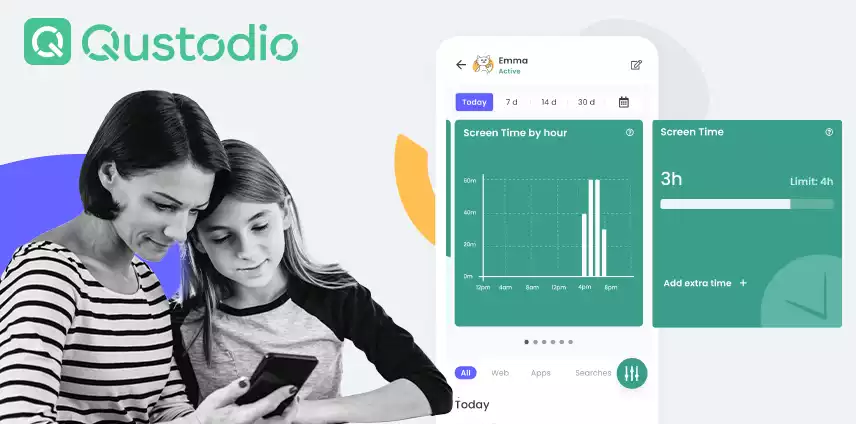 Worth Considering:
Not all platforms are built the same. Apple, for example, is very closed off. Brilliant for security, less great for parental control apps. If monitoring tools are an essential part of what you're looking for, I recommend keeping your kids on Android devices. Apple does not allow 3rd party apps to monitor other applications and areas of the device. Consider the limitations of your devices when browsing for a parental control solution for your needs.
My Top Picks at a Glance
Qustodio –

Best for those with multiple devices and platforms

Apple Screen Time –

Best for families all-in on Apple

MMGuardian –

Best out-of-the-box solution

Norton Family –

Best for the security-focused

EyeZy –

Best for the budget conscious
Things to Look Out For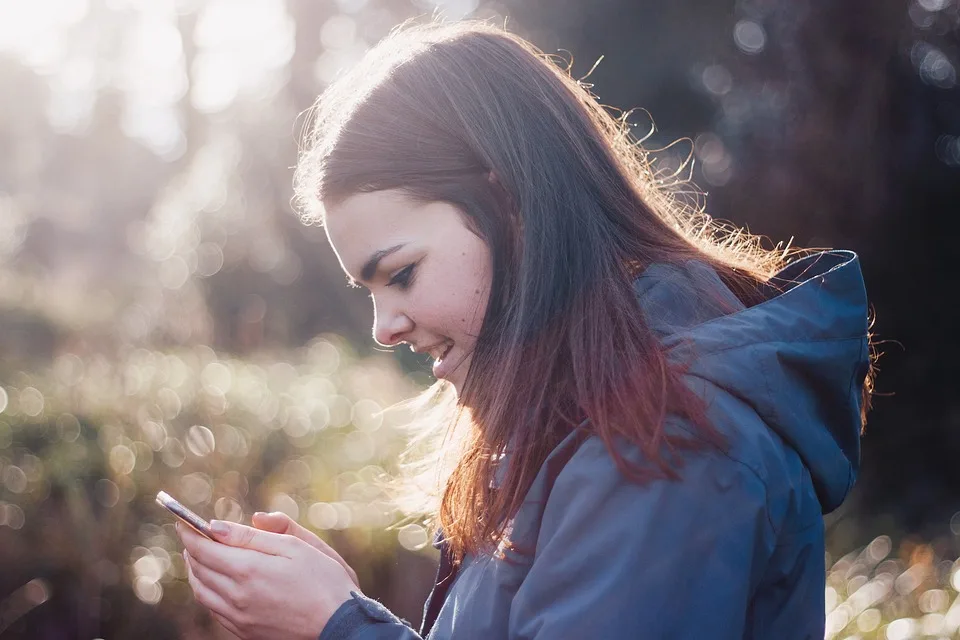 Here are a few key features all good parental control apps should have, as well as things to look out for when looking for a solution that suits you.
App and Web Filtering
Does the app offer the ability to filter and restrict the content your kids can access? Not only is it offered, but does it present it in an easy-to-use way?
Device Support
You'll see me mention this a lot in this guide, but it's crucial. No two apps are the same when it comes to supported devices, so make sure the one you choose supports the devices you own, or may wish to purchase in the near future. Also, bear in mind that functionality may not be identical between platforms. For example, Apple devices may have fewer features than Android ones using the same software.
SMS, Call, & Social Media Monitoring
Some apps on the market offer the ability to monitor calls and texts. Others have the ability to monitor social media messaging on the likes of Facebook, Twitter, and Instagram. Not all monitoring options are equal, so consider your requirements carefully. Apps such as EyeZy, allow for keyword monitoring, so you'll only be shown messages that feature words that you've set up.
Location Tracking and Geofencing
A few apps on this list feature location tracking. While you may not necessarily want or need to monitor your child's location 24/7, it may be a useful feature in emergencies. Some of them even feature geofencing, which allows you to set up a virtual perimeter. Meaning you can configure alerts if your kids wander too far from home or leave school during class.
Tips for Choosing the Best Parental Control App
Before using a parental control app, you must understand why you want one. Protecting your kids online is vital, but it shouldn't come at the sacrifice of privacy. Nor should these apps be installed without an open discussion with your kids about why you're using them.
A couple of options offer "silent install" options, effectively hiding their presence from the user. Which is, in my opinion, something comparable to installing spyware on your family's devices. So please, use these tools to limit screen time, block inappropriate content, and block games during homework. But remember, your kids deserve a degree of privacy.
Consider the devices you have now and the ones you may want to add in the future. Of course, the app you choose today may not support the devices you add in the future, and that's ok. But if you'd instead commit to a lengthy plan, have a think upfront about the devices you may wish to protect.
Selection Criteria
Before we jump into my top picks. Let me break down my criteria for any good parental control software.
Device Support
Cross-platform functionality is likely to be a key consideration for many families. Not only is it likely you won't all be on either iOS or Android, but you potentially want to monitor other devices such as laptops.
Intuitiveness
Ease of use is crucial. Parental control apps should be easy to set up and manage, with minimal maintenance needs and as little disruption as possible.
Filtering
All apps recommended below should be able to block apps and sites where required. In addition, you should be able to set varying access levels and revoke access if required. You also need to be able to trust they do this job well, with little to no risk of loopholes that allow your kids to access restricted content.
Monitoring
What monitoring options does the application offer? A good app should allow you to have usage reports and alert you to concerning behavior. However, monitoring may be limited by OS and platform, so I'll review how each app gets around these limitations.
Product List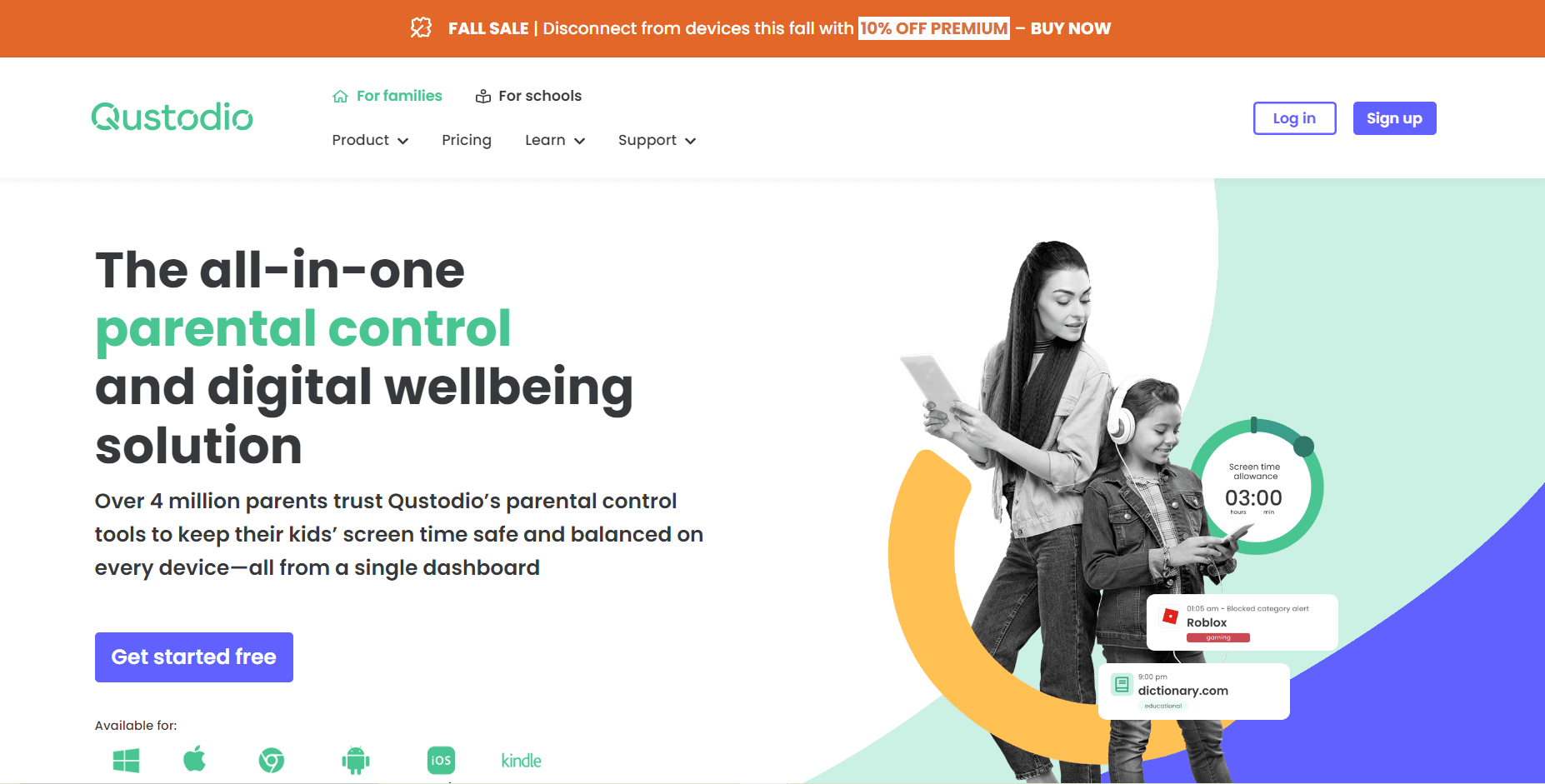 Pricing: From $54.95/year
Key Features
Content & App Filtering

Set Time Limits

Location Tracking

Track Calls & SMS
Qustodio is one of this list's most highly praised options and my overall pick. It's easy to set up and manage through the spotless and intuitive user interface and is packed with great features. The level of control here is almost unrivaled, but it presents itself in a clutter-free way that is easy to navigate, even for the less technically-minded parents.
Qustodio absolutely nails all aspects of my selection criteria, and in terms of device support, they've got you covered. The app is fully supported on iOS, Android, Mac, Windows, Chromebook, and Kindle. Ensuring your little ones are protected no matter the gadget. Standout features include content and app filtering, activity monitoring, tracking calls & SMS, usage reports, and alerts & SOS. There is also a Panic Button, but it is only available on Android. 
All of Qustodio's features can be found elsewhere, sure. But I challenge you to find an alternative where all these tools work together efficiently. But, this efficiency comes at a cost, both financially and physically. You may struggle here if you're running older or less powerful devices. Once Qustodio's hungry mitts get hold of your RAM, it might be game over.
Unfortunately, Qustodio is one of the priciest options, starting at $54.95 for 5 devices and going up to $137.95 per annum for 15 devices. They have a free option plan available, but you'll be capped to one device (a bit pointless in my eyes) and have minimal features. So if you want the cleanest yet most versatile option you can find, look no further than Qustodio. If you can stomach the price tag.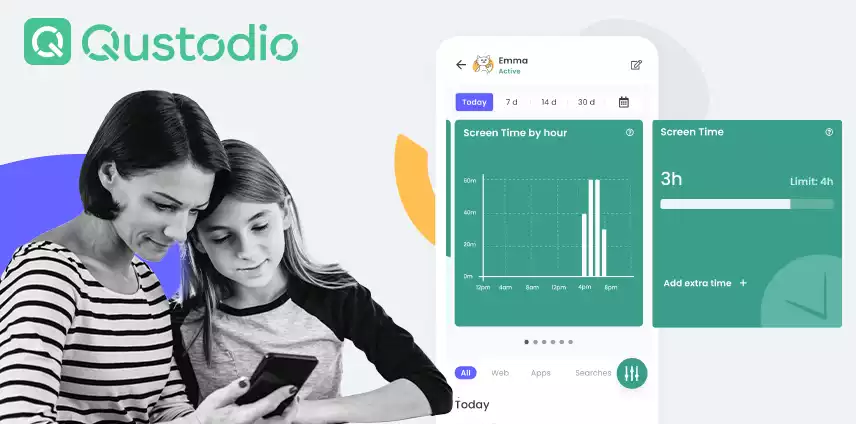 Qustodio – Pros and Cons
Pros
Available on a wide selection of platforms

User-Friendly Interface

Exceptionally feature-rich
Cons
One of the more expensive options on the market

It uses a ton of RAM

Website blocking is hit and miss

Bypassable with VPNs
Apple Screen Time
Pricing: $0
Key Features
Set Downtime

App Limits

Communication Limits

Always Allowed List

Content & Privacy Restrictions
A strong contender for my favorite parental control option, Apple Screen Time, is let down only by its unavailability on anything other than iOS and Mac. But it's free parental control, and it's glorious. If you're familiar with the Apple ecosystem, you'll already know what I mean, even if you've never glanced at Screen Time. All the expected Apple design aspects feature here.
It's clean and minimal but detailed. Everything you're likely to want and desire from a parental control app is here for free. If you think you're missing location tracking, look no further than Find My Friends. Apple's thought of it all. 
Setup is as simple as setting up your child's Apple ID under your own in a family-sharing plan. That's it. Plus, being account based, it's an incredibly versatile option for kids with multiple Apple devices you'd like to cover. However, it's a different story if you or your partner are without an Apple device.
You can set it up from your kid's phone as a standalone device, locking the settings behind a pin. However, you're going to lose out on a ton of functionality and run the risk of your little devils cracking the pin.
If your family is heavily invested in the Apple ecosystem, you're unlikely to need to look any further afield for a parental control solution than what's already built into your devices. However, for those with even a single detractor from the pack, you will face limitations. Apple Screen Time isn't for everyone, but it does its job incredibly well for those who can make full use of its offerings.
Apple Screen Time – Pros and Cons
Pros
Free and built-in to Apple devices

Simple to set up

Well Optimized
Cons
Functionality is limited if you have an Android device and non-existent if any of your kids are on an Android phone.

Monitoring options are limited on iOS and Mac

Less feature-rich than some of the paid options

Crafty kids can circumvent it
MMGuardian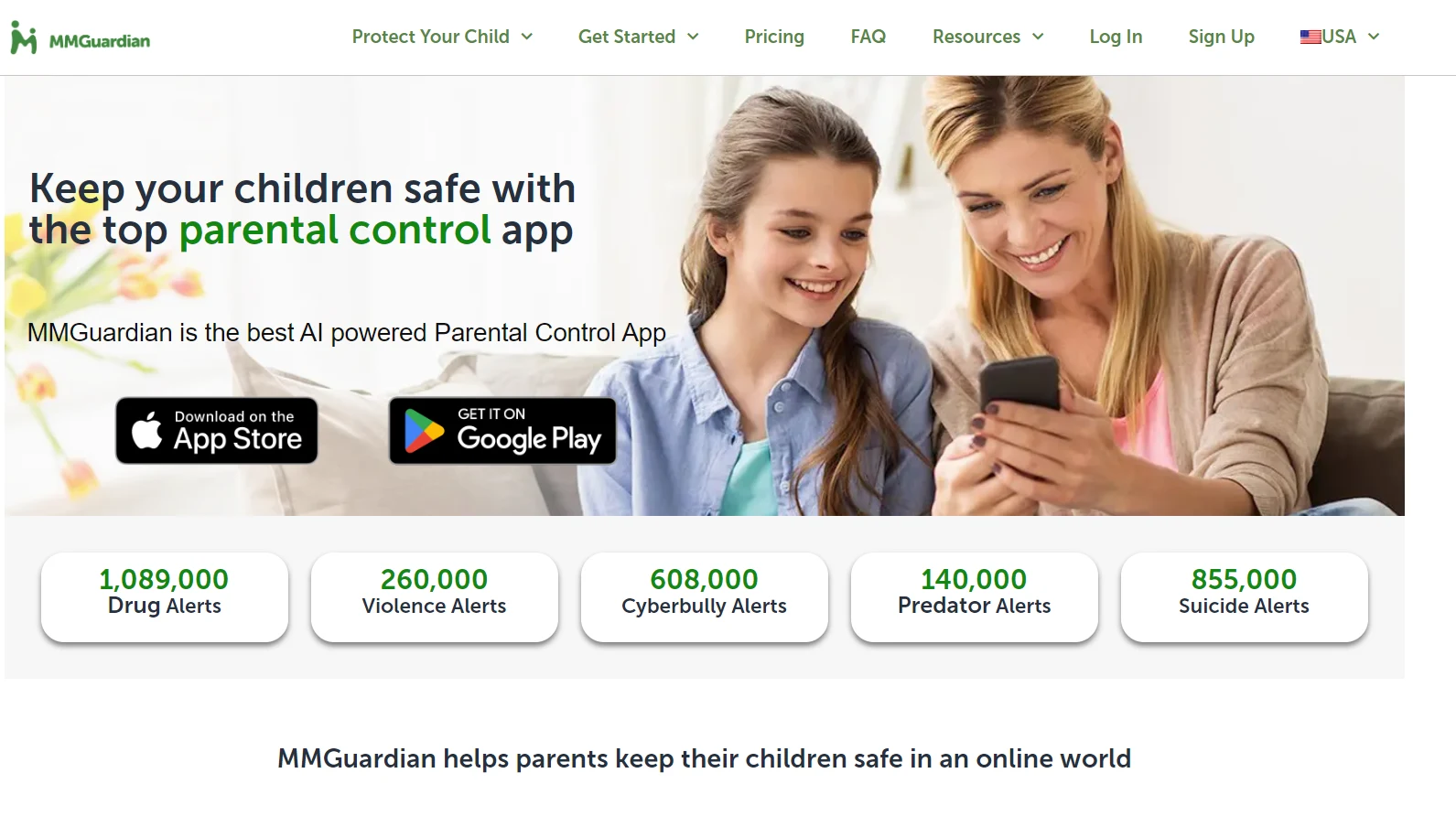 Pricing: From $34.99/year for 1 device or $69.99 for 5
Key Features
Group apps and have group-specific rules

Web interface or app for parents

Age-based preset filters

MMGuardian Web Browser

Content Analysis and Child Safety Alerts
MMGuardian is another of the most popular options on the market. It doesn't quite have the vast device support offered by the likes of Qustodio, but it is available on iOS and Android. However, both platforms are treated differently. MMGuardian has separate apps for Android and iOS. But the difference between the platforms doesn't stop there.
There are different prices for Android Phones, Android tablets, and iPhones/iPads. This is further complicated by pricing differences based on whether you're paying monthly or annually and if you're on a family plan or one for individual devices. Don't get me wrong, I appreciate the versatility here. But the pricing structure is perhaps a little too complex and likely to turn some people away. 
MMGuardian does have some great functionality, though. Parents can choose between using the parent application or a web interface if they prefer an in-browser experience. The package also offers some incredibly convenient filtering options out of the box.
While you may be left to set up your own filters with other parental control apps, MMGuardian offers some pre-configured age-based presets. There are also 147 categories to review and manually decide what to allow. This takes some pressure off the parent and makes setup far simpler and beginner friendly. 
MMGuardian may not have the most visually pleasing user interface, but it is easy to understand. Screen time limits, for example, are easy to set up using a calendar-like tool either in the app or the web interface. It's equally simple to configure your monitoring preferences.
A great feature here is the ability to monitor for specific keywords or phrases that may be cause for concern rather than monitoring entire conversations. This is a fantastic option for parents who want to allow their kids more privacy but still take active steps to protect them online. 
MMGuardian – Pros and Cons
Pros
Blocks filtered sites before they load

Monitor for specific keywords in chats and social media
Cons
Complicated pricing structure

Device-specific subscriptions and pricing

Limited to iOS and Android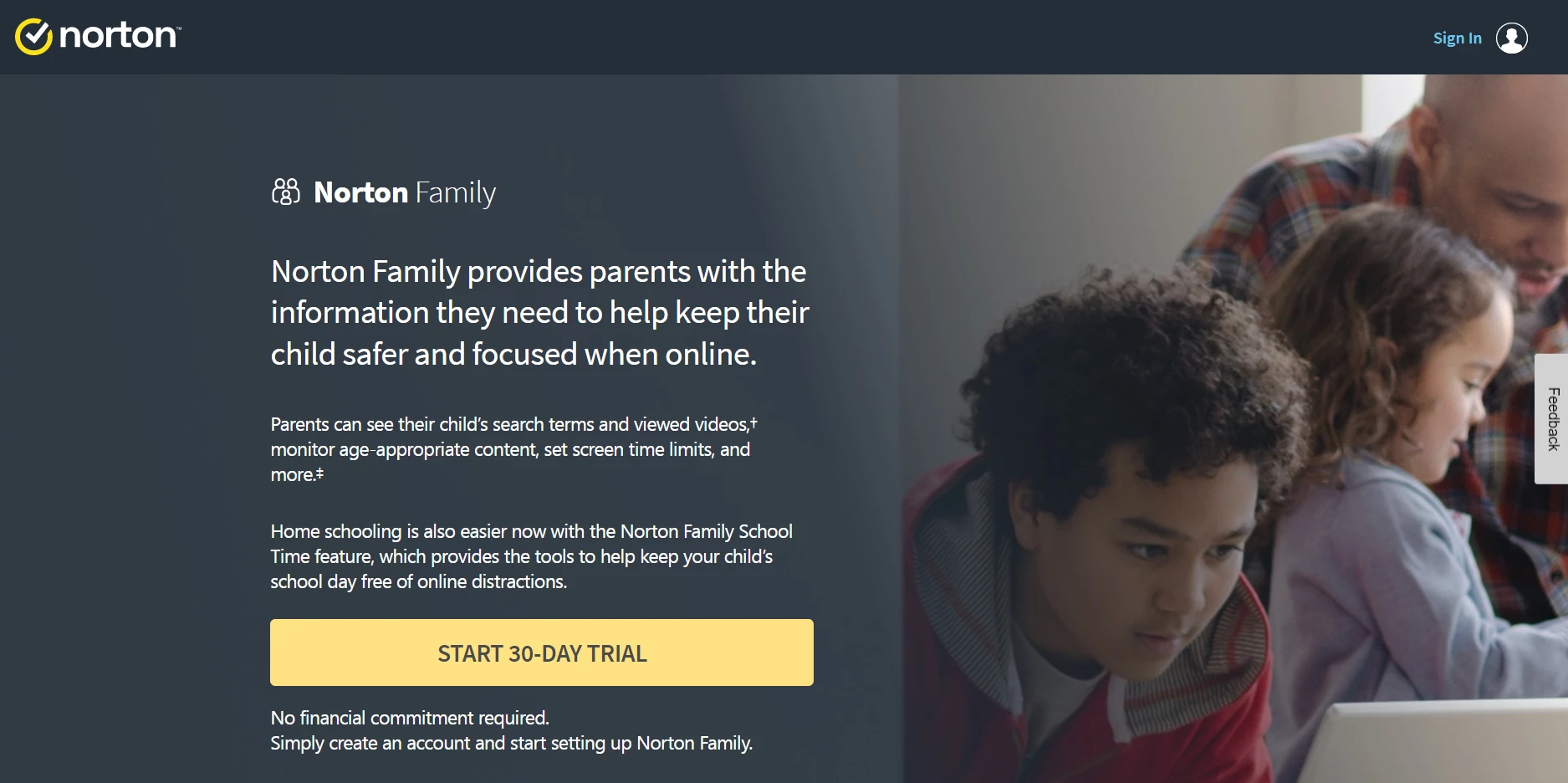 Pricing: $49.99/year
Key Features
No device cap

Up to 15 Child Profiles

Highly trusted developer

Geofencing
Norton Family is an excellent parental control option from the popular antivirus developer. Uniquely, Norton has no device cap on their plan, instead opting to give subscribers the ability to add up to 15 child profiles. This is great for those with many family devices, or larger families, particularly at this price point. 
Norton Family has parental apps available on iOS and Android, as well as a web interface for those who prefer it. You can install the child version on any devices you'd like to cover and sign in with one of your up to 15 child profiles. This makes setup incredibly easy.
Norton has some of the widest device support available too. With monitoring available on iOS, Android, and Windows. However, bad news for those hoping to cover Macs, who may have to look at other options, such as Qustodio, to get maximum coverage.
Norton Family's location tracking is best in class for those who want it. It has excellent accuracy and updates frequently, sometimes more reliably than even Apple's Find My Friends, which tends to lose accuracy and offer vague circles instead. You also have the option to set up geofencing. A fantastic peace-of-mind offering that can allow you to get alerts for things such as your kids straying too far from the neighborhood when playing outside.
Norton is a great option for those looking for a more budget-friendly option. Particularly larger families or those just with a load of devices they wish to protect. It really is fantastic value if you're in a situation where you'd be forced to go for more extensive, more expensive plans from other providers.
However, one major drawback here is its got arguably the worst user interface of any app featured in this guide. This may not be a dealbreaker for some, but it could be unappealing to those looking for an easier-to-understand platform.
Norton Family – Pros and Cons
Pros
No device cap

Great value for money

Well-known and trusted security provider
Cons
No Mac support

Not the most user-friendly
EyeZy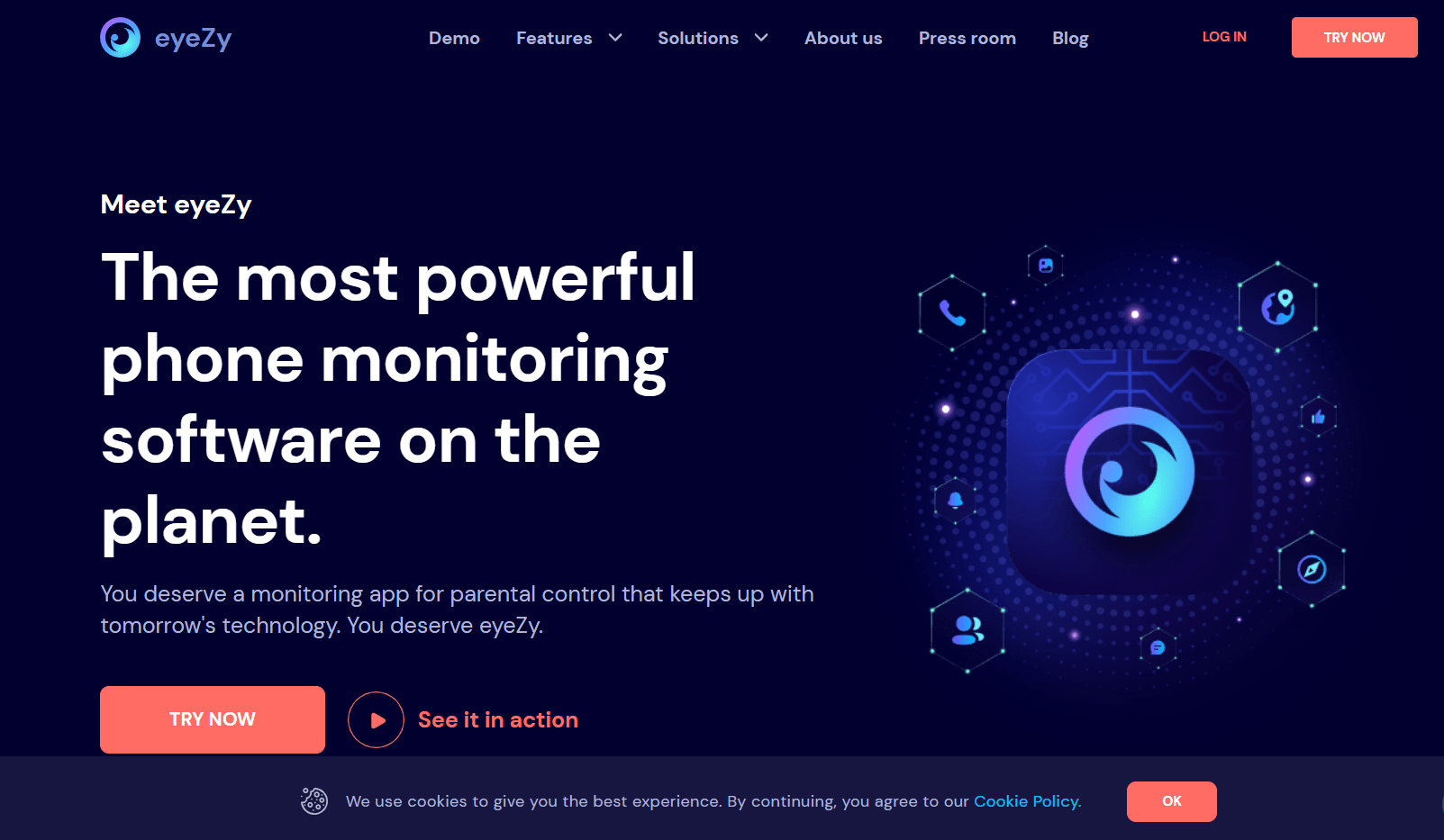 Pricing: From $9.99/pm
Key Features
List and view files, images, notes, and more stored on connected devices

Geofencing

Install and update over the internet
EyeZy is one of the cheapest options on this list and my overall recommendation for those on a budget. It also has one of the easiest installs of the apps featured here. In addition, you can install and sync data on your devices over the internet if you so choose. This may seem like no big deal, but it's a significant design choice that immensely simplifies setup and overall management. 
EyeZy may not be for you if your family is on Apple devices. Unfortunately, a great deal of EyeZy's feature set is reliant on iOS devices being jailbroken. That's not to say you can't use it on non-jailbroken iPhones, but it feels like a waste to purchase EyeZy and then not utilize all its amazing tools. This isn't entirely EyeZy's fault, though.
As I've mentioned before, Apple is incredibly security driven. Overall, it is deeply beneficial that their platform is so tightly locked down. Not so much for parental control apps that have to resort to awkward and difficult workarounds. 
Now, if you do opt to jailbreak your Apple device, please bare in mind you will be breaking Apple's terms and conditions, voiding your warranty, and opening yourself up to potential security vulnerabilities. Ultimately my advice for Apple users is to look elsewhere. For those on Android, however, the experience is almost faultless, with support for all devices running Android 4 or above. These days that's practically all models.
EyeZy offers some great tools for parents wrapped up in a very easy-to-use package. While geofencing is hardly a unique feature, EyeZy handles it exceptionally well. You also can pinpoint exact locations if you need to do so. Either in an emergency or simply for peace of mind
. For parents more concerned with social media and communications, look no further than EyeZy's Social Spotlight feature. This can keep track of messaging across various social media platforms, including deleted messages.
EyeZy's "See Everything, Everywhere" call to action couldn't be more accurate. The monitoring tools here really blow the competition out of the water. Of course, monitoring itself isn't the be-all and end-all of parental control, but it's definitely EyeZy's shining feature. Just use it in moderation.
EyeZy – Pros and Cons
Pros
One of the cheapest options

Easy setup

Syncs with iCloud
Cons
Requires jailbreaking to unlock most iOS features

The pricing structure isn't the clearest

Tool many "Solutions" listed on their site may turn away potential users
FAQs
Question: Are parental control apps bad?
Answer: While there's no harm in using a parental control app, it's no excuse for lazy parenting. They can and should be used to keep your children safe, but they're no substitute for active parenting. Additionally, be sure you're installing these applications for the right reasons. Silently installing parental control software to covertly monitor your family is ethically questionable at best.
Question: Do parental control apps work?
Answer: In short, yes, parental control apps work. However, they are not enough on their own. As I've explained in this guide, open communication about the restrictions and limits you're setting is essential. Not only for transparency but also because some of these applications can be circumnavigated by craftier kids if they disagree with your rules.
Question: Are parental control apps safe to use?
Answer: Generally speaking, parental control apps are safe when used correctly, and only those from trusted developers. Be sure to check user reviews and read how the app handles your data. The applications recommended in this guide all abide by strict data regulations such as GDPR and LOPD. Meaning you can rest assured your data and information isn't being mishandled or used maliciously.
Conclusion
Picking the perfect parental control app is no easy feat, but hopefully, this list has given you a good idea of what to look out for and what to avoid. Of course, this is by no means an exhaustive list, just a few of my overall recommendations based on personal preference and professional experience. 
The cream of the crop for me is Qustodio. While on the pricier end of the spectrum, its pricing feels justified. The device support is totally unrivaled, and the experience is incredible. Functionality is as close to perfect as I think you'll get, and the user interface is beautifully put together and easy to follow. You will suffer some drawbacks on older devices. The app devours RAM. There are also questionable faults in some of the filtering. However, none of these apps are foolproof. All of them can be circumvented to some extent by various means.
Remember why you're using these applications in the first place. Set reasonable limitations and communicate your intentions with your family. These tools are there to keep your loved ones safe, you confident they're protected, and alleviate some of the pressures and concerns of parenting in the digital age.