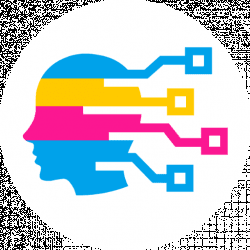 Latest posts by Digital Guyde Team
(see all)
Nowadays, people need more from their password manager than just Windows support. You might need access to a different operating system, on your mobile device, or on your tablet. Fortunately, in this 1Password review, we'll show you why this password management solution has you covered.
You can access 1Password through Windows, macOS, iOS, Android, as well as extensions for Chrome, Firefox, Safari, Edge, and Opera browsers. With a Chrome extension, 1Password can run on any platform that runs Chrome, which includes Linux.
If you're looking for a password manager and aren't sure where to start, 1Password is a solid option. Let's take a look at some of the features and functionality you'll get with the 1Password password manager.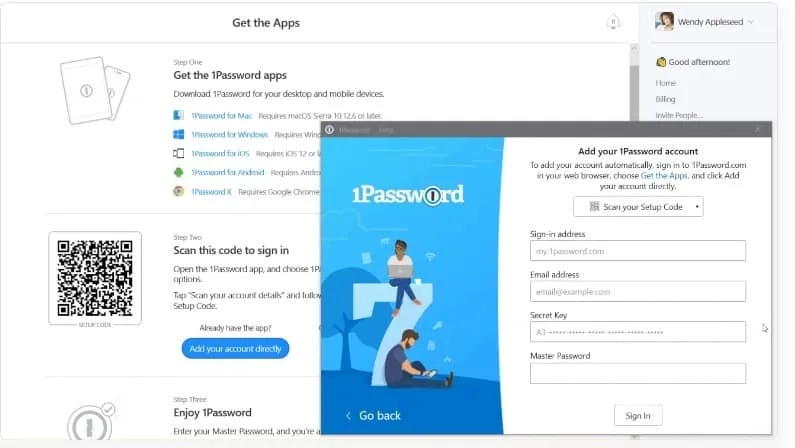 Installation and Setup
Installation for 1Password is straightforward and simple. Head on over to the 1Password site and sign up for your own account. 1Password gives you all their premium features free for a month. During the setup process, you provide the 1Password with your name, plus the option to provide a photo if you want to.
The following step in the process is a little unique. 1Password creates an alphanumeric string which it refers to as your Account Key. This key is 34 digits, divided into seven blocks by hyphens. The blocks are not the same size, and each time you connect a new device, this is the key you use for authentication.
Once you have your Account Key, you'll set up your master password. You want to make sure it's something strong enough to prevent someone from accessing your account, but easy enough you'll remember.
Applications and Extensions
When you finish up with your account, you'll have the ability to set up your applications. Remember that you'll want to have your Account Key on hand, but you're ready to install 1Password on Windows, Mac, iOS, and Android.
If you lose an activated device, the person who has it will still have to have your master password to gain access to your information. However, if you want to be sure that your device cannot be accessed, log into 1Password's web console and deactivate the lost or stolen equipment.
If you want complete functionality, you'll need to add the 1Password extension to any browsers you use on a regular basis. When you open your browser, 1Password will ask if you want to install the extension. Follow the instructions, and you're all set.
Importing
The simplest way to move from another password manager is to import your already existing list of passwords. With 1Password, you can import anything already stored in Chrome, plus the manager supports RoboForm, LastPass, and Dashlane.
If you're integrating from another password manager, all you need to do is export a CSV file and import it into 1Password. For comparison, KeePass will import files from 40 other products, while LastPass will import from over 30 different ones.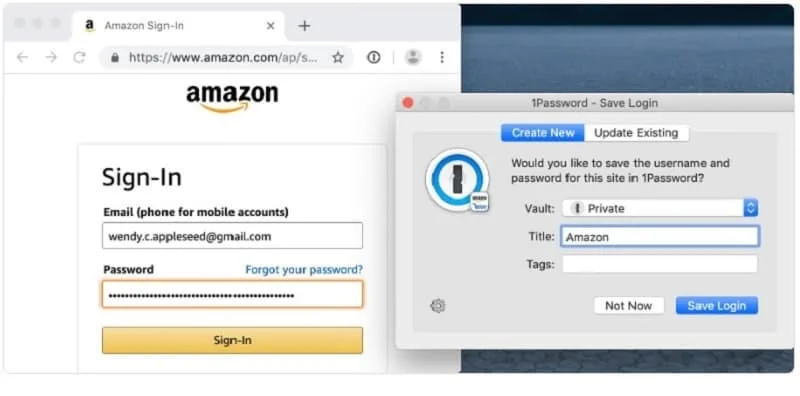 Password Capture
The 1Password extension keeps track of the credentials you enter on secure sites and will offer to save them for you. In the capture dialog, 1Password will let you enter a name or site to associate with your login information.
All passwords, by default, go into a vault labeled 'Personal Passwords.' If you need to add additional sets, you can always create and define more vaults. You can also choose to view information from just a single vault or see them all at the same time.
1Passwords Password Replay isn't as intuitive and automated as its competitors. When you visit a site on which you have saved credentials, you must select the appropriate keys to fill in your credentials. One nice feature is that if you have more than one login on the site, 1Password will show you a list so you can select the right one.
One item to note here is that when 1Password asks for you to select certain keys before filling in your information, it's helping to diminish the chance that your data is grabbed by an invisible login form. This would grant that form access to the site without your knowledge.
Other options offer a handy way for you to use the login information you've saved. Instead of navigating to the site first, you use a provided toolbar that shows your saved websites. Select the site you want; then the password manager takes you to that site and logs you in.
There are also key combinations you can press to call the 1Password Mini app. This allows you to see your saved information or enter new usernames and passwords if need be. While this type of password capture isn't as intuitive as other options, once you get the hang of it, it's easy to understand.
Generating Passwords
While storing your passwords in a password manager is a good start, you need to do more. Ideally, you would update all your outdated and weak passwords to something stronger and less obvious.
This is a task you perform manually since 1Password doesn't want to do this automatically primarily because the company doesn't want to wind up, inadvertently locking you out of your own account.
Other options also avoid this type of automation for related reasons. However, several provide a one-click standard password change process that allows you to quickly and easily update your passwords.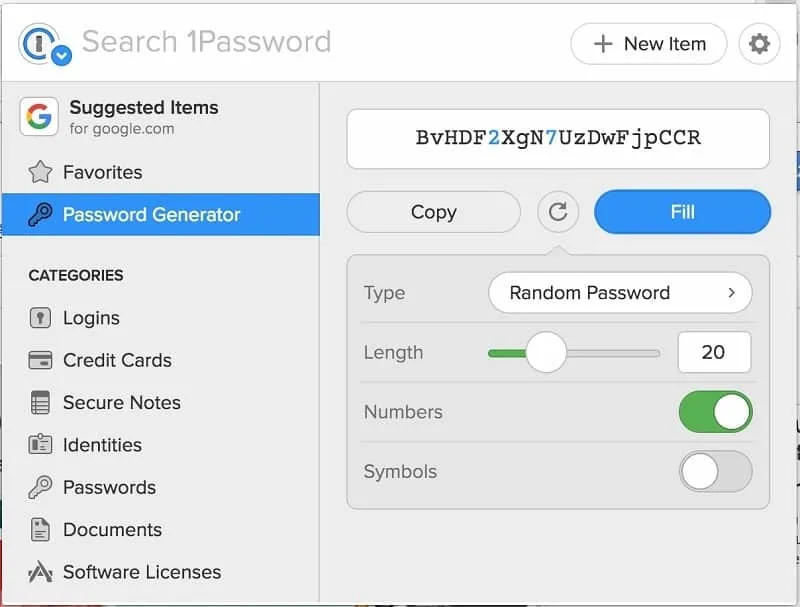 When signing up on a new site, or even updating your information, 1Password will offer to help you generate a strong password. The generator defaults to passwords that are 24 characters long no matter which app you're using. This is a solid feature, especially when compared to other password managers who only generate eight-character passwords by default.
Strong Password Creation
1Password created passwords that have both small and capital letters, along with numbers and symbols. If you don't want to use numbers and symbols, or if you encounter a website that won't accept them, you can disable using them.
Additionally, 1Passowrd does not allow for using ambiguous characters while creating passwords. So if you want to use the capital letter O and the number 0 in the same password, you're out of luck. However, since 1Password stores the password for you, you can always turn off this feature.
When you use a random string of characters, you make a password stronger, which makes it even more difficult to hack. One other way to make your password more difficult to crack is by making it longer.
1Password will create passwords that have a random array of words and are separated by a period, space, hyphen, underscore, or comma. For example, the software will create four-word passwords like 'hound opal maxilla anarchy.'
If you have to memorize a password, you're better off going with something familiar that makes sense to you. However, if you don't need to remember it, let 1Password manage your passwords by creating various random options.
Filling in Forms
Like many of the more popular password managers, 1Password will let you keep personal information to use when filling in forms online. You have the ability to create multiple identities which will store your personal information. This includes your address and any other contact information you want to provide.
1Password will also keep track of your credit card information separate from your personal identity. You can fill in your name, address, and phone number if you want, however, 1Password will let you remove these fields if you don't want them.
When you have a web form to fill in, many products will offer to input your personal data automatically. However, with 1Password, you must select the menu, then choose which identity you want to use.
Once you select your identity, 1Password does a good job of filling in your data. All the information you've already provided would show up in the web form, plus your credit card information if you submitted it. It's not a perfect solution, but it still beats filling out every field each time you have to complete a web form.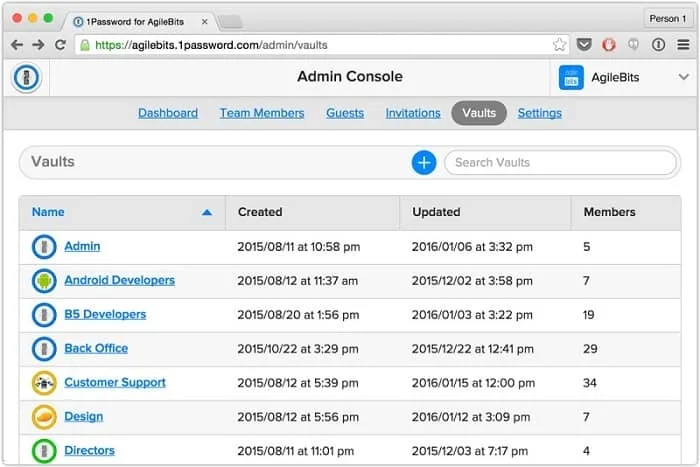 1Password Review – Editing and Organization
It doesn't matter whether you're using the browser extension or using the Windows application, 1Password will let you edit and organize your stored data and saved logins. A lot of password managers allow you to organize all the data you've saved into folders. Some even support nested folders.
One of the nice things about 1Password is that it uses a tag system, so you can create several tags for the same login. This feature offers support for nested tags, so you can create multiple levels of tags, which means you'll know exactly where your information is kept.
Additionally, 1Password also allows you to add a variety of other items, which means you can view them from any device on which you've installed the software. Some of these items include your passport number, social security number, and driver's license number.
1Password doesn't have a lot of options you have to worry over. One of the few you have to concern yourself with is how much time passes before you're logged out due to inactivity. The default is 10 minutes. However, you can change it depending on your needs.
You're automatically logged out of your 1Password account if you switch out of your Windows account. One of the newer features available with 1Password is that it will unlock when you use Windows Hello to log into your session.
1Password Pros
Apps for Android, iOS, Windows, and macOS
Simple authentication for adding new devices
Two-factor authentication
Extensions for most browsers
Extension for all platforms that support Chrome
1Password Cons
Not compatible with Internet Explorer
Limited import options
Advanced Functionality
One nice feature offered by 1Password is the option to see a list of the passwords the software considers to be weak. You can also see which passwords you've used on multiple occasions, along with passwords that haven't been changed in a while.
Even though this isn't the full-scale security check you get with other options like LastPass and Dashlane, you're still getting a solid audit that provides helpful information.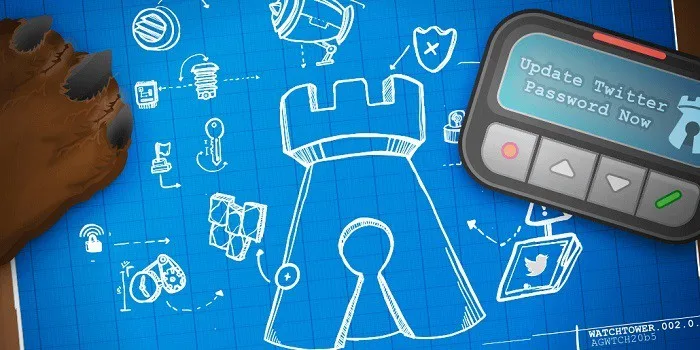 Watchtower
The Watchtower feature tells you about potential passwords that could be compromised. This is a great idea so you can be aware of issues before they become bigger problems. Additionally, 1Password checks your sites for Two Factor Authentication (2FA). If you aren't enrolled in 2FA, the software flags the site and reminds you the next time you access it.
Password Sharing
You can use the password sharing feature with the Family and Team versions of the 1Password software. You cannot share a password with just anyone, though. They must be part of your account. Additionally, you cannot set up a way for your children or spouse to access your account should you pass on.
Time-Based One-Time Passwords
1Password offers a TOTP, or time-based one-time password to use with apps like Google Authenticator for two-factor authentication on your smartphone. Along with the password, you have to enter a code given by the application itself.
With 1Password, you're getting this functionality built-into the software. Register as an authenticator; then from that point forward, you only have to use 1Password instead of logging into two separate applications. When logging in, 1Password copies the code onto the clipboard, so all you have to do is past it in.
Platform Support
If you're using 1Password on a Mac, you'll get the same capture and replay options available on Windows. Additionally, Safari has a browser extension that gives you the same functionality. However, the Mac edition of 1Password does have a few features that aren't available on Windows.
For example, on the Mac version, you can transfer items from one vault to another using drag and drop capabilities. Use the drag and drop feature to move items into floating windows and keep them handy while you're still working in the browser. Hopefully, these features will be coming soon to Windows, too.
Your iPhone or iPad gest special features as well. You'll get full, mobile-optimized access to all of your saved data. If you launch a site to login with your credentials, those sites will open in the 1Password proprietary browser.
If you want to use Safari, you'll have to copy and paste. However, 1Password's Quick Copy feature will copy each field automatically so you can fill out the form on the web page with your saved information.
FaceID and TouchID are available so you can use your iOS handheld device for authentication using the 1Password authentication feature. If you're using Android, you have access to fingerprint authentication and the ability to set up a PIN. Logins open in the proprietary browser using Android as well, but you can autofill in your preferred browser as long as it's Android 8 or later.
1Password X Review
1Password X is a browser extension that works with Chrome. Any platform that supports Chrome will be able to take advantage of 1Password X and all of its features, including Linux. It has most of the same functionality as the application but is missing a few things.
If you enter your username and password on a trusted site, 1Password X will prompt you to save these credentials. There are not special keystrokes for this capture and relay. Simply indicate whether you want to save your credentials to your vault or not.
The offer to save is right under the password field, so it's convenient, but it doesn't tend to cover up any other important fields. If you come back to the same page later and you have saved logins, it will display your choices under the login field.

1Password X will also suggest passwords from its password generator if it senses that you're creating an account on a new site. The default password length is 30 characters with a mix of digits and letters, uppercase and lowercase, but it does not use symbols.
However, you can control these types of configurations. You can turn on the use of symbols so it will include those in all future password generations. Your settings in the app and the extensions are all the same, but 1Password X is separate, so you will have to configure your settings again.
1Password X provides memorable passphrases just like the app and the browser extensions, but it can also generate PIN codes with only digits at any length you specify. You can also use 1Password X to support passcodes that are time-sensitive.
One unexpected behavior is the fact that you can't copy and paste with keyboard shortcuts. You have to click the button on the toolbar, pick the website from the list, and then click the copy button next to the code it generated.
1Password X will place keyhole icons in selected fields. Clicking on these icons gives you the option to save the data in the form. If you want to fill the field with the information you just copied, you need to click the toolbar icon and choose what you want, then click Fill.
1Password X lets you configure the password generator and fill web forms just like the app does. You can also search for tags and item names easily. The most useful part is that you can use it on any platform where Chrome is supported.
Alternatives to 1Password
There are plenty of password managers out there. Off the top of my head, I can think of ten other than 1Password. However, they're not all fantastic. Here are the top competitors and how they stack up.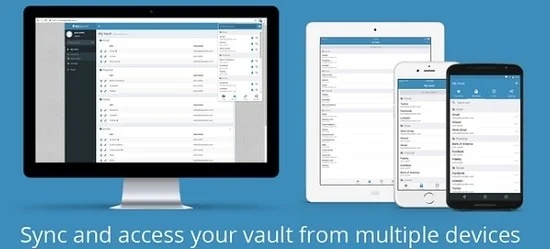 A lot of people migrate from a paid solution to BitWarden, which is completely free and open source. It offers two-factor authentication and allows you to import your data from other password managers as well as your web browser and other apps.
Because BitWarden is open source, you have access to how they store your data. BitWarden protects data using end-to-end encryption and salted hashing. However, they don't offer a full offline solution.
The good news is, BitWarden performs complete sync of your vault every time you log in, so as long as you've kept your information up to date, the information you access while offline should be accurate.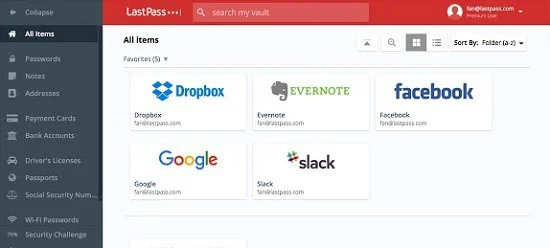 One of my personal favorites, LastPass, makes it super easy, and you genuinely don't need the paid version to get everything you need. In fact, LastPass is one of the most popular solutions out there.
It's a reliable solution and incredibly user-friendly. It features the same functionality as 1Password when it comes to prompting you to save new credentials or allowing you to autofill forms on familiar websites.
You can use it on mobile or any platform you're used to. The benefit to 1Password is that it's much easier to manage family passwords or create a family plan using 1Password, whereas LastPass is better suited for an individual, especially on the free plan.
However, if you're looking to upgrade, 1Password has a cheaper family plan that allows you to keep the whole family on the same plan, share passwords, and stay in the loop much more easily.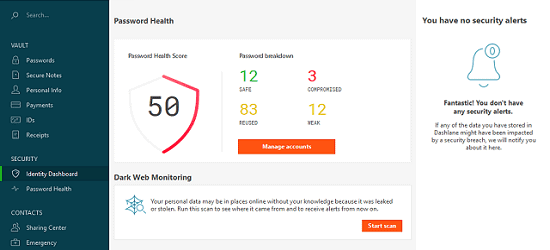 The primary difference between Dashlane and the others is the ability to enable dark web monitoring, VPN capabilities, and secure storage for files that you don't get with the others. The monthly cost is comparable, and they don't call it the family plan, but Dashlane offers some better security features than the other solutions.
It's better for an individual who wants the added security on a single device than it is for a family trying to share passwords and stay in touch.
How Does 1Password compare to others?
Take a Look
1Password offers a 30-day trial, so you can try it out and make up your own mind. Sync your passwords and all secure information across Windows, macOS, Android, and iOS devices so that you can rely on a password manager to keep all of your information secure.
The 1Password X extension ensures that you have the same features on every platform that supports Chrome so that you have everything you need no matter where you are or what you're using.
1Password offers a lot of features and a solution to almost all of your issues when it comes to keeping your usernames and passwords secure. You can enjoy the features of 1Passowrd on every platform and ensure that you never forget your login credentials again.
Perform all of your password management tasks using 1Password so that your information is secure and you never miss a beat, even if you haven't logged in to that platform in a while. Enjoy form fillers, automatic prompting to remember, and customized vaults, all in one spot.
Further Reads