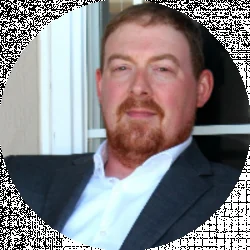 Latest posts by Justin Caldwell
(see all)
Do you have trouble keeping track of your usernames and passwords? If you're like me, there are simply too many to remember. That's why it's a good idea to use a password manager like 1Password vs KeePass. Even if you have a memory like a steel trap, it can be hard to keep tabs on all the information needed for all the various websites and apps we use.
Two great applications that will help you track and manage your passwords are 1Password (Full Review Here) and KeePass. These apps offer great features and functionality, perfect for anyone who needs help managing their usernames and passwords.
Of course, the best option is going to be the one that makes the most sense for you and your needs. But is that 1Password or KeePass?
Let's take a closer look at these two password managers so you can make an informed decision. But first, let's review what you should consider before making a final choice.
Evaluating a Password Manager
Nowadays, password managers come with a wide variety of features, which makes it tough to pinpoint the one you need. That's why we went through the trouble of creating a list of items to think about before you choose one.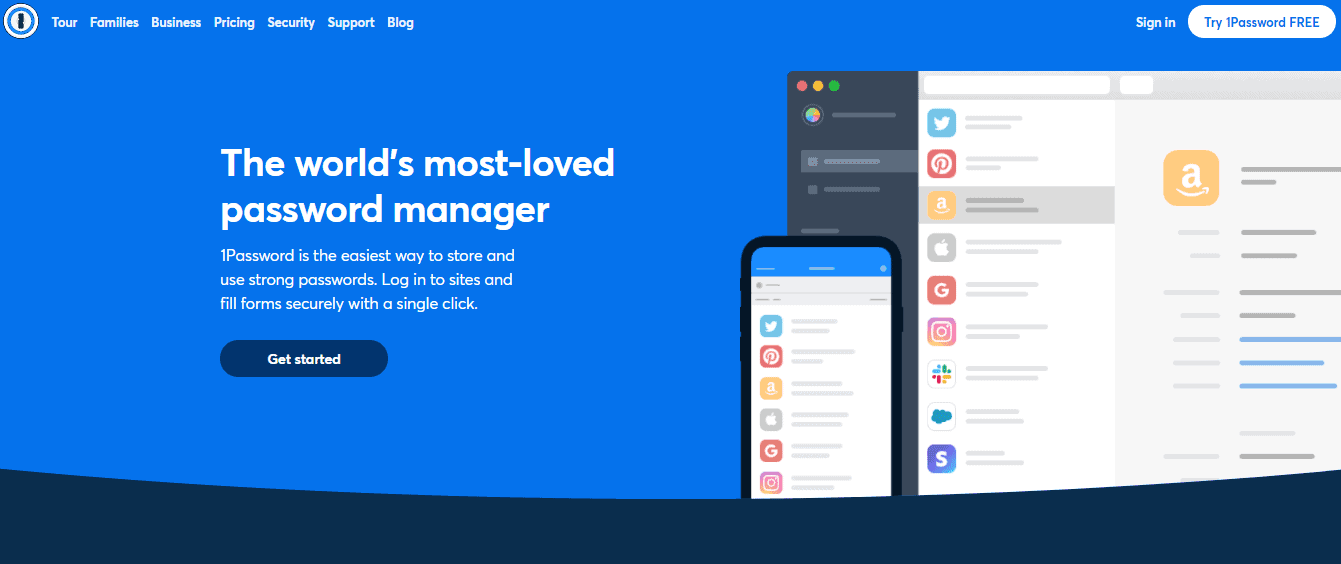 Remember, a password manager that works for someone else may not be the right option for you, so take your time and be thorough before making a final selection.
Encryption and security
One of the biggest reasons to have a password manager is to protect your personal information while improving your online security. Dig deeper into any password manager you're considering and determine what security features are really available.
Is encryption available? What about two-factor authentication? When it comes to security features and protecting your online information, you can never be too safe.
Platform support
It only makes sense to use a password manager that supports the operating system you use most often. Even better would be a password manager that you can use on a variety of devices and platforms.
I don't know about you, but I use multiple devices on a daily basis. If a password manager only supports my laptop, then it's probably not the option for me.
A quality password manager will work with the majority of operating systems you use regularly. These might include Windows, ChromeOS, macOS, Safari, Firefox, Android, and iOS. Additionally, many of today's password managers offer extensions for popular browsers so you can manage your information when you're online.
Easy to use
You also want a password manager that is easy to use no matter what platform you're using. A clean and intuitive interface will make it quick and easy to locate the features you want to use. Additionally, menus that are easy to navigate make a password manager that much more appealing.
Another feature you might consider for your password manager is biometric authentication. Just use your fingerprint to unlock the app. It makes accessing the app easy and convenient, which is exactly what you want when you need to look up a username or password.
Sharing passwords
Even though the primary reason you have a password manager is to ensure your usernames and passwords are private, there are times when you may need to provide your credentials with a coworker or spouse.
Some of the best password managers on the market give you the option to share your login info without showing your username and password.
Cost
Price is last on our list for a reason. It's not as important as support across platforms, ease of use, or security. However, it's always something you want to consider as you pick a password manager. The best options on the market are going to give you a nice choice of features at a price that's not going to break the bank.
If you own a business and need to create an account with multiple users, this might be a more important feature for you. However, some options will provide discounts if you have multiple users or you're willing to pay for several years upfront.
1Password vs KeePass
Now that you have an idea of what to look for before you pull the trigger on a password manager, let's take a look at how these two top of the line options stack up against one another. Here's what you can expect if you're considering 1Password or KeePass.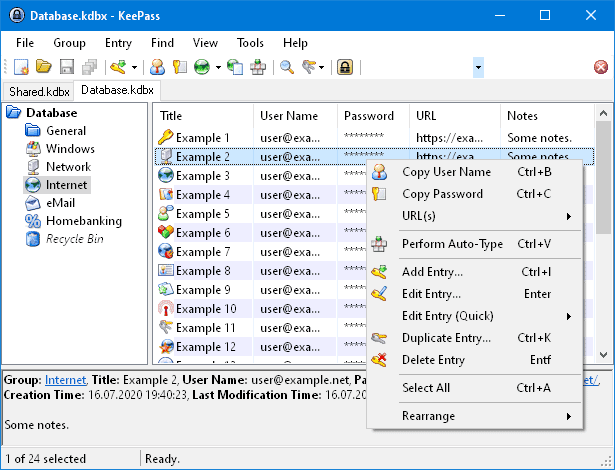 Encryption and security
When it comes to security and encryption, 1Password does what it can to keep your usernames and password secure and protected from hackers and crackers. This includes end-to-end encryption, along with PKBDF2 and AES-256 security. For additional protection, the app also requires a secret key anytime a user is logging in.
That means you're getting an additional layer of security if someone manages to guess your main password. Even if they do so, they still have to provide your secret key. Your primary password alone isn't going to allow someone to get into your account.
Additionally, 1Password offers a feature that lets you save your passwords in various vaults. With this feature, you can keep data in separate vaults, which makes it even more difficult for someone to access your information.
KeePass, on the other hand, is open-sourced, but that doesn't mean it doesn't have the security you need. The difference with KeePass is that your features depend on the version of the app you have. For example, KeePass Version 1 offers advanced security edit controls, password quality feedback, and process protection.
Version 2 provides all the features you get with Version 1 and allows you to set up a master password that adds an additional layer of security.
Platform support
1Password is one of the most well-known password managers due to its bevy of features. But it doesn't hurt that the app supports such a wide variety of operating systems and devices. It's one of just a few password managers that supports Internet Explorer, however, users can also use it with Opera, Safari, Firefox, Edge, Chrome, and Brave browsers.
If you prefer to go the desktop route, 1Password supports Linux, macOS, and Windows. For your mobile devices, it will work with Android and iOS, which means you can take 1Password with you wherever you go.
When it comes to platform support, 1Password holds the edge over KeePass. That doesn't mean it's not worthing using through. KeePass works with Linux, macOS, and Linux. Unfortunately, if you need your password manager wherever you go, KeePass is not compatible with Android or iOS.
If you spend a lot of time on a laptop or desktop computer, KeePass will likely meet your needs. But if you want a password manager that works with a variety of browsers and is available on the go, you'll probably want to go another direction.
Ease of use
1Password makes things easy for everyone that uses their software. Whether you need multiple users on a business account or you just want one for personal use, the app is quick and simple to set up.
Once you create your account, 1Password will ask you to create your master password. This is used in the event you want to access your information online. When the app is satisfied with your master password, you can download and install 1Password's browser extension. Additionally, 1Password sends you an emergency kit email when you finish setting up your account.
This kit consists of ways to reach out to 1Password support, your master password, and a secret key. In the event you can't remember your master password, you can use the provided information to access your usernames and passwords.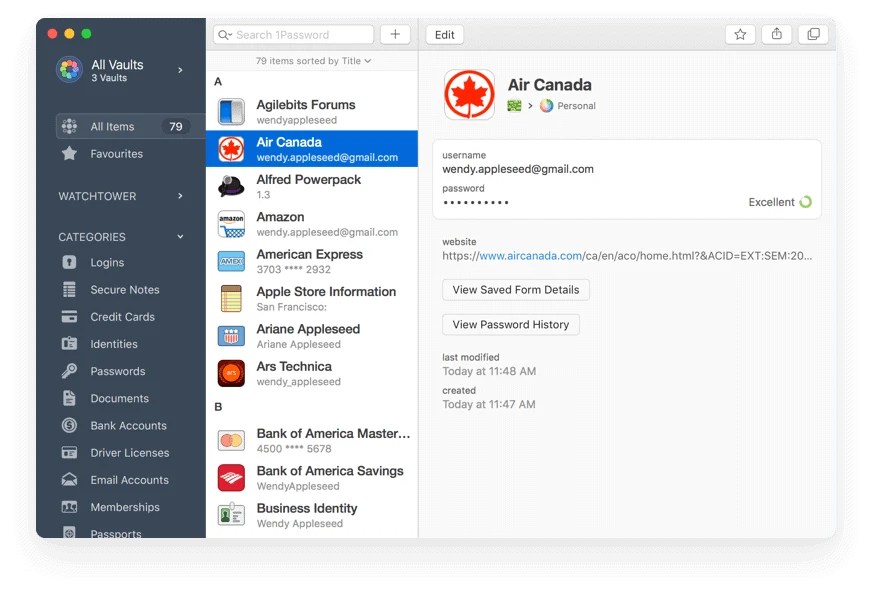 Since it's an open-source application, KeePass is a little more challenging to set up than its counterpart. The user interface for the platform has room for improvement. Users may discover that they have to dig around for a few minutes to determine the best way to get set up.
However, one feature that KeePass users will get that not many other password managers offer is the ability to select a banner style. This allows users to adjust the user interface to a theme or design that they prefer as opposed to being stuck with a static interface that cannot be changed.
While KeePass does take a little longer to get used to, it does provide plenty of features and security that keep all your usernames and passwords safe. Don't give up if you get frustrated with using the app. The time and effort you take it worth it in the end.
Sharing passwords
Another area where 1Password outdoes KeePass is password sharing. With 1Password, users can share their usernames and passwords with colleagues, friends, and family members. This makes it easier to access accounts that they choose to share with one another.
With 1Password, sharing passwords is quick and simple. All you need to do is move your passwords into a shared vault, then send an invite to the person you want to have access to it. If something happens and you need to revoke access, just take the information out of the shared vault and put it back into your private vault. That's it.
The great thing about 1Password's password sharing feature is that you can allow others to have access to your credentials without them seeing the actual username and password. This keeps your information safe and secure while others have the access they need.
Unfortunately, KeePass does not provide password sharing as one of its features. If you need to share your information or credentials with other people, then KeePass might not be the password manager for you.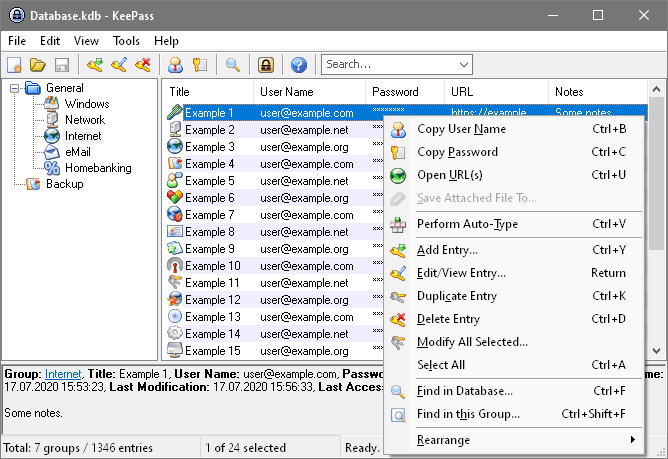 FAQs
Question: Has 1Password ever been hacked?
Answer: 1Password has never been hacked, which means your information is safe and secure. However, due to the required master password and additional security features, even if the platform is hacked, you don't have to worry.
Question: Is 1Password Trustworthy?
Answer: Some password managers store your information in a database, which means if their database is compromised hackers have access to your personal information. However, 1Password does not track or store your data, which means your info is safe. Plus, 1Password uses a Secure Remote Password Protocol, secret keys, and master passwords. From an overall perspective, 1Password is a very secure platform.
Question: Why is KeePass a free password manager?
Answer: KeePass is free because it's an open-sourced password manager that aids in managing your usernames and passwords. With KeePass, users can keep all their personal login credentials in a single place, which is protected with a master key. This way, users only need to remember one password to access their information.
Question: Will KeePass create passwords for me?
Answer: Upon creating a new entery into your KeePass vault, the app will automatically create a random password for you. You can edit or adjust these passwords as needed in the password generator settings.
Which Password Manager is Best?
The answer to this question is really going to depend on what you expect from your password manager. Personally, I need a solution that's going to let me share passwords with my wife and friends quickly and easily, which is why I like 1Password.
That doesn't mean KeePass isn't the right choice for you. Take a closer look at each password manager before you make a final decision. You may discover something that makes your choice a lot easier. Regardless of what you decide, always make sure your usernames and passwords are safe and secure.