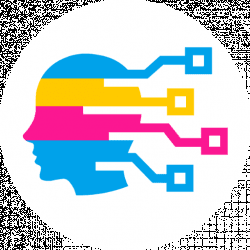 Latest posts by Digital Guyde Team
(see all)
If you're serious about gaming, then you likely already know how to build your own gaming rig. Though it can be an expensive endeavor, nothing is quite as fun as looking up the latest graphic card technologies and building your own Frankenstein computer with all the latest and greatest parts.
But even if you use your gaming rig solely for playing games, you can still get viruses. Nevertheless, I think most gamers build their system primarily for gaming and still use it for other tasks like work, graphic design, photo applications, and other demanding types of programs. If you're unfortunate enough to get a virus, it's game over.
Some viruses are so destructive that they can actually permanently impair, damage, or effectively render your hardware useless. For instance, one infamous virus in years past actually caused the read/write heads on hard drives to slam into the platters. Doing so caused irreparable damage to the HDD.
To help you stay at the top of your game without getting a virus, we're going to take a look at the top 4 antivirus applications for gaming.
Gaming Antivirus Performance Considerations
So what makes one antivirus application better than another from a gamer's perspective? Well, there are two big considerations that will likely determine the bulk of your decision. The first quality to look for is an antivirus program that doesn't hog viral memory and CPU cycles. Even though your gaming rig probably has the latest and greatest GPU, you still want an antivirus application that is as least intrusive as possible.
For standard computers (which you could very be used to play games), some antivirus programs are so resource-intensive, that they all but paralyze the system until it's finished scanning.
But even on a custom built gaming rig, you could still run into problems if you use substandard antivirus software. The last thing you want is a scheduled antivirus scan to slow down your computer so much that your computer starts to underperform in the middle of a game.
This is especially important for people who play competitively. Just imagine a close match that's determined not by skill, but rather by lag and choppy graphics that cause you to fail. Sometimes during a game, I've got a short fuse, and that would send me over the edge.
In addition, you will also want to look for antivirus software that offers real-time protection. More and more of the quality antivirus programs offer real-time protection from viruses. The idea is to quarantine dangerous files and halt background processes that are deemed dangerous.
You may not think you need real-time virus protection because you're not downloading anything during your game. But some people have Internet connections that are so fast (especially gigabit fiber connections) that they can still game while letting their Torrents (or other files) download in the background.
Downloading files in the background while playing a game is like leaving the kitchen stove unattended while cooking food – it's a recipe for disaster. If you're not monitoring your downloads, you could have downloaded a virus without even knowing it while distracted with your game.
And I think just about everyone has had an unpleasant malware experience. But what are the costs of getting malware on your gaming computer?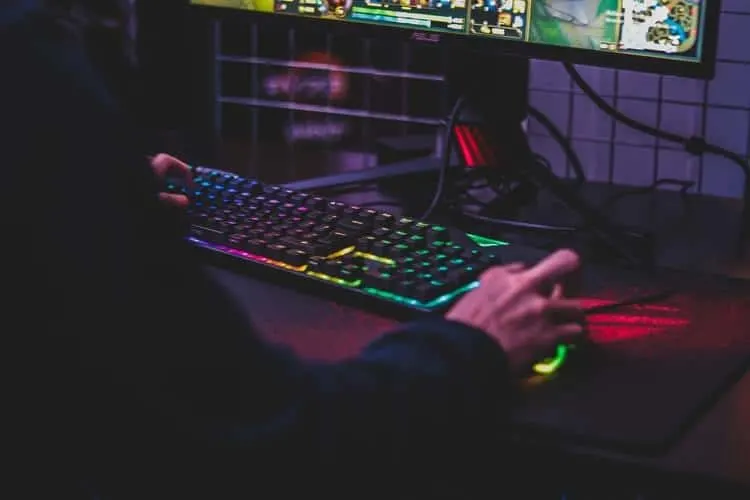 What's At Risk?
Though there are many things at risk, consider that your online account could get hacked. For instance, if a keylogger invaded your gaming computer, the attacker could easily get your login credentials to your online gaming accounts. You may think that they wouldn't want to bother with video game data, but you'd be wrong.
A lot of gaming accounts (most of them, actually) contain sensitive information. First and foremost, it could contain payment card data that you use to make online purchases.
Whether you're buying a new skin, character, or just using a subscription plan to play a game, a hacker could wreak havoc with that information. If they wanted to, they could make fraudulent in game purchases just to mess with you.
If you're more unlucky, however, they could use your payment card data to make purchases on other sites. Oh, and let's not forget that you could lose all your hard-earned game rankings and have to start over from square one. Apart from game related personal data, you're also giving an attacker a foothold to launch other attacks.
Most online accounts also include your email address. Knowing this piece of vital information, they could initiate password reset procedures via your email account to gain access to other types of accounts.
Oh, and let's not forget that all it takes is one piece of malware to ruin your entire operating system. This isn't nearly as bad if you back up your data, but it's never fun to have to completely reinstall your operating system. It's lengthy, you always run into problems, and there's an infinite number of better ways to spends your time.
So, to help you prevent all of these nasty consequences, let's take a look at the top 4 best antivirus programs for gaming.
#1 Bitdefender – Best Antivirus for Gamers
Bitdefender is our first pick for gamers for several reasons. First off, note that it does cost money, but it is an extremely cheap option. It only costs $39.99 per year, and it allows you to secure as many as 3 different devices, so you can secure other systems than your primary gaming computer.
In fact, the monthly cost is only $3.24, which is less than the cost of a meal. Secondly, note that they don't impact system performance at a significant level. Check out our full BitDefender review here.
They claim on their website that they have absolutely zero negative impact on speed. Honestly, I don't think you can notice a difference, especially with a high performance system like a custom built computer. That said, no program truly has absolutely zero impact. It does use memory and CPU cycles, but it is so efficient that you won't notice a difference when gaming.
It will help protect you against a wide range of malware threats like viruses and adware. And they have an "autopilot" feature, which is really just another name for real-time protection. You can learn more about the new Bitdefender here.
#2 Avira
Avira is our second option for gamers, and they have an advantage over Bitdefender because Avira is free to use. Usually, free software lacks in quality, but Avira is better than the typical watered down antivirus software. And like Bitdefender, Avira has tested well in performance benchmarks to ensure that it has an extremely low impact on system performance.
That way you can enjoy real-time protection while playing a game. Also, you can run scans without the fear of slowing down your local machine so much that your gaming experience suffers. Avira does have a real-time scanning feature as well, which runs in the background to stop threats and malicious background processes dead in their tracks.
If you prefer, there is a feature that allows you to schedule scans as well. That way you don't have to worry about constantly scanning your system manually. It can even quarantine potentially unwanted programs and suspicious processes automatically so you don't need to stop your game to deal with a threat. Read our full Avira Review Here.
#3 Avast
Avast is our third pick for gamers, and it does carry the advantage of being free to use. It is a little watered down compared to many paid subscription alternatives, but it has a reputation for being able to catch malware before it has a chance to infect your computer. However, there is one downside for gamers.
I would only recommend using real-time protection when playing a game. It isn't as lightweight as the previous two antivirus programs, so you'll want to refrain from running a manual scan during your games.
You may very well have a computer so powerful it won't make a difference, but just know that Avast is more resource intensive than other alternatives. Still, you can't beat free. Read our full Avast Review here.
Kaspersky is our last pick for gamers interested in anti-malware software, and they do a tremendous job of keeping up to date with the latest emerging threats. By default, the software will automatically download new updates from their update servers.
However, as I would recommend, you can configure the process to be manual. That way you won't experience a spike in lag as the software goes out and grabs the latest updates during a game.
They have a cool Webcam Protection mechanism that stops hackers from getting control over your webcam and spying on you. In addition, they protect you online by preventing third parties from tracking your web browsing habits.
Last but not least, they have a handy online shopping security feature to ensure that you don't accidentally volunteer payment card data to a website that doesn't use proper security and encryption. You can check out the latest Kaspersky promotions here.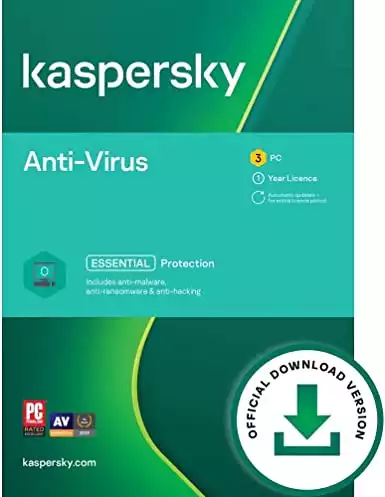 Final Thoughts on the Best Gaming Antivirus Solutions
Whether you like first person shooters, MMO-RPGs, or simple Flash games, you need to have antivirus software to protect you from criminals and hackers. Think of it as a form of insurance. Every serious gamer I know has invested a lot of money into their hardware, and it would be a crying shame if malware took over your gaming system.
Not only could you lose vital personal information, but there's a chance that all of your game data could be deleted. To safeguard against that, I'd recommend keeping backup copies of the game save data in the cloud. But with real-time protection from an antivirus program that doesn't hog system resources, you should be able to nip any potential malware problems in the bud.