Last Updated on
Avast is a well-known and respected company that is revered for developing high quality security software. Though some of you may be biased in one way or another due to a personal user experience, the fact remains that Avast has tested well in independent lab tests and benchmarks.
But their suite of software utilities exceeds that of security software. They also provide tools that help you clean up a dirty computer, which helps optimized the operating system and generally cause the system to run faster. I do think it's a little more expensive than some of the cheaper independent alternatives you can find on the net, but that brings up my next point.
Just about everyone has run across Google ads or adware ads that try to trick you into purchasing a registry cleaner or PC optimizer. In fact, some viruses adopt such a guise in order to trick you into further damaging your system. While it's possible to find free and cheap registry cleaners and optimization tools, in my opinion, the real value with Avast is trust. You don't have to worry about the efficacy of Avast Cleanup since they already have a trustworthy reputation in the software industry.
Before we move on to the pricing section, I need to issue a critical warning.
Warning: Before You Begin, Read This!
I must issue the same warning to you as I've issue to thousands of people in the past (that's not a hyperbole) before they made critical system changes. Make sure you backup your system before you even think about making any changes! From dual boot scenarios to the latest registry cleaner, you should no that no two computer systems (with the exception of fresh-out-of-the-box computers) are exactly the same.
They're like snowflakes, and each one can have different operating system, different updates, different service packs, varying combinations of software, different types of viruses and malware, and a seemingly endless number of other factors. The ugly truth is that even innocuous looking optimization and cleanup software can sometimes cause problems…problems that could have been easily avoided.
For that reason, it's always best to perform two different maintenance tasks before cleaning up and optimizing your PC.
The first thing you should do is backup the registry so you can revert back should anything go wrong. The registry is a pretty large and complex place, and it takes a long time to learn where everything is stored in registry hives and registry keys.
Furthermore, you should backup all your personal files. I would even venture to say that it's a good idea to create a duplicate image of your drive with some cloning software. It's just nice to move forward with the knowledge that no matter what happens, you can revert any changes you make after you've cleaned up your computer.
Avast Cleanup Pricing Information
Avast seems to use a similar pricing model with most of their digital products. Basically, they provide discounts in two different ways. If you bundle multiple user and computer licenses together, you'll pay less. Also, if you opt for longer term subscriptions, you'll save more money in the long run.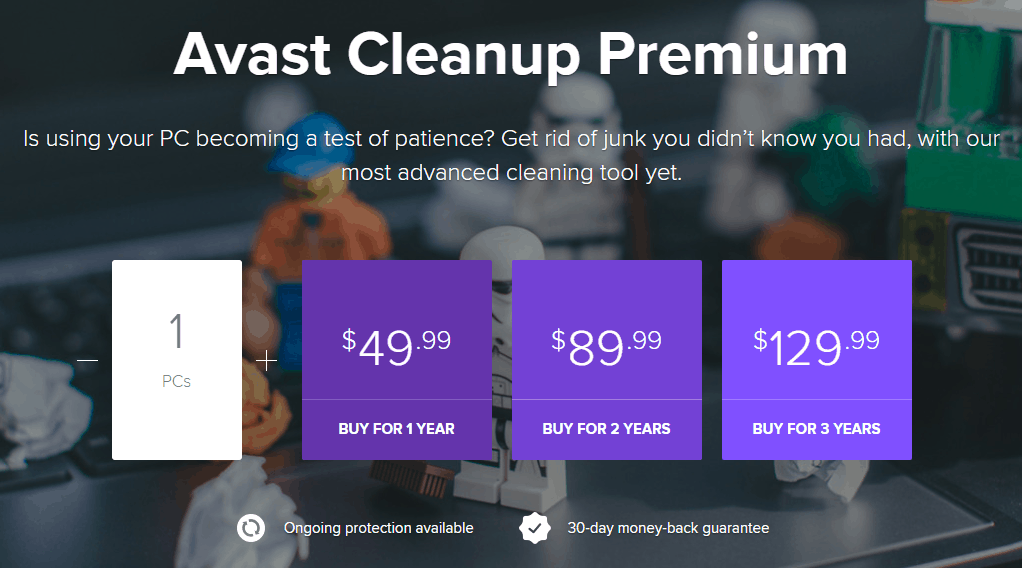 For a single user for a single year, I think that they're pretty reasonable.
However, you may feel differently. To be honest, it does cost more than a lot of the stand-alone products that you'll find on the Internet, like competitors such as CCleaner. But again, part of the reason it costs more is because Avast is trustworthy, and the software has some great features.
I think most competing products will cost about $20+ for a single user license, so Avast Cleanup isn't exorbitantly priced. If you aren't satisfied with the product or it flat out didn't work as well as you thought it would, you can always opt for the 30-day money back guarantee.
Features to Consider
The features included in Avast Cleanup are relatively basic and straightforward.
Removing Old Uninstalled Files: The first feature that Avast Cleanup uses to optimize your PC is removing files left behind by uninstalled programs. These files are useless and defunct, and can waste HDD space and cause some portions of the operating system to run more slowly.
Remove Old Software Data: In fact, it seems that a large portion of the cleanup activity is aimed at removing files. Not only will the software remove old data left behind by uninstalled programs, but it will also look for defunct and obsolete files that are needlessly taking up space on your hard drive.
Optimizes Redundant Entries: And naturally, one of the core features of Avast Cleanup is registry cleanup utilities. It will sort through the various registry hives and key to look for errors, inconsistencies, corrupt entries, and useless entries.
Remember to Backup: This is one reason why I recommend backing up your registry before running the software. You never know how every single application will react to a registry cleaner, so it's best to have a way to restore things to how they were before the cleanup procedure…just in case. Nevertheless, a corrupt and sullied registry is one of the most common causes for an underperforming PC.
Disable Heavy Boot Time Apps: Next, the software will even help disable applications that bog down your PC during boot time. There are a lot of applications that don't need to be automatically started every time you boot your computer. This feature will help manage those applications. I don't personally see value in this feature since I already manage that process manually, but I suppose there are plenty of end users who don't know how to go about the manual procedure.
And that's really all there is to the software. As you can see, the features are pretty standard and common among most cleaning and optimization applications. I guess the only other option is the ability to set daily scans, but I don't like using it. As I said before, I always backup my PC before cleaning it. Thus, I wouldn't want an automatic daily scan.
Final Thoughts: Is Avast Cleanup Worth it?
Overall, I think that Avast Cleanup is a great utility with a lot to offer. It's certainly better and more trustworthy than the vast majority of freeware/shareware utilities that can be found in the wild, which are plastered across banner ads all over the Internet. But just because it's one of the better products doesn't mean it's the best alternative.
Avast Cleanup vs CCleaner
I think I still prefer CCleaner over Avast Cleanup, because CCleaner is actually a little cheaper and has a few slight advantages in terms of features. That is my biased opinion, however, and I can see a few scenarios where Avast Cleanup is advantageous, especially when you start looking at multiple user licenses.
Feel free to disagree, but I think CCleaner is a superior option, even though Avast Cleanup is better than most other options.