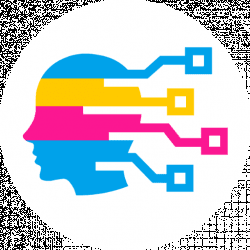 Latest posts by Digital Guyde Team
(see all)
If you've ever browsed the Internet, chances are you've run across an advertisement for CCleaner. It seems to be the most industrious, most successful, and most popular PC optimizer and cleaner on the web. And to tell you the truth, I think it does a pretty darn good job myself.
If that weren't enough, it even has a free version. However, the free version really only allows you to do some basic file cleaning and protect privacy by deleting cookies and other cached data from your web browser.
If you want the full featured professional version, you'll have to pay $24.99, though it does come with some extra goodies. Then, if you want to purchase the highest level of this disk cleaner, you'll have to pay $39.95 for the Professional Plus plan, which comes with some file recovery services and few other additional features. Not only does CCleaner do a good job, but it's also legitimate, credible, and reliable.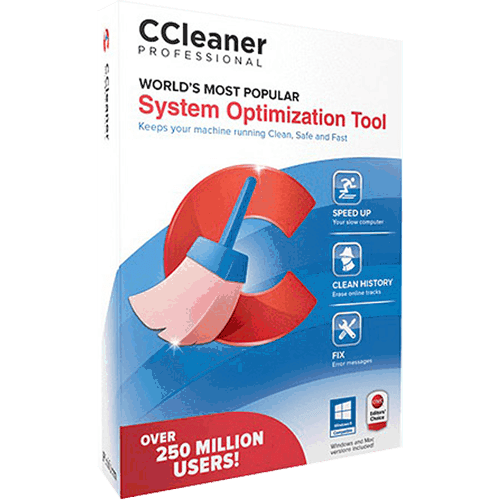 The problem is that the market is swamped with competing for software that claims to do the same job, but there's a huge problem. Tons of hackers, devious marketers, and other cretins who are up to no good often disguise viruses as these types of cleaners.
In the recent past, it used to be obvious which ones were fake loads of crap and which ones were legitimate. But dubious marketing techniques have advanced so much today that you can't judge a registry cleaner, PC cleaner, or optimization cleanup tool by its cover (or splash image, rather).
What may appear to be legitimate may infect your computer with a virus in a fraction of a second.
I think that's one reason why so man people like this disk cleaner: it's tried and true. However, it's not the only legitimate cleaner on the market, and there are tons of similar disk cleanup tool that can be downloaded and used completely free of charge.
So, let's go ahead and take a look at the best CCleaner alternative.
SlimCleaner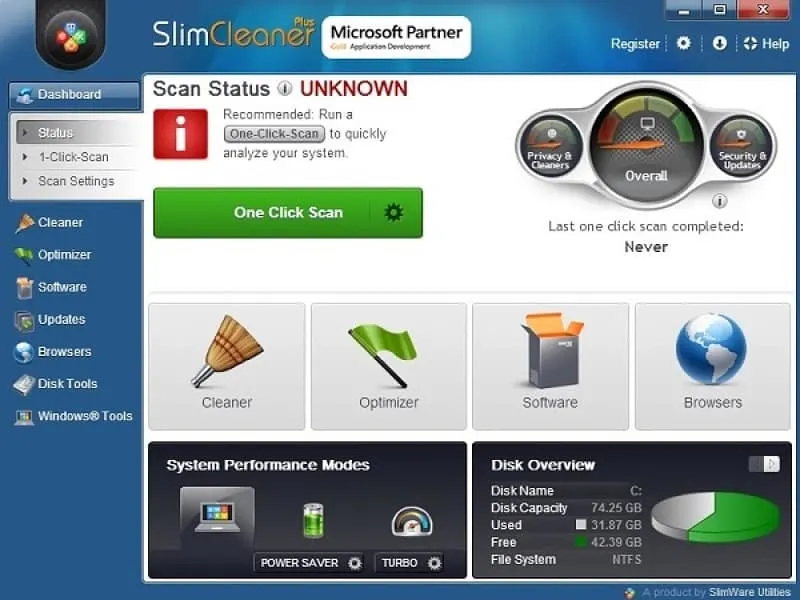 SlimCleaner is trustworthy and legitimate since it is a Microsoft Certified Gold partner. This may sound a bit irrational, but I tend to trust utilities that were designed and developed by Microsoft partners as opposed to independent third parties. Part of the reason for that is I feel that they'd have a better understanding of how the operating system works, but perhaps that's a non-issue for most people.
At any rate, this software has a free version that competes directly with CCleaner, and can easily run through your OS and look for junk files, unwanted files, and data that's slowing down your system.
It can clean the registry as well, and look for duplicate entries, old entries, and bad data. Just remember to back up your windows registry before making any changes so you have a way to revert if something goes awry.
Furthermore, this utility can run disk diagnostics and evaluations, help uninstall bothersome applications and old application data, and even help control the startup process.
By eliminating unnecessary processes during the system boot, you can drastically reduce the time needed to load the operating system into memory. It does include a defragment utility as well, but I'm not so keen on third party defragmentors since Windows comes with one to start with.
Furthermore, the utility comes with real-time diagnostics that help measure system resources like CPU cycles and RAM performance. But by and large, the core service of this application is to delete unnecessary files, duplicate files, temporary, and junk files that are bogging down your system.
BleachBit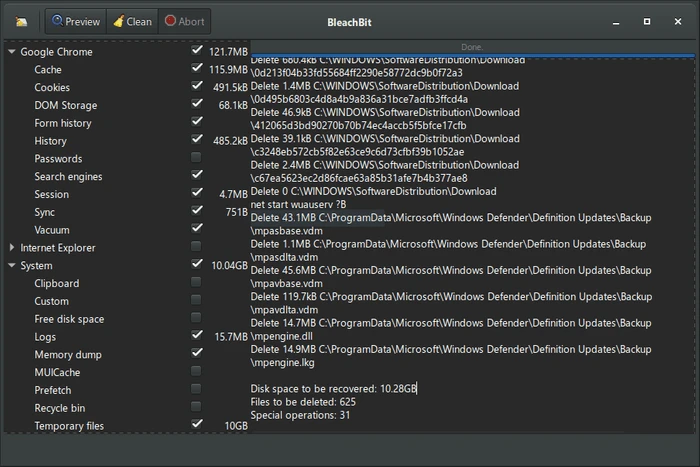 BleachBit is the second good alternative to CCleaner, and you can trust that this software is legitimate since it is protected under the GNU license. That also means that it's completely free to download.
In fact, I think the free version of BleachBit is superior to the free version of CCleaner (even though I adore CCleaner). That said, I wouldn't ever claim that BleachBit is better than the paid versions of CCleaner.
At any rate, BleachBit's core functionality is much the same as the previous alternative's, and works by scanning your OS for junk data files that slow down your system and aren't needed.
It can also help by scanning for cookies and history cached in your browser. Not only can that data slow down your web browsing experience, it can also be a security risk. Deleting that data will help you stay safe and anonymous online.
It also contains a rather effective file shredder, which permanently deletes unnecessary files. If you were to delete a file normally within Windows PC, the hard drive doesn't actually delete the data.
Instead, it just frees up the hard drive space that was reserved for that file; that is, the data still exists there if it hasn't been overwritten yet. The file shredder, however, will purposefully flip the bits to ensure that the file is overwritten and in a state that can't be recovered.
Read my full comparison review here!
Glary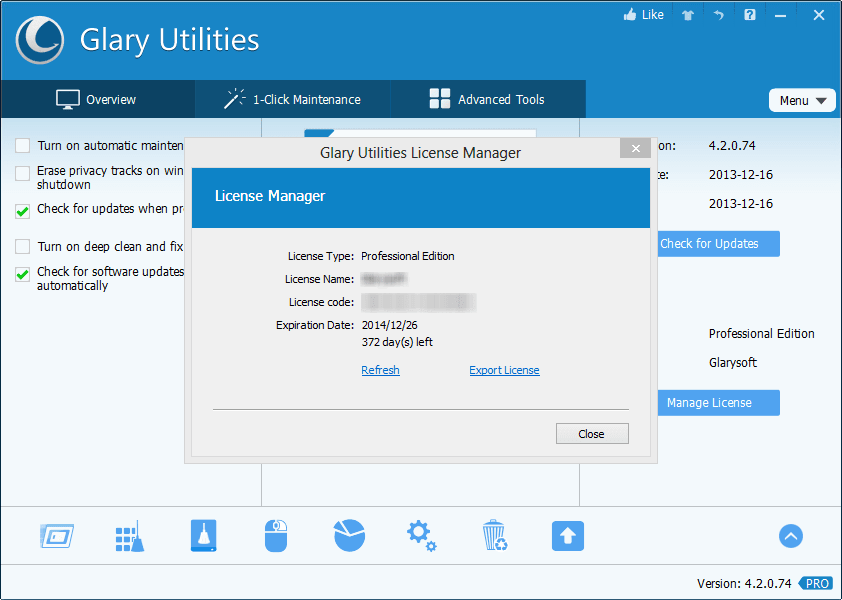 I think Glary Utilities has a terrible name, as it just reminds me of a person named Gary. Nevertheless, this oddly named utility is a viable alternative to CCleaner. In fact, it seems to be one of CCleaner's largest competitors.
And like most other utilities in this software space, Glary Utilities operates on the premium model. You can download it for free, but naturally, you'd have to upgrade to the paid version to unlock all of its features.
And though it does help clean your computer of junk files like the preceding two alternatives, it comes packed with over forty different individual tools designed to speed up your computer. Of course, it can still run through your windows registry and make necessary improvements, and it has a simple 1-click maintenance button that makes it painless to use.
In addition to disk cleanup of junk files, this disk cleanup tool can speed up the boot process, fix application shortcut errors, increase RAM efficiency, save hard drive space, permanently delete applications and all of the data they leave behind and identify and fix problems detected in the hard drive. (Read my full comparison!)
Advanced System Care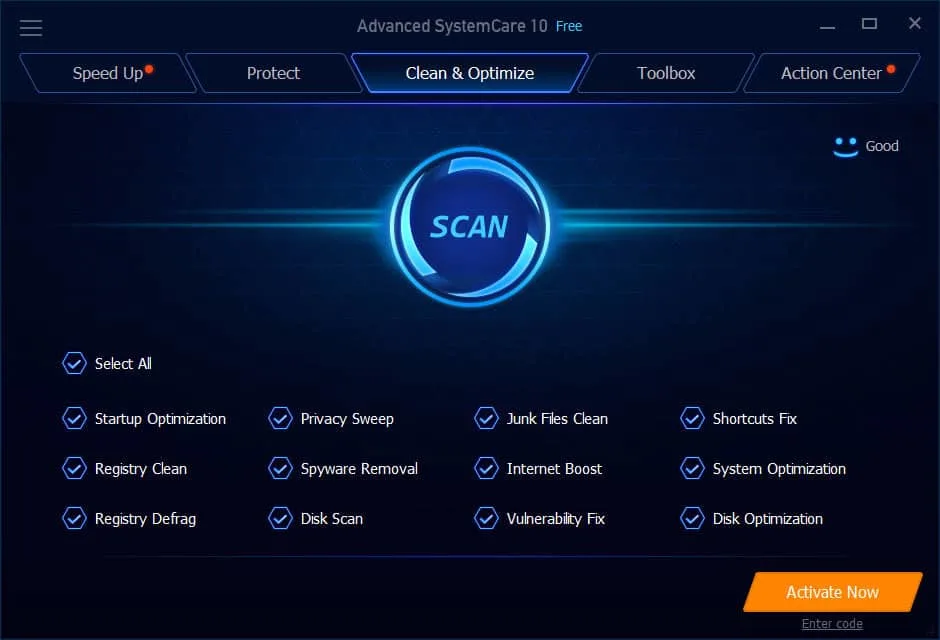 The next best alternative is Advanced System Care (full comparison here!), which is more than an optimization and file cleaning service. In addition to those features, this service also comes with antivirus protection.
While I used to think of antivirus protection as a completely different service, it's actually becoming more common to see these two types of applications come bundled together.
The antivirus engine comes from BitDefender (which is to be expected, since it is one of the most widely used third-party antivirus engines), and employs a database to search for signatures of over 100 million different threats.
And since it's at least part antivirus software, it can help protect you online in two ways. Not only can it help prevent browser fingerprinting by eliminating a lot of cached data in your browser, but it also uses a blacklist of websites to make sure you don't click on a malicious link.
In addition to safe browsing features, it also helps protect children with a parental control feature and can protect the integrity of your home page.
Some viruses, adware, and malware will change the default home page for advertising reasons, which can lead to some inappropriate material. But this utility has a feature that blocks such attempts.
Privacy Eraser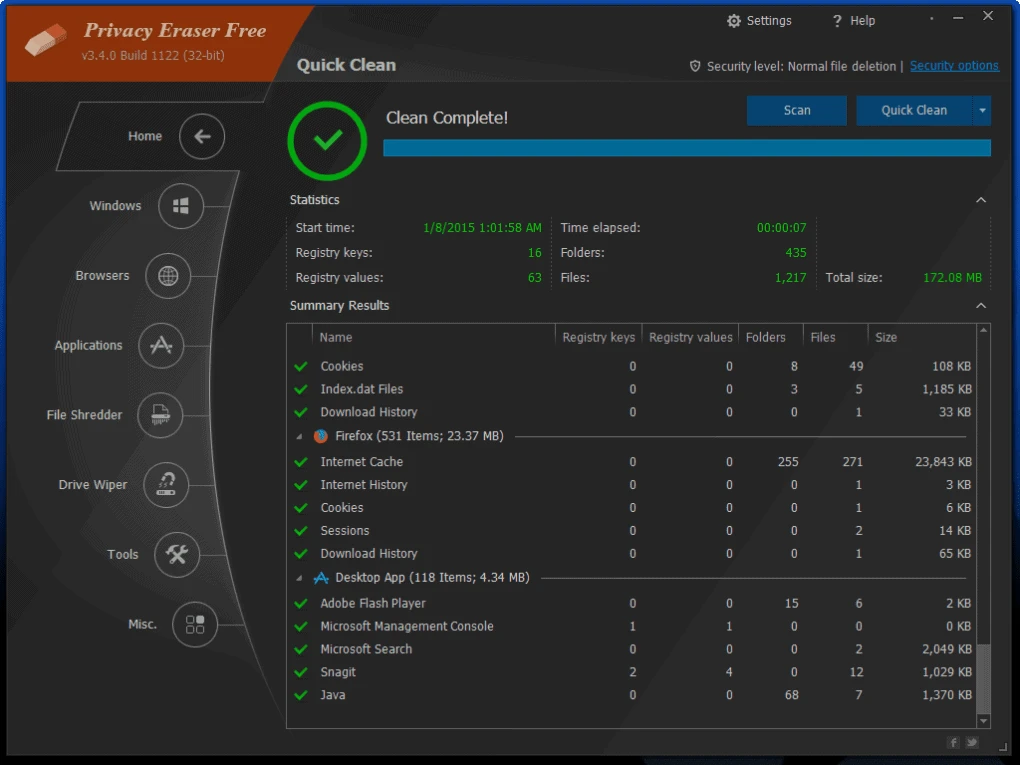 The last alternative is Privacy Eraser, and comes with a lot of tools designed specifically for increasing privacy and security on the web. Many of the tools target web browsers specifically, such as the real-time scanning feature, which will wipe Windows browsing history clean, clear cached browser data, crunch any cookies to bits, delete temporary data, and remove any broken application shortcuts.
And like a couple of the previous alternatives, it uses a file shredding algorithm to ensure that data can't be recovered with software. It's crucial to use such a cleaning tool if you're going to throw away or sell an old computer or hard drive. Otherwise, the next owner can recover your personal data.
Unfortunately, these advanced file shredding tools and features are not included with the free software. Also, you can set scanning and cleanup procedures with the scheduler, and even add specific files and folders in the scan's path. You can really fine-tune the process to target only what you want it to scan, and exclude everything else.
Frequently Asked Questions
Is CCleaner safe to use?
CCleaner once used to be very safe and wise disk cleaner, for clearing up disk space of unwanted files, temp files, junk, duplicate files, apps, etc.
However, ever since Piriform was purchased by Avast people have reported shady activities, like, CCleaner automatically updating without user permissions, or the CCleaner's data collection option which is enabled by default, or the "Active Monitoring" feature which collects information from your system, etc.
Can you use CCleaner on a Mac OS?
CCleaner can be used on a Mac OS as a multifunctioning cleaning tool to keep your Mac safe, secure, and even improve its performance.
Is SlimCleaner Plus Legitimate?
SlimCleaner Plus is a system optimization tool that is legit, but, it is known to be invasive and installed without permission and offer free scans in order to trick people to buy the full version.
Can I use the Windows 10 repair tool?
If you have a Windows PC you have probably wondered if it's safe to use the Windows repair tool. The short answer would be: Yes.
Windows repair is a free and useful tool you can use to repair issues. Windows suggests that you should run the tool in Safe Mode to achieve an ultimate effect.
Final Thoughts: Considering All the Alternatives
CCleaner still seems to be the leader in the PC optimization and junk file cleanup corner of the software market, and for good reason. The software simply works, doesn't cost a lot of money, and won't install malicious viruses on your computer. Furthermore, it won't screw up your registry (generally speaking).
However, it's certainly not the only cleanup tool out there, and plenty of people may not like it because of a bad personal experience. For whatever reason, if you're looking for a good alternative to CCleaner, then I highly recommend one of the aforementioned services. Most of them cost money, but at the same time, most of them offer a free version with slightly watered down features.
How Does CCleaner Compare to Others?