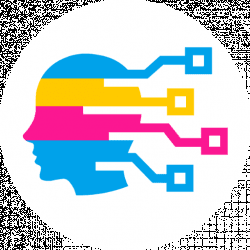 Latest posts by Digital Guyde Team
(see all)
CCleaner still seems to be the ubiquitous Windows optimization and PC cleaning utility favored by the masses – and it's no wonder why. CCleaner is clearly a leader in the registry cleaner industry, though I'm not sure that it is a leader solely due to its merits and efficacy. I'm sure you've seen advertisements for CCleaner already; it seems to be aggressively marketing itself to attract as many users as possible.
After all, what Windows user hasn't wanted to bang their head against the wall after their PC has become bogged down with old application data, junk files, and tons of startup processes? At any rate, note that CCleaner isn't the only option in the PC optimization market. Unfortunately, the market is overflowing with competition, and some of the alternatives are absolute garbage.
For that matter, you should be aware that some "competitors" are really nothing more than viruses or adware. So how do you know if you're getting a good deal, downloading quality software, or falling into a hacker's trap? Well, I'm going to compare each of these services side-by-side to help you make the most informed decision before downloading any PC cleaning utilities.
Price
I do think that both providers are moderately priced. There aren't really a lot of outliers in the PC optimization software industry because software developers know well how much a customer is willing to pay for a solution to this problem. The only real consideration is whether or not they offer significant discounts.
JV16 Powertools has a pricing model unlike any I've ever seen before, as follows:
Plus, if you want technical support for the product, you'll have to shell out an additional $24.95 per year, which I think is complete nonsense. Technical support should be part of any digital service, and should be included for free. If they really wanted it to be an additional add-on cost, they could have at least made it a bit more economical.
For instance, I would have expected it to only cost and extra $5-$10 per year. To be fair, note that there is "best effort" technical support, but the extra fee gives you VIP precedence.
Still, I think it's ridiculous given that the technical support is still initiated through email. Also, note that the "pay once and use forever" plan is really only a good deal if you plan on using the software for about 2.5 – 4 years.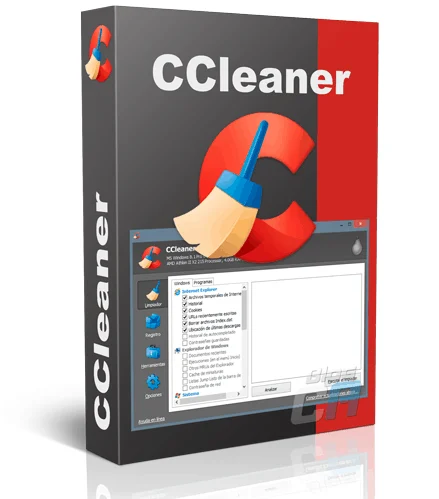 For the sake of comparison, note that the following outlines CCleaner's pricing model:
The free version is certainly watered down, but it's better than nothing. At any rate, I think that CCleaner has the better pricing model for two reasons. Even though JV16 Powertools offers better long term discounts, CCleaner offers a free version and it has cheaper one-year pricing for the Professional version. But packaged features are a bit of an issue with CCleaner, so let's run through the features included with each version.
CCleaner Features
As I mentioned earlier, the free version is pretty watered down. But that shouldn't be a surprise, since tons of software developers follow the same model. Basically, the free version will only do a few things to help improve the speed of your computer, and it's really just a marketing tool. If you want to unlock more features in CCleaner, you'll have to pay money for a subscription.
But I am still reasonably impressed with the features included in the free version. If you're just trying to speed up the boot process and clear out some junk files, the free version performs admirably. More specifically, the following features are included in the free version:
A scanner that detects and eliminates duplicate and junk files that are wasting space on your hard drive
A startup and boot optimizer that will help identify unnecessary processes and applications and subsequently give you the option to disable them
A web browser tool that helps increase privacy and anonymity by deleting cookies and browsing data that can be used for tracking and advertising purposes
I know that these three features probably won't take care of all your needs. In fact, I doubt that most users would be satisfied, since most people would want advanced features to help protect and improve their PC. Fortunately, the Professional plan includes the following improvements over the Free plan:
A scheduling assistant that automates the scanning and cleaning process so you can "set it and forget it"
Premium technical support (you don't have to pay extra for premium support, like you do with JV16 Powertools) to help with any optimization issues
A real-time process monitoring feature designed to stop malware dead in its tracks; however, I do not view this as a replacement for a full antivirus software suite, but it's better than nothing
Continual updates the database of virus signatures for adaptive protection

Finally, there's the Professional Plus plan. I'm not sure I see a whole lot of value with the Professional Plus plan because some of the features can be found in other freeware utilities. Still, it's nice to have all the features in one package, as follows:
Hardware inventory feature that keeps track of your drivers and related changes for system configuration management
A disk defragmenter to improve the speed and performance of read/write operations of your hard drive (one is included with Windows anyway)
File recovery tools that can "un-delete" files to a certain extent, as long as they weren't deleted with a file shredding utility
How does CCleaner compare to other "computer cleaners"?
JV16 Powertools Features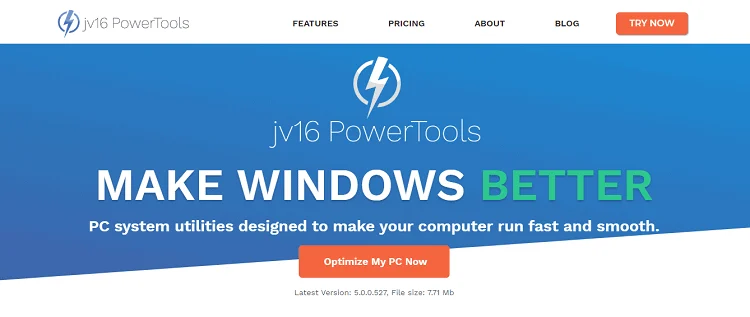 JV16 Powertools, on the other hand, doesn't mess around with a contrived features packaging system. First off, note that there isn't really a "free" version, either. Instead, there is a 60-day free trial that doesn't restrict any of the features.
Plus, the software comes with plenty of features geared specifically towards optimization, such as a general scanner, a web history cleaner, a duplicate file scanner and deleter, and a startup optimizer.
CCleaner comes with all of these features, but JV16 also has a Windows Registry compactor tool, as well as a feature that helps disable bothersome Windows settings that could compromise your privacy and anonymity. Plus, I really like the software vulnerability feature that helps you patch applications to the latest version.
In summary, the following outlines the features of JV16 Powertools:
60-day free trial that's fully functional
A general "cleaning and SpeedUp" tool
History cleaner
Duplicate file cleaner
Startup optimizer (doesn't remove files from your computer, merely disables startup processes)
Windows registry compactor
Windows antispy feature disables native Windows settings that allow third parties to track you
A feature that checks for vulnerable software (applications that need to be updated to patch security holes)
Startup timer helps quantify boot performance
Compatible with Windows XP all the way to present day Windows 10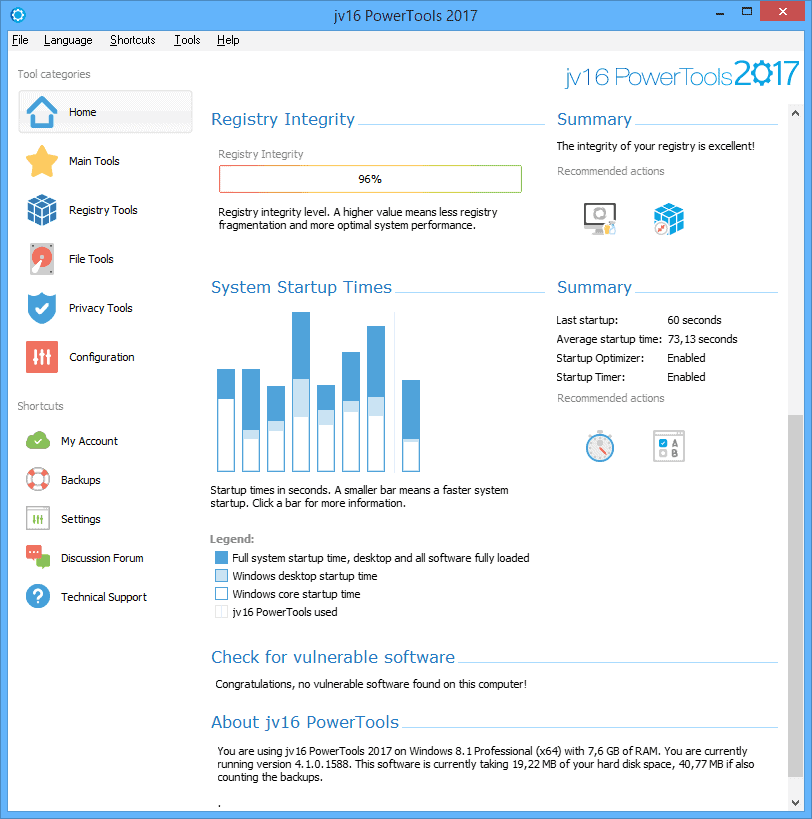 Final Thoughts
I do, of course, like CCleaner, but this was a tough comparison. But overall, I have to go with JV16 Powertools, regardless of whether or not you're looking for a subscription or a free version.
There were just too many extra features that added a lot of value, and I absolutely loved the fact that new users can take advantage of the software for up to 60 days without any limitations.
I wasn't too crazy about the strange pricing model, but in the end, I have to concede that JV16 Powertools offers greater value.