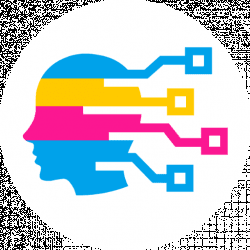 Latest posts by Digital Guyde Team
(see all)
In this post, we will dive in deep and compare the best features, pros, and cons of Slimcleaner vs CCleaner to see which app is best for your computer.
I really hate it when my computer is slow.
Have you ever tried to open up a simple Word document, and it has taken ages to load? Or you have attempted to save a big file only from being told that you have run out of disk space?
A system cleaner can help, and this is why today we'll be comparing SlimCleaner vs CCleaner, two system cleaner software potentially worth investing in.
After you read this guide, you'll know:
What a system cleaner actually is
Why you need to use one
What to look for before purchasing a system cleaner
Differences between the two system cleaners
Bottom Line Summary: The reason I opt for CCleaner is that if you get its premium version, you can use a lot more features, which include a drive wiper, scheduled scanning, and cleaning as well as real-time monitoring.
Main differences between SlimCleaner vs CCleaner
The main differences between SlimCleaner vs CCleaner are:
CCleaner has real-time monitoring, whereas SlimCleaner does not
SlimCleaner has a license for up to 5 computers, whereas CCleaner only offers up to 3 PCs
CCleaner is available on Windows and Mac, whereas SlimCleaner is just for Windows
SlimCleaner can be loaded from a USB, whereas CCleaner needs to be installed on the computer
CCleaner allows you to delete multiple duplicate files at once, whereas SlimCleaner does not
Recommended Pick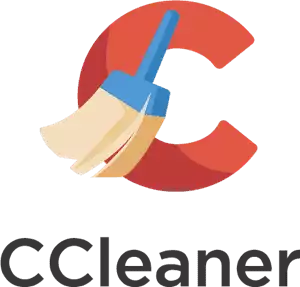 Why I Prefer CCleaner
I love FREE, but sometimes it PAYS to pay a little. CCleaner is the most efficent general PC optimizer that I've personally tested to date. It's easy to use, has responsive customer support, and tons of EXTRA features compared to others.
Go with CCleaner Here
We earn a commission if you click this link and make a purchase at no additional cost to you.
Why do you need a system cleaner
Slow computers are very common problems and something that most people will experience at some point. You could get some cloud storage which many people are doing nowadays.
Cloud storage gives you a lot of extra space that is held remotely, and you can even get several gigabytes for free from many providers or a lot of storage space for a fee.
That isn't going to change the fact that the storage space on your computer will still below, and you might not be able to save large files. Often times, it is hard for people to find big files as they are often hidden away in several subfolders.
You might never have heard of a system cleaner before, but they are very common pieces of software that can really boost the performance of your computer.
There are several reasons why you should use a system cleaner.
Scans for useless files
My computer is absolutely full of useless old files that aren't being used anymore. Unless you have literally just bought your computer in the last few weeks, it will be exactly the same.
Have you ever deleted a program and thought that was it completely wiped off your computer? Well, most of it is. However, some old files and windows registry entries still linger. This means that you have files on your computer that aren't being used anymore but are clogging up space.
What a registry cleaner does is scan for these useless files and entries on your system. If you were to do this yourself, then it would take hours, days, or even weeks, and you probably wouldn't even know where to look. Even I find it hard to find all these files, and it would take me a long time.
The first thing a registry cleaner helps with is analyzing your system and finding these files that are clogging up your computer and storage space.
Deletes useless files
While a system cleaner usually has a registry scan included which will clean up these entries, to really free up space, you need to delete useless files. Once the cleaner has found these files on your computer, then you can choose for them to be deleted.
As I said above, finding all these old files is a real chore. I would struggle to do it properly, and even if I did, it would take such a long time. Identifying corrupted files in your registry is even more time consuming and really just isn't worth it if you're doing this manually.
A system cleaner will delete the files that are not being used anymore. You can even choose which ones you want to keep and what files you want to get rid of. You wouldn't believe how big some of these files can be and how much space they can take up on your system.
When you have a deep look into it, you won't be surprised that your computer is running slowly and with reduced efficiency.
Deletes private data
Am I sure you've all heard of 'cookies' at some point? Even the most uninitiated person with technology will have heard of this term before.
A cookie is basically a small text file that is stored on your computer once you have visited a website. They usually don't contain any personal information as such but rather data around what URL you visited and an ID tag.
If you are worried about what data your computer is storing after you have visited a website, a system cleaner can help to remove this information. They can identify cookies that are stored on your system and delete them from your computer. There is also the option of using a private browser as well.
Keep in mind that a system cleaner can also wipe the data that is stored on programs such as Microsoft Word, Adobe Reader, VLC media player or Windows Media Player to name but a few.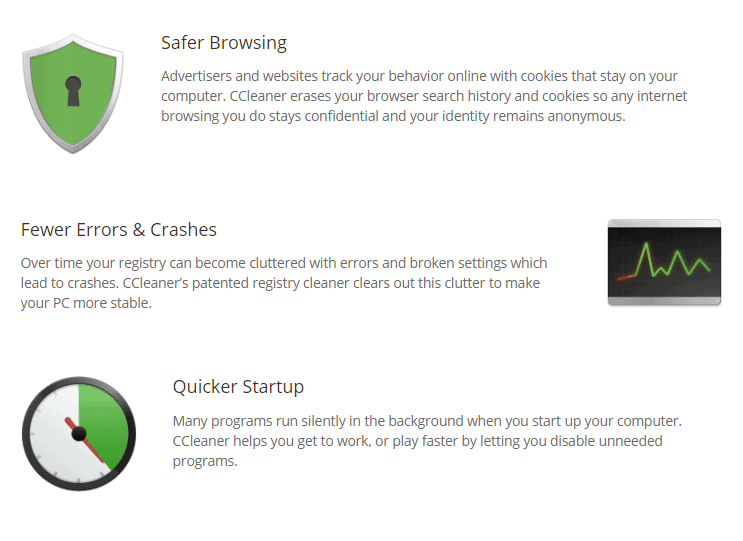 Slimcleaner vs CCleaner: What to look for with a system cleaner
Before I get into looking at Slimcleaner and CCleaner, I want to show you some things that you should look out for if you are thinking of using a system cleaner.
Tidying up the files on your computer can have many benefits; however, if you choose the wrong one, then it can cause more problems than you had to begin with.
Easy to use interface
For a lot of people who are just getting into using a system cleaner to tidy up their files, it can be quite a confusing experience.
This is why you really want to get one that is simple and straightforward to use. Some system cleaners out there aren't really built for a general audience and get very jargon and tech-heavy. Luckily the two system cleaners that I'm going to show you below have an easy to understand user interface.
In fact, having a UI that is confusing or just plain bad is one of the main reasons why many people are put off actually using one in the first place. This leads to them never speeding up their computers or getting that vital disk space back again (particularly PC speed optimizations).
Registry cleaner
You will have seen me write about something called a 'registry,' and it is essentially just a database that Windows and other operating systems use to store the settings for your programs.
When you uninstall a program, there is a chance that it can leave its details behind, which can clog up the registry with unnecessary data. There are some misconceptions about this as on its own; it won't massively speed up your computer; however, it can help to reduce the chances of any errors occurring on your system.
It does this by tidying up a cluttered registry or sorting our broken items and can contribute to your registry working a lot more efficiently overall. While there are dedicated registry cleaners out there, having this in-built into your system cleaner means one program can do both.
File cleaner
Your operating system will store a load of temporary files. These can actually take up quite a lot of space, and if you are finding that you are running out of hard disk space, clearing these temp files can often do wonders.
The problem for many people, for example, tidying up your registry, is that they can be difficult to locate. With a good system cleaner, it should identify temporary files that are no longer needed and delete them so you can free up much-needed space on your computer.
Web browsers tend to be among the worst for storing temporary files on your computer, but uninstalled programs can also leave behind data that clogs up your hard drive.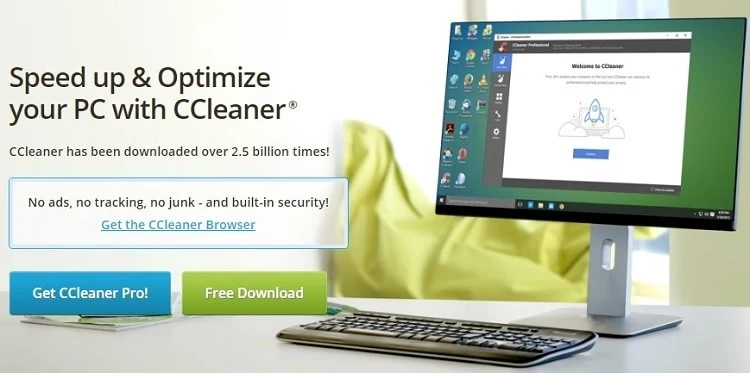 Program uninstaller
Another feature I would recommend that you look out for with a system cleaner is that it has an inbuilt program uninstaller.
It generally tells you what programs you haven't used for a while, and there are probably some you have installed that you have completely forgotten about. OK, installing a program on Window isn't the most difficult action in the world, and most people are capable of doing this.
Why have to perform several actions when you could just do this through a system cleaner? I always look out for cleaners that have this feature because it just makes life a lot easier and provides a simple way to get outdated or rarely used programs off your computer.
Scan time
Going through an absolute ton of files on your hard drive isn't going to be a particularly quick process. That being said, you don't want the scan from a system cleaner to take hours, either.
Some cleaners will take longer than others, and it isn't all just down to the amount of data that you have stored on your computer.
The amount of time it takes a cleaner to scan your system will depend on a lot of things such as the type of scan you have chosen and how many files it needs to go over; however, some cleaners will do this job quicker, smarter, and more efficiently than others.
Malware remover
There are many anti-malware programs available that will detect this harmful software on your computer. However, having a malware remover built into your system cleaner gives you a big advantage.
Malware can cause devastating problems for your computer.
Instead of having to run two programs – one to clean up your system and the other to delete any malware that is present – why not just be able to do this with one? I would still recommend having a dedicated anti-malware program because it can flag up critical infections as they occur.
Having a malware remover built into your system cleaner is definitely something I would look out for it because it can help to detect pesky malware while you are conducting a scan on the rest of your system.
Software Pricing
Finally, the last thing you should look out for when getting a system cleaner is how much it will cost.
There are many free system cleaners out there, and most premium programs that incur a fee will come with a free version with watered-down features.
A system cleaner is important to tidy up your computer and enhance its performance, but you don't necessarily need to spend big money. Also, have a lookout for which cleaners only have a one-off fee and which have a recurring subscription.
Some will also offer better support and premium features than others.
Recommended Pick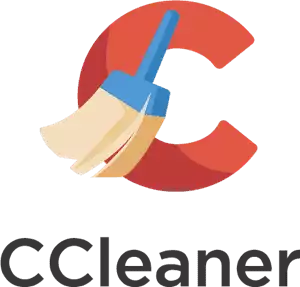 Why I Prefer CCleaner
I love FREE, but sometimes it PAYS to pay a little. CCleaner is the most efficent general PC optimizer that I've personally tested to date. It's easy to use, has responsive customer support, and tons of EXTRA features compared to others.
Go with CCleaner Here
We earn a commission if you click this link and make a purchase at no additional cost to you.
SlimCleaner Features
SlimCleaner is a well-known system cleaner that has been on the market for a while.
It is compatible with all versions of Windows going back to Windows XP and doesn't require much in the way of disk space of processing power to run. Like most system cleaners, it advertises to be able to clean up your system, boost your PC response time and tidy up unwanted programs and files.
SlimCleaner can be installed across multiple systems too.
Interface
I really like the interface that you get with SlimCleaner.
If you haven't used a system cleaner before, the prospect can potentially be quite daunting. After all, you are going into parts of your computer you have probably never thought about before. With SlimCleaner, you can easily see the different features and scans that it offers.
It is quite hard to go wrong with the interface as it is very user-friendly and clearly lays out exactly what each feature does. For those who are new to system cleaners and even more experienced users, the UI is one of the best parts of this program.
Scan time
Scanning your system with SlimCleaner is really easy.
I found that it takes under 5 seconds to complete the scanning process, and for just a few short seconds, it can really help you to free up some much-needed space. The first time I used it, I was able to free up nearly 3 GB of space on my hard drive. It can take a while to go through the results if you want to decide for yourself what to delete and what to keep.
They do have an 'Auto Clean' option, but I would stay away from this as it will just delete all the unnecessary files it finds.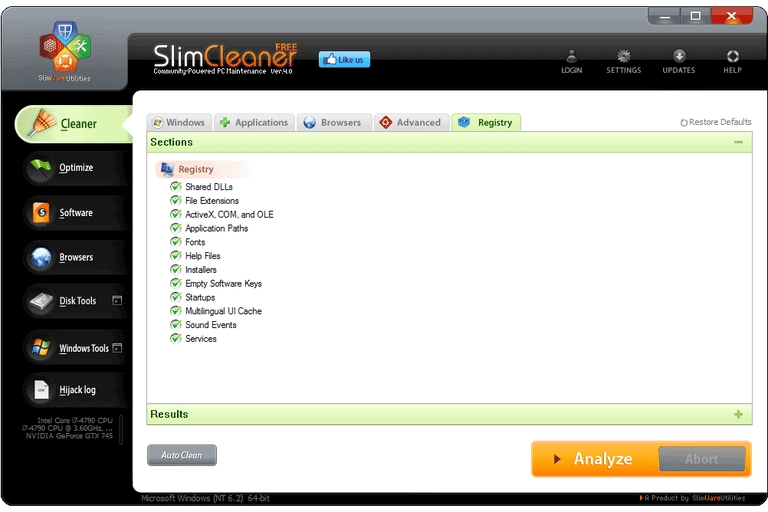 Other features
Scanning for temporary files and tidying up the registry isn't the only thing that SlimCleaner is good at.
It also offers the option to uninstall programs as well as browser add-ons while you can defragment your hard drive in the application as well. You can decide on what programs will launch when you boot your system up, which can help to make your computer more efficient.
One major feature of SlimCleaner is that it allows for portable use. This means you can simply pop the application onto a USB stick and use it on another computer without having to install it.
Price
You can get a free seven day trial with SlimCleaner optimization software, and there is a free version available that offers basic functionality.
You can pay a fee which will open up premium features such as:
Removing junk files and folders & supercookies
Startup and shut down time optimization
Being able to use the program on up to 5 devices
SlimCleaner costs:
$59.97 for a lifetime license with five computers
$39.97 for a 2-year license with three computers
$19.97 for a 1-year license with one computer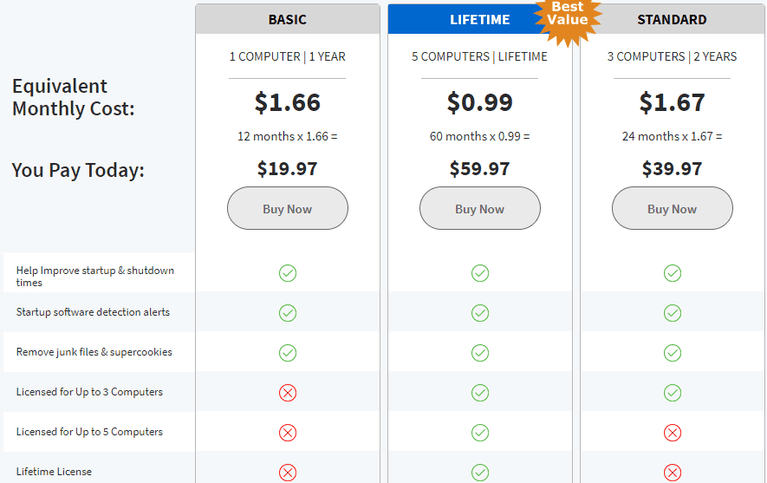 Tool Summary and Pros and Cons
SlimCleaner is an easy to use system cleaner that has a very straightforward interface and is especially useful for new users who aren't that confident.
It offers pretty much all the features you would expect from a system cleaner apart from a dedicated malware cleaner. You will be able to avail of the quick scan times and the fact that you can uninstall programs and load the program off a USB device too.
The SlimCleaner tool is a user-friendly system cleaner that anyone can use and download. While it has a few drawbacks and you do need to pay if you want premium features, I think it is still one of the best on the market.
Pros
Very easy to use with a good UI
Registry cleaner and can uninstall programs
Efficient disk cleaner functionality
Quick scan time
Can use across several computers with the right license
Cons
No anti-malware function
Can't delete multiple duplicate files at the one time
Free version but premium features incur a charge
CCleaner Features
CCleaner is the other system cleaner that I am going to show you in this review.
CCleaner is another well-known system cleaner that has been around for a long time. It offers both free and professional versions (pro version) with different features.
It cleans up your system of unnecessary files and lets you tidy up the registry on your computer as well. The program works on all Windows versions all the way back to Windows XP.
Interface
Like SlimCleaner, I really like the interface that CCleaner offers. If you are new to using these types of programs, then you should find these apps very easy to use.
It isn't the most modern of interfaces; however, it is straightforward enough to find what you need. You can find the cleaner, different features, and registry scanner on the left-hand side while it displays files and their size on the right, which makes it easy to check which files you want to delete.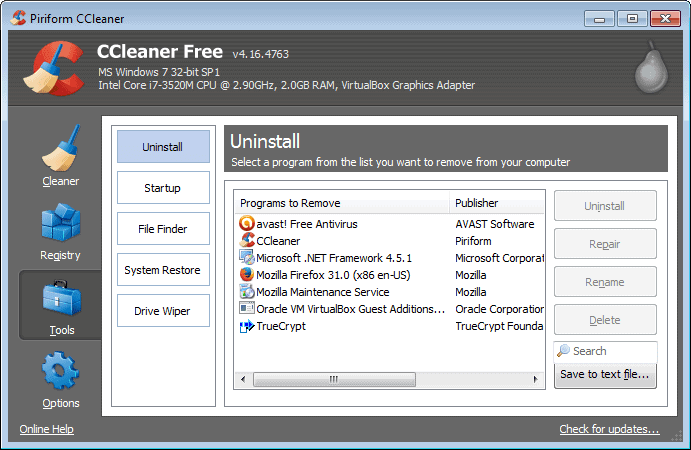 Scan time
CCleaner is quite quick when it starts scanning your system. I found that it took just over 10 seconds to go through my computer, and it was discovered that I had nearly 2 GB of data that could be deleted.
The registry scan was very quick as well as it took less than 5 seconds. Much of this is going to depend on your own system and how much data you have for the program to scan. Even the most full of computers won't take long to scan.
You can easily see the results and decide what you need and what you don't need.
Other features
CCleaner allows you to delete temporary and unnecessary files, tidy up your registry, and decide what programs you want to run at startup.
You can also create a system restore points as well, so if you have corrupted files or your OS is damaged, you can restore to a previous save point. The Drive Wiper function allows you to wipe sections of your hard drive so the files can never be recovered.
It will also let you uninstall programs.
CCleaner Price
CCleaner has a free download option that provides basic functionality so you can optimize your computer by cleaning up the registry and deleting temporary files.
The Professional version costs $19.95 for one year to use on one PC and allows for:
Real-time monitoring
Schedule cleaning
Premium support
There is a Professional Bundle option that has everything the free and Professional download options has but also includes:
Disk defragmentation
File recovery
Hardware inventory
This Professional Bundle option costs $29.95 for a 1-year subscription for use on up to 3 PCs.
Click here to buy CCleaner.
Tool Summary
CCleaner is a powerful system cleaner that can help to free up space on your computer while tidying up your registry and also optimizing your startup process.
This isn't the first time that I have reviewed CCleaner, and I still think it is a fantastic system cleaner that doesn't require you to spend a lot of money.
It has some other great features such as a Drive Wiper if you want to ensure that files are fully deleted while also offering real-time monitoring and schedule cleaning. While for many people, the free version can be enough to boost PC performance, the premium versions provide much more functionality, and you can use the program across several computers.
Pros
Straightforward disk cleanup and easy to use interface
Drive Wiper for permanently deleting files
Can create system restore points
Will optimize your computer and make it more efficient
Offers scheduled scanning and real-time monitoring
Cons
No anti-malware feature
Free version but more options if you pay
Powerful tool and you could accidentally delete an important file
Final thoughts on SlimCleaner vs CCleaner?
Both system cleaners perform very important functions in optimizing your computer.
Overall, I prefer to use CCleaner PC cleaner because I think it offers more comprehensive functionality. SlimCleaner is still a powerful tool and offers a very easy to use interface and will do what you need it to.
Bottom Line Summary: The reason I opt for CCleaner is that if you get its premium version, you can use a lot more features, which include a drive wiper, scheduled scanning, and cleaning as well as real-time monitoring.
Recommended Pick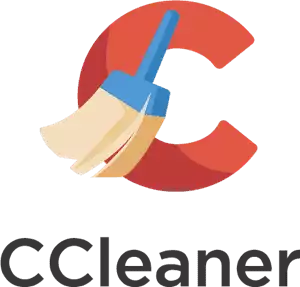 Why I Prefer CCleaner
I love FREE, but sometimes it PAYS to pay a little. CCleaner is the most efficent general PC optimizer that I've personally tested to date. It's easy to use, has responsive customer support, and tons of EXTRA features compared to others.
Go with CCleaner Here
We earn a commission if you click this link and make a purchase at no additional cost to you.
Further Research