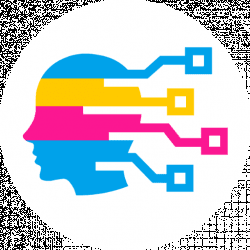 Latest posts by Digital Guyde Team
(see all)
Powerbook Medic offers a whole range of options that will help you decide what to do with your old and worn out Apple products. Whether you have a laptop, mobile device, wearable device, iPod or another type of computer, Powerbook Medic can help you personally make repairs, charge a fee to make the repairs for you, or even help you scrap your old device recover some money from it.
What Does This Service Promise?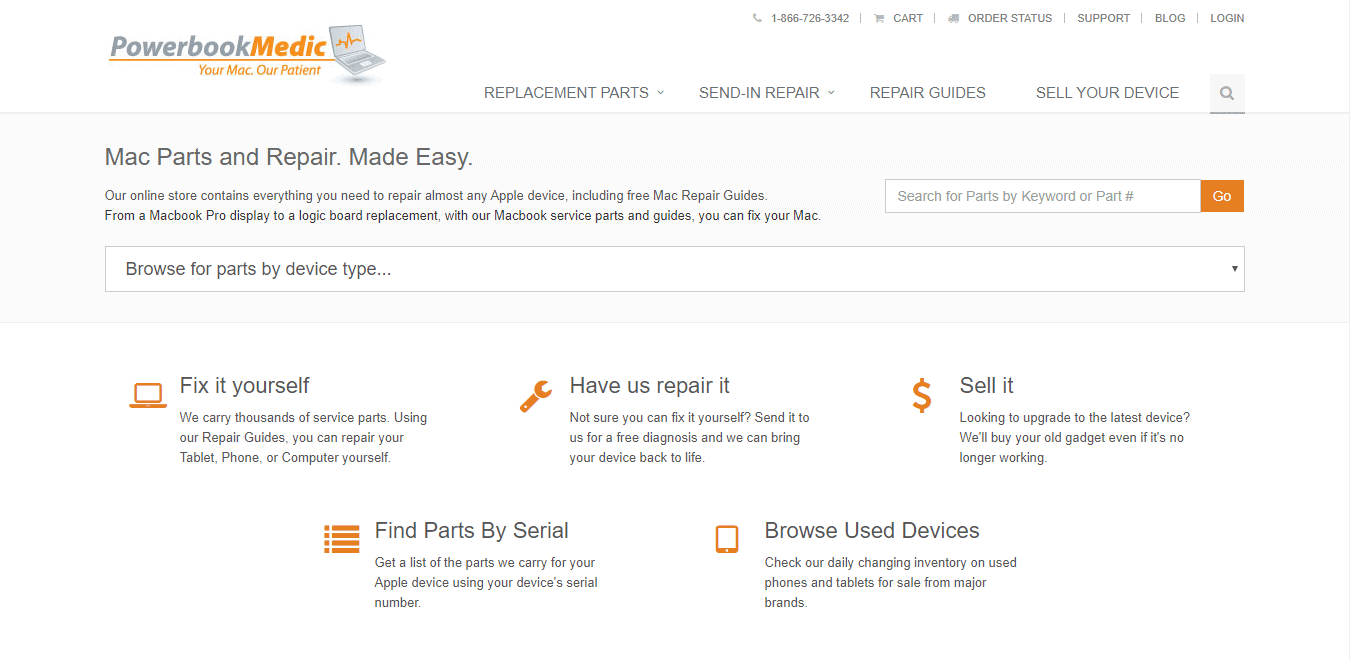 This service is really a digital storefront for a computer repair shop that specializes in Apple products. Actually, I take that back; it's superior to a computer repair shop because Powerbook Medic will even show you step-by-step how to repair your device on your own…for free!
It's always a little difficult to review services like this because, as always, your mileage may vary. Your experience depends heavily on whether or not you decide to attempt repairs yourself, what type of device you have, and how badly it's damaged.
Nevertheless, this is the first place I'd start researching solutions (with exception of the Apple website, if you were to receive a cryptic software error message), especially for problems that seem to be rooted in hardware failure.
You see, this website really deals with hardware problems, and isn't a great resource if you're experiencing boot problems due to corrupt system files or other software related issues. The website makes the following claim:
"Our online store contains everything you need to repair almost any Apple device, including free Mac Repair Guides. From a Macbook LCD, battery, or power adapter to a ram memory upgrade and Macbook Service Parts, with our parts and guides, you can fix your Mac."
I doubt it really has everything needed to make a repair, but judging by the looks of it, it comes pretty darn close. It's also hard to pin down a price for any Powerbook Medic's services because they vary by nature. You can, however, talk to a tech to discuss your issue at length and receive a repair quote.
Repair Guides
I have to say, I was incredibly impressed with the high-quality repair guides hosted on the website. Seriously, these are professionally made videos, and the content is higher quality than curriculum you might find in a CIS (Computer Information Systems) course at a university. They'll show you how to fix a wide variety of problems on video for free, and a narrator will walk you through the whole process.
Plus, the guides are laid out and organized really well. You can search for repair guides by device type such as the following"
Apple Laptop: iBook, MacBook, MacBook Air, MacBook Pro, and Powerbook
Apple iPod
Apple iPad
Apple iPhone
Apple Desktop
E-Readers
Game Consoles
Media centers
Drone
Wearable
Misc
And more…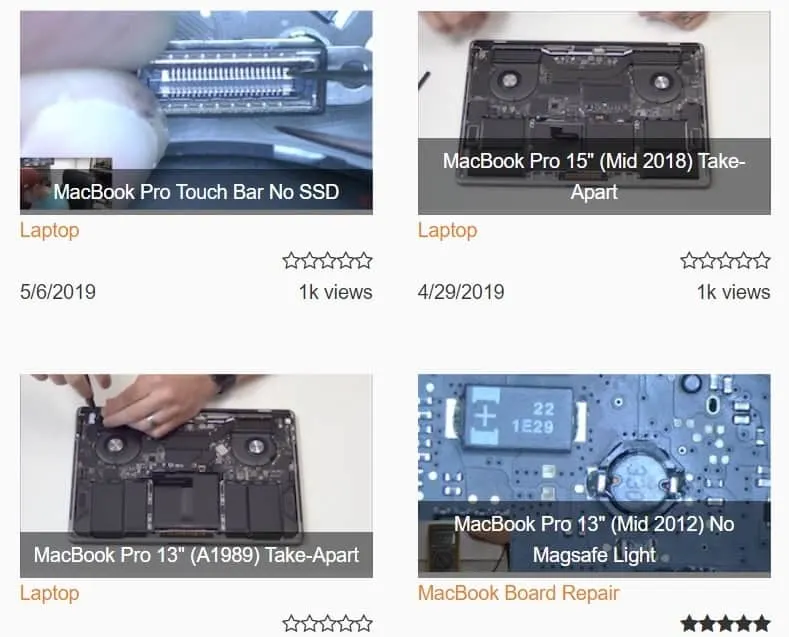 It seems that they have all their bases covered. Naturally, the videos aren't only hosted on the website, and you can easily find them by doing a quick YouTube search. One thing I found particularly useful was the fact that the tech will show you how to open the devices.
Sometimes mobile and handheld devices can be a pain in the rear to open correctly without damaging the device. Plus, the videos link to the TORX tools you'll need to open your device, which is really convenient, and only cost $3 to $4 bucks.
Not only was I impressed with the quality of the videos, but I was also impressed with how many users have actually watched them. Most guides seem to have at least 1,000 to 3,000 views, which is relevant because the users rate the videos. But some of the more popular videos have over 86,000 views, and all of the videos have high ratings.
Finding Replacement Parts
Finding replacement parts is usually pretty tricky business and a massive cause of frustration. Back in the day when desktop towers ruled the market, it was a simple matter to add and remove components to a computer.
In fact, most PC towers were intentionally designed with empty spaces in the case and vacant buses on the motherboard, to intentionally leave room for future expansion.
These days, however, things are a lot more difficult. Laptops, compared to desktop towers, are a veritable pain in the neck to disassemble and reassemble. What's worse is that modern electronics aren't nearly as modular as desktop towers. Perhaps the easiest component to swap out include batteries, hard drives and storage media, and RAM memory.
Past that, it's usually pretty difficult to find the exact part you're looking for. Fortunately, Powerbook Medic has a massive online catalog of Apple components. And the value lies not only in Powerbook Medic's ability to provide access to replacement hardware but also how easy it is to navigate and browse their inventory. You can find all available replacement parts for any make and model of Macbook, as well as a few more obscure and less popular devices.
In addition to typical HDD, memory, and battery replacements, you can even find replacement products like spare top-case keyboards, internal fan assemblies if a bearing goes bad, and even the monitor and display.
The fact that you can easily buy a replacement Mac display (prices vary, though $200 is pretty typical and fair) really impressed me. I've never personally smashed my laptop's screen, but it does happen, and this solution helps prevent the need to chuck your hardware into the trash can and buy a whole new system.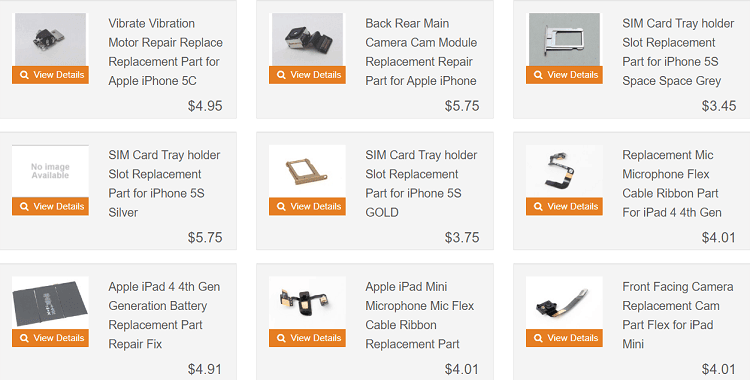 Send In Repair Service
If you're not technologically inclined or just don't want to deal with the hassle of trying to make a repair on your own, then you can, of course, send in your hardware to let the Powerbook Medic folks make the repair for you.
Prices vary depending on the job, but you can inquire further via email to get a quote. Again, this is more or less like a local computer repair shop, except you'll need to mail your device to the repair facility.
The following are the supported devices that Powerbook Medic will repair:
MacBook Logic Board
iPhone and iPad Logic Board
MacBook Air Display LCD
MacBook Pro Retina Display LCD
iPod
iPad
Sell Your Device
Last but not least, if you can't find a way to fix your device, or just don't feel that it's worth it to bother attempting repairs, you can sell your device to salvage a little bit of cash from it. They will purchase the following types of devices:
iPhones and iPads
iPods
Mac computer systems
There is also a general miscellaneous category that isn't too specific, so if you're unsure whether you can sell your device, it's worth reaching out to an agent. They'll start by giving you an initial quote, but then you'll have to actually send the device in to let them check it over and approve it. Then you'll receive a final offer and get paid.
It seems like a good way to convert some old worthless devices into scrap and spare parts instead of losing value by throwing it in a dumpster.

Final Thoughts on Powerbook Medic
I really have to say, I think this service has a lot to offer. I'd highly recommend starting at Powerbook Medic's website the next time one of your Apple devices bites the dust.
More specifically, I saw the most value in the free video repair guides and the ability to sell devices to cash out on old hardware. Also, I think the inventory of parts was extremely well laid out and is perhaps the best independent Apple parts catalog I have seen.
I'm not so sure about the repair process, because that depends on a lot of factors. If you can find a local service that's tried and true and doesn't make you mail your hardware in, I'd try the local shop first. But all in all, I think this is an invaluable online resource and a massive asset to Apple users.
Recommended Reads