Last Updated on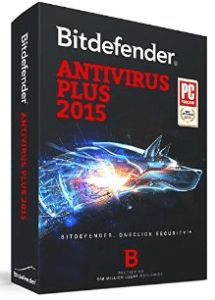 Bitdefender Antivirus Plus has previously topped out with the major testing labs as offering exceptional virus and spyware protection.
The PC protection program was certified by AV-Comparatives, Virus Bulletin, West Coast Labs, and AV-Test independent testing labs.
Bitdefender is a 15-year old company launched in 2001 offering a number of different security products over the years.  The latest version of its antivirus protection has undergone an interface redesign offering new security features that enhance protection for your home PC.
Top Features
Installing Bitdefender on your home PC requires some time due to the large selection of protection features.  However, the installation process is easy to follow and relatively straightforward.  Once installed, you have access to the following security features:
General antivirus scanning which is the underlying layer of additional protection features.
Proactive spyware protection with automatic updates for the latest spyware definitions.
Protection against worms, rootkits, and keyloggers.
Scanning for the web, chat, and email applications for comprehensive protection against social networking, phishing, and identity theft scams.
Easy integration with Windows Mail and Microsoft Outlook for proactive email scanning.
Search Advisor feature provides alerts on the search engine results page for potentially malicious websites.
Customized scanning allows for customized, quick, or full scans.
Advanced settings provide a way to scan various boot sectors, specific applications, files, Internet traffic, and other programs for malicious files.
Four different scanning modes add versatility with the new laptop mode, rescue mode, gaming mode, and remote monitoring.
New interface design merges the more advanced screens into a single interface.
Autopilot mode allows you to run Bitdefender in the background without any popup alerts.
Pros and Cons
Bitdefender has continued to score high with independent testing labs for offering solid virus and spyware protection. A few of the pros and cons include:
Pros
A newly designed interface is easy to understand.
24/7 tech support is available via phone, email, Twitter, live chat, and via the Bitdefender forum.
Solid protection against phishing attacks.
Proactive scanning of social networking profiles.
Privacy protection and online transaction security.
Top of the line anti-phishing protection (aced many independent tests)
Cons
VIP tech support costs just under $50 for help from a certified Microsoft technician.
Password management feature for your digital wallet can use improvement.
Installation requires a time investment.
Prices
Bitdefender is available at a cost of $49.99 here which covers up to 3 devices in one year.  The devices can include PCs, laptops, smartphones, and tablet PCs.  There is no free trial for this version of Bitdefender.
The bottom line is Bitdefender Antivirus 2015 ranks high on the list of PC protection products for this year.  The company also offers a host of other PC protection suites, including those that are designed for Mac devices.
How does BitDefender compare to other antiviruses?
Bitdefender Antivirus
$59.99
Malware Protection
8.5/10
Phishing Protection
9.0/10
Additional Features
8.8/10
Pros
High grades from independent testing labs
Excellent anti-phishing response
Great password management features
Nice additional financial privacy protection
Cons
Longer installation
VIP tech support costs money
Malicious URL blocking needs some work