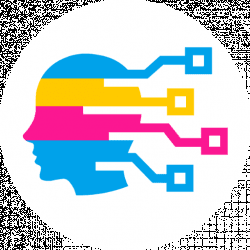 Latest posts by Digital Guyde Team
(see all)
All marketing teams have one or two main tools they use for research.
SpyFu and SEMrush are 2 of the more popular choices.
The core focus of both products is competitor research for SEO and PPC. In short: seeing who is ranking well organically, and who is advertising profitably.
They show you backlinks, ad copy, rankings, and much more. I've compared the tools against each other to help you figure out if either of them fits your needs.
Note that SEMrush has transformed into more of an "all-in-one" marketing tool. I'll touch on some of these extra features briefly, but the review will mostly focus on competitor research.
Pricing
Both SpyFu and SEMrush have 3 main plans.
One nice aspect is that you get most of the features on all the plans. The main things that change as you spend more are higher limits and a few advanced features that are only needed for marketing teams.
If you're just an individual, the base plan (or one step up) for each tool will likely have everything you need.
SpyFu
Let's take a look at the main features of SpyFu's 3 plans:
Basic plan

 

Professional Plan

 

Team Plan

 

$39/month

 

$78/month

 

$299/month

 

Unlimited search results – no hidden data

 

White label reporting

 

Unlimited SEO reports

 

250 contacts

 

500 contacts

 

2,000 contacts

 

5k keywords tracked for a domain weekly

 

15k keywords tracked

 

40k keywords tracked

 

 

API access

 

Multiple user accounts

 
If you're just looking for the cheapest competitor research tool, go with SpyFu's basic plan, it's as cheap as you'll find anywhere.
But in most cases, you need to weigh the quality of features against the costs, so read on.
SEMrush
SEMrush has 3 main plans, but also offer a completely custom plan for enterprise customers.
Here are the main features and prices:
Pro plan

 

Guru plan

 

Business plan

 

Enterprise plan

 

$99.95/month

 

$199.95/month

 

$399.95/month

 

Custom

 

10,000 max rows of report results

 

30,000 max rows of report results

 

50,000 max rows of report results

 

Tailored to your needs

 

5 projects

 

Historical data

 

API Access

 

Unlimited crawling of large websites

 

1 user

 

1 user

 

1 user

 

On-site training

 

1 additional user (+$70/month)

 

2 additional users (+$140/month)

 

9 additional users (+$140/month)

 

Ability to request features

 

 

Branded PDF reports

 

White label PDF reports

 

 
Note the ability to add a limited number of users to each plan at an extra monthly cost.
SEMrush isn't known for being the cheapest, but do have a good reputation for quality. Also, with the amount of features and tools they offer, you may be able to use SEMrush to replace other smaller tools that you currently use.
Ease of Use
SpyFu and SEMrush both can do a lot. It's easy to get overwhelmed by all the functionality when you first login.
That's why I'm starting with ease of use. The more intuitive tools like these are, the less time you'll waste trying to figure out how to do what you want.
There are 2 parts I always look for when I use a new tool: what onboarding process is available to guide me, and how intuitive is the dashboard.
SpyFu
When you first login to SpyFu, you'll get a pop-up with links to posts that outline 3 popular tasks: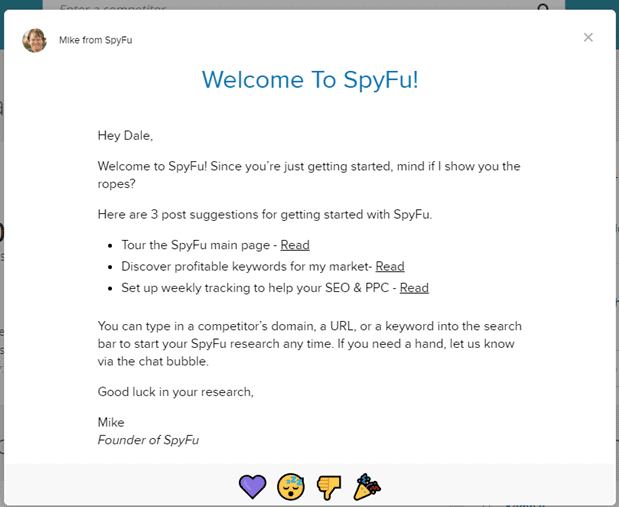 It's a good start.
Other than that, you're left alone, so I do think the onboarding process could be improved.
However, I'm impressed by how intuitive the dashboard it.

All the main functionality is divided into clear categories on the dark top menu bar.
Furthermore, each of those categories has a similar layout. Most have the same input or search bar at the top where you'll enter in a keyword or domain.
Even without guidance, it's easy to use.
SEMrush
SEMrush doesn't have much of an onboarding process.
If you really need help, you can sign up for a live demo.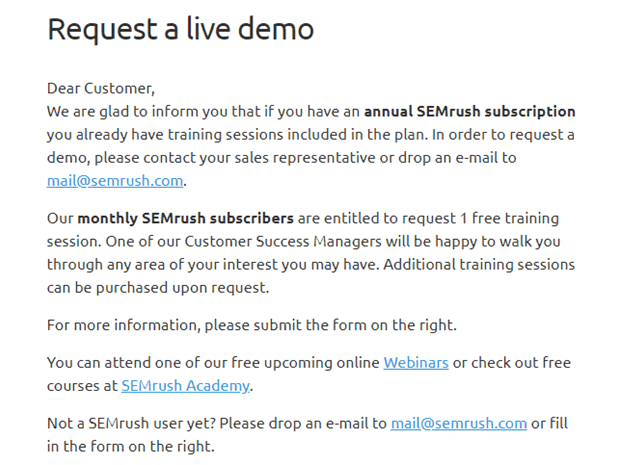 It's a little bit hidden at the bottom of the menu bar.
But aside from that, the backend is really well designed.
The main menu is alongside the left of the screen, with the most popular features clearly bolded and labeled near the top: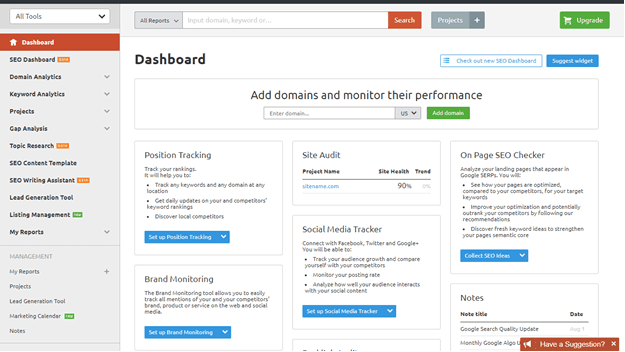 The search bar over the main panel of your screen will also always be there, and the structure is fairly consistent across the different smaller tools in SEMrush.
Overall, both tools don't have the best onboarding process, but have great layouts that are intuitive for new users.
SEO Research (Domain Analytics)
Each of these tools allow you to enter in a domain and see how its organic or paid traffic.
Let's start with the SEO side.
SpyFu
If you go to the "SEO Research" tab and type in a domain, SpyFu will generate an SEO overview below: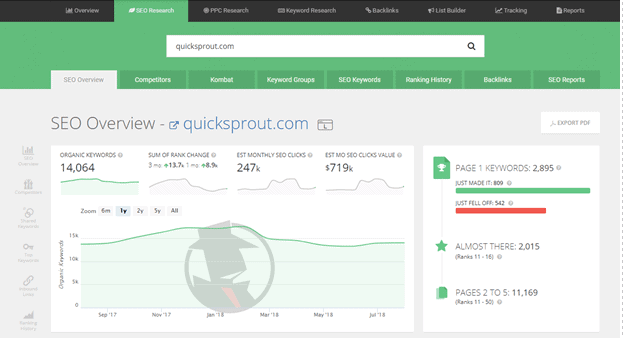 This overview gives you highlights of organic traffic, keywords, and click value.
It also shows you how many keywords fall into different buckets (e.g. page 1 keywords, "almost there" (second-page keywords).
This overview doesn't have extensive detail, which is why there are 7 other "tabs" below the search bar at the top of the screen.
The data is divided into:
Competitors
Kombat (competitor analysis)
Keyword groups
SEO keywords
Ranking history
Backlinks
SEO reports
I'm not going to go over every one, but will go over a few of the ones that are usually the most important.
Competitor Analysis (Kombat)
This is probably the only strangely named part of SpyFu, so I'll give it a pass.
Kombat here is meant to signify that you're pitting multiple sites against each other.
By default, it will pick the 2 top competitors to the site you entered initially: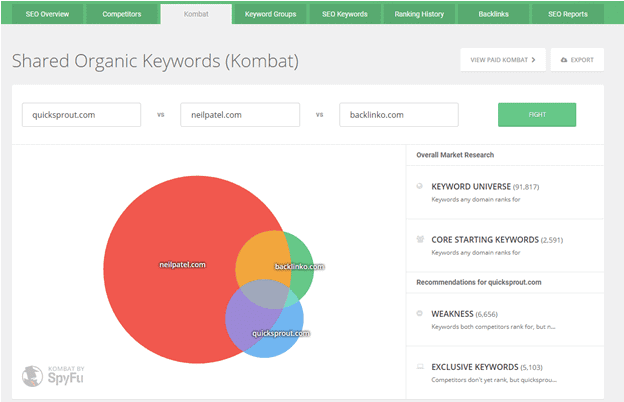 The main image on the page shows you the relative amount of organic keywords each site ranks for, as well as:
The keywords that all 3 sites rank for.
The keywords the 2 competing sites rank for that yours doesn't.
Keywords that you rank for that competitors don't.
This can help you find new keywords to target, or see where you face the most competition and may want to shore up your rankings.
SEO Keywords
The "SEO Keywords" tab will let you dig in deeper to the keywords that the site you entered ranks for.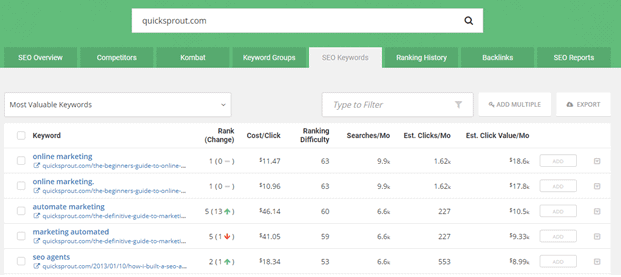 Here, SpyFu shows you:
The keyword
Any recent ranking change
Cost per click
Ranking difficulty (a metric they devised)
Searches per month
Estimated clicks per month coming from this keyword
Traffic value.
This is a good time to note that SpyFu only has data for the U.S. and U.K., with U.S. chosen as default. You switch between the 2 using the very top menu.
If you target any locale, this could be a deal breaker, and SEMrush will serve you better.
SEMrush
SEMrush combines both SEO and advertising for specific websites all under "domain analytics."
We'll just look at the SEO parts here.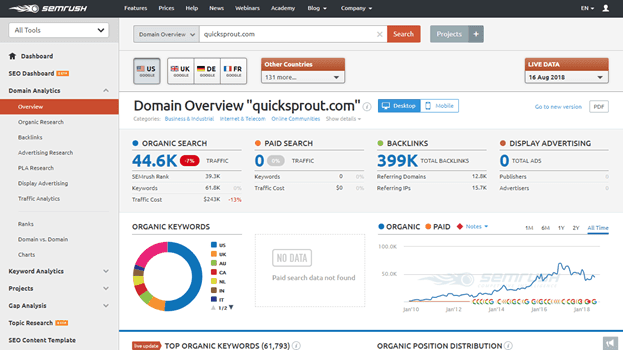 You can choose from data for over 130 countries just under the search bar, which is where you'll enter a URL that you're interested in.
Similarly to SpyFu, entering a domain and searching will bring up an overview.
It contains basic organic search traffic levels and keywords, along with backlink data. It also has advertising data.
You'll need to use the menu options under "Domain Analysis" to dig in deeper, specifically "Organic Research."
That will bring up a slightly more detailed overview that only has SEO data: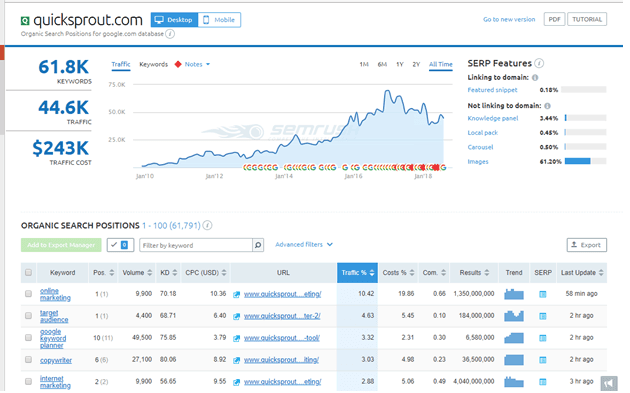 This will open additional menu options to dive even deeper:
Position changes over time
Competitors
Top pages
Subdomains
We'll just look at one of these here: competitor analysis.
Competitor Analysis
SEMrush plots competitors on a nice bubble graph that show you how much traffic they have, and how many keywords they rank for: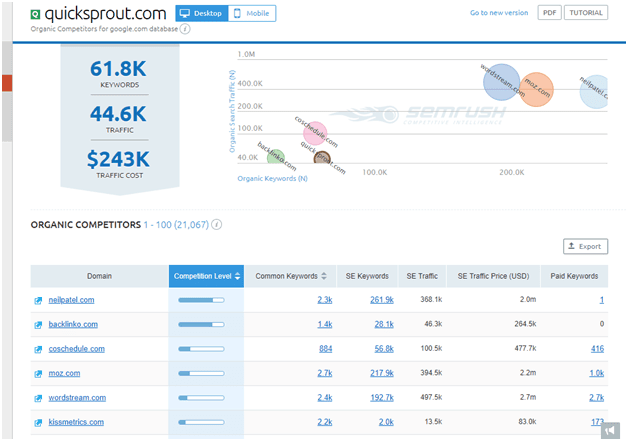 The competition level metric will give you an idea of how closely similar sites cover topics that you do.
You can also click any of the links under "common keywords" to see which keywords both sites rank for. Same goes for "SE keywords" to see all of of the keywords the site you entered ranks for.
Gap Analysis
This is another SEO feature that isn't included in "domain analysis". Instead, it has its own menu option lower down.
You can enter up to 5 sites, and pick to look at organic or paid data. Gap analysis shows you keywords that the sites share with each other.
It's very similar to SpyFu's "Kombat" tool.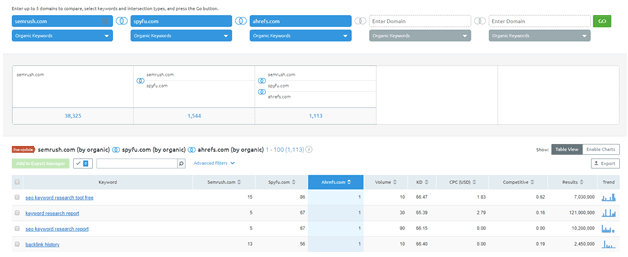 You can sort by the keyword rankings of any of the sites you enter in, along with search volume, keyword difficulty, volume, and CPC.
Advertising Research
Since there's overlap between SEO and paid advertising, there's a lot of overlap with the data that we just looked at in the SEO section.
Regardless, both tools offer specific data and feature for advertising research, and it's arguably the most important part of each platform.
SpyFu
All the advertising data in SpyFu is found under the "PPC Research" tab along the main menu.
If you can figure out how to use the SEO research tab, this will be intuitive, since it's almost the same layout.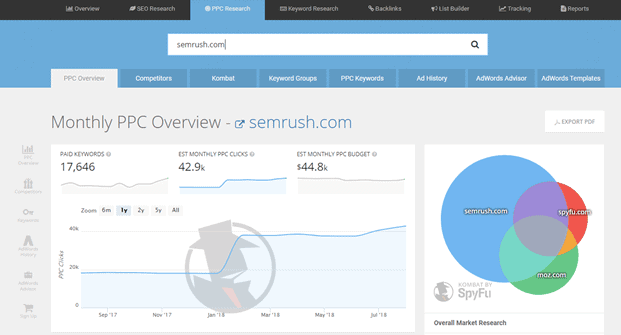 The overview will show you the amount of keywords that a site has bit on, along with their average monthly budget, and main competition.
But for deeper insights, you'll again use the tabs under the search bar, which separate the following categories:
Competitors
Kombat (lets you see overlap of paid keywords)
Keyword groups
PPC keywords
Ad history
Adwords advisor
AdWords templates.
Again, let's just look at the 2 most useful ones for most users in more detail.
PPC Keywords
The "PPC keywords" tab gives you a list of keywords that the site you entered has bid on at some point: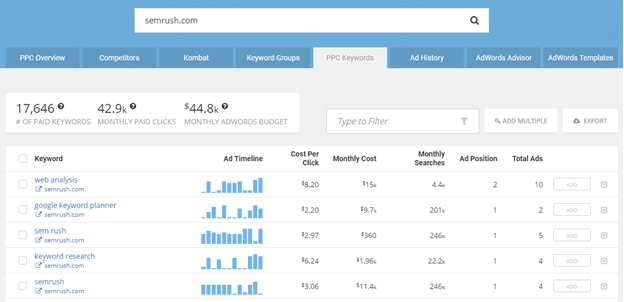 The ad timeline quickly lets you see where they are focusing their current attention.
For each keyword, you can see the:
CPC paid
Estimated monthly cost
Monthly search volume
Average ad position
Total ads run
Ad History
SpyFu has a large database of historical AdWords ads. For most keywords, you can see all the ad versions that a site has ever run: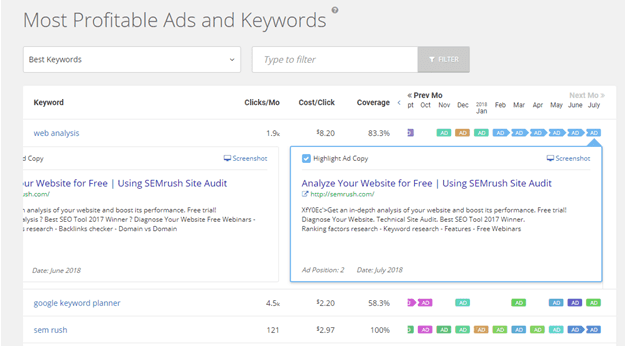 Clicking one of the small markers in the timeline beside a keyword will expand a section that shows you a preview of the ad copy that was run.
The color coding tells you how often the ad copy was changed.
This is often the only feature that solo marketers care about, and SpyFu does it really well. If you find yourself in that situation, going for the cheapest plan is likely your best choice.
SEMrush
The advertising data in SEMrush is split up into 2 parts: by domain and by keyword.
Here, we're going to look at the information you get by searching for a domain, similar to SpyFu.
This is found in the "advertising research" section of "domain analytics". The default page is a list of keywords that the site bids on, along with the position they rank in: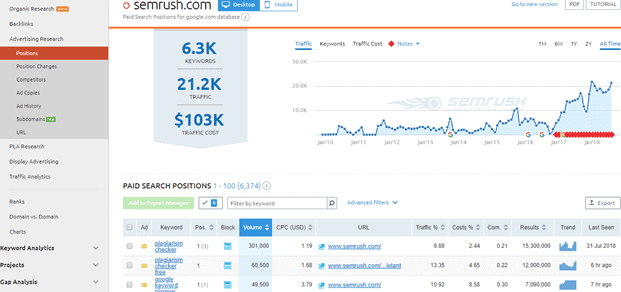 All the same data as SpyFu is available, like trends (how frequent they bid on a keyword), cost, and traffic.
But there are other options in the menu that you can visit for more detail:
Positions (default)
Position changes
Competitors
Ad copies
Ad history
Subdomains
Two of these let you view historical ad copy used, and set SEMrush apart from SpyFu in this regard.
Ad History
The first way is virtually identical to SpyFu, where you can view different ad copies used on a keyword basis: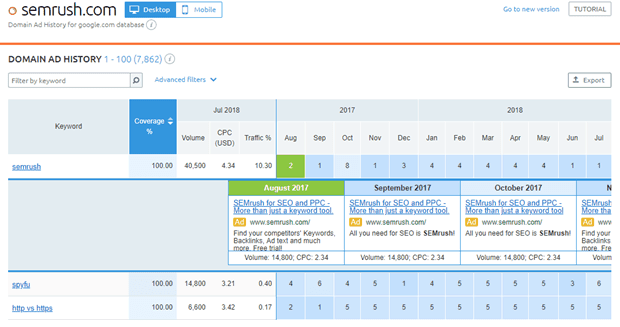 Click on a month and a section will expand showing you the ads that were run.
Ad Copies
Often, you'll want to target multiple keywords with a single ad, so viewing ad copy based on single keywords isn't too useful.
The ad copies section lets you view different ads that the site ran, but divides it into the keywords they targeted: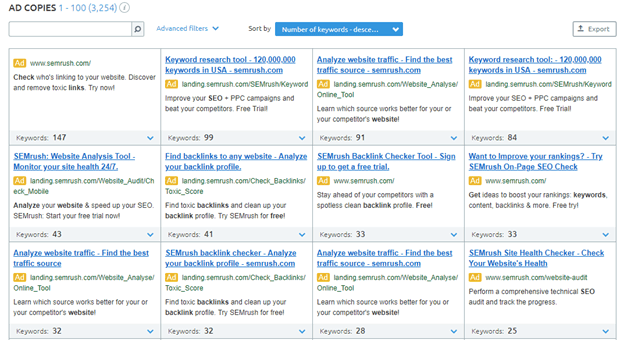 You can expand each ad to see a list of all the keywords that were targeted when this ad ran.
While both tools have great advertising data, SEMrush makes that data more useful when put head to head.
Keyword Research
Another main purpose to buy either of these tools is for keyword research.
Let's look at what they have to offer.
SpyFu
The third major tab on the top SpyFu menu is for keyword research.
Type in a keyword into the search bar and you'll get an overview that tells you the monthly search traffic, ranking difficulty, and a few advertising-related stats.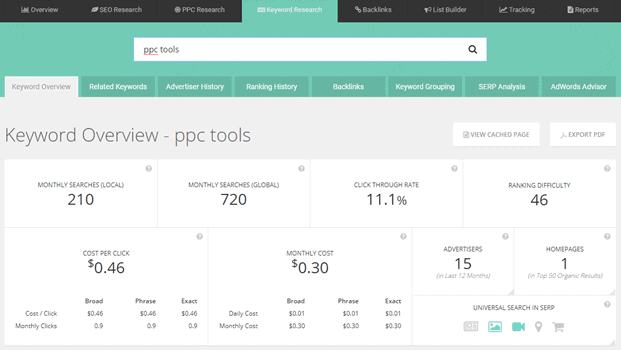 This is a good start, but again, there are tabs if you'd like more information on:
Related keywords
Advertiser history
Ranking history
Backlinks
Keyword grouping
SERP analysis
Adwords Advisor
Most of the information is geared towards PPC, but backlink data and ranking difficulty is still useful for SEO purposes.
SERP Analytics
The SERP analytics page breaks down the current search rankings in Google: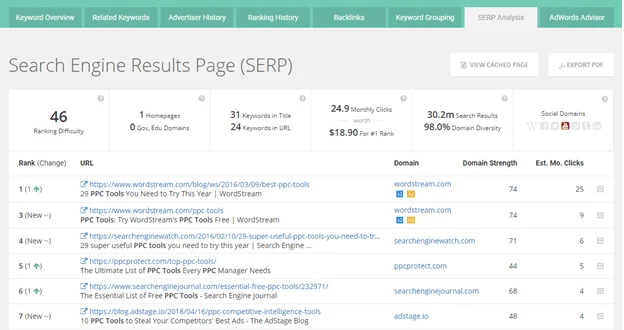 It tells you about any recent rank changes, as well as the domain strength of each page.
Pretty basic, but a good high level way to assess competition levels.
Advertiser History
This tab shows you who advertises on the keyword you entered, and who are most successful: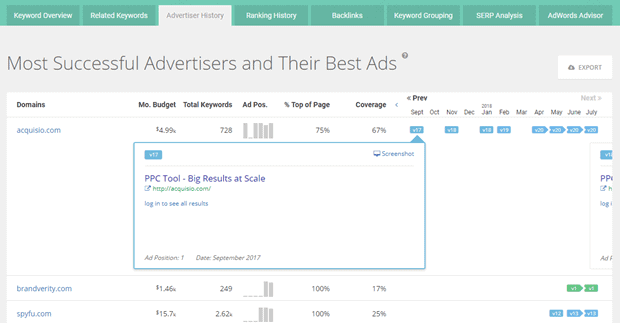 It has the same layout to the ad history feature of the PPC feature we looked at before.
If there are past versions of the ads, you can view them to see what changed. Very useful to learn from the time, money, and effort of others.
SEMrush
SEMrush has a separate section for keyword research under "Keyword Analytics".
Typing in a keyword in the search bar will bring up an overview with search volume data, traffic trends, and related keywords: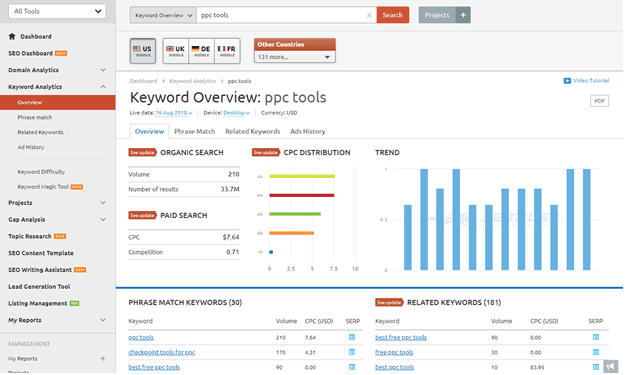 Both SEMrush and SpyFU have similar traffic data for most keywords.
There are a few other keyword research features that pop up here in the menu.
Keyword Difficulty
There are 2 different ways to see keyword difficulty.
First is the standard difficulty section:

It gives you a difficulty percent for the keyword, and also tells you if there are any special search result features.
Alternatively, you can use the "keyword magic tool," which is in beta as of writing this post.
This is more of your traditional keyword research tool, which gives you a large list of related keywords with their basic stats: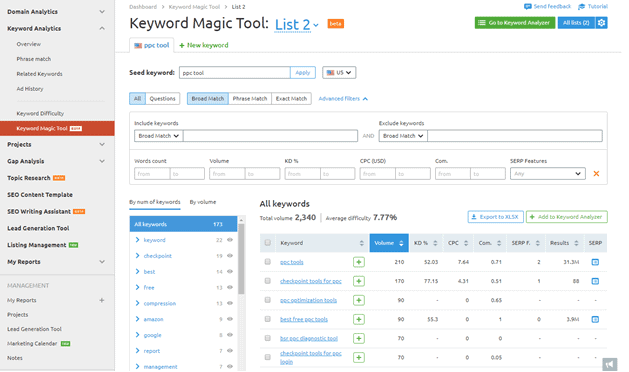 It's good, but nothing too special.
The big issue currently is that many of the keywords don't have a keyword difficulty percent, so the average score is skewed and useless.
As a note, the difficulty percentage is generally accurate, so you can use it for a quick idea of how tough a keyword is to rank for.
Advertiser History
Under advertiser history, you can see live ad copies for your keyword: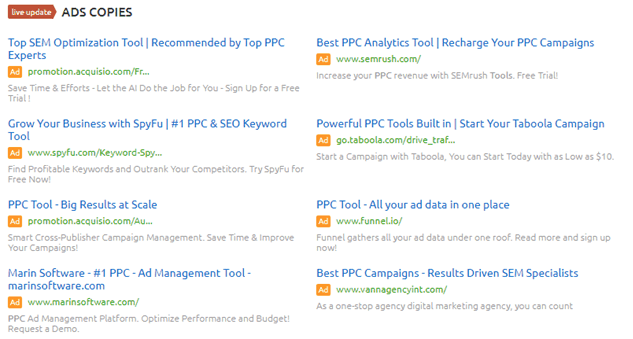 You can also see past copies: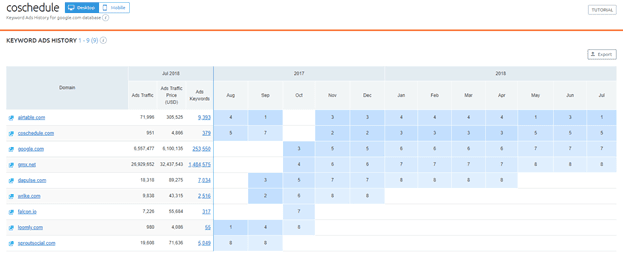 Click one and it will expand to show you the exact ad copy: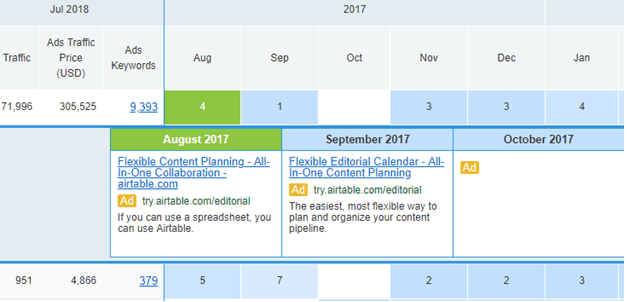 Both tools are great for keyword research when it comes to PPC, but pretty average for SEO purposes.
Backlink Analysis
Both tools also have a backlink database, which can be helpful for determining competition and finding outreach targets.
However, they both aren't great.
For example, putting in this page into different tools reveals a wide variety in backlink metrics:
SpyFu – 21 backlinks.
SEMrush – 723 backlinks from 87 referring domains
Ahrefs – 17k backlinks from 620 referring domains.
Ahrefs is the gold standard of SEO tools, so it's not reasonable to expect SpyFu or SEMrush to be as good for this.
However, SpyFu's link database is very weak. SEMrush's link database isn't perfect, but it's certainly a league better.
I repeated this basic test for several links and they all had the same results.
Here's what backlink analysis looks like in both tools.
SpyFu
There's a separate menu option for backlinks in SpyFu.
If you type in a URL, you get a list of backlinks to that URL: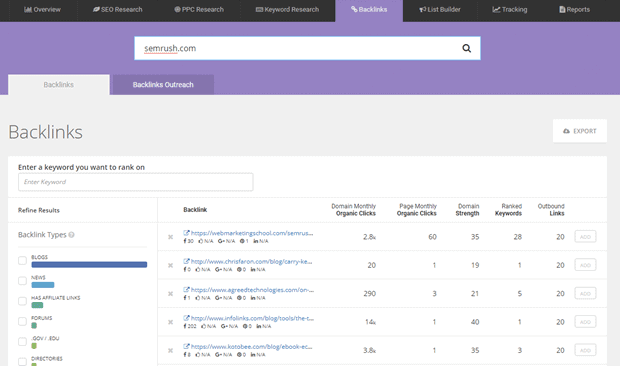 Alternatively, you can type in a keyword, and you'll get a list of backlinks that point to the pages that rank best for that keyword.
But keep in mind that this is far from a comprehensive list, as I just went over above.
It has a few neat metrics beside each backlink:
Domain organic clicks per month
Page organic clicks per month
Domain strength
Ranked keywords
Outbound links
The organic clicks can quickly tell you if the page is popular enough to target for referral traffic alone.
That's really it in terms of backlink analysis in SpyFu.
SEMrush
Backlinks are included as a section in "domain analytics" in SEMrush.
Type in a URL, and you'll get an overview of the backlinks that point to it:

Beyond the basics like total backlinks and referring domains, the overview gives you:
The total number of backlinks over time.
New and lost backlinks.
Types of backlinks (e.g. text, image, etc.)
Anchor text distribution.
Country of site.
This page also has multiple additional tabs for more detail.
Most of your time will be spent in the "backlinks" or "referring domains" tabs.
The backlinks tab gives you the full list of backlinks in table form, while the referring domains shows you all the referring domains: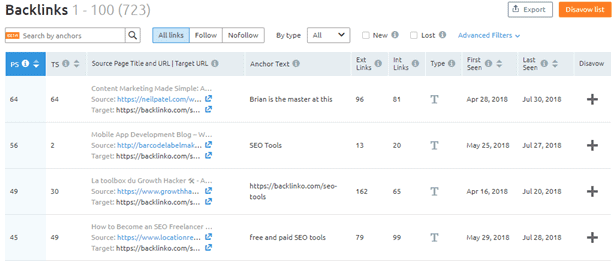 The layout is great, and very similar to Ahrefs. While the link database isn't perfect, it's still pretty good.
SEMrush is clearly better than SpyFu for anything concerning backlinks.
Reporting
Both tools allow you to summarize a bunch of the data we've looked at into PDF reports.
SpyFu
SpyFu has a few set reports that you can make.
For example, the SEO report focuses on SEO-related data for a domain of your choice, and can include comparisons to competitors: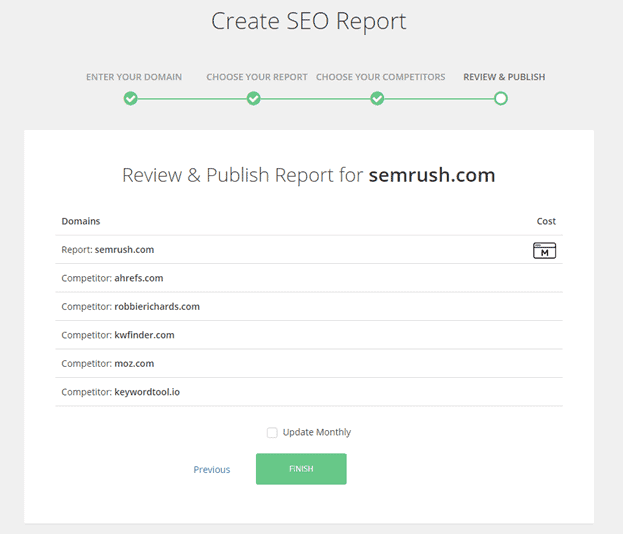 Here are a few report examples:
It's very thorough and not bad for a quick automated report, although little customization is available.
SEMrush
SEMrush stands apart here by allowing you to customize your reports using a drag-and-drop editor: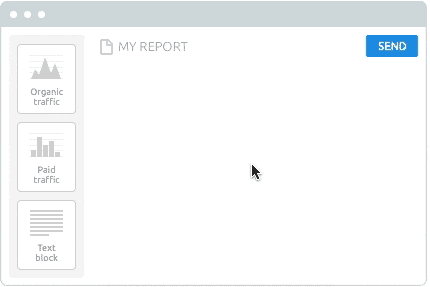 When you go to create a new report, you can either start from scratch, or choose from a variety of pre-made templates that are all well designed: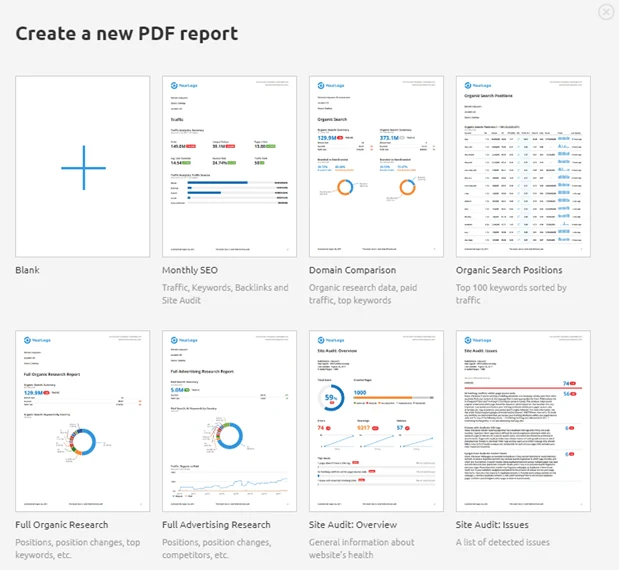 From there, you can customize it using the drag-and-drop editor, and preview it before creating a PDF: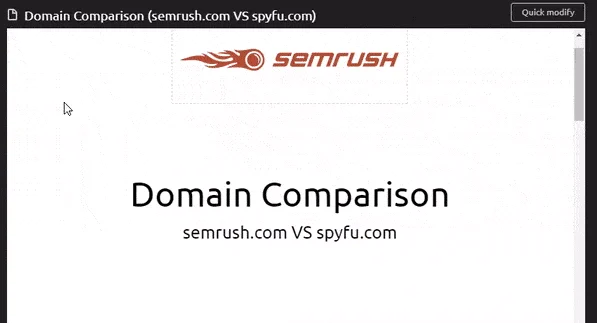 When you publish, you have 3 additional options:
Email the report to someone
Schedule report on an ongoing basis
Add table of contents
While SpyFu's reports are fine if all you'll need are basic reports occasionally, SEMrush's customization and templates are much better.
Project Features (Extras)
We've looked at all the cored features, but SEMrush offers a few features that SpyFu doesn't.
These won't be useful for everyone, but may.
When you create a project in SEMrush, you get a dashboard of tools you can use:

This includes:
Brand monitoring
Content analyzer
Social media tracker and poster
Position tracking
Site audit
Backlink audit
All of these have been added over time because SEMrush aims to be an all-in-one tool for marketing teams so that you don't need to buy another tool just for something like monitoring brand mentions.
The site audit will crawl a site of your choice and produce a report that highlights any issues: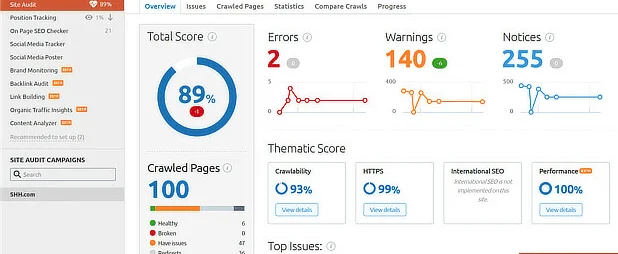 It covers all the basic technical checks that most SEOs do when starting work on a new site, and can be handy.
Customer Support
With tools this complex, you'll likely need some guidance at some point, whether from a person or help document.
SpyFu
SpyFu only offers support between 7am-8pm, Monday through Friday. Live chat and phone support are available.
They also have hundreds of help articles and guides in their knowledge base: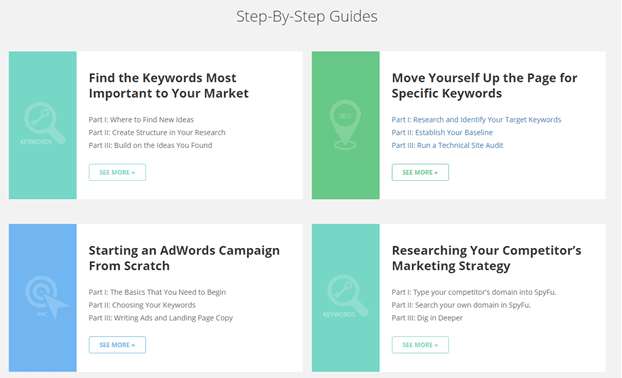 The help articles are reasonably well written, but the guides to marketing are relatively basic if you're interested in this tool to begin with.
SEMrush
SEMrush only offers support through phone and email.
Support reps via phone are only available during business hours, however they have both North American and European reps.
They also have a great knowledge base with hundreds of articles: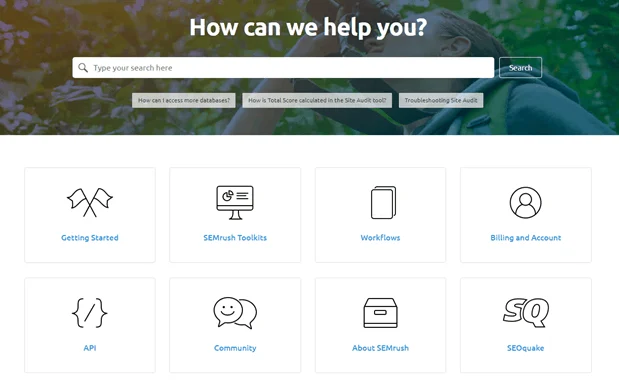 The articles are very well written (example), with great detail and helpful images.
Overall their support availability and knowledge base quality are similar, although SEMrush's articles are slightly better written.
SpyFu vs SEMrush: Which is Better?
Both tools are very good compared to others that focus on competitor research for SEO and PPC. No matter which one you pick, it will be useful.
Keep in mind that we only looked at some features (although the most important) because they both offer a ton of functionality.
Let me summarize my main thoughts on each aspect for you.
Feature

 

Winner

 

Reason

 

Pricing

 

SpyFu

 

SpyFu is cheaper in general, and offers the cheapest introductory plan. However, you give up some features to save that money.

 

Ease of use

 

No winner

 

Both have minimal onboarding processes, but very intuitive layouts that are easy to use for new users.

 

SEO research

 

No winner

 

Both provide good insight into organic traffic levels and keywords for domains. Very similar feature set here. Note that SEMrush has data for 130+ countries, while SpyFU only has U.S. and U.K. data

 

Advertising research

 

SEMrush (slight edge)

 

Both tools have great advertising data, but SEMrush also allows you to see the keyword groups targeted by each ad.

 

Backlink analysis

 

SEMrush

 

SpyFu's backlink database is very small and incomplete. SEMrush's isn't perfect, but is substantially better.

 

Reporting

 

SEMrush

 

SpyFu has good basic reports, but SEMrush offers more templates and the option to completely customize what data is included (and the order).

 

Extra project features

 

SEMrush

 

SEMrush offers everything SpyFu does, and more. They offer great site and backlink audits, plus other tools like brand mention monitoring and social media posting.

 

Customer support

 

No winner

 

Both offer similar support hours for phone, and both have solid knowledge bases with hundreds of articles.

 
So if I had to pick a winner, SEMrush is clearly the better tool when it comes to quality and feature set.
That being said, SpyFu is not a bad tool by any means and can be a great budget option if you're only looking for the core features like SEO and advertising research.
However, if you can afford it, I highly recommend giving SEMrush a shot.
Recommended Reads