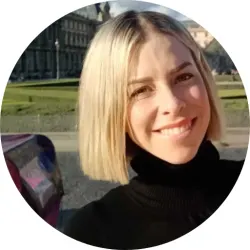 Latest posts by Jodie Chiffey
(see all)
According to SonicWall's 2019 Mid-Year Report, more than 4.8 billion malware attacks took place in the first six months of 2019. This statistic alone indicates just how important antivirus software products like Webroot or Trend Micro are for the safety of your computer.
Even so, the threat of viruses and other types of malicious programs pose is declining steadily over the course of the last decade. The data Google has made publically available shows a 91% decrease in malware sites since 2017, but that doesn't mean that browsing without an antivirus installed on your computer is safe.
For that reason, today we're pitching Webroot vs Trend Micro antivirus suites (security suite) with the aim of helping you select the best cybersecurity solution for your computer. So, let's take a closer look at what these two malware protection software products have to offer, starting with their main points of difference.
Main Differences Between Webroot vs Micro Trend
The main differences between Webroot vs Micro Trend:
Webroot is compatible with Mac and PC computers regardless of the product you choose, whereas only certain Trend Micro's products are compatible with Mac computers
Webroot does not provide privacy on social media, whereas Trend Micro does not over privacy tools
Webroot can eliminate all traces of online activities, whereas Trend Micro doesn't eliminate online traces
Webroot does not have any AI learning capabilities, whereas Trend Micro doesn't have AI learning
Webroot offers 25GB of secure online storage, whereas Trend Micro has no cloud storage options
It is worth noting that the features mentioned here may not be available in all Webroot's and Trend Micro's products, and for that reason, it is advisable to check the product's list of features before purchasing a Webroot's or Trend Micro's antivirus software.
Statistics show that laptops and desktops are the most vulnerable to cybercrimes, so each feature an antivirus software provides can make your devices or personal data safer.
Exploring the Trend Micro's and Webroot's features
Malware, ransomware, identity theft are just a few of the most common threats your computer is exposed to every time you start browsing the Internet or decide to install new software. That is why the antivirus program you have on your computer must be able to protect your device from all dangers that can cause damage to it.
Webroot offers a variety of cybersecurity products for both homes and businesses, and the exact set of features you are going to have at your disposal depends on the product you select.
However, each of these malware protection suites takes up very little space on your hard drive and performs computer scans 60% faster than Kaspersky, McAfee or Norton antivirus programs. In addition, all of Webroot's products prevent real-time phishing and keep your data and identity secure at all times.
The number of devices you can protect with Webroot's anti-malware software varies from one product to another, which allows you to keep one or more devices safe depending on your needs. There are a number of different Trend Micro's products to choose from, but Mac users must make sure that the software they want to purchase is compatible with the macOS.
Each malware protection software Trend Micro offers is equipped with advanced AI learning features, which enables them to safeguard your computer from fast-evolving threats you can encounter online or through daily interactions with your friends and business associates.
Webroot's least expensive antivirus software is equipped with more features than Micro Trend's basic malware protection suite, although both of them are powerful enough to protect your computer from common threats.
Comparing Webroot and Trend Micro's prices
A better firewall, managing passwords or protecting your WiFi network from intruders are some of the most common reasons why PC and Mac owners opt to pay for their antivirus software. Micro Trend or Webroot cannot be used for free, although trial versions of both Micro Trend's and Webroot's products are available.
Webroot's antivirus and malware protection software products are divided into home and business categories.
Home products include:
AntiVirus
Internet Security Plus
Internet Security Complete
AntiVirus for gamers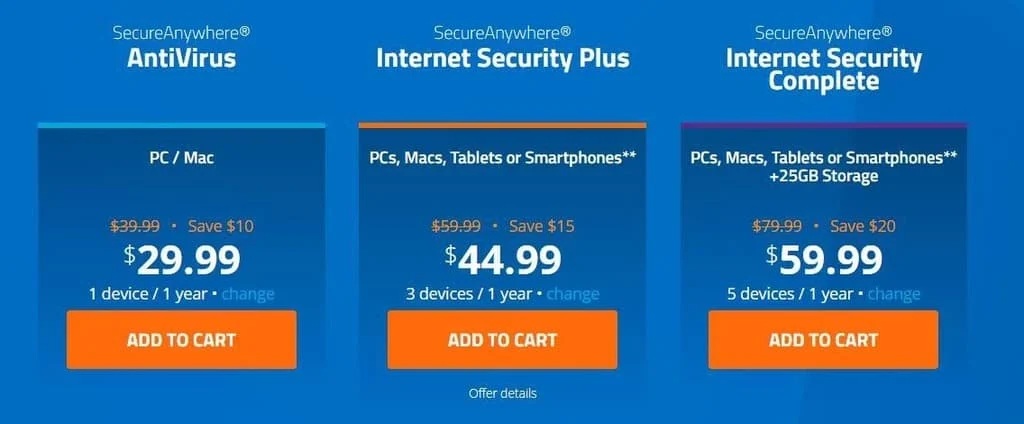 You can choose from the following products in the Business category:
Endpoint Protection
DNS Protection
Security Awareness Training
Carbonite Backup for Office 365
The prices of antivirus software products Webroot offers vary from $79.99 to $39.99 per year, while the price of the products aimed at businesses is available upon request.
The number of devices on which you can install one of Webroot's products varies between one and five, and you can also choose how many devices you want to protect with Webroot.

Unlike Webroot, Trend Micro doesn't offer solutions for businesses, although each of its products can be used in professional contexts.
These are the products Trend Micro currently offers:
Maximum security
Internet security
Antivirus + Security
Antivirus for Mac
Mobile security
Password manager
WiFi protection
Home Network security
In addition, you can acquire Ultimate or Premium service bundles that include unlimited removal of viruses, prompt assistance in emergency situations and an unlimited number of security health checks. Both of these bundles are more expensive than Trend Micro's products, as you need to spend $179 for the Ultimate Service Bundle or $109.95 for the Premium Service Bundle.
Webroot and Trend Micro are similarly priced and you won't have to spend more than $80.00 to purchase the annual subscription to antivirus and malware protection programs these software manufacturers offer.
The Webroot's and Trend Micro's malware protection capabilities
According to the data released by AV-Test opt to pay new viruses and malware are detected each day. Hence, the software you're using to protect your computer from threats has to be able to detect and eliminate potential malware infections.
AV-Test organization also conducts regular tests of different antivirus software products and publishes the results that can be used as an indicator of their protection capabilities. Both Webroot and Micro Trend were tested by AV-Test during 2019 for their ability to protect against malware attacks, web and email threats as well as for their capacity to detect new malware.
During the testing of Webroot, the researchers used 307 samples to complete the Real-World Testing stage and 2, 428 samples to measure the software's malware detection potential. Webroot's Protection score was just 2.0 out of 6.0, which indicates that its malware protection capabilities leave much to be desired for.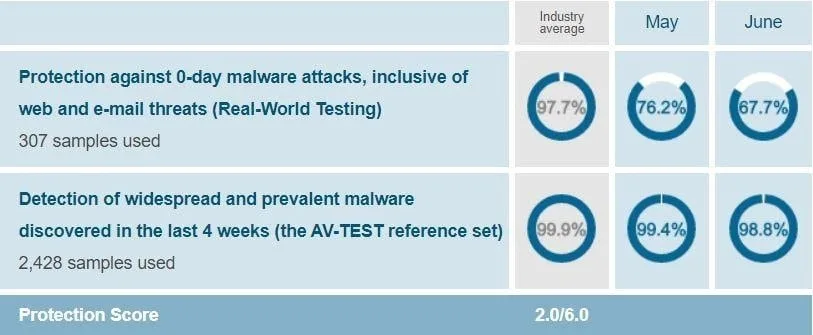 Trend Micro, on the other hand, was tested on 331 samples during the Real-World Testing stage, while its malware detection abilities were tested on 20,428 samples. The software scored a perfect 6.0 out of 6.0, revealing how well it can protect a computer from harmful software.

These tests clearly show that Trend Micro has better malware protection capabilities than Webroot since it delivered better results on larger sample size.
Do Micro Trend and Webroot affect a computer's performance?
Antivirus software products use a certain amount of a computer's CPU, which in turn can slow down routine actions like opening a web page, copying files or launching a program.
Webroot and Trend Micro were tested on standard and high-end PCs with the aim of determining how they affect a computer's performance while:
Opening websites
Downloading applications from the Internet
Launching a software
Installing a software
Copying files
The results AV-Test published revealed that Trend Micro doesn't slow down the download process, but it impacts the speed at which websites are opened by 20%, which is 4% above the industry standard.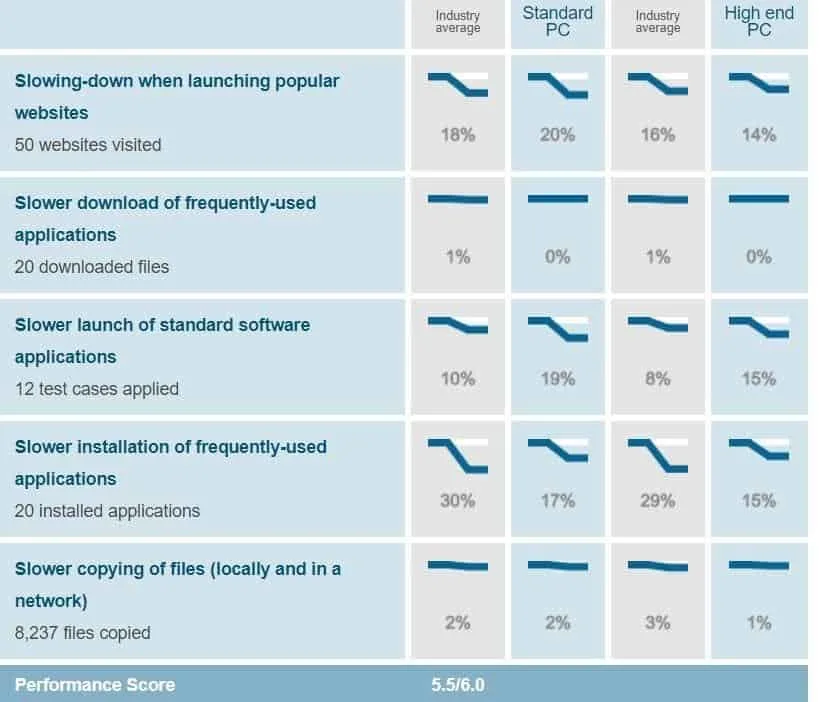 Furthermore, Trend Micro has minimum impact on the speed at which files are copied and it also doesn't affect the software installation process significantly. The fact that Trend Micro's Performance Score was 5.5 out of 6.0 is the best indicator of how much this software influences a computer's performance.
Even though Webroot puts less strain on a computer's CPU than Trend Micro, it still slows down the installation of common macOS or Windows-based apps.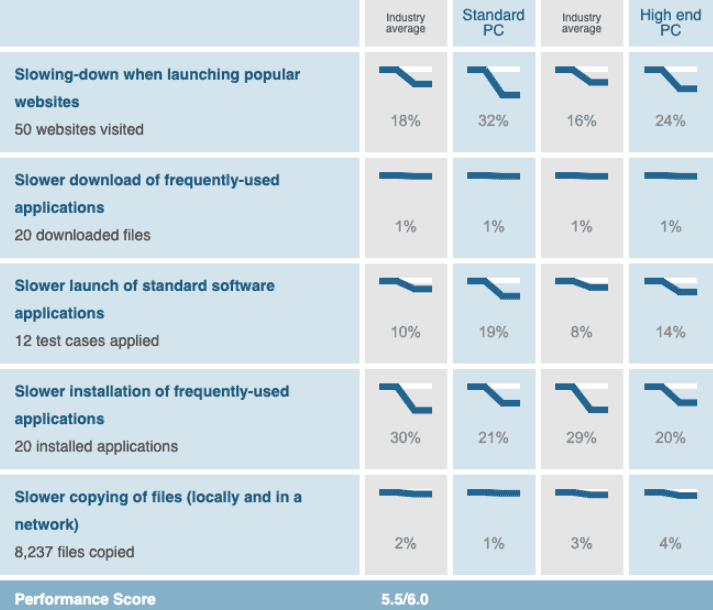 Webroot has the same Performance Score as Trend Micro which makes it a suitable option for both standard and high-end PC owners. There is no difference between these two products in terms of influence on the speed at which a computer can perform routine tasks.
Examining Webroot's and Micro Trend's user interface
Performing routine system scans or adjusting the privacy settings shouldn't be a complicated process that takes a lot of time to complete. Software products that have complex interfaces take more time to get used to, and for that reason, it is better to opt for a malware protection software that lets you access all of its most important options with a single click.
Trend Micro's interface is both intuitive and modernly designed, so you won't have to spend a lot of time searching for different settings. The software's home window contains the following modules:
Device
Privacy
Data
Family
Clicking on any of these four modules will grant you access to a variety of related options you can customize in accordance with your needs. The scan of the operating system can be initiated with a single click on the Scan button, and if the green color is displayed that indicates that the software didn't detect any potential threats.
The red color suggests that Trend Micro has detected the files that are infected by a virus and that needs to be quarantined.
When compared to Trend Micro's interface, Webroot's interface seem outdated and poorly organized. All of the available modules are located on the right side of Webroot's home window, while on the left side you can see the tab that shows you the system's current protection status.
The Scan My Computer button is located in the lower-left corner of the same window, and you just need to click on it if you want to scan your operating system. Even though using Webroot is far from difficult, Trend Micro is still more user-friendly since accessing any of the settings the software offers, require a minimum amount of effort.
How do Webroot and Micro Trend rank on market share reports?
The antivirus market share reports released by different organizations provide contradictory information. According to OPSWAT's report, Webroot Software Inc. holds 7.45% of the anti-malware market share, while Trend Micro sits at the tenth place with just 3.67% of the market share.
On the other hand, Market Report World featured Trend Micro among top players on the antivirus market, while failing to mention Webroot. Hence, it is difficult to say which of these anti-malware software products ranks higher on market share reports, since their ranking varies from one market report to another.
Pros and Cons
Webroot
Pros
Compatible with both macOS and Windows
Offers personal firewall protection
Features a safe browser
Manual virus scanning capability
 Cons
No parental control options
Doesn't protect computers against spam
Micro Trend
Pros
Equipped with powerful anti-phishing options
Provides Chat and IM protection
Excellent customer support
Equipped with an AI learning technology
Cons
Doesn't offer VPN protection services
Some Micro Trend products are not compatible with macOS
FAQ's About Webroot vs Micro Trend
What types of threats does Webroot eliminate? 
Identity theft, malware, and phishing are the most common types of threats Webroot detects and removes.
How often is Webroot updated?
Webroot updates automatically each time a new version of the software is released. In addition, all software users are protected against new malware as soon as it is detected.
Does Webroot access my private data?
No, all your private data will be secure if you choose to install any of Webroot's products on your computer.
Can I use Micro Trend for free?
No, using Micro Trend for free isn't possible, although the free trial is available and the company offers a 30-day Money-back Guarantee for all of its products.
How many devices can I protect with Micro Trend?
The number of devices you can protect with Micro Trend depends on the product you purchased. However, protecting more than ten devices is not possible, regardless of the product you purchase.
The Verdict: Webroot vs Micro Trend
The amount of new malware that appears on a daily basis has been declining over the course of the last few years, but using a computer without an antivirus is still not safe. Each of Webroot's products designed for businesses and homes is capable of keeping your devices safe.
However, the tests show that software has a tough time differentiating between legitimate software and malware which limits its usability. Webroot also provides subpar protection against new malware, which is the reason why your computer is still going to be exposed to some amount of risk even after you install this antivirus software.
Even though Webroot's and Trend Micro's products are similarly priced, Micro Trend provides more value for the same amount of money. This malware protection software can be installed on up to ten devices with a single license and it efficiently detects all harmful programs.
What's more, Trend Micro is equipped with parental controls, so that you can keep your children safe from dangers they can encounter online. We recommend choosing Trend Micro over Webroot because it offers more security features and better malware protection while having almost no impact on a computer's performance.
Make sure to check out our Bitdefender VS Kaspersky or Avast vs Avira comparisons if you would like to find out more about different malware protection options.
Trend Mico vs Webroot Conclusion
Your computer is exposed to different types of threats on a daily basis, which is why you must ensure that the antivirus software you have can prevent malicious programs from severely damaging your operating system.
Trend Micro's products are among the best malware protection options on the market, and for that reason, a growing number of Mac and PC users are choosing to install them on their devices. Which antivirus are you going to choose? Share your opinions with us in the comments.
Recommended Reads: