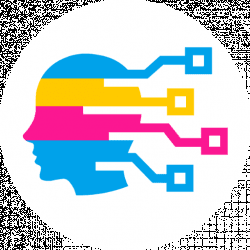 Latest posts by Digital Guyde Team
(see all)
Norton is one of the most well-known names in the cybersecurity arena and is older than most other companies that muscle for rank in a very crowded industry. Chances are that you've already heard about Norton, unless you've been living under a rock. And if you've used Norton in decades past, you may have an inaccurate impression of its products.
Back in the mid to late 2000s, Norton, though still extremely successful, garnered a reputation for drastically slowing down computers. But computer salesmen at common electronics retailers like Circuit City and its blue and yellow competitor would tell you that it was worth poor performance during a scan, because it was so thorough, and that the alternative was risking getting a virus.
Those days are long past, and Norton, along with every other competitor in the industry, intentionally designs its antivirus solutions to have as small an impact on system performance as possible.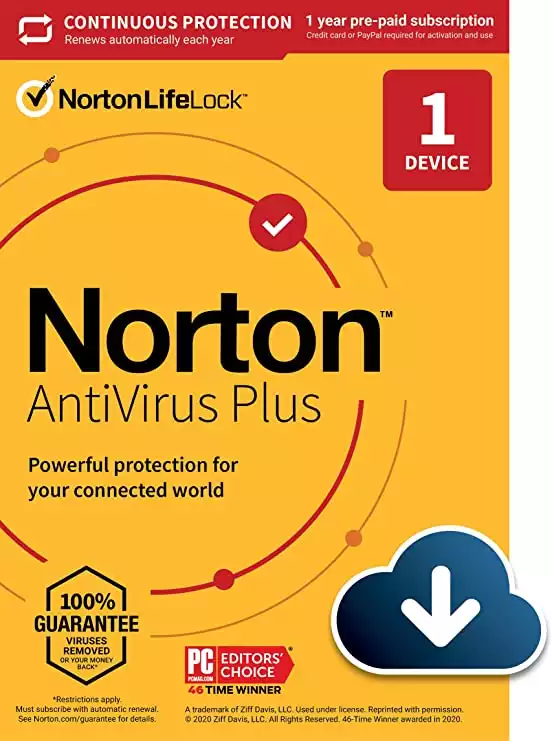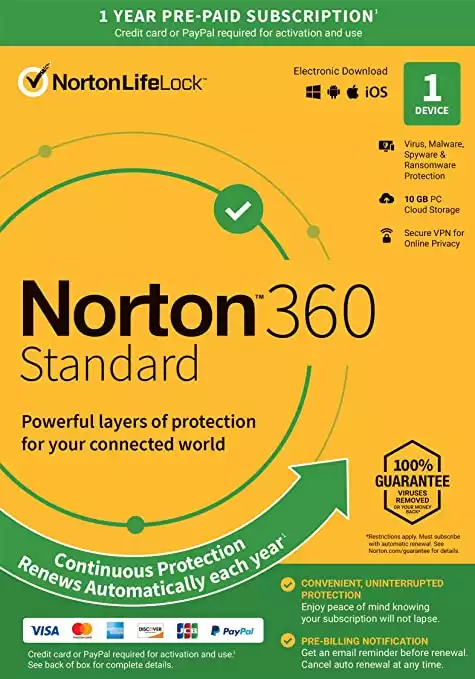 Norton 360 Deluxe
Check Price
We earn a commission if you click this link and make a purchase at no additional cost to you.
09/23/2023 05:15 am GMT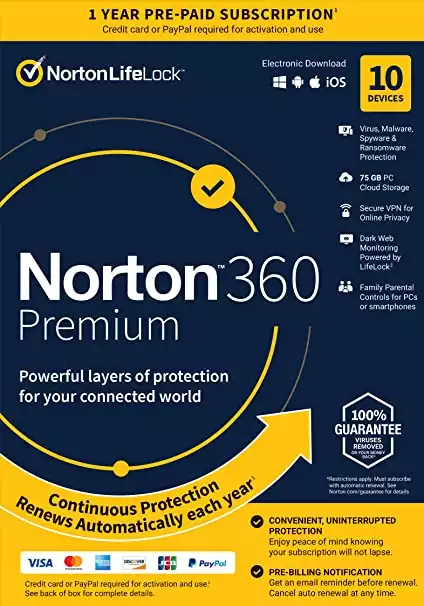 Norton 360 Premium
Check Price
We earn a commission if you click this link and make a purchase at no additional cost to you.
09/24/2023 02:59 am GMT
Pricing
Norton has pricing that's a little cheaper than the average provider. And at first glance, you may be tempted to spring for the Basic version due to its extremely low price tag. But don't be seduced by the pricing model just yet, because you also need to take into account what features are provided with each different level of service.
It's also worth noting that there is a free trial of the Deluxe version. The free trial lasts for 30-days and gives you access to the full product, which was pretty surprising. Usually, free trials offered by competitors will strip features away from the free trial, but Norton generously provided full access to the Deluxe version.
That makes it a great option if you need an antivirus solution right away to deal with an existing infection, especially if you're not sure whether or not you want to commit to a subscription just yet.
For reference, the following outlines Norton's annual pricing model:
These prices are easily justified by the features, as we'll discuss shortly. Also, note that these prices are even below the cost of the average provider in the industry. Even the Premium plan provides good value in my opinion and comes loaded with a ton of extras. I would caution you to not be seduced by the Basic plan, however. Sure, it may be cheap, but you get what you pay for.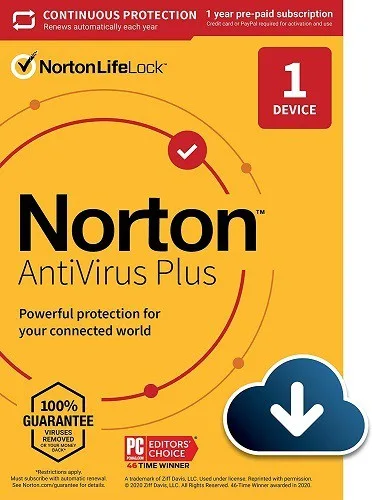 Features
Norton separates its antivirus features into four distinct different packages: Basic, Standard, Deluxe, and Premium. The Basic version is aptly named, and will only protect a single PC.
The main difference between the three packages is the number of protection features that are provided.  Some of the top features include:
Rapid pulse PC protection that provides updates every few minutes.
Spyware detection and removal with faster scanning capability.
Safe Web social media protection for Facebook that provides News Feed scanning to prevent rogue downloads from entering your PC.
Protection against hackers in the two upper-level editions of Norton.
Backup and Recovery in the premium edition that includes Blu-ray disc, iPod, and HD-DVD backup with 2GB of cloud storage.
Parental controls in the two upper-level editions of Norton.
Free around the clock tech support 24/7.
While it's core feature is little more than virus scanning and malware removal, I was surprised to see that even the Basic version included identity theft protection and online transaction security. Still, I don't think I'd ever buy the Basic plan. The biggest thing it lacks, in my opinion, is a virus-free guarantee.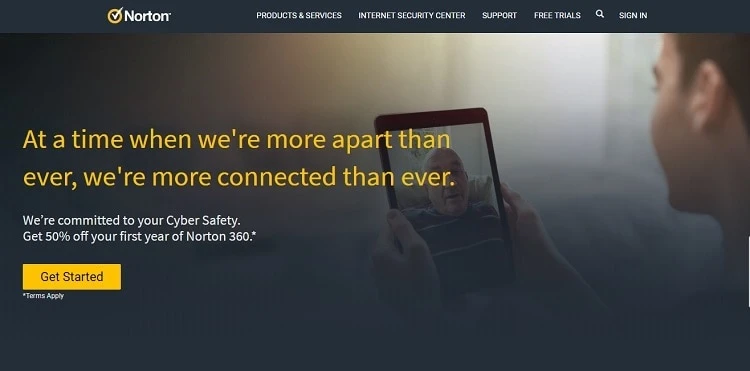 The Basic version includes the following features:
Only works on one PC
Protects against threats such as viruses, spyware, malware and more
Protects your identity during online transactions
An Intelligent network that identifies new viruses quickly
The Standard plan includes all of the features of the Basic plan but adds more functionality. I think that the Standard plan is the bare minimum I would recommend. Thankfully, it comes with a 100% virus free guarantee, which entitles you to a refund if Norton can't get rid of your virus.
In addition, it even comes with customer support, which could be a godsend when a nasty virus has overtaken your PC. It even comes with a smart firewall, which I don't think I personally see a lot of value in, but it's better than nothing.
The Norton Security Standard – 1 Device [Download Code] Standard plan includes the following features:
Works on one PC, one Mac, or one mobile device
Includes a smart firewall feature
24/7 customer support
Protects better and faster than the competition (see benchmark data below)
100% virus-free guarantee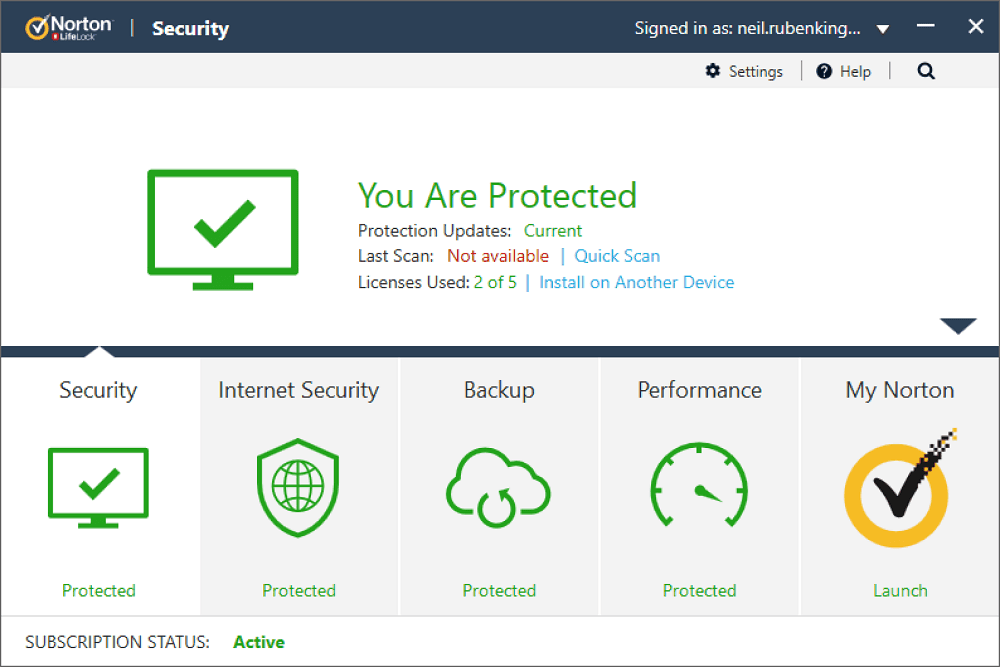 Next is the Deluxe plan. It doesn't really add a whole lot of extra functionality. The main benefit is its inclusion of enough licenses to be used on up to five devices. The developers also created a web portal to help you track and manage the security of all your devices, too.
The Deluxe plan includes the following features:
Works on up to five PCs, Macs, or mobile devices
Includes a web portal to manage multiple devices
Last up is the Premium plan, and it includes some features that stray away from the core value of virus protection. Nevertheless, I think the extra features are invaluable tools, such as the password manager, backup features, and the 25 GB of cloud storage.
In all honesty, I already have a third-party password manager, but too many users fail to utilize password manager apps. So, it's handy that Norton has thrown one in with the Premium subscription.
The Premium plan includes the following features:
Works on up to ten PCs, Macs, or mobile devices
Family safety and parental control features
Includes backup features to protect users' files, such as photos and personal documents
25 GB of cloud storage
Independent Testing and Benchmark Data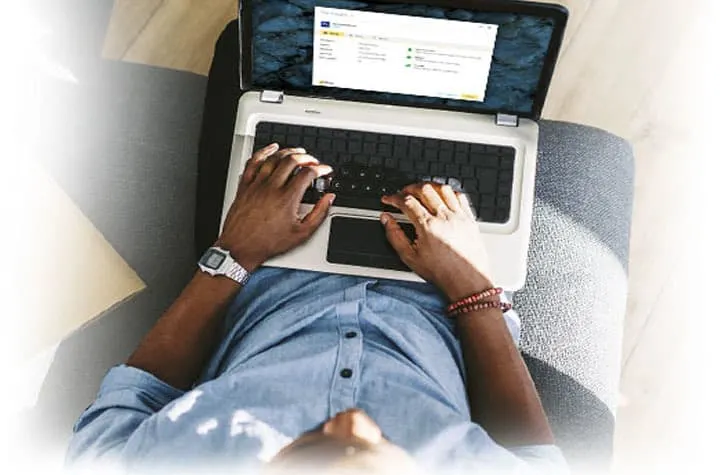 Norton, which is owned by Symantec, performed admirably in the independent lab benchmark tests. To see how well antivirus solutions stack up against each other, av-tests ran the industry's top providers through rigorous tests designed to objectively measure the level of impact the software has on a system.
Furthermore, the tests also help quantify how many false positives an antivirus application raised, as well as its efficacy in warding of viruses in both a lab test and a real-world threat protection test.
Before we dig into the nitty-gritty details, however, please understand that there's no such thing as a perfect antivirus solution. There are pros and cons to each service. Take false positives, for example.
No one likes it when their antivirus app generates a false positive, but the alternative is using software with somewhat laxer standards regarding what constitutes a virus, which could let a threat slip through the nets.
At any rate, the following data was produced from independent benchmark tests from av-tests:
Performance test (impact on the host system's resources) – Norton had a moderately low impact on system performance with a rating of 5.7, which was about the same as other leading vendors.
False alarm test – Norton generated 96 false alarms, compared to the highest number of tested false alarms by CrowdStrike, which generated 125 false alarms. This puts Norton in second place for the most generated false alarms.
Malware protection test – Norton blocked 99.78% of threats, generated 96 false positives, and generated 0.22% user dependent failures.
Real world test – Norton successfully blocked 99.4% of tested threats with only 7 false positives in the real world protection test.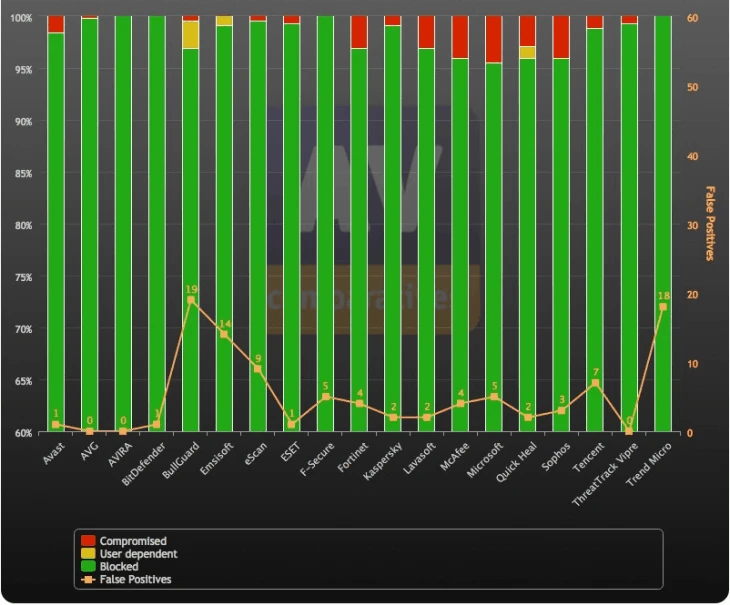 Please note that in the data, it is not listed as "Norton." Rather, it is listed as Symantec, which is the owner of the Norton brand.
Pros and Cons of Norton
Norton AntiVirus has an overall rating of being an excellent PC protection program.  However, here are a few pros and cons to help you make an informed decision.
Pros
Norton offers a new technology capable of handling critical PC files that have become corrupt making them vulnerable to exploits.
Effective URL protection and blocking of malicious websites.
Exceptional performance when removing viruses that are deeply embedded in the operating system.
A clean user interface is easy to understand and use.
60-day money back guarantee.
Cons
Removal of real-time threats is not as good as virus removal.
Technical support can use improvement.
The utilization of system resources is average using approximately 60 percent of memory and one percent use of CPU.
How does Norton compare to other antivirus programs?
Final Thoughts
Overall, I was very impressed with Norton's updated antivirus solutions. In fact, there are only two things about this service that I don't like. Firstly, I didn't like the functionality and features of the Basic plan. It may be dirt cheap, but it doesn't really offer good value. Secondly, I don't like the fact that Norton throws more false positives than the average provider.
That's something that needs to be accepted, however, because it's better to err on the side of caution. Other than those two factors, I think Norton is an excellent solution that will help ward off cyber attacks and digital threats effectively – and at a fair price.
Last but not least, if you're still on the fence, then I highly recommend downloading the free trial to see if you like it. It's worth testing it out at least because you have nothing to lose!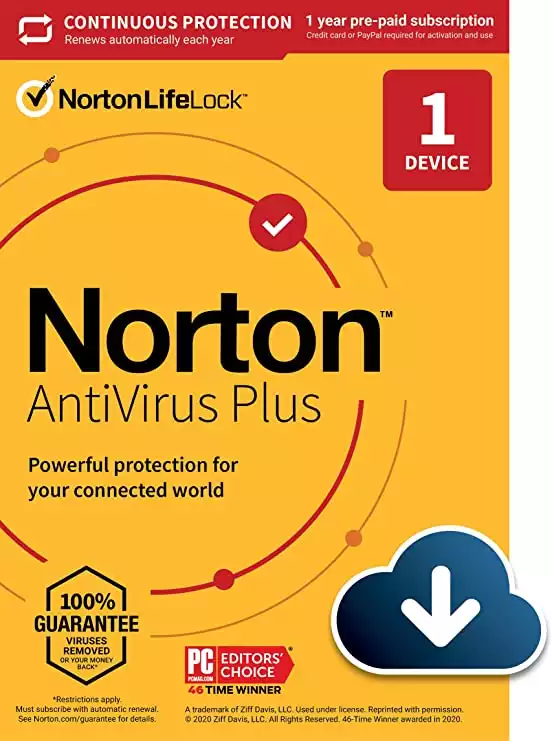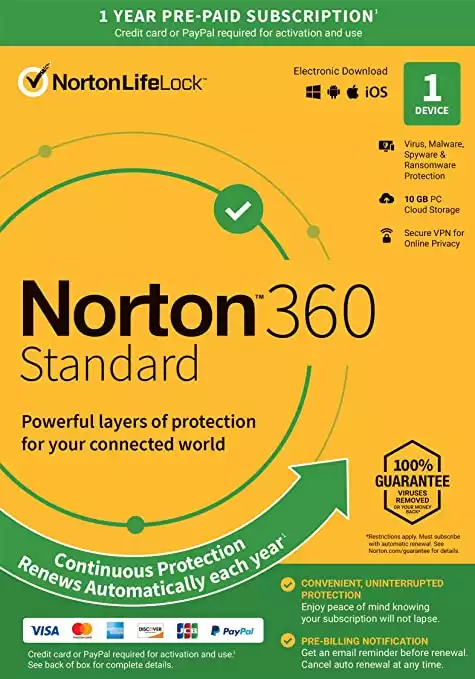 Norton 360 Deluxe
Check Price
We earn a commission if you click this link and make a purchase at no additional cost to you.
09/23/2023 05:15 am GMT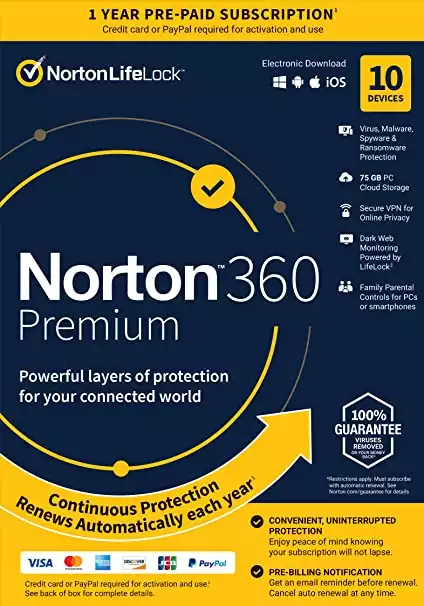 Norton 360 Premium
Check Price
We earn a commission if you click this link and make a purchase at no additional cost to you.
09/24/2023 02:59 am GMT
Recommended Reads