(Last Updated On: October 23, 2018)
If you've been shopping around for the best antivirus application – either a free or paid version – then you know how difficult it is weighing the benefits and costs of one provider over another. The truth remains that there is a myriad of antivirus software developers. Some are decent and a rare few are worth the cost, but many are so awful that you're better off avoiding them completely. 
To help make sure that you don't get stuck with a lemon that will leave your computer vulnerable to a cyber attack, today I'll be pitting two extremely popular and successful antivirus brands against each other: Malwarebytes versus Norton. Together we'll look at each respective provider's pricing model, features, and benchmark data. 
Bottom Line Up Front: Both the free version and paid version of Norton is significantly better in terms of feature sets.
So, let's get started with the pricing model. 
Price
 Considerations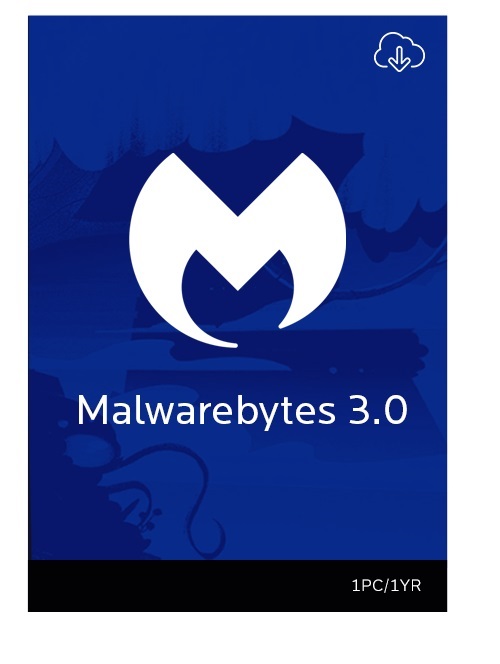 On the whole, Norton has slightly lower pricing than Malwarebytes. But pricing isn't the only factor to consider. Because there are different features between these two providers, we are really comparing apples to oranges. And the price is only half of the value equation. Still, many consumers are price sensitive, and the cost of the software can't be ignored. So, let's take a look at each provider's prices. 
The following outlines Norton's annual pricing model: 
For comparison, the following outlines Malwarebyte's pricing model: 
Clearly, Malwarebytes offers more granular subscription terms and better discounts. Though Malwarebytes is more expensive for single users and short subscription term lengths, the price falls drastically when you opt for multiple year subscriptions or multiple license subscriptions.
For instance, consider that the 10 computer subscriptions for 2 years are only $9.75  (For the latest prices and discounts, check here)
I should also mention that both providers offer a free trial. The Malwarebytes free trial only lasts for 14 days, but the Norton free trial includes full access to the Deluxe version for 30 days. If you're really in a bind and need fast access to antivirus software, both providers can lend a hand for free.
Also, note that Malwarebytes has a 100% satisfaction guarantee and a 30-day money back guarantee. But a lot of people have complained of difficulties with actually taking advantage of the money back guarantee.  
Norton's Features 
Norton separates its features into different tiers and service levels, like most other antivirus developers. The following cursory summary gives an adequate understanding of the features included in all four different Norton service levels. 
Basic: 
Identifies, prevents, and eradicates threats such as viruses, malware, spyware, and other similar threats

 

Guards against identity theft

 

Quickly identifies new threats and pushes updates to your local software instance

 

Only works on a single PC

 
Standard: 
Only works on a single computer, but runs on Macs and mobile devices in addition to PCs

 

Comes with a smart firewall

 

Includes customer support that's available 24/7

 

Includes a virus removal guarantee

 
Deluxe: 
Comes with a five-system license 

 

Includes a web portal to manage multiple systems

 
Premium: 
Parental control features and family safety settings 

 

Backup operations to make copies of your data

 
Naturally, all of the features of each plan are additive. By that I mean that each superior package includes all of the features of the lower packages.  
Read here my full review of the Norton Antivirus!
Malwarebytes' Features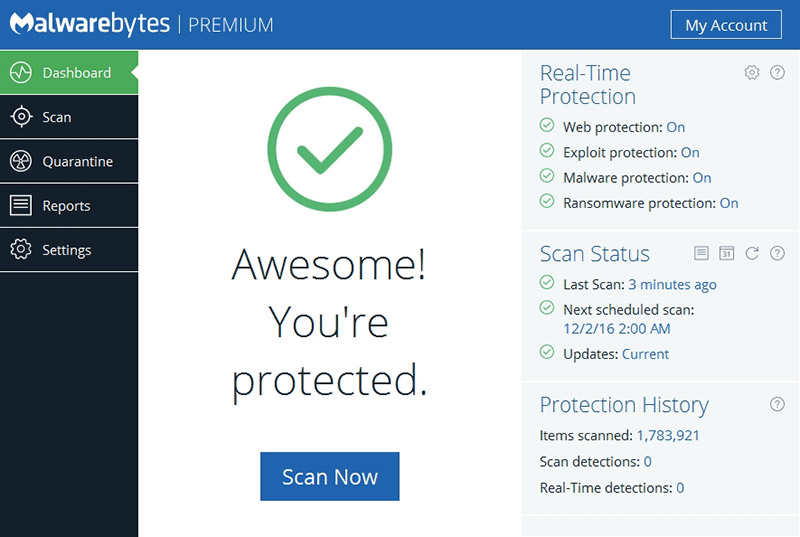 Malwarebytes has significantly fewer features than Norton, which is partly due to the fact that it doesn't have four different service tiers. Instead, there are only two versions: the free version and the paid version.
The free version only lasts for fourteen days, and includes the following features, each of which expire after the two week trial period: 
Prevents viruses and malware

 

Real-time protection against malicious processes and viruses

 

Anti-ransomware protection 

 

Malicious website and bad link threat protection 

 
I'd like to take a moment to comment on the superiority of Malwarebytes' free version. Most other antivirus applications, which aresub-parr, don't often include all of these features. Instead, they only include raw virus detection. It isn't a given that a free version will protect against online threats or offer real time protection.  
For those reasons, I was relatively impressed with Malwarebytes. However, please note that the free version doesn't remove viruses; instead, it only protects against malware and prevents it from infecting your system. If you're trying to recover from a full blown virus outbreak, then you'll want to purchase the full version.
The paid version includes all of the free features, as well as the following additions: 
Virus and malware identification and removal

 
Independent Lab Testing and Benchmark Data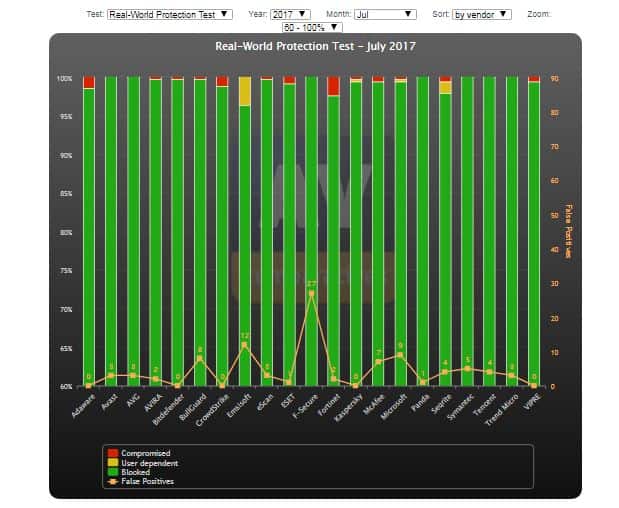 Unfortunately, there wasn't any data regarding the efficacy of Malwarebytes on on the AV-Comparitives chart, though it did have a lot of data for Norton. That's a crying shame, because I would have loved to see how Malwarebytes would have stacked up against Norton in the same benchmark tests.
The only reputable certifications and awards Malwarebytes has is an eTrust certification and an A+ rating from the Better Business Bureau. 
Performance test (impact on host system's resources) – Norton had a medium to low impact on system performance with a rating of 5.7. However, this figure was about the same as the average impact upon system performance among the top antivirus solutions.

 

False alarm test – Norton generated 96 false alarms, compared to the highest number of tested false alarms by CrowdStrike, which generated 125 false alarms. This puts Norton in second place for the most generated false alarms.

 

Malware protection test – Norton blocked 99.78% of threats, generated 96 false positives, and generated 0.22% user dependent failures. To be blunt, Norton threw a metric crap-ton of false positives.  

 

Real world test – Norton successfully blocked 99.4% of tested threats with only 7 false positives in the real world protection test, which is admirable.

 
Overall, Norton performed well in the tests, with exception to its unusually high number of false positives. This could mean that you'll have to sift through the results of a scan to subjectively judge what is safe, and what isn't.
And it's hard to compare Malwarebytes to Norton since they weren't both tested by the same lab. At any rate, Norton is certainly well adept at stopping viruses dead in their tracks without trashing your computer's ability to run other applications during a scan (assuming you meet the system requirements for memory and CPU).  
Final Thoughts on Malwarebytes vs Norton? So which provider emerges victorious after the dust has settled?
Before I answer that question, let me first state that I admire both Norton and Malwarebytes. I think they have both developed great products that are effective and capable of defending against viruses and malware. 
Having said that, when you put them side by side, I think Norton is the clear winner. Even though I wouldn't recommend the Basic Norton antivirus plan (you can get free software with superior features, such as AVG), Norton has far too many advanced features to ignore.
True, you will have to pay more for the Deluxe and Premium versions, but they offer unparalleled protection. Furthermore, Norton has hard data that shows how effective it is at warding of viruses, despite the annoying false positives.  
Bottom Line: The free Norton version here blows the free Malwarebytes version out of the water. Malwarebytes' free version only lasts 14 days, but Norton's lasts 30 days. Oh, and don't forget that Norton allows a trial of its Deluxe version, which comes loaded with features. Malwarebytes, on the other hand, only includes basic protection features with its free version.
How does Norton compare to other antiviruses?