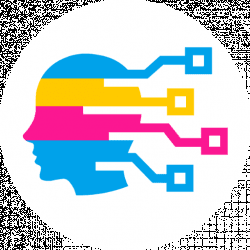 Latest posts by Digital Guyde Team
(see all)
Today we're going to be looking at yet another application in the brutally competitive industry of antivirus protection. Max Secure, which is based out of Pune, India, offers a wide variety of security products with drastically different features…and prices.
Today we're going to be taking a closer look at Max Secure Antivirus, and breaking down its price and features to see how well it stacks up against the competition.  
First, however, note that the Anti Virus solution is Max Secure's basic or mid-market application; it's definitely not intended to be the cream of the crop. However, I do find elegance in simplicity and found that the interface is so elegantly basic that your great-grandparents could use it without a problem.
The interface is sleek, well-designed, attractive, and isn't littered with tons of configuration options or cluttered with unnecessary buttons.  
Because the software is so easy to use, it's a good fit for anyone who would describe themselves as lacking computer literacy. On the other hand, if you are a technology junkie and don't shy away from cryptic configuration settings, you may want to look for another antivirus solution that offers you more features and greater control over the scanning process.
Still, Max Secure Antivirus does offer a variety of scanning options, but before we dig into its features, let's start by analyzing its pricing model.  
Price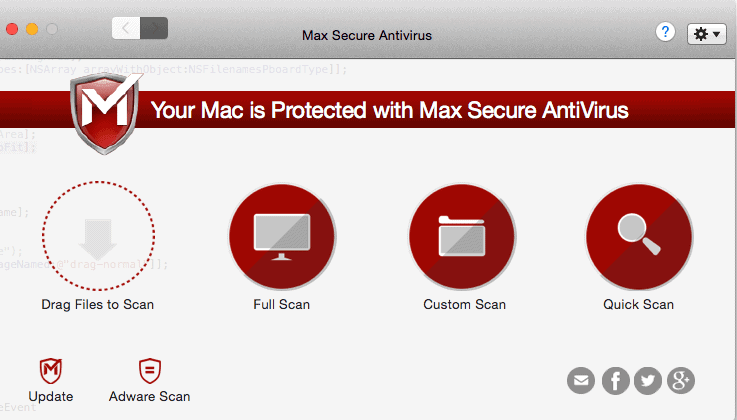 Overall, I thought that the price of Max Secure Anti Virus was rather affordable. In fact, I was a little surprised that it didn't cost more until I saw all of the included features, that is. Believe it or not, you can get a 1-year subscription for only $29.99 (For the latest price check here), which should be a drop in the bucket for most people.
At that rate, it only costs $2.49  per month, which is cheaper than most other digital products and services, such as cloud storage and VPN services that typically cost about $5-$10 per month.  
I think there are two reasons it is so cheap, however, First of all, this is an entry-level antivirus product, as opposed to a high-end antivirus solution that comes with a lot of extra bells and whistles.  Secondly, as far as standard antivirus programs are concerned, it doesn't really do anything special.
In fact, I think most other standard antivirus programs have the same, if not more, features designed to keep you safe. Nevertheless, I was happy to see that it's so darn cheap, and think that $29.99  a year is very reasonable.  
Features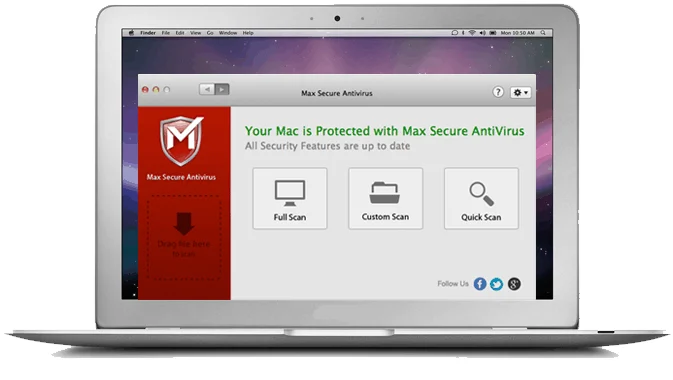 The standard antivirus security package for Mac or PC is rather basic and was designed to take care of your basic needs. As such, many of the core features are focused purely on antivirus identification and removal, as opposed to a more eclectic and comprehensive set of features that you might find with an advanced antivirus solution.
For instance, if you wanted complete protection, you might want to look into Max Secure Internet Security or Max Total Security. These two packages offer complete protection and advanced features that aren't found in the Max Anti Virus Plus-Windows or Max Anti Virus-Mac editions.  
Still, the standard antivirus products to have a well-rounded set of features that will go above and beyond most other free services – with an exception, perhaps, of the free AVG antivirus program (I'll provide a recommendation for that software later in comparison with Max Secure Antivirus).
Nevertheless, Max Secure Anti Virus has the main function of rooting out troublesome malware and viruses and removing them from your PC or Mac. 
I found it a little disappointing that the main pages on the website only claimed that the feature provides "max protection against threats." I'm usually a little wary when a software company makes general claims that don't hold a lot of weight, but fortunately, I was able to find more information after a little digging.
Max Secure claims its software will protect against "all types of malware attacks," including the following: 
Viruses

 

Malicious applications 

 

Zero-day threats and attacks

 
I would have preferred it if Max Secure had explicitly listed each type of malware that users are protected against, such as adware, ransomware, and so forth. Still, the software does offer full protection against a wide range of threats.
In addition to raw protection from viruses and malware, Max Secure Anti Virus also offers a smattering of customizable scanning options, including the following: 
Full scan – takes the longest amount of time to complete, but is the most thorough and scans your entire PC or Mac

 

Quick scan – only scans all of the applications currently installed on your PC or Mac

 

Custom scan – allows you to choose individual sections of the hard drive and directories that you want to scan, which is perfect for isolated scans of a Downloads folder 

 

Individual file scanning – you can actually drag and drop a file from the file system into the Max Secure Anti Virus window to scan it individually

 

Scheduled scans – you can customize scheduled scans to complete at regular intervals, which I highly recommend; that way, you can "set it and forget it"

 
Apart from all of the granular scanning options, there is really only one more noteworthy feature, and it's live updates. Every antivirus program needs live updates, or the software would be useless against new threats. Max Secure Anti Virus offers automatic or manual updates and will remind you whenever new updates are available.
But instead of only describing the features that are included in this service, I want you to be aware of what features are not included in this application.  
There are more advanced packages that offer comprehensive protection. As you would expect, they cost more money, though you may or may not see value in their improved features.
Note that the following features are not included with the Anti Virus edition, and are only available in more expensive packages: 
Lost or stolen device locator 

 

Remotely take pictures of someone who stole your phone 

 

Advanced online Internet security features

 

Web browser security features 

 

Anti-phishing features 

 
Final Thoughts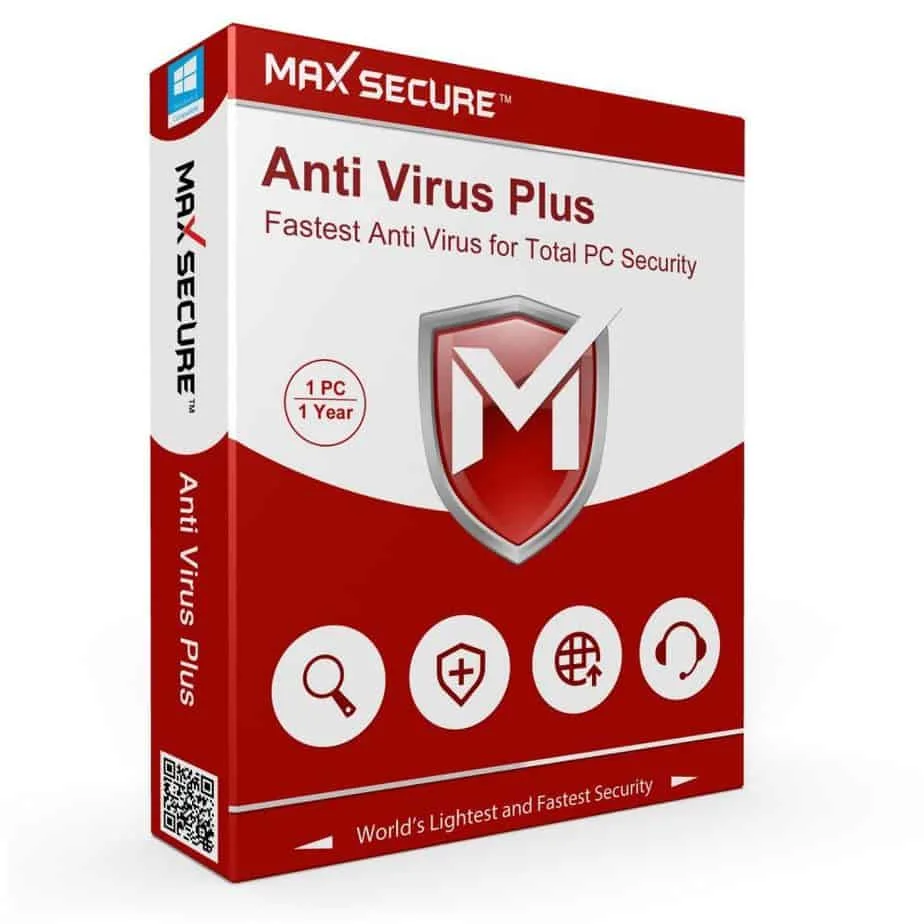 So, when it comes down to it, would I recommend Max Secure Anti Virus for PC or Mac? Hmm, that's tough to answer. I'd say that if you're looking for a cheap solution that isn't difficult to use or configure, then by all means proceed and sign up for this service.
But in my mind, this service is pretty average and mundane. I certainly wouldn't use it personally, because I want software with more advanced features that will keep me safe from online threats in real-time.  
I do see some merit in its ability to offer basic protection for a mere $2.49 a month, but if the price is your biggest concern, then I have another recommendation for you. If youare extremely price sensitive, then why not opt for a free service like AVG Antivirus? It offers the same, if not slightly better, level of protection as Max Secure Anti Virus, and it doesn't cost a dime!
I don't think that Max Secure is a bad service, but I think their mid-market solutions are getting destroyed by competing for free alternatives.  
Lastly, I have to give you a piece of advice that I've repeated thousands of times: make sure you use some level of antivirus protection. It's a necessity in today's data-driven age, and not having antivirus is like driving your car without a seatbelt.
Chances are that nothing bad will happen for a while, but you're setting yourself up for a terrible risk that could have been completely avoided. Remember, an ounce of prevention is worth a pound of cure, so you're better off using free antivirus solutions than forgoing antivirus completely.