(Last Updated On: November 14, 2018)
The antivirus industry is littered with companies that are fiercely competitive. But there are so many competitors that often successful companies with fantastic security solutions are often overlooked.
On the other hand, there are so many crummy services out there that choosing an antivirus application based on price alone is pretty risky. I think that everyone has at least heard of the big names in the industry, such as Norton, Trend Micro, AVG, and other similar services.
And due to a strong marketing campaign, I imagine that most of you have already heard of, if not used, Malwarebytes. However, I would bet that even less of you have heard of Roguekiller, which is an antivirus solution developed by Alice software.
Today we're going to be comparing Roguekiller with Malwarebytes to see which is superior. Personally, I think Roguekiller has the cooler name, but the branding does little to determine the efficacy of the security product.
We'll be comparing the pricing models and features to see which provider truly offers the better value. I also usually like to check AV-Comparatives benchmark data to make objective comparisons.
Unfortunately, the latest benchmarks don't include either Malwarebytes or Roguekiller. To get started, let's take a look at the competing pricing models.
Pricing Comparison
Between the two, Malwarebytes has the much more complicated pricing model, though that's not necessarily a bad thing.
Malwarebytes offers more granular options, and discounts prices when you bundle more computers together or increase the length of the subscription period. Roguekiller, on the other hand, doesn't really provide any significant savings discounts.
The following outline's Malwarebytes' pricing model: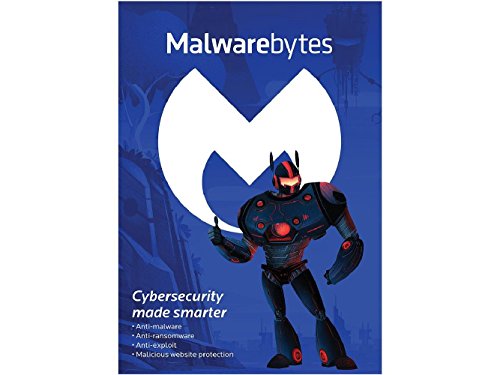 Malwarebytes isn't really expensive as far as antivirus applications are concerned. However, the starting prices are a little bit more than I'd expect to pay by about $5 to $10.
The real advantage to Malwarebytes' pricing model is economies of scale, and you can really start to save significant amounts of money when you purchase 3+ computer licenses for two years.
For comparison, the following outlines Roguekiller's drastically simpler pricing model: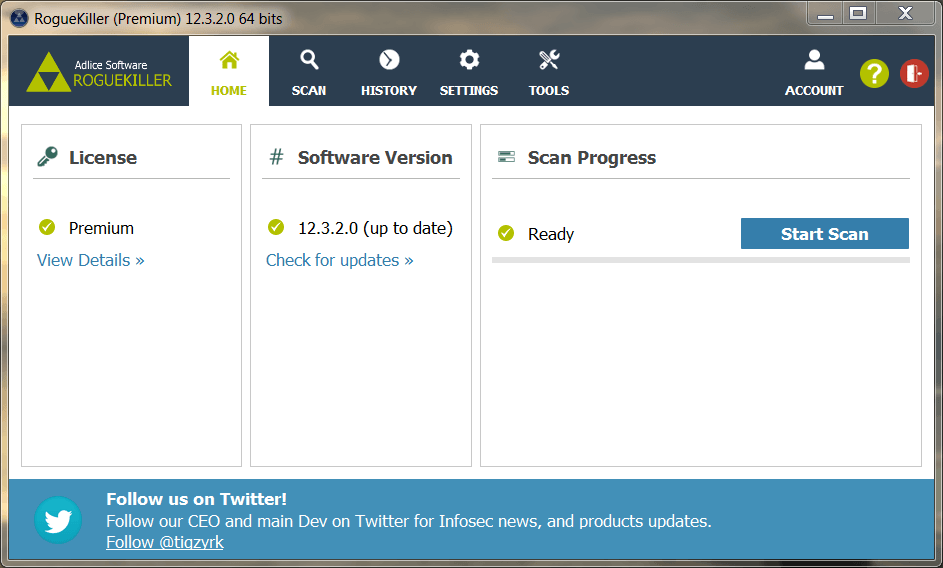 Clearly, Roguekiller wins the price ware. I'm certainly not saying that price alone should determine your choice of antivirus provider.
But having said that, it's pretty darn difficult to ignore the fact that Roguekiller is more than 50% cheaper than the 1 year 1 computer subscription of malware bytes.
Also, I have to mention the fact that both providers offer free trials of their product.
They both operate on the freemium model, so even though you can use the free versions indefinitely, you'll have to pay a subscription fee to unlock the full set of features. This is a pretty common model for software subscriptions.
Roguekiller's Features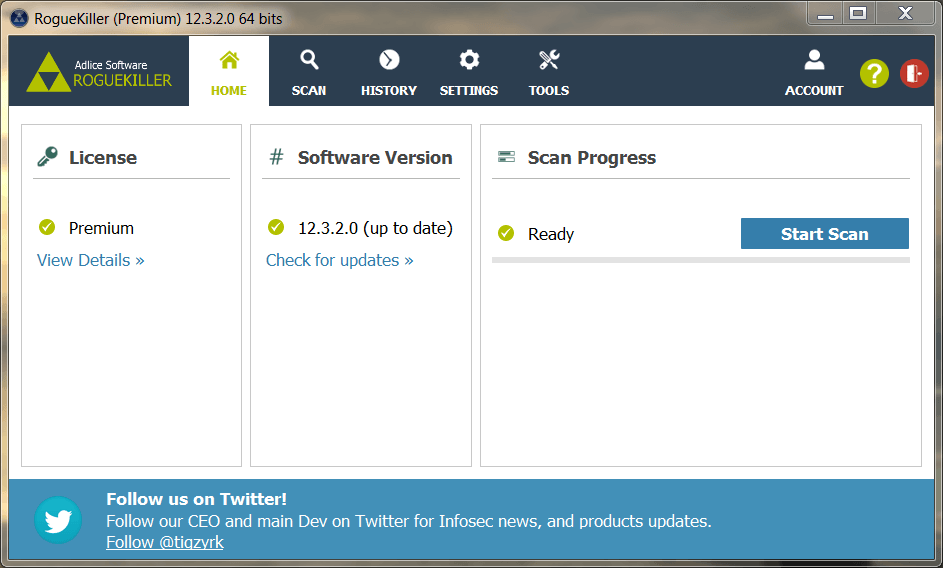 Roguekiller has three main plans. All of the different plans include additive features. So, each higher level plan includes all of the features for the lower plan. Let's start off by looking at the free version's features and work up from there.
Roguekiller Free Features:
No registration required
Can be used on an unlimited number of machines
Anti-rootkit features
Malware detection
Malware removal
Of special interest, I want you to take note that the free version includes virus removal in addition to removing malware generically. I would expect virus removal to be a standard feature by now, but too many freeware antivirus applications only identify viruses.
Then, they force you to make a purchase before actually removing the virus. The good news is that the free version will successfully eradicate viruses from your computer.
Roguekiller Personal Features:
Registration required
Use on up to 5 machines
Scanning for infected files, removal, and anti-rootkit features
Command line interface in case the GUI won't boot
Customizable scanning
Remotely controllable software through administration panel
Themes (yay?)
Customer support
Automatic updates
If you ask me, I think the two most important features in the paid version are the automatic updates and the customer service. Updates are incredibly important, and customer service will be able to help you out of a tight spot if you need help getting rid of a virus.
Roguekiller Technician Features:
Portable settings
Rebranding via logos
There are really only two improvements for the Technician Plan, which is clearly targeting business environments. First and foremost, it has the ability to create a portable configuration file.
This allows you to create a portable file that will allow you to scan machines via a file stored on removable media.
And lastly, Technician Plan subscribers have the opportunity to customize the interface with logos to make the software fit a corporate image or be branded. I really don't care too much about the rebranding opportunities.
Malwarebyte's Features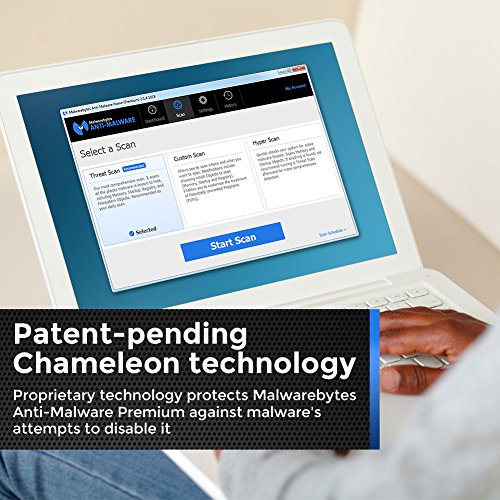 Malwarebytes has a simpler division of features between the free and paid versions.
The following outlines Malwarebytes free version's features:
Stops viruses and malware before they have a chance to infect your computer
Anti-phishing protection prevents bad URLs from stealing your data
Ransomware protection
Real-time protection that actively monitors background processes
Remove viruses after you've already been infected
The paid version, on the other hand, offers two more features:
Ability to quarantine malware
Anti-rootkit features
Quite honestly, I see a lot of value in the free version of Malwarebytes. As a tool that is used to identify viruses and remove them, it is extremely useful…and free!
But it isn't a complete security package. Even though it does have anti-phishing protection, it does little to stop malicious scripts and protect online banking, transactions, and purchase data.
Final Thoughts: Malwarebytes or RogueKiller?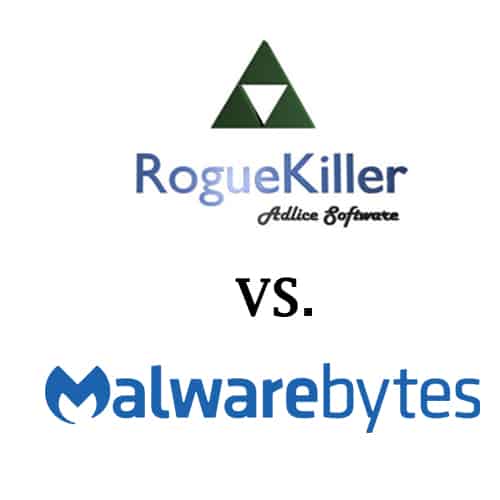 I absolutely adore the fact that Malwarebytes Anti-Malware is free to download, and think it's a great tool to have in your virus removal tool belt. Still, this was almost a tie, since both competitors offered similar features.
In the end, I had to give the victory to Roguekiller, and it all comes down to value.
Roguekiller is significantly cheaper than Malwarebytes and has several superior features. So if you wanted to opt for a paid version, I would have to recommend Roguekiller.
If you want a free version, you can test both out on your own, though I still prefer Malwarebytes for the free version.
If TRUST is the issue… Malwarebytes available here has a longer tracker record and higher probability of being around tomorrow.
Looking for Alternatives?
I've also compared Malwarebytes against a wide range of competitors, including: