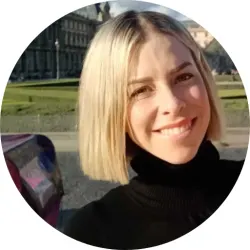 Latest posts by Jodie Chiffey
(see all)
Ensuring your privacy when online and securing your data, has become critically important in recent years.
This is why VPN usage has soared and it is now estimated that 1 in 4 people are using a VPN when accessing the internet. There are several reasons for this including:
Increased security when using public WiFi networks
Accessing entertainment options that are geo-restricted
Providing all-round better internet and data security
This is why I am going to review two well-known VPNs in the VPN industry – CyberGhost vs NordVPN so you can decide which option is better for your needs.
Main Differences Between CyberGhost vs NordVPN
The main differences between CyberGhost vs NordVPN are:
CyberGhost has over 5700 servers in 90 countries worldwide, whereas NordVPN has 5100 servers in 60 countries.
CyberGhost offers p2p servers in 30 countries, whereas NordVPN offers p2p servers for torrents in 46 countries.
CyberGhost allows up to 7 simultaneous connections, whereas NordVPN offers 6 connections at the same time
CyberGhost overs functionality with 7 platforms including Android, Android TV, iOS, macOS, Linux, Amazon Fire and Windows, whereas NordVPN offers support for 6 platforms
CyberGhost lets you use the provider's secure DNS addresses, whereas NordVPN has two kills switches and you can use custom DNS addresses (IP Address).
CyberGhost only accepts Bitcoin, whereas NordVPN offers payment in several cryptocurrencies
Exploring CyberGhost and NordVPNs features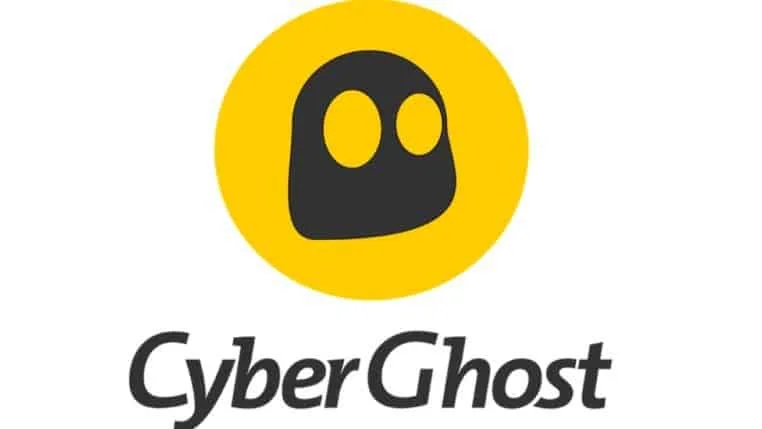 We've compared the features of NordVPN to other VPNs before but this time we're going to see how it ranks against CyberGhost. There are several main features that you should look out for with any VPN provider.
Connection Speed / Download Speed / Upload Speed
This is one of the most important things to consider with a VPN because some can throttle your connection speed. If you normally get 100mb/s internet you may only get 20mb/s depending on what server and VPN you are using.
Much of this can be trial and error and you also need to factor in things such as distance from your location (relative to the server location) and server load which is usually viewed as a percentage on the VPN server list.
I have found that CyberGhost tends to be the faster of the two VPNs and the average connection speed hovers around 60mb/s. This is definitely enough to do most online activities really quickly (among the fastest VPN speeds we've tested) and is ideal for online gaming too.
NordVPNs average connection speed tended to be a bit lower at around 20mb/s but it really does depend on what server you are connected to as a VPN user. Still enough for streaming and playing online games as well as general internet activities but it is certainly a bit of a drop for high streaming situations.
VPN Provider Security
One of the main reasons for using a VPN is to enhance your online security. How do the two VPNs match up?
CyberGhost has AES-256 encryption and uses OpenVPN. They utilize:
TCP/UDP
IPSec
PPTP
L2TP/IPSec protocols and have DNA leak protection as well as a killswitch. You'll also find ad blocking, anti-fingerprinting and other security features to help you stay safe online.
NordVPN also uses AES-256 encryption and this is done via OpenVPN. They use the following protocols:
CP/UDP
IKEv2/IPsec
L2TP/IPSec
PPTP
SSTP
NordVPN also has a kill switch and protection against DNS leaks and they provide an extra layer of security through their obfuscated servers. There is an ad-blocking feature as well as other advanced security features.
Logs
The majority of VPNs don't keep logs on their user activity. This is a crucial part of why they are so secure and help to maintain your anonymity online. Neither NordVPN or CyberGhost keep logs and have a strict Zero Logging policy.
NordVPN vs Cyberghost Comparison: Device Compatibility
Both VPNs are compatible with various different devices.
CyberGhost is compatible with up to 7 devices including Android, Android TV, iOS, macOS, Linux, Amazon Fire, and Windows. You can also use CyberGhost on 7 simultaneous connections.
NordVPN Server can be used on 6 platforms such as Android, Android TV, Windows, iOS, macOS, and Linux. They allow for up to 6 connections to be used at the one time.
Servers
The availability of servers is often what separates an amazing VPN connection from a good one. Depending on what you are using the VPN for, you'll need a variety of server locations to get the most functionality.
Both of these VPNs have an impressive amount of servers available in a wide number of different countries.
CyberGhost offers the most servers out of the two. They have over 5900 servers located in 90 countries around the world so you won't struggle to find one that offers you the VPN speed and the location you are looking for.
The layout of CyberGhost – which I'm going to look into in more detail below – also makes it easy to see the distance, server load, and how much bandwidth is being used. The higher the load percentage then the slower the connection it is likely to be.
NordVPN doesn't have as many servers and countries on offer as CyberGhost but it does have a very impressive number. They offer 5100 servers in 60 countries across the globe. It also shows you the server load and distance from your location.
One thing that NordVPN does very well is its number of specialty servers for different things such as p2p server for torrenting, Onion-over-VPN which provides an additional layer of security and obfuscated servers which can get past network firewalls.
Comparing CyberGhost vs NordVPN Pricing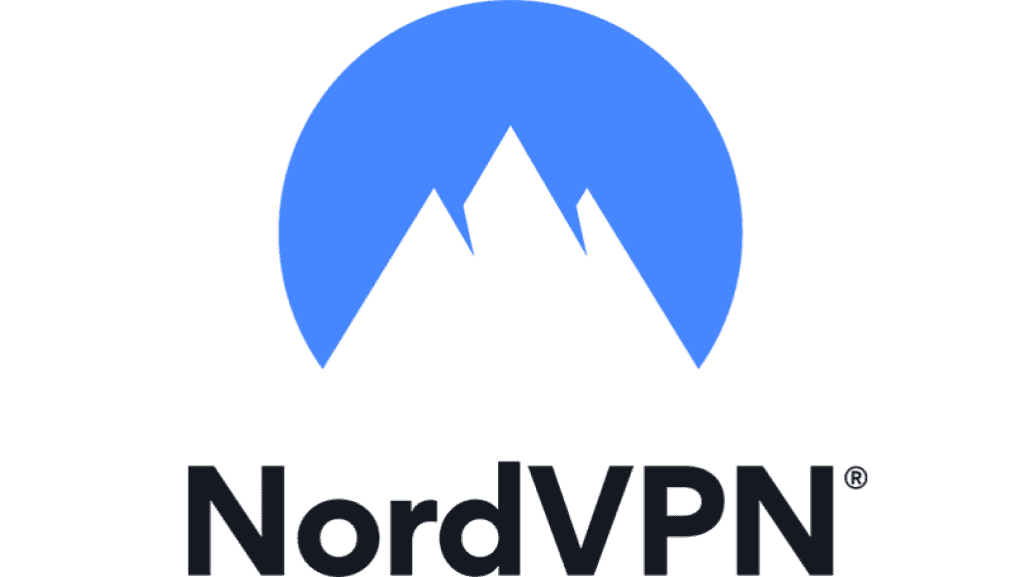 While there are free VPNs on the market, the best and most secure experience is using a paid version.
VPNs often take cryptocurrency payment if you really want to secure your anonymity too which is worth bearing in mind as both CyberGhost and NordVPN accept cryptocurrencies such as Bitcoin.
Both of these VPNs offer free Chrome and Firefox extensions. They don't have anywhere near the same functionality or security as the paid product but they can allow you to access geo-restricted websites such as social media and some streaming services.
CyberGhost's pricing starts at $12.99 per month however you get a better deal if you sign up for a longer-term plan as this reduces to $5.99 per month for one year and the right down to $2.75 per month for 3 years of protection. You will have to pay the upfront yearly cost on the longer-term plans.
CyberGhost comes with a 45-day money-back guarantee.
NordVPN pricing schedule also comes with savings if you buy an annual or more subscription and their 3-year plan comes in at $3.49 per month with the full 3-year amount paid upfront. NordVPN comes with a 30-day money-back guarantee.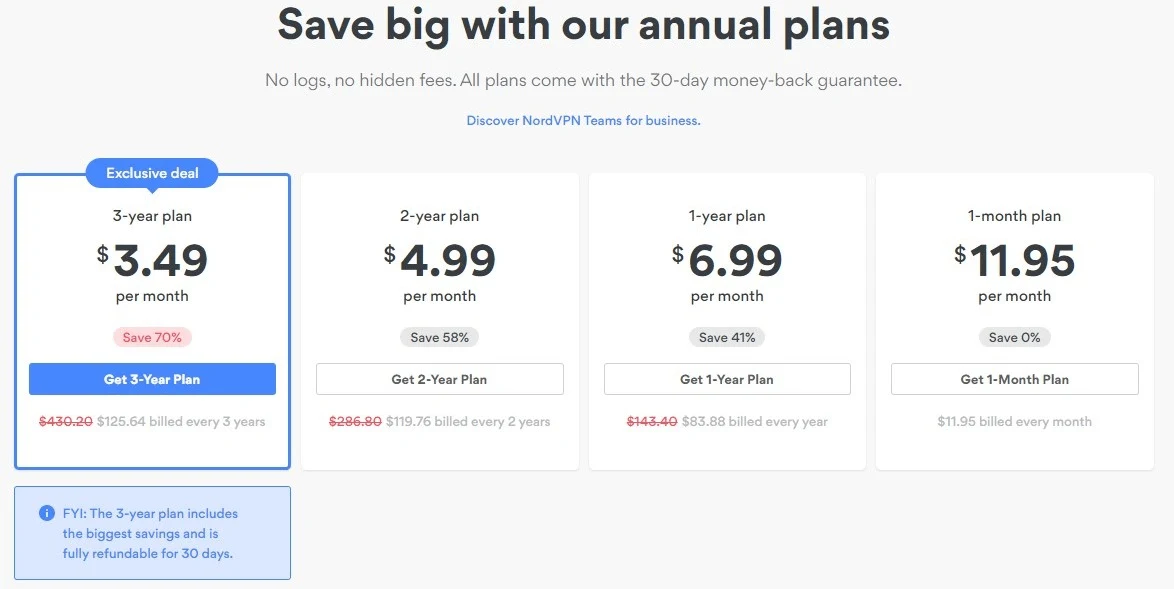 CyberGhost and NordVPNs ease of use
As VPNs are now being utilizedZ\XD  by everyday internet users, there really has been a big emphasis in recent years on ensuring that they are user friendly. The old confusing and 'techy' layouts have largely been done away with for mainstream VPN services.
That isn't to say that every VPN out there is easy to use but the majority are certainly heading that way.
CyberGhost has an easy to follow layout and it isn't hard to find a server to connect to. It clearly shows the list of countries where the servers are located, the distance to your location which can heavily impact connection speeds, and their load percentage which is how much of that server's bandwidth is being used. It is also really easy to 'favorite' a server so you can find it next time.
It also has a handy list on the right-hand side which shows you servers for different things such as torrenting and streaming while the settings are easy to find as well.
NordVPN has a more minimal interface and it looks cleaner at first glance. They show their servers on a map but you can also search through a list as well if you wish. It isn't as straightforward to find the distance of the server to your location and load percentage but it is there.
The settings aren't difficult to navigate either if you want to visit the more advanced security features that this VPN offers.
What support is available for CyberGhost and NordVPN?
Both of these VPNs provide various support options.
While they are easy enough to use even for people who have very little or no prior experience of operating a VPN, it is still useful to have support available if you need help.
CyberVPN has a searchable knowledgebase that allows you to type in a query and you should discover the answer to most common problems. They have a wide range of guides to help out with both beginner and advanced issues.
If you are still stuck after this, you can contact them via a 24/7 live chat feature or you can submit a support ticket. Their contact page has a number of emails you can message as well.
NordVPN also features a searchable knowledgebase with a number of guides. Their 'Top 5 Questions' is a great addition if you want to find the answer to a commonly asked question quickly. You can also contact NordVPN via live chat as well as email support.
How does CyberGhost vs NordVPN rank on market share reports?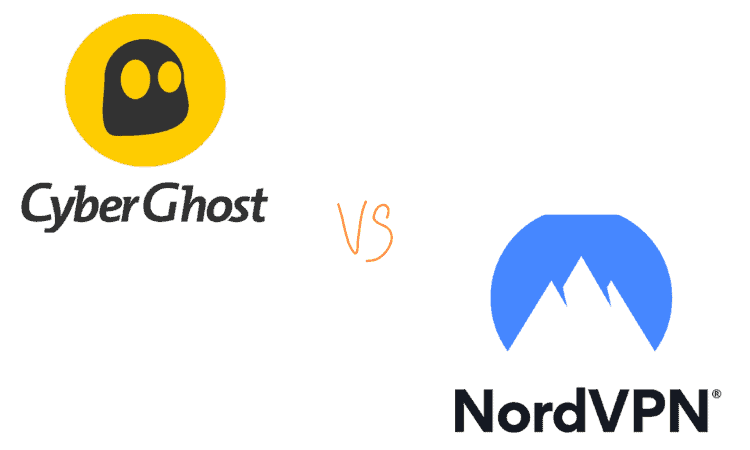 As these VPNs can be used across multiple devices and platforms it isn't as straightforward to get one overall picture of their market share. That being said, there is some valuable information out there that shows how popular CyberGhost and NordVPN are and how many people are using them.
NordVPN leads the way by the number of internet searches per month as it has almost 1.8 million searches across the world. CyberGhost lags behind at 638,000.
In terms of downloads, we can only see data for the Google Play Store but it has both of these VPNs are over 10 million downloads in total. Finally, website visits show that NordVPN leads the way again with over 68 million in a 6 month period while CyberGhost received just over 14 million hits.
CyberGhost vs NordVPN Pros and Cons
CyberGhost
Pros
Has an automatic kill switch to boost protection
Budget VPN that also offers many advanced features
Can be used over 7 platforms simultaneously
Offers a 45-day money-back guarantee
Several support options including online guides and help
Cons
Doesn't offer as many specialty servers for p2p or streaming
Only accepts one cryptocurrency – Bitcoin
No logs policy hasn't been independently verified
NordVPN
Pros
Passed independent audit into 'no-logs' policy
Has a range of torrenting and p2p dedicated servers
Many support options including online guides and live chat
Easy to use interface for VPN beginners
Advanced security options such as double VPN kill switch
Cons
Only 30-day money-back guarantee and refunds can take 4 weeks
Sometimes causes a sizable drop in connection speeds
Slightly more expensive than CyberGhost
Are there any CyberGhost vs NordVPN Alternatives?
ExpressVPN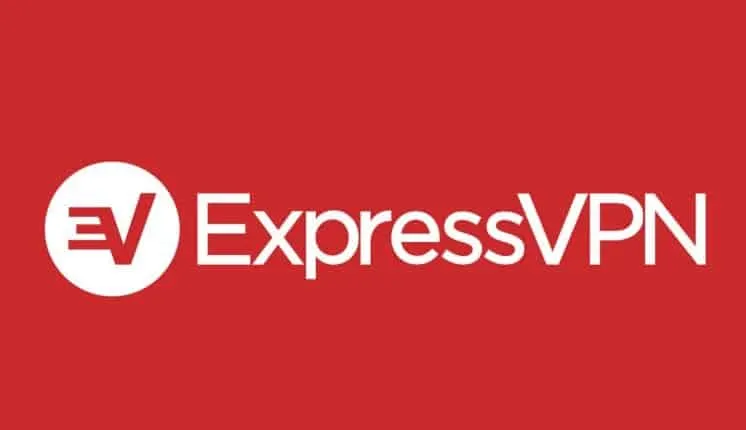 ExpressVPN is a popular and well-known VPN that can act as an alternative to either of these VPNs. ExpressVPN offers servers in 194 locations spread across 90 countries and they are based in the British Virgin Islands so they benefit from being away from the eyes of prying governments.
They also provide decent speeds and a good layer of protection when using the internet. It is also possible to use ExpressVPN on many devices such as gaming consoles and Smart TVs.
IPVanish
IPVanish is another big name in the VPN world although perhaps not as big as the likes of NordVPN and ExpressVPN. That being said, this VPN service does offer an affordable way to protect your privacy and it can be used across a range of devices as well. IPVanish offers servers in over 75 locations.
FAQs About CyberGhost vs NordVPN
Are these VPNs free?
You can download a Chrome or Firefox extension for both NordVPN and CyberGhost but it is recommended that you get the paid product for the best security and most features.
Do these VPNs keep logs of your activity?
No. Both CyberGhost and NordVPN are committed to a 'zero logs' policy however NordVPN is the only one to pass an independent audit.
Can I use these VPNs on Windows and Mac?
Yes, the two VPNs can be used on both Windows and Mac Devices. CyberGhost offers compatibility with 7 devices while NordVPN offers compatibility with 6 platforms.
Can I get a free trial?
Both VPNs offer a money-back guarantee so you can trial the VPN and get a refund if you're unhappy. CyberGhost offers this for 40 days and NordVPN offers this for 30 days.
Can I use these VPNs to access Netflix?
These VPNs have dedicated streaming servers however it isn't guaranteed that certain services such as Netflix don't always allow you to change your location by using a VPN to access geo-restricted content.
CyberGhost vs NordVPN Conclusion
Both of these VPN services provide a high level of security so you can protect your data when online.
The main criteria I have judged both NordVPN and CyberGhost against have been the actual security they use, how fast their average connection speeds are, their 'zero-logging' policy as well as how many devices it is compatible with and can be used simultaneously.
They have their own pros and cons but overall I think that CyberGhost just edges it.
The fact that NordVPN has had an independent audit into their no-logs policy is a big plus point but there are more advantages to Cyberhost, I think. This includes the fact that they are slightly cheaper, offer more servers and it is compatible with more devices. CyberGhost also has a better money-back guarantee policy and I have found them to have better connection speeds.
If you are looking for a reliable VPN service then it is hard to go wrong with CyberGhost and for me, they (just) come out on top.
Recommended Reads: