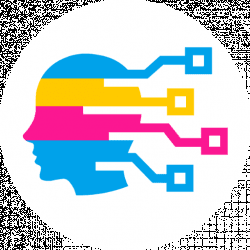 Latest posts by Digital Guyde Team
(see all)
IPVanish is among the leading VPN services, and they have changed their policies to increase the effectiveness of their security over the last few years. Though they don't keep logs of user activity or data, the most paranoid and security conscious users may want to refrain from using their service since they are based in the United States.
The data leaked by Edward Snowden has shown the world how adept US governmental agencies, such as the NSA, are at harvesting people's data through techniques such as wiretapping.
As such, many people wonder whether their data is truly safe when using a US-based VPN service. However, IPVanish does provide a strong security service with an attractive no-logging policy, so let's take a closer look at the features of their service.
Features of IPVanish
# of Servers: One of the first things people look for when comparing VPN service providers is the size of their networks and global coverage of their VPN servers. IPVanish boasts over 137 servers in 61 countries spread out around the world, which gives users plenty of flexibility when selecting what country to connect to. Their servers are in all of the major popular regions, including some less-common locations such as South America, Southeast Asia, Africa, New Zealand, and Australia.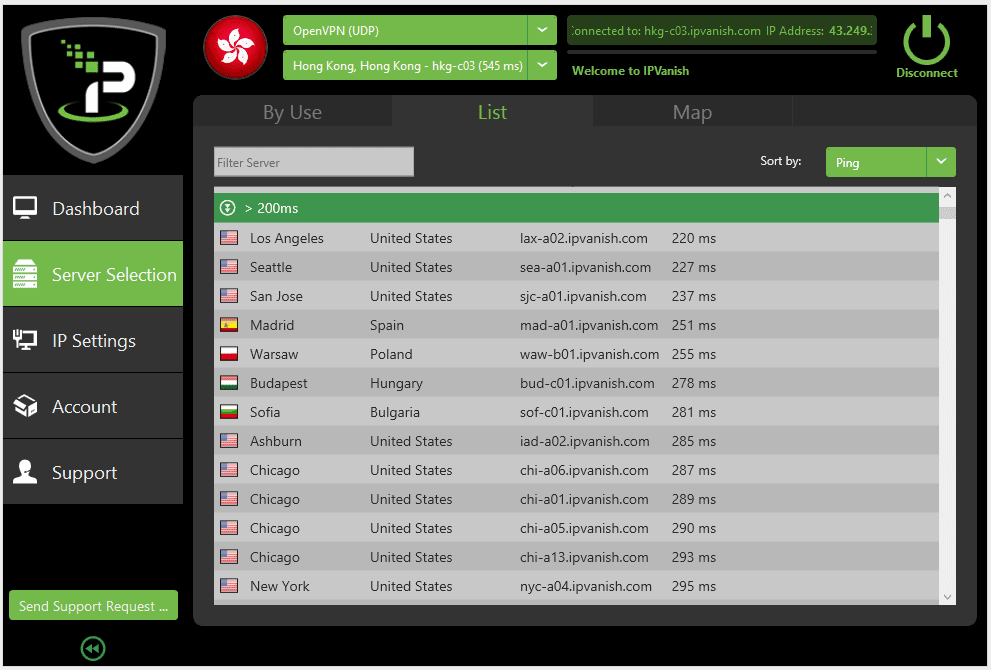 Privacy: In addition, they have a favorable no-logging policy that will help users rest with the peace of mind that their online activities aren't being recorded. However, as mentioned previously, they are based in the US. Another unfortunate drawback of their service is the number of simultaneous connections per account. IPVanish only allows two simultaneous connections, but other providers offer as many as five or six. Despite these two drawbacks, they really do have a well-rounded service.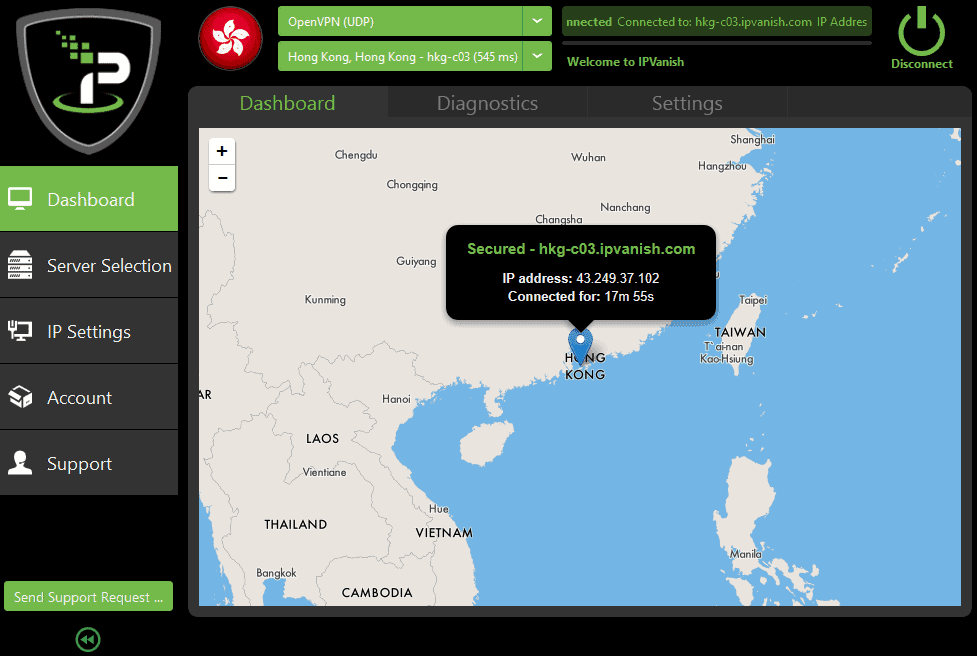 Anonymity: Additional benefits include shared IP addresses, incredibly strong encryption using OpenVPN, L2TP/IPSec, and PPTP, and the ability to accept anonymous payments via BitCoins. They also cover all the major operating systems including Android and iOS, and they even permit P2P traffic, which is great for users who want to download content via Bit Torrent.
Real-Time Server Data: Last but not least, yet another handy feature of their service is the fact that they actually provide real-time data indicating server capacity. This will help ensure that you don't connect to a server that is bogged down with other users. Not only do they provide you with server capacity information online, but the software interface lists the servers' latency as well. Two of the most useful filters include the ability to sort the servers by ping speed and by country.
IPVanish Pros
No logs
Supports strong encryption with OpenVPN, L2TP/IPSec, and PPTP
Servers in 61 countries around the world
Allows P2P Bit Torrent traffic
Accepts BitCoin payments
Real-time server capacity data
Fantastic user interface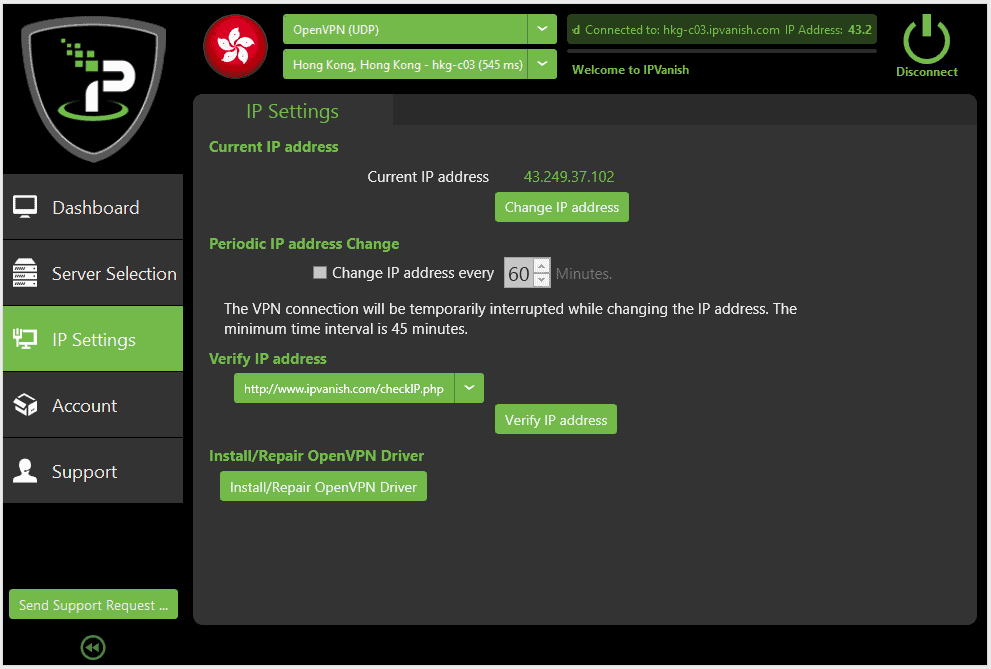 IPVanish Cons
Based in the US
Only two simultaneous connections per account
Hands-on Speed Test
To see how well their service stacks up against the competition, I decided to run a speed test. The speed of an IPVanish VPN connection will largely depend on three factors: your bandwidth, how busy a server is, and where that server is geographically located.
I tested multiple server locations, being sure to use servers that weren't too busy, and found that their speeds were more than adequate to support streaming video content from YouTube without having any buffering issues.

After initiating a raw speed test, I also found that the VPN tunnel didn't encumber the expected speed of my ISP significantly. I'm using a relatively average Internet connection with a download speed of about 5Mbps and an upload speed of about 1Mbps. As you can see in the results of the speed test, I was still able to maintain the speeds from my provider (roughly).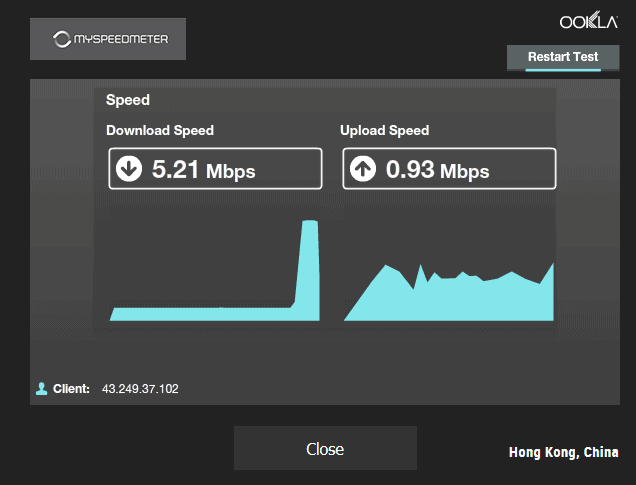 Users should understand that the speed of a connection depends on a variety of other factors in addition to bandwidth. If you really want to get technical, you can use a TCP throughput calculator to determine theoretical speeds that factor latency into the equation.
Even though the VPN tunnel did, admittedly, add a small amount of overhead via latency as my data traveled through the VPN server, the overhead is insignificant. Two of the largest applications that are affected by latency include voice applications and video games. But a high-quality voice call needs latency around 300ms, so the speeds of IPVanish's servers are by all means acceptable.
Who Should Use IPVanish?
BitTorrent Users: IPVanish offers a well-rounded service that is great for a lot of different types of users. First of all, because they allow P2P traffic on their networks, they are a good choice for Bit Torrent users given that they have moderately fast server connections and they don't log data.
Geo-Restricted Content Users: In addition, they are also a great choice for people who merely wish to unblock content that has been geo-restricted. They have servers in more countries than many other competing VPN service providers, so users will have a high degree of freedom selecting global connection options to find a server in the country that hosts the geo-restricted content (i.e. Hulu, Netflix, Amazon Prime Instant Video, Pandora, Spotify, etc.).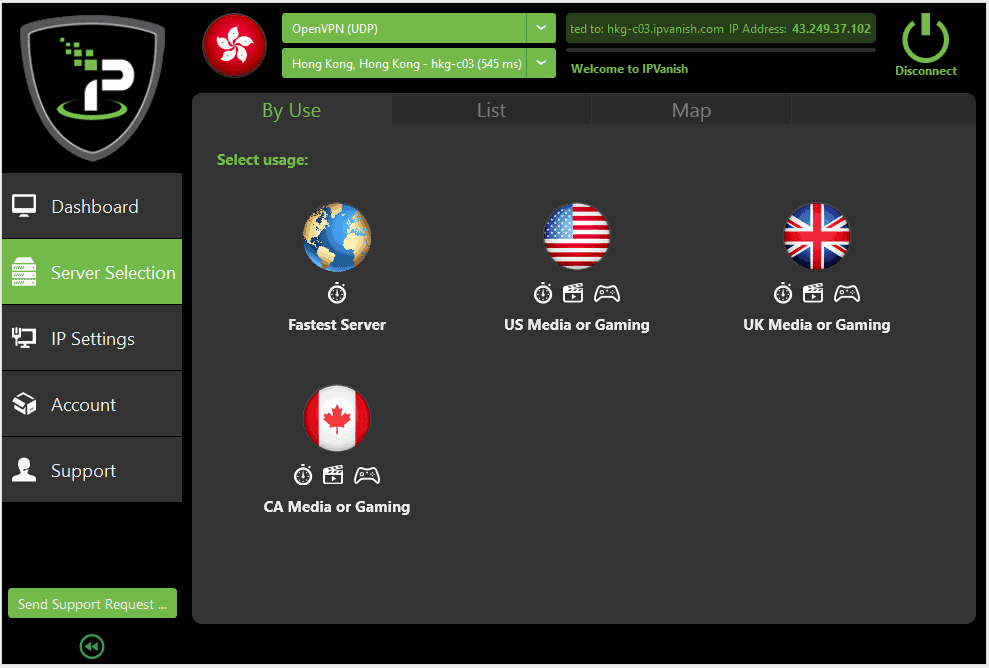 However, IPVanish isn't for everyone…
Who Shouldn't Use IPVanish
Users with More Than 2 Devices: They only allow up to two simultaneous connections per account, so if you have a lot of devices you want to secure, you might be better off using another provider. Also, despite the fact that they don't keep usage logs, highly paranoid users that don't want the US government seeing their Internet browsing habits should refrain from using their service.
People Avoiding US Legal System: Because they are based in the US, many people fear that the US government could coerce the company into forfeiting information about their users.
While this isn't likely to happen, Internet security purists would shy away from taking such a risk, living by the mantra that an ounce of prevention is worth a pound of cure. Please note, however, that governments still can't read your data when it is encrypted, regardless of where the service provider is located.
Final Recommendation
All in all, IPVanish does a great job of offering a fast, reliable, and competitive VPN service on par with the quality of service that other leaders in the industry provide. Using their service, users will be able to stream content, access censored materials, and browse the web with the peace of mind that their data is secured.
Just remember that the largest drawback of their service is that IPVanish is located in the US, but on that note, so are many of the other leading services such as ExpressVPN. The speed of their service is acceptable, and it won't encumber your Internet connection as long as you don't connect to a busy server.

Given the quality of their service, it is surprising that their VPN connections don't cost more than they do. IPVanish is very reasonably priced at just $4.87 per month when you get an annual subscription, which is less than the cost of a fast food meal per month.
On the other hand, if you want a monthly subscription, their service only costs $7.50 per month, which still isn't unreasonable. Some other services, such as ExpressVPN, cost $8.32 per month with an annual subscription.
Because IPVanish is priced so modestly and they offer fast, reliable service, they are a good choice for people who want to keep governmental agencies and hackers from accessing their data. You can check out their pricing here.
How Does IPVanish Compare To Others?