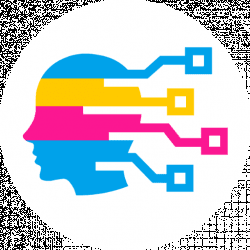 Latest posts by Digital Guyde Team
(see all)
It can be tough knowing which VPN service provider will suit your needs the best. These days, the VPN software industry is littered with competitors – a few that are exceptional, many that are good, and even more that are completely awful.
Today we are going to take a look at two of the leading services, HideMyAss VPN and IPVanish VPN, and see how their services stack up against each other. In addition to service features, we're also going to pit these two providers against each other in a head-to-head speed test.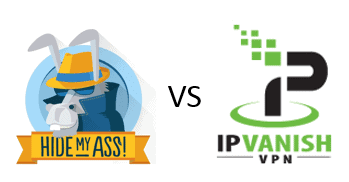 In a Hurry? Here's My Overall Assessment:
Overall, I found HMA to perform better for my needs (check here for discounts), as it is slightly faster, has more servers (in more locations), and has a longer track record.
The Main Differences Between IPVanish vs HideMyAss
The Main Differences Between IPVanish vs HideMyAss are:
IPVanish offers P2P to all of its servers and is better VPN for Torrenting, whereas HideMyAss restricts P2P to some of its servers, but can still be used as a VPN for Torrenting
IPVanish has availability in 75+ Countries server locations, whereas HideMyAss is covering 190+ Countries server locations.
IPVanish has no free version available, whereas HideMyAss offers a HideMyAss Proxy that you can use freely to browse privately in 1 tab
IPVanish vs HideMyAss Server Comparison
One of the first things we need to compare is the number of global VPN connection options that each provider offers. The number of countries a VPN service operates in determines how easy it will be for users to terminate their VPN connections in nearby locations.
For users in countries that have harsh Internet censorship and surveillance programs, it simply isn't feasible to use a domestic VPN server. So, by connecting to a server in a neighboring country, users will be able to secure their Internet connection, evade censorship, and introduce the smallest amount of latency.
HMA is the clear winner in this category, as they have servers in 190 countries, which is astounding. In fact, Reporters Without Borders only surveys 180 countries in their annual report, which gives you an idea of how massive HMA's top tier network of servers is.
Conversely, IPVanish only has server in about a third as many countries. To date they operate in 60 countries around the world, but they are constantly expanding their network.
Please be aware that even though they don't have servers in as many countries as HMA, they do still have moderate global coverage. And they have all of the most popular geographic regions covered, such as the US, UK, Africa, Oceania, Europe, and Asia.
The Core Features Compared
Another feature that users need to take into consideration when comparing a VPN provider is where their company is based. This may not sound like a big deal since providers typically operate servers all over the world, but it is critical to security.
Each country has their own unique laws and issues surrounding the freedom of information and the involvement of the government. You see, in the past the NSA was caught wiretapping domestic US communications through backdoors to Google, Yahoo!, Microsoft, and many other technology companies.
This is one reason why people are dissuaded from trusting VPN services that are based in the United States, which brings us to the first feature that demands comparison. HMA VPN is actually based out of London, so users won't need to fear the involvement of the US government. IPVanish, on the other hand, is a domestic US firm. While it is highly unlikely that the government would coerce them into forfeiting user information, Internet security purists would favor off-shore services over IPVanish.
To be fair, both companies have no-logging policy. Each service will only log metadata such as which servers an account connects to and the timestamps of their respective connections. This information helps VPN service plan for server capacity. Understand that neither company logs user data.
In addition, both HMA and IPVanish have standard 24/7 customer support, and each provider allows 2 simultaneous connections per account – which isn't too great. Other competitors allow as many as 5 or 6 simultaneous connections. Still, users have the freedom to secure as many devices as they wish – there just can't be more than 2 devices logged in at the same time.
From a security standpoint, both services are equal because they use encryption technologies such as OpenVPN, L2TP/IPsec, and PPTP tunneling protocol. Please be advised that users should refrain from using PPTP unless it is their only option, because PPTP is notoriously weak.
Pricing Comparison
Last but not least, we need to compare pricing. HideMyAss VPN service is quite a bit more expensive than IPVanish. The starting monthly plan for HMA is $11.52, but the monthly price can drop to $6.55 with a one-year subscription.
On the other hand, the starting monthly price for IPVanish is a mere $7.50, and it drops to $4.87 per month with an annual subscription. Even though HMA costs a little bit more per month, they are by no means the most expensive provider on the market. For Bitcoin fans, both VPN services offer Bitcoin payment.
Both services do offer some form of money back guarantee as well.
Speed Test – IPVanish vs HideMyAss
Now it's time to see just how fast each service performs. To begin with, please note that I am using a 5Mbps ADSL Internet connection. For each speed test, I connected to a server in Hong Kong.
The results show that their number of servers are pretty darn comparable, despite a few small differences. Two key ways I tested their service were a common speed test as well as a ping test to Google's DNS servers to track latency. The results are as follows:
HMA VPN:
Download speed: 4.62Mbps
Upload speed: 0.32 Mbps
Speed-test server ping: 104ms
Google DNS ping: approximately 135ms

IPVanish:
Download speed: 4.51Mbps
Upload speed: 0.63Mbps
Speed-test server ping: 281ms
Google DNS ping: approximately 155ms

As you can see, the download rates on my Internet connection were roughly the same. Interestingly enough, my upload speed was half of what it was when I tested IPVanish. Also, you'll notice that the latency on HMA's VPN server was significantly lower than IPVanish. Neither service had unreasonable latency, but HMA was the clear winner.
Who Should Use HideMyAss or IPVanish
HMA VPN is undoubtedly one of the best VPNs for international users and travelers because of their immense network of servers scattered throughout the world in 190 countries.
They cast a pretty wide net around the world, and they offer a larger number of servers in more locations than just about any other provider on the market. Their global presence will help travelers find servers to connect to that are near their geographic region.
Latency is heavily influenced by distance, and for the fastest connections and best user experience, users need to make sure they connect to the closest server that is still located outside their current country.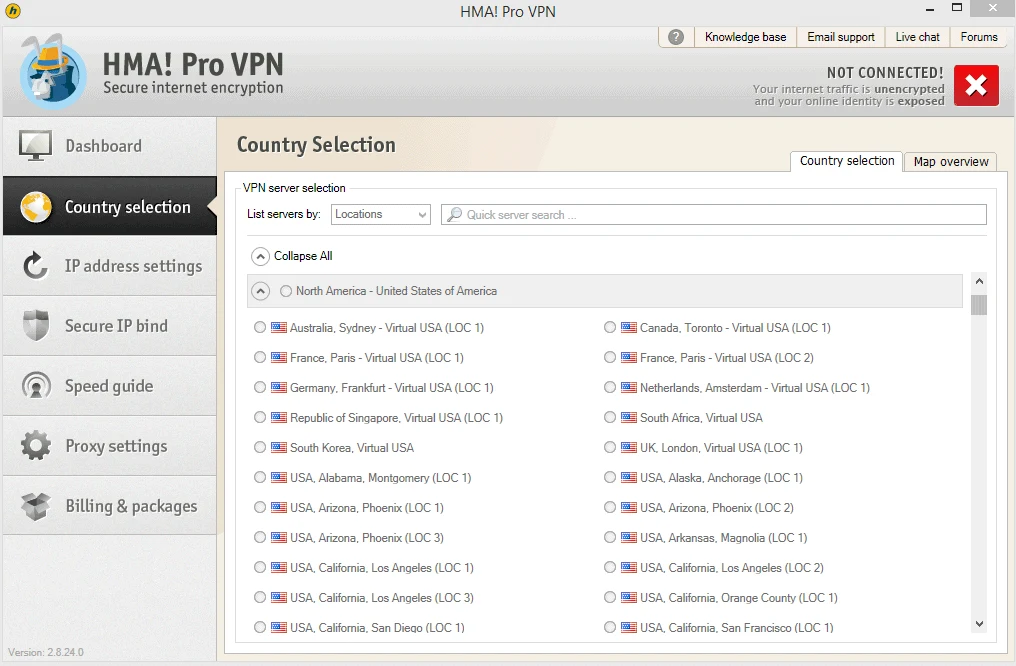 That's not to say that IPVanish isn't a good service for travelers or users in less-popular corners of the globe. IPVanish does have servers in 60 countries. However, because HMA has servers in over 3 times as many countries, they are the clear winner for users who travel.
Furthermore, users who are extremely concerned about privacy, anonymity, and security should use HMA VPN since they are based out of London. Conversely, IPVanish is based out the US – potentially making them victim to some scandalous influence from the federal government. While they don't keep any logs of user data, there will always be paranoia by some fraction of VPN users that the government would create a backdoor into their software.
I don't intend to bad-mouth IPVanish, though, because the truth is that they offer a competent and well-rounded service. Though they aren't present in as many countries as HMA VPN, they aren't spread as thin, either. With greater capacity in each country, it is less likely that users will run into capacity issues at peak usage hours.
This capacity makes them a good fit for users who want to unlock streaming content services like Pandora, Hulu, BBC iPlayer, and other similar services (though there are better alternatives for streaming).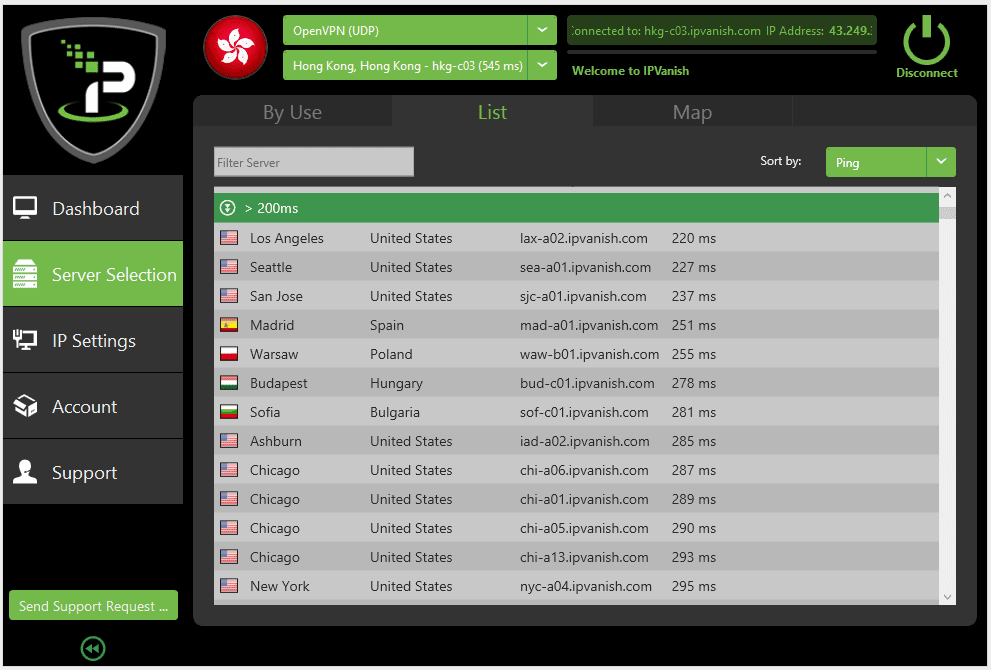 Lastly, because HMA had lower latency, they are a better fit for users with extremely demanding applications – such as video games. Gamers understand how critical latency is to their performance, so they would be better off using HMA.
Frequently Asked Questions
Can my Internet Provider see If I am using VPN and block it?
That entirely depends on the VPN protocol, for example, PPTP can be blocked because works on a single port. However, OpenVPN on the other side, can not be blocked as it runs on any ports.
If you configure the OpenVPN to work on TCP port 443, your internet service provider will a mask that you are browsing a website with https.
What does a proxy server do?
A proxy server verifies and forwards incoming requests to other servers. A proxy server, like the free HideMyAss Proxy is located between a client and a server and it acts as a link between the two and provides security.
Should I leave the VPN on all the time?
You do not need a Virtual Private Network on all the time. In contrast, sometimes leaving it on may have negative effects for you. If you are browsing the internet though, and you feel like you're not browsing securely, you can leave the virtual private network running during that time.
Who owns HideMyAss?
HideMyAss VPN Service was founded in 2005 but it was acquired by AVG Technologies in 2015, which was also acquired by Avast in 2016.
Final Thoughts – Which VPN Client Provider Would I go With?
Altogether, HMA VPN and IPVanish are two tremendous providers, so it's no wonder that they are clear leaders in the industry. While both have similar features and support the strongest forms of encryption with L2TP/IPsec and OpenVPN tunneling protocol, the largest difference between them is the size and design of their network of VPN servers.
In the speed test, HideMyAss VPN protocol proved to be slightly faster than IPVanish with only a little less latency. However, the only users that might notice a marginal performance difference are users whose traffic is extremely sensitive to latency – such as online gamers.
Other Articles I've Written: If you still need some additional information on either of these services, you can check out my full review of IPVanish here and a similar one I did here for HMA. I also compared IPVanish to Private Internet Access in this comparison.
Given that they have a much more expansive network, we find that HMA VPN is the clear winner in an international context, and better suited for travelers. On the other hand, IPVanish is a solid, well-rounded service that is great for unblocking content (they have a moderate global presence, too).
We would prefer that both services offer more simultaneous connections per account, but with a one-year subscription, we feel that both providers offer tremendous value.
Further Reads