Last Updated on
Windows is undoubtedly the most prevalent and infamous desktop operating system and anyone who has used it has run into technical Windows issues from time to time. After all, who hasn't seen the iconic Blue Screen of Death displayed when Windows crashes or dealt with the stress-inducing complications of upgrades gone wrong.
Today we're going to look at competing software designed to eliminate a specific problem most Windows users have already encountered: trying to transfer user profiles, applications, and user data from one Windows system to another. More specifically, we're going to be analyzing and comparing Zinstall's PC Migration Pro with Laplink's PCMover.
Before we get started, I wanted to inform you where each service is located. Zinstall is a US based company headquartered in California. Laplink is also a US company and is headquartered in Kirkland, Washington. To get started with the comparison, let's take a closer look at each provider's pricing model.
Price
Both products use a pricing model that is fairly common among backup and migration software. Instead of charging a subscription fee for the product, customers simply pay a one-time fee and can enjoy the software as long as they wish. However, do note that PCMover only offers a single license for the Express and Home versions of the product.
Also be aware that this is not technically backup software, and it doesn't include any cloud storage. I simply wanted to draw a line between these types of services because there may be an expectation that these products are similar to a cloud storage, backup, and syncing services like SugarSync or SpiderOak One, which charge monthly subscription fees.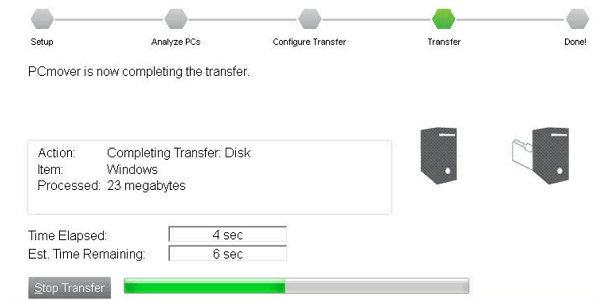 PCMover and Zinstall don't provide real backup or syncing services. Instead, its primary function is to move your Windows and application data from point A to point B.
The following outlines the pricing model for Laplink's PCMover:
Express – $29.95
Home – $39.95
Professional – $59.95
The following outlines the pricing model for Zinstall's Migration Kit Pro:
One time purchase of $169
It's also worth mentioning that PCMover includes a generous 30-day money back guarantee, so there's little to no risk of being dissatisfied and stuck with software you don't like. On the other hand, I was not able to find a money back guarantee on Zinstall's website. Instead, they have a 100% migration guaranteed, and the successful migration may likely be aided by their in-house technical representatives. The site does claim the following: "Got a technical problem we cannot solve? Get your money back."
Personally, I think this is some pretty slippery language. They are not claiming to have a 100% refund guarantee, but instead, are claiming that a successful migration is guaranteed. And if they really are 100% accurate, would anyone genuinely qualify for the refund?
The Website
I did also want to take a moment to discuss the aesthetics of each entity's website. PCMover has an admirably attractive and easily navigable website that looks trustworthy and modern. Zinstall, on the other hand, has none of these things. Zinstall's website looks atrocious, as though it was made in the late '90s. To be blunt, it's awfully ugly and needs to be updated.
Honestly, it looks like a website that might contain an automatic script-based attack or contain a virus. To be fair, the website didn't contain any malware whatsoever, but I cannot for the life of me figure out why the website hasn't been updated. Sure, it's not exactly a core feature of the product, but it does matter.
Furthermore, the support page is downright despicable. It's difficult to find the information you're looking for, it isn't laid out well, and there's a lack of a knowledge base and troubleshooting guides. In fact, the FAQ page is little more than thin textual content and lacks screenshots and images. The shady looking website coupled with the wording of the "100% guarantee" makes me instantly have misgivings about using this service.

PCMover Features
PCMover's features vary drastically based upon which tier of the software you select. Even though the Express version is the cheapest, I was moderately impressed with its features and the ability to granularly select the exact files and folders you wish to transfer.
The following outlines the features associated with the Express version:
Folder selectivity
Free transfer assistance
Multiple user profile selectivity
Transfer domain users
Undo
Transfer files and settings
The main difference between the Express version and the Home version is the ability to individually select which applications you want to transfer. For some reason, however, the Home version lacks two features included in the Express version, namely the ability to transfer domain users and multiple user profile selectivity.
With exception to those three features, everything else is the same. I'm not sure I see a whole lot of added value with the Home version because of the two Express features it lacks. Essentially, you're paying about eight pounds more for the ability to select individual applications, which could be of value if an individual application has been infected with a virus.
The following outlines the features associated with the Home version:
Application selectivity
Folder selectivity
Free transfer assistance
Undo
Transfer applications, files, and settings
Transfer files and settings
The professional version, in addition to allowing the transfers of multiple user profiles, adds several key features that are extremely useful in a professional setting. The first of which is the ability to perform an in-place upgrade, so you can easily upgrade an operating system without having to transfer data to a new system. This solution can save dramatic lengths of time, especially in a company or department-wide scenarios where a large number of computers need to be upgraded.

Additionally, it's also possible to use an old operating system image to completely restore a failed PC. Sometimes hardware simply fails, or an accident might completely destroy the hard drive of a PC. This feature, however, can bring the ghost of your old system back from the dead and essentially copy the whole environment to a new computer – but only if you first made a PC image of the old system.
Lastly, I really see a lot of value in the hard drive recovery features. There are third-party tools that perform the same function, but it just makes sense to include it in the transfer software to make the recovery and transfer process smoother. Although I suppose in a professional setting, the IT department of a business would likely already have hard drive recovery software. So while I think it's useful, I'm not sure it adds a whole lot of value.
The following outlines the features associated with the Professional version:
All features included in the Home version
Multiple license discounts
Multiple user profile selectivity
Transfer domain users
In-place upgrade
Restore old PC image to a new operating system
Rescue hard drive contents from non-working PC

Zinstall Features
Comparatively, I wasn't overly impressed with Zinstall's list of features. Most of them were vague and are borderline braggadocios. For instance, Zinstall claims that it has "superior technology" when compared to other Windows transfer tools and that it is "universally recommended." While it may not be "universally recommended," I must admit that it did have some decent reviews from credible sources.
Furthermore, it seems to work with every version of Windows after and including Windows XP, which is crucial. Overall, however, I just don't think Zinstall has anywhere near as many features as PCMover. It was designed to be simplistic though, so you don't need to be an IT guru to operate it.
The following outlines Zinstall's set of features:
100% transfer guaranteed
An automatic process, easy to use
Works with Windows XP, Vista, 7, 8, 8.1, and 10 (32-bit and 64-bit)
"Superior technology"
"Universally recommended"
24/7 support
Really, I think there are only two great features to this product. The first is that it's a fairly easy product to use and is mostly automatic. Secondly, I like that technical support is standing by 24/7 to deliver on the 100% transfer guarantee. Other than that, PCMover has much more useful features.
Final Thoughts
So, which service provides more value? I think it's pretty clear that PCMover offers better value because it has more features and costs drastically less than Zinstall. Although I do acknowledge Zinstall is solving a real-world problem, I don't think the solution to that problem is worth $169. I also wasn't very impressed with the wording of the "guarantee," and think it was intentionally worded that way to misdirect people.
All in all, because of its lower price, money back guarantee, and list of great features, PCMover is more trustworthy and a better value than Zinstall. Consider that if you get the basic form of PCMover, you're going to be saving $130, which to most people isn't exactly a drop in the bucket.
Recommended Reads