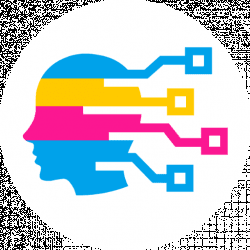 Latest posts by Digital Guyde Team
(see all)
Zinstall is a software development firm based in Hawthorne, California. It offers a wide range of software utilities including WinWin, Zinstall Backup, Windows 10 Upgrade Companion, Computer Rescue Kit, Server Migration tools, and other similar products. Today, however, we're going to take a look at Zinstall Migration Kit Pro to see if it's worth its salt.
For those of you who didn't know already, Zinstall Migration Kit Pro is a Windows utility. It is designed to help users transfer all of their user and application data from one Windows system to another – without needing to reinstall the operating system.
You may be wondering why you need Migration Kit Pro when Zinstall already offers its WinWin product, which was also designed to transfer user data between two Windows systems.
It seems that Migration Kit Pro is marketed as the more "heavy duty" solution. Instead of copying individual files and folders over to the new system, it actually makes a snapshot image of your operating system and data.
But is it worth it, or are there better solutions? I'll help you answer these questions and make an informed decision by dissecting each component of Migration Kit Pro. Let's get started.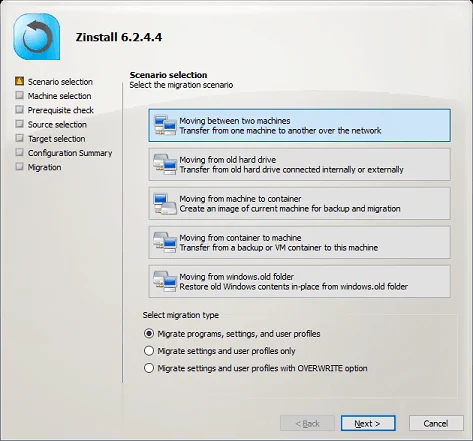 The Website
Before we dig into the finer aspects of the service, I did want to take a moment upfront to discuss the state of the website. To be completely honest and candid, I think that Zinstall's website is nothing short of atrocious.
It's ugly…the color scheme isn't as easy to read as it could be. The navigation isn't as simple as it could be, and a lot of other similar factors come together to give off a terrible first impression.
It's understandable that the website doesn't really have anything to do with how successfully (or otherwise) the software functions, but Zinstall really needs to update and upgrade their website.
I did find it commendable that the website includes numerous How-To guides for upgrading Windows systems. I think the quality of the guides is better than average. To me, it was particularly impressing the quality of the video guides, which seem to be far easier for most people to follow along with than static written guides.
Nevertheless, the website is in desperate need of an upgrade, and I think it is an instant turnoff to most would-be customers. But don't take my word for it; go ahead and visit the site yourself, and you'll fully understand what I mean.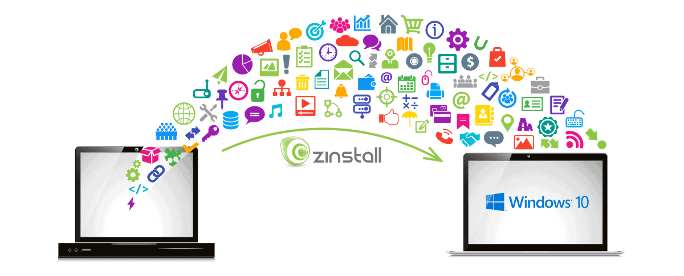 Price
I wasn't thrilled at all with Zinstall's pricing model for its Migration Kit Pro product. However, I do have to applaud Zinstall for simplicity. This product uses a one-time purchase model instead of messing around with subscriptions. I think that choice is very telling regarding what the product will and won't do.
Be aware that this product is not comparable to cloud storage, cloud backup, or cloud syncing service like SugarSync, because it doesn't provide any cloud or ancillary services (excepting support); instead, it's just a piece of software that you buy.
And to be completely honest, it's rather expensive software and costs $169. I do recognize that this software does solve a real need and eliminate a pain point for users trying to move their data from one system to another.
But $169? I think that's a little pricey – so pricey, in fact, I suspect it scares a lot of would-be customers away. There isn't even a free trial of the software. So, you're essentially jumping in blind to whether or not you will be satisfied.
And this next part is crucial, so listen up: there technically isn't a money back guarantee. So if you were to purchase Migration Kit Pro and were dissatisfied, there's no way of being certain you will be entitled to a refund. Personally, I think this is a little sketchy.
You really have to pay attention to Zinstall's wording on the website.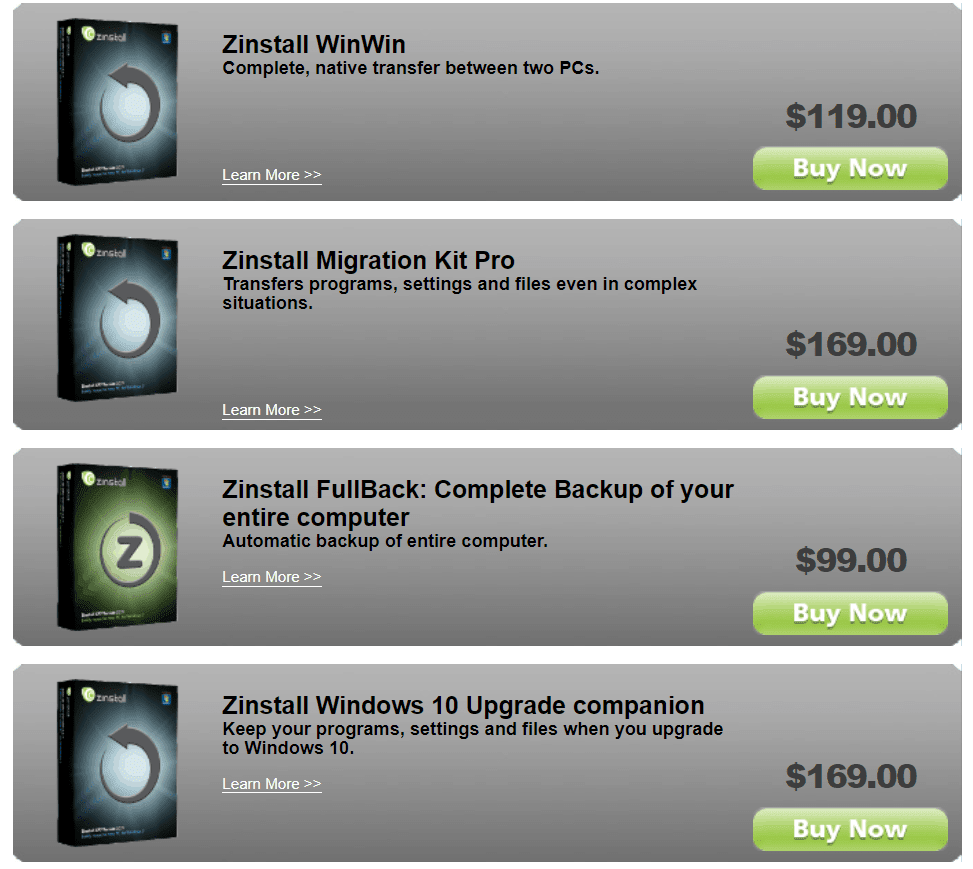 Zinstall makes the following claim
"Your transfer is 100% guaranteed. No matter what, your migration will happen. Our migration techs are standing by to assist."
I think people just skimming over or glancing at the guarantee will misinterpret its meaning. They Instead think that they can get their money back if they aren't happy. But that's not the case. Essentially, Zinstall is guaranteeing competent technical support if you run into technical difficulties when using Migration Kit Pro.
So, to sum things up, the software is arguably high priced at $169, there isn't a free trial of the software, and the "guarantee" is carefully worded and doesn't explicitly entitle customers to a refund.
Features
Though I wasn't really impressed with Zinstall's pricing model and refund policy, I was even less impressed with its set of features. Because it costs $169, I had high expectations for it to be loaded with features. The list of features was fairly thin, however. In fact, some of the features listed were vague and devoid of substantial meaning.
The feature I like best was that it works with any version of Windows from Windows XP onward, including XP, including Windows Vista, 7, 8, 8.1, and 10 (32-bit and 64-bit). Past that, there wasn't a whole lot to get excited about. Admittedly, Zinstall does have a 24/7 support department, although while that may be admirable, it's more of an expectation than a feature.
Just about every other digital service, be it a cloud service or software provider, also offers 24/7 support. I suppose the 100% transfer guarantee has to count for something. Nevertheless, I would have preferred money back guarantee, which doesn't exist.
Fortunately, the software was designed to be so simple to use. Even people who consider themselves technologically challenged should still be able to use it. The transfer process is automatic and requires little more than a bit of babysitting from the user as it goes about its business.

I was interested to see how vague a couple of features were. First off, Zinstall lists one of its features as "superior technology." Yet, it fails to outline what specific technological mechanisms are included in the software and how they're superior to other competing software solutions. To me, it's little more than a braggadocios claim that could be substituted with alternative copy, such as "we're the best."
Secondly, Zinstall claims that it's "universally recommended," and I'm not sure what that's supposed to mean exactly. It does have reviews and honorable mentions in books and media such as Beginning Windows 10, Windows 10 for Dummies, CNN, and CBS, but to my knowledge, it isn't recommended everywhere. Yet again, I find this to be another braggadocios claim. It offers little value or insight into the viability of the software.
The following outlines Zinstall's set of features:
100% transfer guaranteed
An automatic process, easy to use
Works with Windows XP, Vista, 7, 8, 8.1, and 10 (32-bit and 64-bit)
"Superior technology."
"Universally recommended."
24/7 support
Overall, I was disappointed with the features given the exorbitant cost of the product. I am fully aware that the point and purpose of this software are to transfer user data from one Windows system to another, but, it would have been ideal to have some backup and hard drive recovery features to act as another line of defense against data loss should anything go wrong during the transfer.
Final Thoughts
It should come as no surprise that I wasn't overly impressed with this product for many reasons. But, let's review all of the drawbacks. First and foremost, the price of this software could make even Bill Gates blush and is exorbitantly priced at $169.
There are numerous alternatives to this software that cost a third of that price or even less. In fact, Zinstall itself offers its WinWin product for only $119. If you shopped around, it's possible to find alternative competitors with comparable software products around the $50 price point.
Oh, and the cost isn't the only bad part of the pricing model. Remember, there technically isn't a money-back guarantee. I think the marketing department was very sly and slippery with the way they worded the "transfer guarantee."
Zinstall's having failed to offer legitimate money back guarantee makes me feel uneasy and distrustful. I suppose the lack of a money back guarantee wouldn't have been as bad had Zinstall opted to offer a free trial, but, wouldn't you know it, there isn't a free trial either.
To pile on to the lack of trustworthiness, I was appalled by the website, which looked like it was made during the dot-com bubble and hasn't been updated since. Last but not least, we can't forget the core constituent of any software product: its features (or lack thereof).
The scant features simply seemed to underwhelm for the eye-popping price tag. In fact, a couple of the "features" seemed to be little more than bragging. Honestly, I think most people, with exception to uncommon technical difficulties, can find a competing solution. One that will cost one heck of a lot less, as well as provide more features.
Further Reads