Last Updated on
LapLink is a company that makes a lot of dead useful products aimed at storage technologies and recovery, such as their bootable DiskImage product. But today we're going to be looking at their PCMover solution. But what is PCMover, and what problems does it solve?
In a nutshell, PCMover allows you to migrate and merge one Windows installation with another. It will allow you to automate the otherwise tedious process of copying files from one PC to another. If you're wondering why you don't just use a cloud storage or file syncing service like DropBox, understand that they're not the same type of solution.
Though it's a simple matter to transfer users' files (pictures, text documents, etc.) from one computer to another, it's actually ridiculously challenging and time-consuming when you try to transfer application data, user settings, operating system configurations and more.
The cool thing about PCMover is that it can automate the process of transferring settings and applications from one host to another. Not only is this useful in recovery situations, but it can also help you backup application settings by transferring them from one system to another.
So, let's dig in, starting with the pricing model.
Pricing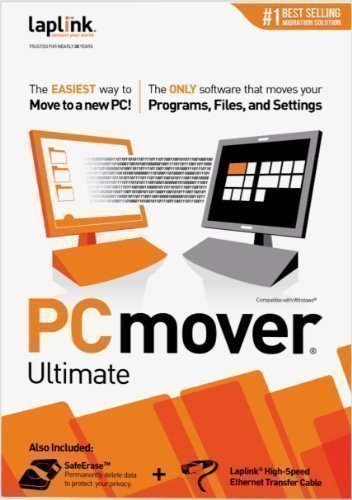 LapLink has a pretty simple pricing model for PCMover, but you should be aware that there are three different versions of this application (Express, Home, and Professional). Also, note that savings discounts are only available with the professional version. The pricing model is as follows:
I don't think this pricing model is unreasonable for two reasons. First of all, they offer discounts when you buy bundles of professional licenses. Additionally, consider that this isn't a subscription based service. Once you purchase the software, it's yours to use indefinitely.
Plus, if you don't like it, you can get your money back within the first 30 days by taking advantage of the money back guarantee.
Now let's explore the features of each separate PCMover version.
Express Features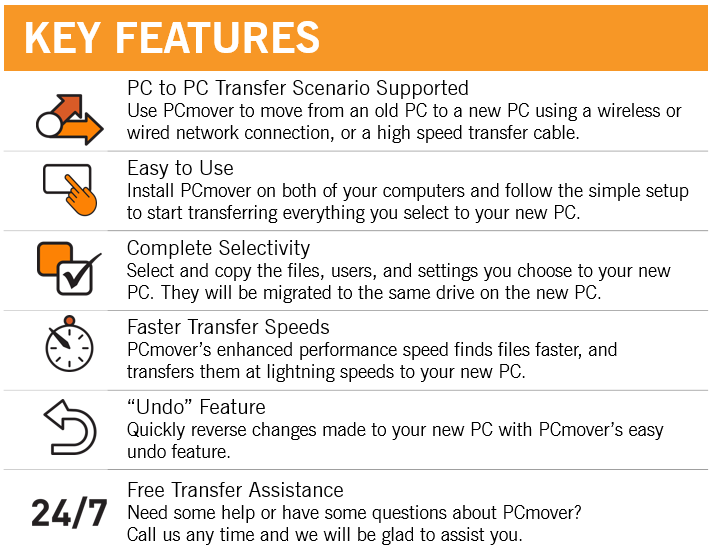 First and foremost, I have to say that I was impressed with PCMover's support department. The first feature that really caught my eye was the free transfer assistance. Yes, you read that right – even with the Express version, LapLink will offer help from a trained technician, who will assist you in operating the software to successfully transfer your files and settings to another computer.
I thought that went above and beyond average customer support, especially since this is only the Express version. Among other digital purchase (VPNs, cloud storage, etc.), the light version of any product or service usually doesn't even get priority customer support…if they get any support at all. So, way to go LapLink.
In addition, Express user have the ability to manually pick and choose which files and folders they want to migrate to another system. For instance, you could copy an entire user directory to another computer, or cherry pick only the files you want.
Additionally, you can select individual user accounts and transfer their settings over in bulk. That also means you can leave some user accounts behind. I think this is great for shared computers, such as a common family computer where each person has their own user account. Those configurations can get messy, but you can sort them out and only transfer the accounts you want or need to a new computer.
There's also an "undo" feature, which reverts files to their previous state before a file move operation. And that's really all there is to the Express version. Though it does allow you to transfer files and settings, note that it doesn't allow you to selectively transfer applications. If that's what you want to do, you'll need to upgrade to the Home version.
Home Features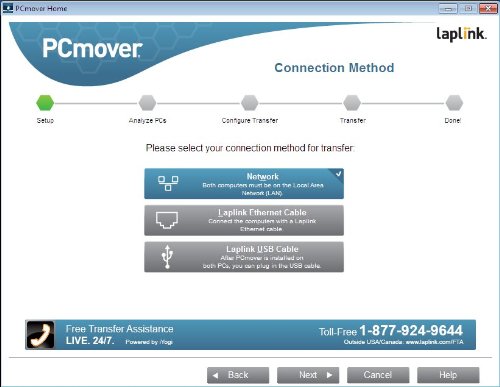 The largest difference between the Home and Express versions is the ability to transfer applications. Technically, if you had a bit of technological literacy under your belt, you could manually transfer applications on your own.
But let me tell you, even from a perspective of someone with years of I.T. experience, it can be a time-consuming, royal pain in the rear end. For that reason alone, I'd recommend everyone who wants to migrate application settings use the Home version.
That's really the only improvement over the Express version, though I think it's well worth the investment. Consider that you're only paying an extra $10 for that feature, and on an old system or a computer with loads of applications, it can save you hours (that's not an exaggeration) of headaches.
After all, how much do you value your time? I'd wager that most of you think an hour of your time is worth more than $10, and this one feature alone can save you a lot more than one hour.
Professional Features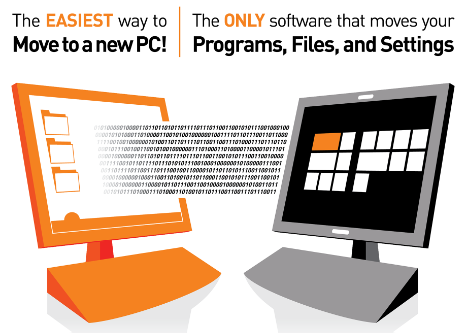 Last but not least is the professional version. As stated previously, this is the only version that offers discounts when you buy more than one license at a time. But there are three extremely powerful improvements of the Professional version that the previous two versions lack.
First of all, it has an "in place upgrade" feature. This basically allows you to take an old system and upgrade it to a newer operating system. Normally, performing that upgrade would wipe out all of your files and application settings.
But the in-place upgrade feature allows you to keep all of your old data, and the only variable that changes is the system files and operating system code. I see a lot of value in that, especially on antiquated business systems.
In addition, there's a really cool feature that allows you to restore an old PC image onto a newer operating system. That's yet another easy way to pull an old dying computer out of the graveyard and transfer all of its guts onto a new computer.
For instance, if your old computer bit the dust but you still have a backup image, you can basically transplant all of its data into a new system…even if that new system is running a newer operating system version.
And last but not least, Professional version has a critical hard drive rescue feature. Even if a computer fails to boot and can't successfully load its operating system, the rescue feature will be able to save application settings and data. However, the key here is that the hard drive must be operational. If it is corrupted or has too many bad sectors, the data may be irretrievable.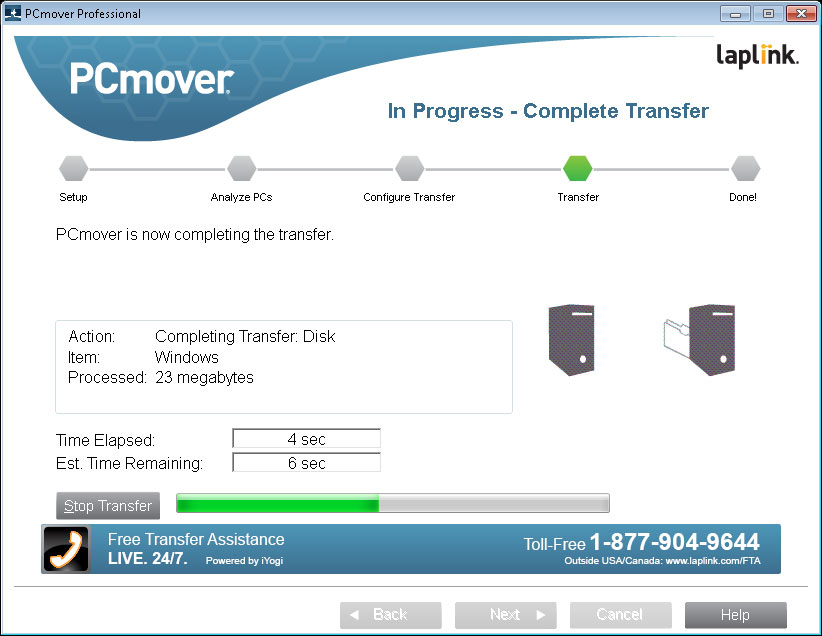 Also, you're going to need a new drive to copy all of the data to. I'd recommend just using an external hard drive, since it's the easiest and most appropriate solution. To sum up the Professional version, it essentially comes with two ways to transplant older OS files and user data onto newer OS versions, as well as an HDD recovery tool.
Final Thoughts
I think the PCMover software is fantastic, and I wish I had this tool in my tool belt years ago. I've tried moving applications from one Windows installation to another with varying degrees of success. The problem is that applications are written very differently, and even similar applications (like web browsers, for instance) can store data in very different formats and locations.
Even though moving a single application or user account to a new computer might not sound like tough work, consider how much time you'll save by automating the process. I'd recommend this not only as a tool to transfer data from one computer to another but also as a way of salvaging old systems from recovery images created in older operating systems.