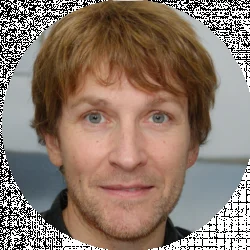 Latest posts by John Hughes
(see all)
We all accumulate files of all sorts on our computers after having them for some time. When you get another computer, sorting through these files and getting the important ones to transfer to the new PC isn't the easiest job. Here, a third-party tool that can help you move data from your old computer to the new one fast and efficiently is your best bet.
PCMover Professional and PCMover Ultimate are fantastic tools for moving your data from one computer to another. Both software work in the same way but have some key differences. This post will compare the two versions and help you figure out which one is right for you.
Main Differences Between PCMover Ultimate vs Professional
The Main Differences Between PCMover Ultimate vs Professional are:
PCMover Ultimate comes with a high-speed cable and safe erase, whereas you acquire the tools separately with PCMover Professional.
PCMover Ultimate is available in a boxed version, whereas PCMover Professional is available in a download version.
PCMover Ultimate has a few pricing packages, whereas PCMover Pro gives you more pricing packages, including the option of buying it in packs.
PCMover Ultimate gives the option to erase all your data on your old PC, whereas PCMover Professional does not.
What is PCMover Ultimate?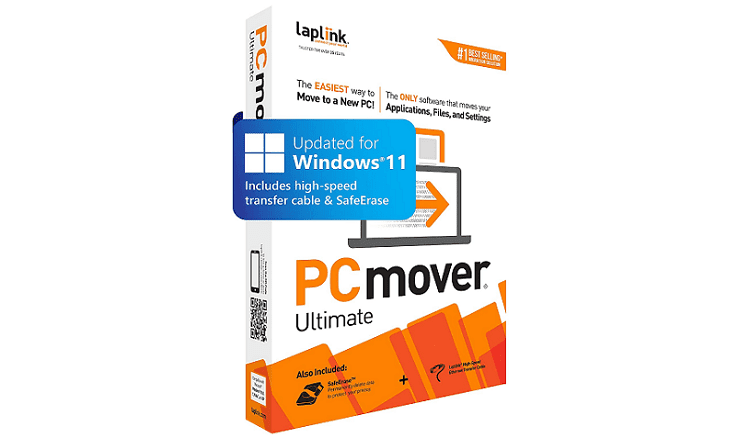 PCMover Ultimate is versatile and extremely powerful software that automatically transfers all your applications, files, settings, and user profiles from your old PC to the new one. The old PC's programs come into the new PC, ready-to-use, so you do not need to search for old CDs, registration codes, or serial numbers.
PCMover Ultimate is a way to migrate or restore your PC without losing anything. It is compatible with all versions of Windows operating systems, including Windows 11, 10, 8.1, 8, and 7.
With PCMover Ultimate, you can move or restore your PC to a new PC without having to worry about losing anything — even if there are different versions of Windows on the old and new computers.
The process of transferring your files from an old PC to a new one is simple. It only takes three steps: Install the software, connect the PCs, and click on "transfer" to move your files.
To guarantee a smooth transfer, make sure you have finished all Windows updates before you begin. With this software, your new computer will have everything on your old computer a few hours after installation.
Features of PCMover Ultimate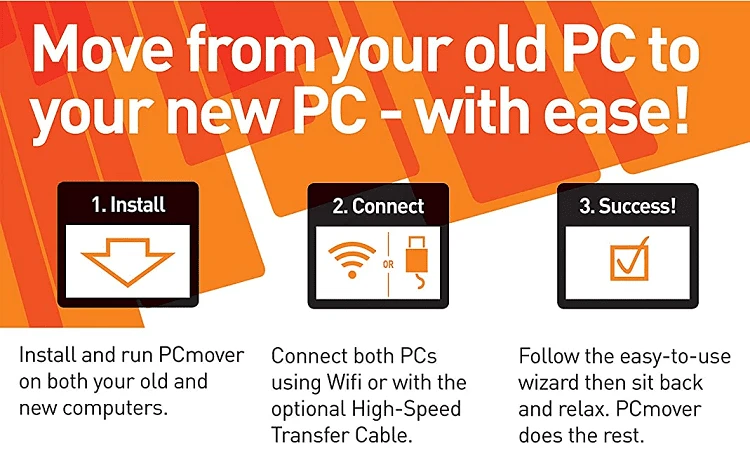 Multiple transfer options – You have many options for transferring files between your devices. They include using a USB cable, Ethernet cable, removable media, or wired or wireless network transfers.
Simple wizard interface – The software uses a straightforward wizard interface — all you need to do is click through the easy-to-use interface to get your files moving.
Moving specific applications – PCMover Ultimate gives you the option to choose which particular applications you would like moved over to your new PC and in what order.
Complete migration – The software allows you to transfer all your favorite applications, files, and settings in one single, easy move.
Undo feature – With PCMover Ultimate's simple "undo" feature, you can quickly reverse migration when needed.
Image Assistant migration – PCMover Ultimate supports the Image Assistant migration method for moving your data from an old hard drive or mounted image.
SMS Alerts – Once you have set up your PCs for data migration and are ready to get things going, you can turn on the SMS Alert feature to receive status updates from the migration.
PC-Sync feature – You can automatically sync files and folders with PC-Sync when you have finished setting up your PCs.
Auto-connect feature – With this feature, your computer can discover and connect to a nearby computer.
PCMover Ultimate's Pricing Plans
Laplink offers PCMover Ultimate in a physical box that includes a SafeErase and high-speed transfer cable. The basic package costs $59.95. However, if you need the basic package with added utilities, you will pay as indicated below;
Physical plus USB 3.0 – $69.95
Physical plus thunderbolt – $69.95
Pros of PCMover Ultimate
The software is easy to use and can transfer your files in a few hours, saving you a lot of time.
PCMover Ultimate's undo feature lets you reverse any changes you have made to your PC or a specific selection.
You can transfer all your essential files in one go with just a click of a button.
The SMS alert feature allows you to keep track of the transfer process, and you can concentrate on other tasks as you wait for it to be done.
The software is compatible with different versions of Windows.
Cons of PCMover Ultimate
You cannot transfer your information from one computer with a new operating system to another with an older operating system. For example, you cannot transfer data from Windows 10 to Windows 7.
Some users reported having connectivity problems while using the supplied Ethernet cable.
What is PCMover Professional?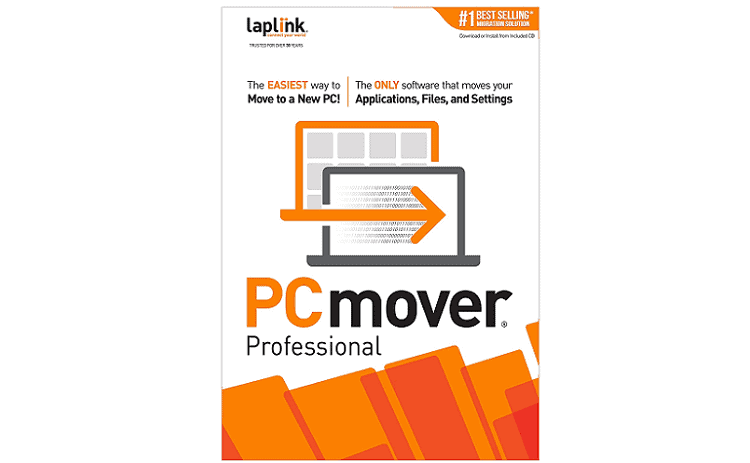 PCMover Professional is an excellent migration tool that can transfer documents, settings, and pre-installed programs from an old PC to a new one. It can work on almost any Windows version, but downgrading is not supported. It can perform "in-place" migrations, so moving computer data between OS editions that you cannot upgrade is a snap.
PCMover Professional makes it easy to move from an old PC to a new one. You can also use it to recover all the data from an old PC that's no longer working, as long as you have a recent hard drive backup or can read the information.
Intel and Microsoft recommend PCMover Professional, the software that moves applications, files, settings, and even users in 10 clicks or less. To use PCMover Pro, connect the old and new computers to the same network and install the software on both of them. Then, click 'Transfer between PCs' and follow the instructions.
Features of PCMover Professional
Easy to use wizard – Install PCMover Professional on both of your computers, then use the wizard to transfer all the data you would like to have on your new PC.
"Undo" Feature – PCMover, has a helpful undo button, so you can quickly reverse any changes made to your new desktop.
Complete selectivity – You can take all the programs, files, and folders you want with you when you switch to a new computer. PCMover will set those programs up on your new machine, and they will be ready for use.
Supports multiple transfer scenarios – You can transfer your old computer to a new one, upgrade your old hard drive, or do a clean install from Windows XP with this software.
Auto-connect – The software scans and finds all of your PCs, then connects them with the fastest connection detected.
Set and forget it – With PCMover Professional, you can go on with your day-to-day activities while the transfer happens in the background. You just configure it, click, start the transfer, and it will do the rest.
Free transfer assistance – You can easily set up your new PC either remotely or over the phone with help from a certified PC migration expert. This service is available for free 24 hours a day and seven days a week.
PCMover Professional's Pricing Plans
You have the option of purchasing physical software or downloading it and then installing it to your PC later. Buying the software in packs is also an option and offers you a way to save on the overall cost. Whatever your choice, PCMover Professional has several pricing packages, as shown below.
Download – $59.95
Physical (plus cable) – $59.95
Physical (plus USB 3.0 Cable) – $69.95
Physical (plus thunderbolt cable) – $69.95
5-Pack – $230
10-Pack – $420
25-Pack – $900
Pros of PCMover Professional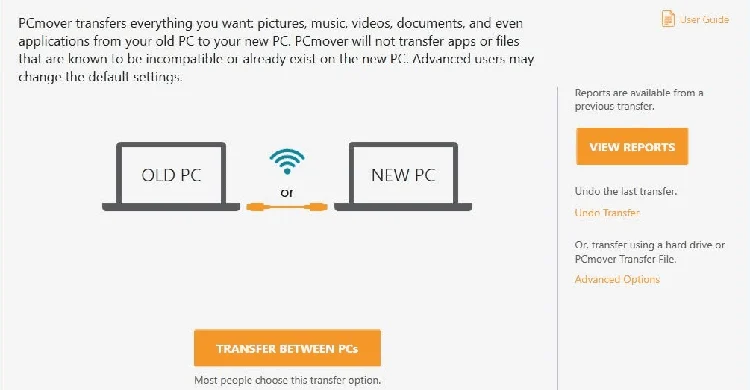 PCMover Pro makes it easy for your PC transfer, whether you want to do a direct transfer or migrate between user accounts. It also simplifies the whole process by transferring files directly from old PC to new or creating a simple file-based transfer.
PCMover Pro's easy-to-follow interface walks you through every step of the progress. You can connect to your PCs by way of a network, Laplink Ethernet cable, or Laplink USB cable.
This software can save you time and headaches by transferring your files, applications, settings, and user accounts.
If something goes wrong during a file transfer, PCMover Pro can undo the transfer on the new computer. The migration does not affect your old computer, so you can keep using it.
PCMover Pro natively migrates all the old files, folders, and settings from the old PC or OS to the new PC or OS.
Cons of PCMover Professional
PCMover Professional does not transfer anti-virus or anti-spyware programs. You have to deactivate and reactivate these programs on both the old and new PCs.
The software may be unnecessary for Windows 7 users since Microsoft no longer supports it.
PCMover Ultimate vs. PCMover Professional — What You Need to Know When Using Either Software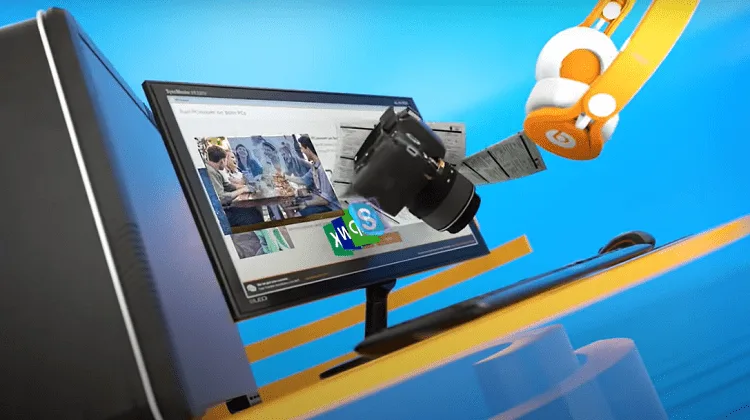 Digital Rights Management (DRM) – Programs that require a hardware fingerprint to activate, such as music files and programs, may require deactivation on the old PC and reactivation on the new PC.
Compatibility – When you upgrade your operating system, some programs may not be compatible.
Windows Updates – Make sure you install all your Windows updates (including . NET) before migrating with PCMover.
Serial numbers – Your serial numbers are unique to your version of PCMover and won't work with any other editions. For example, PCMover Ultimate serial numbers cannot work on PCMover Professional.
OS migration – Laplink doesn't recommend using PCMover to migrate from a newer Operating System to an older OS, as doing so may render your system unstable.
Hardware drivers – PCMover may not move some hardware drivers to your new PC.
Copy protection – Before transferring your old computer's programs to the new one, deactivate them on the old PC and activate them using the new one's original key or serial number.
Anti-virus and anti-spyware – PCMover won't transfer your anti-virus and anti-spyware programs.
End-user agreements – When moving an application, it is your responsibility to follow the end-user license agreement.
Frequently Asked Questions about PCMover Ultimate and PCMover Professional
Question: Does PCMover Interfere With my Data During Transfer?
Answer: PCMover transfers your data from your old computer to a new one without changing or damaging any of your old information. This is important so you have a safety net for your old information if anything were to happen, but PCMover also guarantees that there will be no problems with your old data. Furthermore, it is essential to have a backup of all of your data.
Question: How does PCmover Pro Work?
Answer: PCMover Professional works by helping you move your PC and all your data across a network, Laplink's USB cable, or Laplinks' Ethernet cable. The program also gives you the option to move just some of your information if you have multiple users. In this case, the "New PC" is where all your applications, files, and settings move to.
Question: How long does PCMover take to transfer and install my data?
Answer: Once you download, install, and run PCMover, you can transfer your data in a few minutes or a few hours. The time it takes to transfer varies depending on the amount of data to move, the speed of the drivers at each location, and the connection method selected.
Question: How many times can I use PCmover Ultimate?
Answer: You can only use PCmover Ultimate once. After using it to move your files on one machine, you cannot reinstall it on another. To do so would be a violation of the licensing agreement. for it to work a new computer, you need to buy an additional license.
Question: Will PCMover Pro transfer my user accounts?
Answer: PCMover Professional transfers your PC from one place to another without any data loss. It can move your computer via a network, a Laplink USB cable, or a Laplink ethernet cable. You can also transfer each user account individually to your new computer, ensuring that security information is kept intact.
Conclusion
If your PC is old and running slowly, you might want to consider upgrading to a new one and transferring your data to the new computer. Laplink's PCMover Ultimate and PCMover Professional are two top-of-the-line products that help move your files from one device to another. These programs offer you a complete and comprehensive solution for data transfer and can be considered similar products.
PCMover Ultimate is a better value purchase than PCMover Professional if you aren't on a budget. While PCMover Professional can still be useful for advanced users, PCMover Ultimate is great if you are looking to save money as you transfer files between your PCs.
From the two, I would recommend PCMover Professional since it is available in soft copy and will do the job fine and give you better value for money.