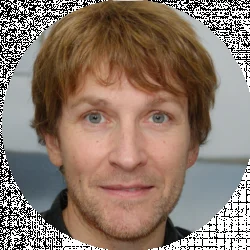 Latest posts by John Hughes
(see all)
If you have been using your PC for a long time, chances are you have accumulated a lot of crucial data. With time, you may want to ditch your old computer and upgrade to a faster, modern machine with better features.
Backing up and transferring your files from your old PC is an essential part of any computer user's life. In fact, according to Computer Hope, you should replace your computer once every four years.
If you want to protect your data, you need to know the right tools to transfer your documents and other files from one PC to another. This post will compare PCMover and PCTrans – two outstanding PC moving software that can help you prepare and complete your computer transfer efficiently.
Main Differences Between PCMover vs PCTrans
The main differences between PCmover vs PCtrans are:
PCMover has a crucial "undo" feature that allows you to make changes or undo a process while transferring data, whereas PCTrans does not.
PCMover is a highly recommended software and has the backing of Microsoft and Intel, whereas only CNET recommends PCTrans.
PCMover limits the types of information you can transfer, whereas PCTrans lets you move all your vital files and data, including user accounts.
PCMover does not have a free version of the software, whereas PCTrans offers a free version where you can transfer up to 500MB of data and two applications.
PCMover allows you to transfer files between computers even if they aren't on the same network, whereas to transfer files using PCTrans, your computers have to be on the same local network.
What is PCMover?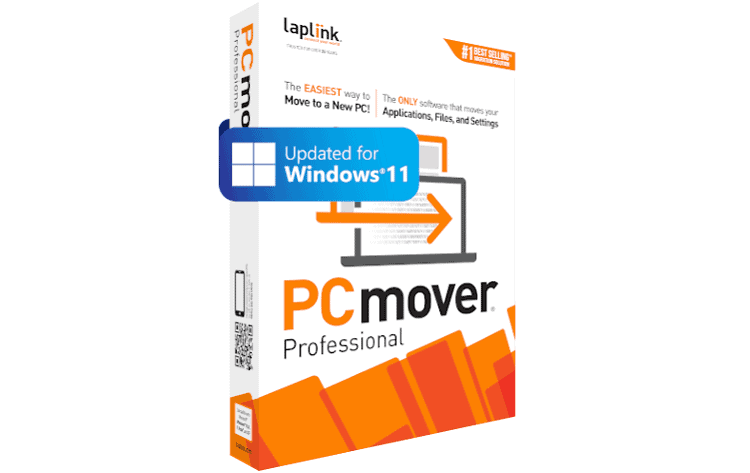 PCMover is software that helps you migrate apps, files, and settings easily between two PCs. The simple tool transfers everything in a matter of hours, so you have less downtime when upgrading computers. It is the only migration tool recommended by Microsoft and Intel.
You can transfer all your data quickly without having to complete a complex setup process. You only have to install the software and click a few buttons to start your transfer.
If you run into any issues, you can speak to Laplink's PC migration experts 24/7. Alternatively, you can opt for a physical copy that includes free SafeErase software and a high-speed transfer cable.
Features of PCMover
Simple setup wizard – Once you have fully installed the PCMover software, you can follow the installation wizard's simple steps to update to the latest version. Then, use PCMover to transfer any data and settings from your old computer to your new Windows PC.
Transfer everything you choose – With PCMover, you can quickly move all the data from your old PC to a new device. It transfers all your selected applications, files, folders, settings, and user profiles in one go. Once done, you can start using the apps immediately without having to reinstall them.
PCMover's "Undo" feature – With this feature, you can quickly undo changes made to your new PC while transferring files from the old PC.
Enhanced transfer speeds – In the newest version, PCMover transfers everything to your new PC faster than ever. The enhanced performance means you can now enjoy faster transfer speeds between your old and new PCs.
Optimized for Windows 11 – PCMover helps you quickly move your data, applications, and settings from an earlier version of Windows to a new Windows 11 operating system.
Automatic PC discovery and connection – When PCMover scans for the PC you want to migrate, it can automatically detect if a PC is connected to a wireless network and then connect to it. It can also see if a PC is connected to a wired network and scan it to find the PC.
Free transfer assistance – Laplink offers PCMover customers free access to a remote technician who can walk them through the setup process when transferring to a new PC.
Pricing Plans of PCMover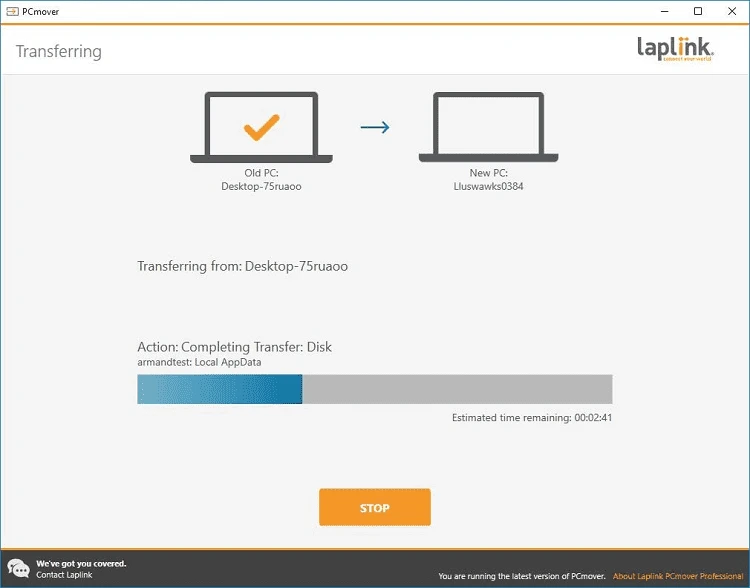 Laplink offers different PCMover pricing packages according to your needs. You have the option of downloading the software or buying it as a physical product which you can install later. The prices depend if you buy the software with cables or if you do it in packs. Below is a brief outlook of the packages.
Download – $59.95
Physical (+ cable) – $59.95
Physical (+USB 3.0 Cable) – $69.95
Physical (+thunderbolt cable) – $69.95
5 pack – $230
10-pack – $420
25-pack – $900
With every purchase of a single pack of PCMover, you'll get one license that you can use on one PC only when transferring your files. Any additional computers will require you to purchase additional licenses for each PC.
Laplink offers a 30-day money-back guarantee for every purchase of the software. If you experience any challenges and have contacted their technical team without success, you will receive a full refund.
You need to contact the support team to verify that the product does not work for the guarantee to work. Besides, you need to return the product in good condition within 30 days after purchase and must include any additional cables, quick start guides, and product registration.
Pros of PCMover

PCMover allows you to transfer files, applications, and settings. It has a list of filters that will enable you to choose what you want to move. You can even select which user accounts to carry over.
If you experience a problem during file transfer, PCMover gives you the option to undo the transfer on the other computer.
PCMover makes it easy to transfer your files to your new computer. You can follow the steps in the application interface to guide you throughout the process.
The software offers multiple ways to migrate content from your old computer to your new one. Your options include migrating from an older PC to a newer PC, migrating from an older operating system to a current one on the same PC, and restoring content from your old hard drive to a new one.
The software offers native migration for all your files, folders, and settings from the source (the old PC) to the target system (the new PC). So you do not have to reinstall anything.
Cons of PCMover
The PCMover software does not move antivirus programs or anti-spyware programs. You will also need to deactivate those programs on your old PC and reactivate them on the new one.
PCMover does not support the creation or adjustment of partitions during migration.
PCMover is not that easy to understand if you are not very familiar with the English language. It can also be complicated for some users.
PCMover can be extremely slow, depending on the size of your data and the speed of your drive. It could take as long as 24 hours to complete.
What is PCTrans?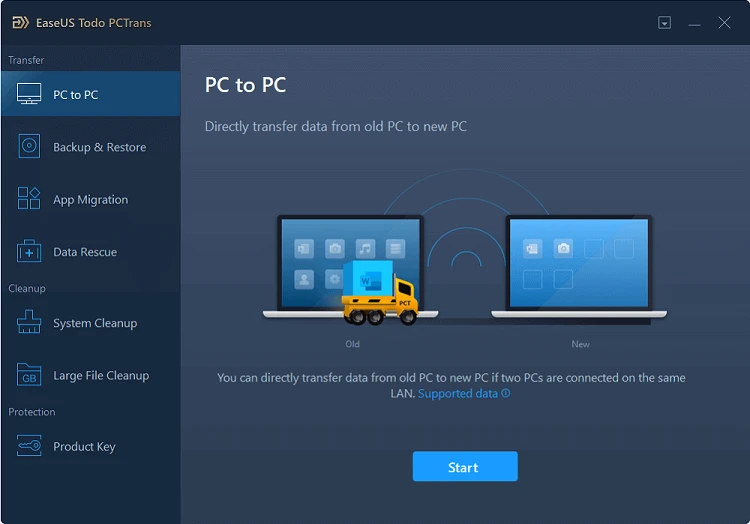 PCTrans is a highly reliable and secure software that makes transferring programs from one computer to another a breeze. The software is easy to use and moves everything within minutes.
With PCTrans, you can connect two computers wirelessly and transfer files between them, but they have to be on the same local network. Installing PCTrans on two computers helps you seamlessly move data between them. Once you have launched the program, its simple and intuitive interface will guide you through the process without a hitch.
After connecting both PCs, make sure to denote which PC will transfer files to the other. Then, a detailed list of applications, files, and accounts that you can move to the new PC will appear. Customize this list to remove any unnecessary items. Finally, click on transfer to begin the moving process.
Features of PCTrans
System cleanup – PCTrans scans your computer for temporary files, junk, and other space-hogging clutter that you can safely delete to reclaim storage space.
Data rescue – If your computer is dead, you can use EaseUS Todo PCTrans to restore your files and programs. This program can transfer data from an old hard drive to a new computer to preserve your data if your computer is unbootable.
Flexible transfer modes – There are three ways you can use to transfer your data using PCTrans

PC to PC – To transfer, first download and launch the program on both PCs. Select "PC to PC" to transfer files, applications, and user accounts directly from one computer to another.
Image Transfer –This feature allows you to transfer and recover data. With image transfer, you can move apps, images, and your user accounts.
App migration – is a handy option when migrating all your applications over to another disk. You can use this option to move the contents of your hard drive to a new computer.

Extensive file cleanup – PCTrans makes it easier to delete files from your hard drive. You can view the list of files from largest to smallest and delete unnecessary files with a few clicks.
Free technical support – EaseUS Todo has a 24/7 customer support center. You can get assistance from a professional technician to remotely help you with the migration of data and all related queries.
Simple and convenient – You don't have to be a computer genius to operate PCTrans. It is simple, safe, and easy to use. All you need to do is follow the instructions that come with the software for moving data across platforms.
PCTrans Pricing Plans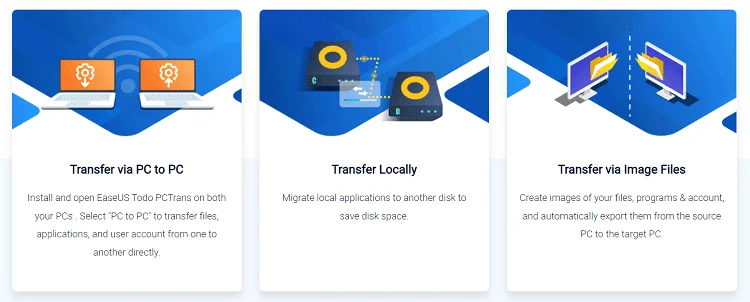 EaseUS Todo PCTrans comes in three different packages. The free version is a great way to get started, but you can also pay to unlock more features — from more significant data transfer limits to unlimited application transfers.
Free edition ($0) – This free package allows you to transfer up to 500MB of data and two applications from your PC to a new one.
Professional Edition ($49.95) – You can use the product on two computers in this edition. It also provides unlimited backups and restores, as well as transfer caps. However, you cannot use it for business purposes.
Technician edition ($399) – There are no limits to this edition. You can use it on multiple computers as well as for your professional work.
Pros of PCTrans
Easy to use – EaseUS Todo PCTrans is one of the easiest-to-use software options for computer migration. The interface is intuitive and straightforward, with any functions you need readily accessible.
Compatible with all Windows versions – You can use EaseUS Todo PCTrans to migrate from older versions of Windows such as Windows XP and Windows Vista to Windows 10. The software supports all operating systems, so you don't have to worry about your data.
Keeps your data secure – PSTrans lets you move data without losing apps or essential information.
Can transfer vital information – PCTrans is a powerful tool for moving your computer settings and even your files. It even helps you move all kinds of data files, including account information, to a new PC.
Cons of PCTrans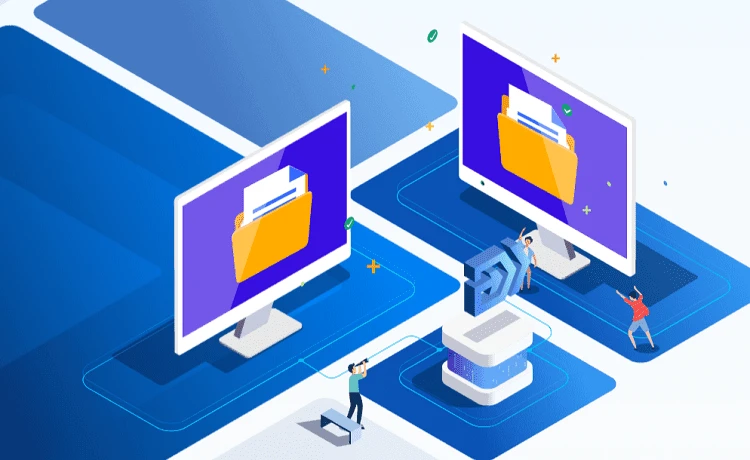 Limited data transfer in the free version – You can use PCTrans' free version only up to the limit of 500 MB. If you want to transfer more data, you will need to upgrade to a paid version.
It can take time to identify installed programs and which user data is available. Similarly, it takes even more time to transfer data since it automatically installs the new program simultaneously.
There are few customization features available – For example, you cannot move installed apps or files and make directories (drives) the default locations for new apps.
Frequently Asked Questions about PCMover vs PCTrans
Question: How Many Times Can I Use PCMover?
Answer: A PCMover license allows you to move to a new computer only once. If you want to move your files to another old computer, you must buy another license. Therefore, if you are going to move files to multiple old computers, you must purchase as many licenses as the number of computers you want to transfer files.
Question: Does PCTrans Have a Free Version?
Answer: PCTrans has a free version that allows you to transfer applications and files securely from an old PC to a new one. It also gives you an intelligent solution to transfer data from one computer to another with relative ease and convenience.
Question: Will PCMover Transfer All My Programs?
Answer: You can quickly transfer your important files and programs from one computer to another with the help of PCMover. Just install it on both computers and then use the Wizard to migrate your files and programs to your new PC easily.
Question: How Do I Transfer Files from One PC to Another Using PCTrans?
Answer: To transfer your content from an old PC to a new one, start EaseUS Todo PCTrans on both machines. Then, go to the "PC to PC" mode (the default option from the main window) and select your two computers from the list. Choose which data you want to migrate and then click "Transfer."
Conclusion
PCMover and PCTrans are two of the most popular applications for moving your data from one computer to another. Both solutions work with both Mac and Windows computers, but they have some differences.
PCMover is simple to use and allows you to transfer all your files and settings. Besides, Microsoft and Intel recommend the software – which is a great plus. PCTrans offers a one-click solution allowing you to transfer all your data and files instantly. It's also compatible with standard applications.
After comparing the two software, PCMover is my preferred choice for PC transfer. The backing from giants Microsoft and Intel, ease of use, and affordable packages make it the ideal tool for all your data transfer needs.