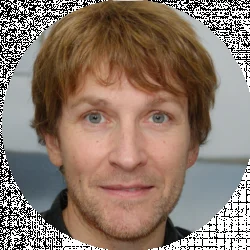 Latest posts by John Hughes
(see all)
The internet is a free, ever-expanding resource that can provide a wealth of knowledge and entertainment. However, it can become a wild, and dangerous place for children. A 2018 study indicates that one in every five youths are exposed to unwanted sexually explicit material on the internet. 
Parents are responsible for ensuring their kids are safe when surfing the internet. But with millions of websites out there, how do you know which is safe for your kids? 
The need to protect children from pornography, violence and other inappropriate content is crucial. For this reason, many concerned parents rely on web filtering software to help ensure their children's safety online. Many options are available, from the traditional free web filters installed on a computer to full-service web filtering companies that offer various services in one comprehensive package. 
Mobicip and Net Nanny are two popular web filtering services. Both provide detailed reports of your child's browsing activity, control how long they can use the internet or specific websites each day. They also allow you to block specific websites or categories of websites. Here's a look at how they stack up against each other.
Bottomline upfront: Mobicip is my preferred option because of its ease of use, robust features, and compatibility.
The Main Differences Between Mobicip and Net Nanny
The main differences between Mobicip vs Net Nanny are:
Net Nanny has advanced geofencing features that help parents control where their children can use the internet, whereas Mobicip doesn't have any geofencing features.

Mobicip boasts a more intuitive and easier-to-use interface, whereas Net Nanny has a slightly more complicated interface.

Net Nanny has a longer free trial period at 14 days, whereas Mobicip only offers 7 days.
Mobicip stands out as one of the most secure parental control apps available. Its features allow parents to control and monitor children's internet activities while filtering content and regulating screen time.
Mobicip Pros
Intuitive web interface

Multiple platforms supported

Custom keywords for content filtering 

Real-time alerts 
Mobicip Cons
Outdated app lists 

Limited mobile interface 

No geofencing 
Mobicip Features
Below are some of the main features Mobicip offers:
1. Advanced Internet Filtering 
Mobicip filters internet content by keywords, websites, YouTube videos, and apps. It provides real-time protection against inappropriate content by blocking inappropriate websites before the child can even access them. The advanced internet filtering system provides children with a safe and secure internet experience.
Under this feature, you'll be able to:
Filter pornographic content 

Block selected applications and websites 

Perform safe Google search 

Remotely check your children's browsing history 
You'll be able to create a safe browsing environment for your child with this comprehensive internet filtering system.
2. Video Supervision 
The essence of this parental control app is to protect children from inappropriate content. Mobicip can restrict access to specific YouTube videos and other video streaming sources based on a pre-configured list of rules or keywords, which you can create yourself. You can create a robust age-appropriate video supervision list that will help protect your child from mature content, nudity, violence, and other age-inappropriate material.
Under this feature, you'll be able to:
Allow/block video websites 

Regulate video consumption 

Restrict inappropriate/mature content 

Allow/block video apps (i.e., YouTube, Netflix, etc.)
3. Activity Reports & Screen Time Limits 
Mobicip ensures a healthy screen time for your child by restricting how long they spend online. The tool allows you to set up different time limits and schedules for different days of the week. You can also schedule "off times" for when your child shouldn't be using the computer or smartphone during homework time.
Under this feature, you'll be able to: 
Set screen time limits for your children 

Review access request 

Schedule screen time

Block screen time
You'll be able to set up screen time rules and schedules that work for your family.
Screen time management is crucial because, according to a scientific statement by the American Heart Association, school-aged children spend about eight hours daily glued on screens. This behavior is heavily associated with sedentary behavior, with most studies pointing towards obesity, hypertension, atherosclerosis, and type 2 diabetes.

4. Social Media Monitoring 
Mobicip allows you to monitor your children's social media habits. Parents can monitor how long and when their children use social media and set up appropriate time restrictions. Communication monitoring may be limited, but Mobicip still offers parents a decent level of insight into their children's social media activity.
5. Location Tracking
Knowing the whereabouts of your children is as important as knowing what they're doing. The location tracking feature of Mobicip will allow parents to check their children's whereabouts from a mobile device. It enables you to know your child's last known location. You'll also be able to tell if they arrived home safely or if they're still outside.

Net Nanny is a veteran internet filtering software with a long history of protecting children online. Despite continued improvements and updates, the developers haven't forgotten the basics. Net Nanny relies on real-time content analysis and keyword filtering to detect web page content and block inappropriate content.
Net Nanny Pros
Custom web filters 

Solid screen time limits

Pause button available

Advanced blocking features 

AI filtering 
Net Nanny Cons
Expensive 

Few preset web filters 

Limited geofencing

Tor browser bypasses web filters
Net Nanny Core Features
Below are key features of Net Nanny:
1. Internet Filtering 
Net Nanny takes a unique approach to content filtering. Instead of just blocking websites, it filters out keywords related to pornographic content and violence. It goes beyond the traditional blacklists and whitelist to ensure a safe internet experience for your child.
Net Nanny uses advanced real-time filtering such that when the websites load, so does the filtering. As such, your child will never get access to inappropriate content even if it isn't on the list (yet). It also reviews the type of advertisements on each website to enhance the filtering process.
2. Social Media Monitoring 
Net Nanny is also an effective tool for social media monitoring. Parents can block or allow access to various social media platforms such as Facebook, Instagram, Snapchat, and more. Parents can see which apps are running on their children's devices and remotely set limits based on time or usage.
3. Activity Alerts and Reports 
Net Nanny also generates detailed activity reports. Parents can block specific websites (or keywords) and receive alerts when their child visits them. Visibility to online searches and browsing history helps parents identify and flag terms with sensitive content.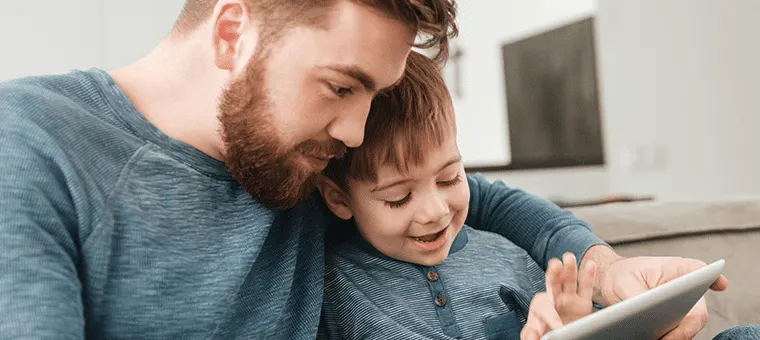 4. Screen Time Management 
Net Nanny enables parents to manage children's screen time on all devices. Parents can set rules on the amount of time spent online and on selected apps. It allows access to specific websites and applications at certain times of the day or on select days of the week. 
5. Blocking 
Blocking involves canceling or denying access to specific websites, keywords, or applications. Net Nanny uses preemptive filtering, so it catches even the newest online threats out of the box. It also allows parents to tell which apps are installed on their children's devices and block them accordingly.
Net Nanny vs Mobicip: How Do They Compare?
Mobicip and Net Nanny both have a proven track record of protecting children online. They strike a good balance between filtering capabilities and ease of use, allowing parents to hold their kids accountable for misbehavior without too much effort. 
While choosing the best internet filter for your children can be a daunting task, this is how Mobicip and Net Nanny compare:
Customer Service
Customer support is a top priority for both Mobicip and Net Nanny. However, Net Nanny offers more support channels. Net nanny offers customer service via live chat and email support, while Mobicip users can only submit a ticket via the contact form on the website. 
In some user review sites, the customers complained about the unresponsive nature of the Net Nanny customer service. Others complained of canceled subscriptions due to a billing issue. Mobicip users, on the other hand, reported a better experience, but a live chat experience or a telephone number would be a great benefit.
Verdict: Net Nanny has more responsive and engaging customer services than Mobicip.
Pricing (Affordability)
Mobicip and Net Nanny offer different pricing plans with different features. One difference that stands out is the free trial duration. Mobicip has a 7-day free trial period, while Net Nanny offers a 14-day free trial. 
Mobicip pricing
Mobicip has three pricing plans. These plans include;
Small (protects five devices): $3.99/Month 

Medium (protects ten devices): $4.99/Month

X-large (protects 20 devices): $9.99/Month 
The Medium and X-large pricing plans are offers/sale prices applicable on the first year of subscription. For the succeeding years, the price changes to $7.5/Month and $12.99/Month, respectively.
Net Nanny pricing plans
During the 14 days free trial period for Net Nanny, you will have full functionality of the App to monitor your child's activities, block websites and applications.
Below are Net Nanny's pricing plans covering pcs, Mac, and mobile devices: 
Five devices: $79.99/Year

20 devices: $129.99/Year 
Net Nanny runs different offers and sales that change over time. However, there is a special offer currently on the market which gives you full access to monitor five devices for an entire year for only $59.99/Year and $89.99/Year for 20 devices.
Verdict: Mobicip is more affordable and offers the best value for the money.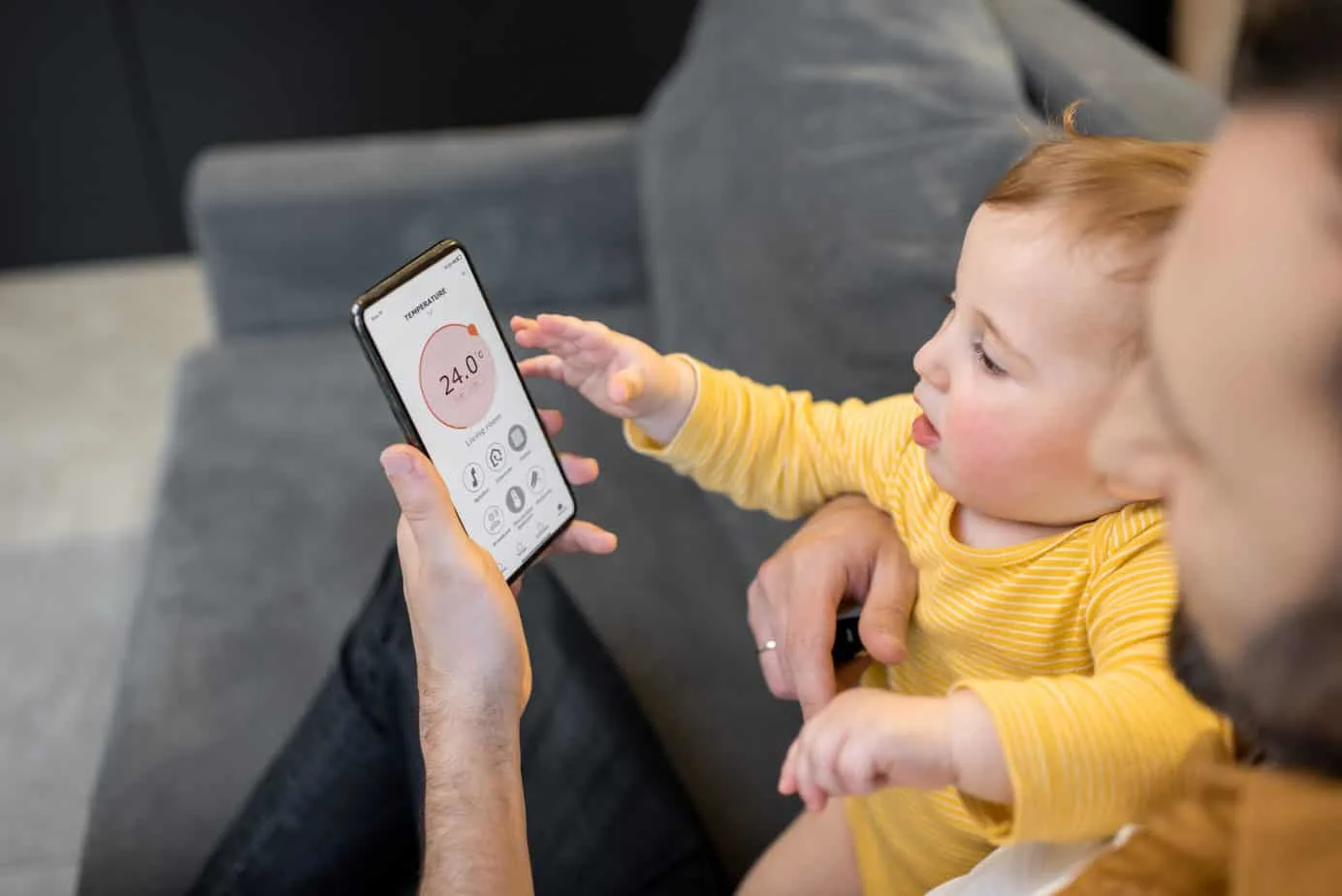 Ease of Use
This comparative review wouldn't be complete without mentioning the ease of use of both Mobicip and Net Nanny. Mobicip boasts a sleek and intuitive dashboard with easy-to-read texts and icons. The sections on Mobicip's dashboard are self-explanatory, allowing any user to access the most commonly used features. 
Net Nanny has a less flashy dashboard, but it does the job. It's relatively easy to set account limits, monitor progress, and blacklist websites, but the interface can be complicated for newbie users. The reports could be better, but it's adequate for the price of the software.
Verdict: Mobicip is more intuitive and easier on the eyes than Net Nanny.
Supported Devices
Mobicip and Net Nanny are compatible with the same platforms. They have Windows, Mac OS, iOS, Android, and Kindle apps. The two also offer Chrome, Firefox, Safari, and Internet Explorer browsers.
However, Net Nanny is more specific on the different versions of operating systems it supports. Below are operating systems Net Nanny supports.
Windows version 10 and above 

mac OS 10.13

Chromebook (With play store access)

Android version 6.x and above 

Amazon Kindle (8th generation) HD 8 and HD 9 (Fire OS 6.3.0.1 and above)

iOS version 12.1 and above
Verdict: While they support similar devices and operating systems, the specificity of Net Nanny could be a turn-off for users searching for software that can work on their device of choice.
Social Media Monitoring
Social media monitoring is an important feature for any parental control software. This feature allows you to monitor your child's social media activities and provide the first line of defense should they engage in online bullying or communicate with strangers.
Mobicip and Net Nanny both offer social media monitoring to varying degrees. Mobicip lets you monitor social media activities on Facebook, Instagram, Snapchat, and other social platforms. Net Nanny also offers similar social media monitoring and allows app blocking based on time spent on each app.
Communication monitoring for both apps is limited such that parents are only notified of communication attempts. The apps do not give you access to chat logs or provide transcripts of said chats.
Verdict: For this category, it's a tie as both apps offer similar features, albeit with varying levels of functionality.
Net Nanny and Mobicip Alternatives
Below are other parental control apps you may want to consider: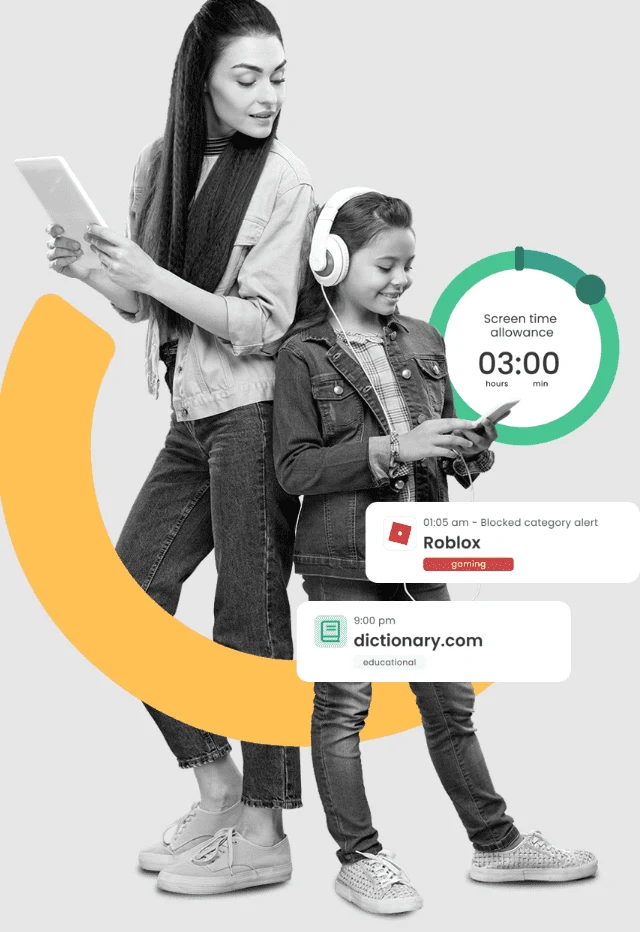 Qustodio is an all-in-one digital parenting suite that lets you monitor, filter, and manage your child's digital activities. It has all the basic features of parental monitoring software, such as time limits, reports and alerts, location tracking, and filter blocking. Pricing starts at $54.95/Year for five devices.
Related read: Full Qustodio vs Mobicip Comparison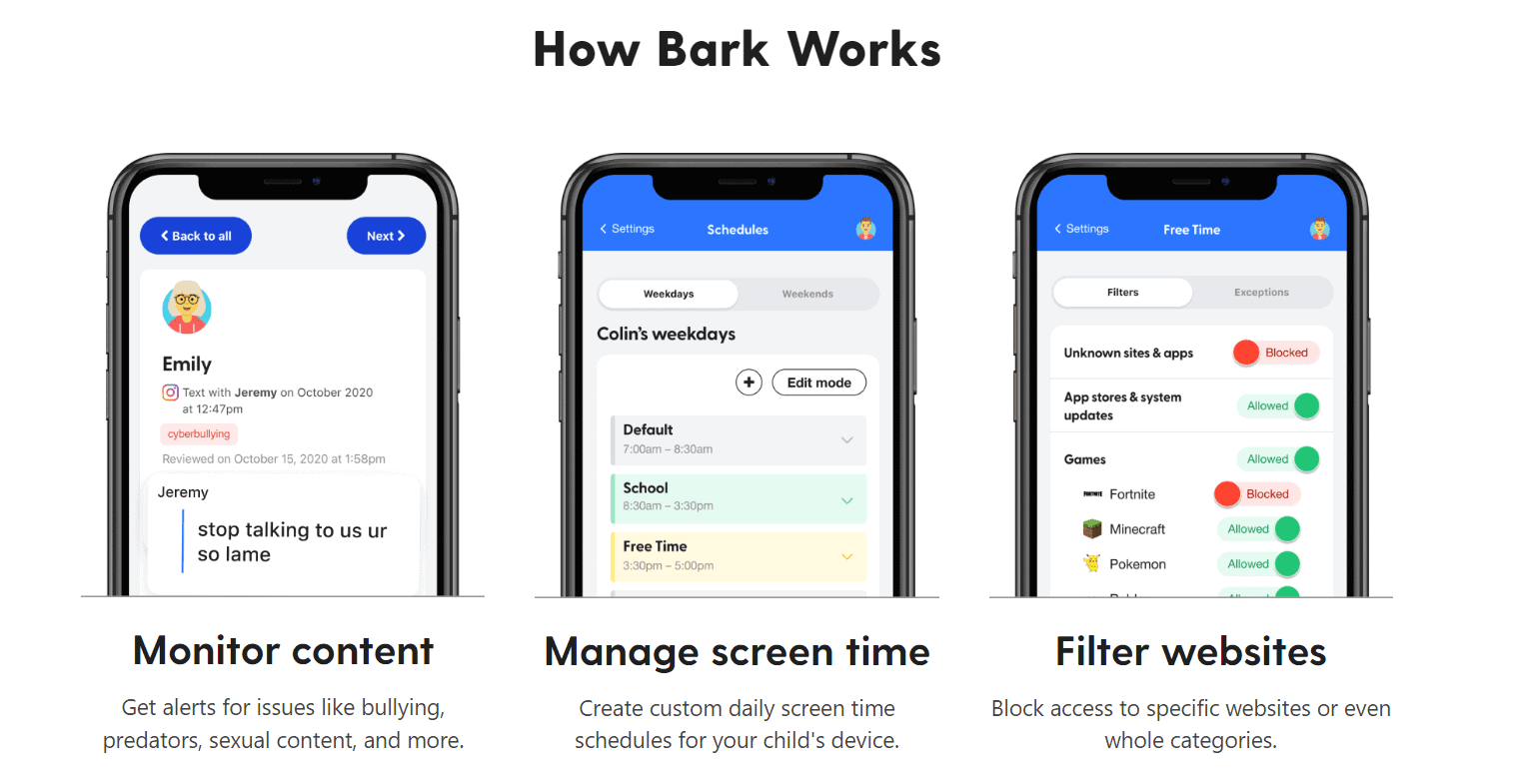 Like Studio, Bark is an all-in-one monitoring suite. It combines web filtering, mobile device protection, social media monitoring, email monitoring and provides text alerts to give parents an overview of their child's online activities. Pricing starts at $99.00, making it one of the most expensive options.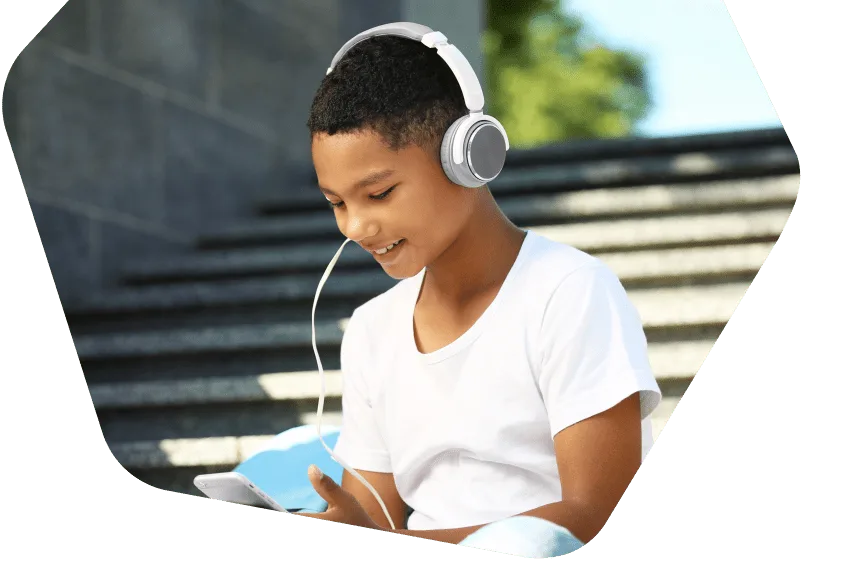 For any parent on a budget, Kaspersky Safe Kids fits the bill. It offers location tracking and geofencing, web filtering, YouTube search monitoring, and screen time management. There are limited iOS features and lacks email monitoring, but it is one of the most affordable options for only $14.99/year.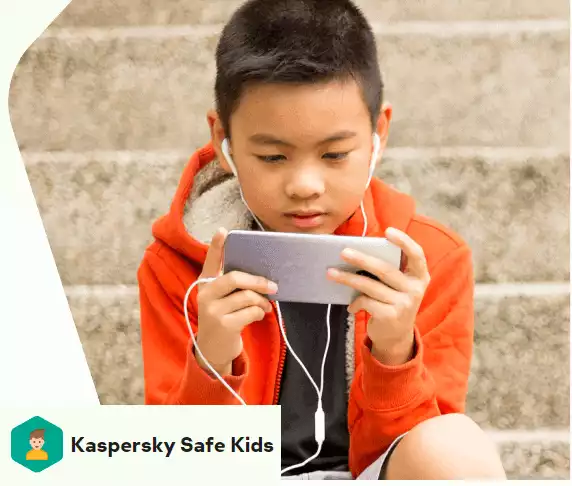 Parental Control Software | Kaspersky
Protect your kids online and offline with award-winning parental controls. Get flexible tools that help you safeguard their activities, monitor their behavior and teach them self-control. 
Check Price
We earn a commission if you click this link and make a purchase at no additional cost to you.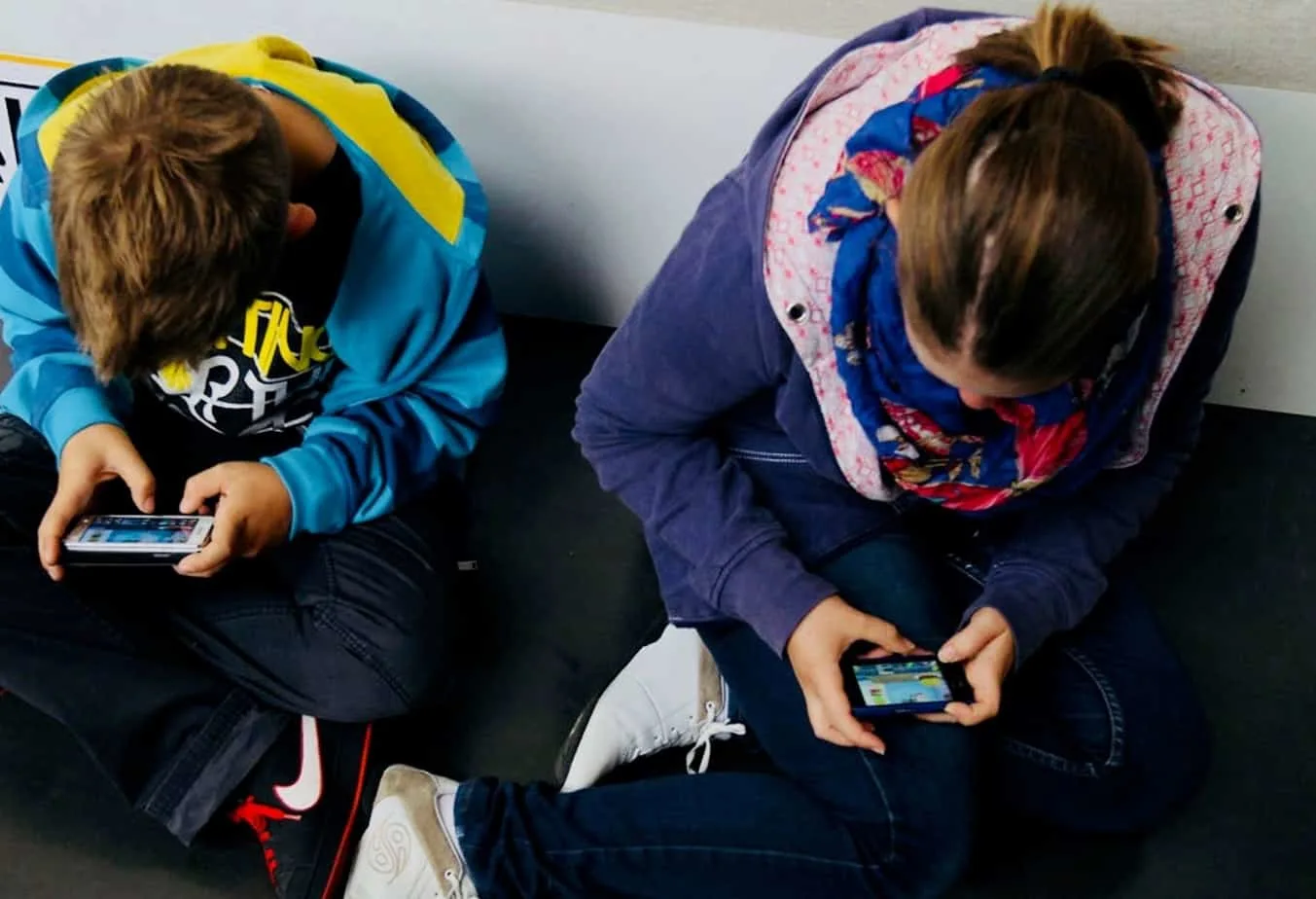 Parents with young kids who are first-time owners of mobile devices will appreciate this app. Boomerang lets parents approve new apps, set time limits, and allow or block content. The interface is easy to understand, even for newbie users. It is also one of the cheapest options for only $15.99/year.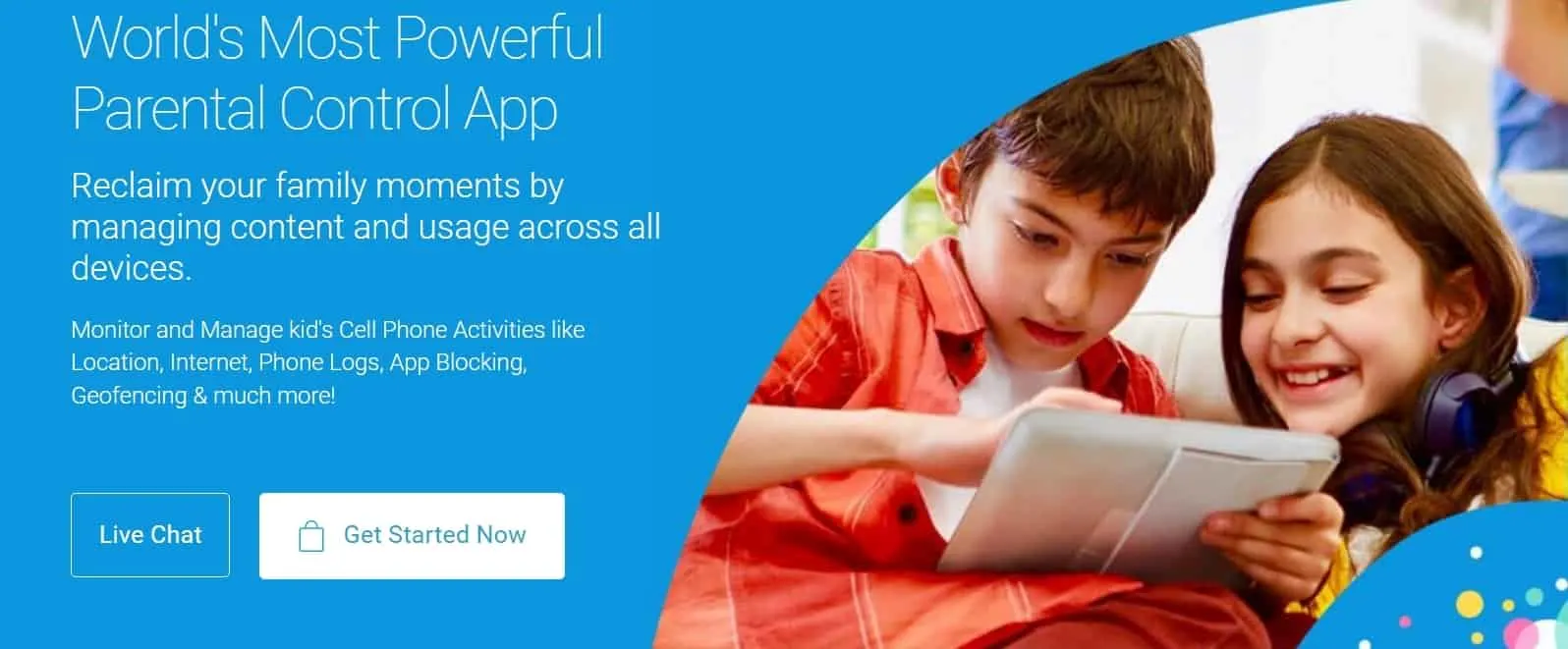 FamilyTime offers a sophisticated suite of features for parents to monitor, limit, and manage their child's mobile device activities. It boasts more iOS features than any other app, with web filtering and blocking along with location tracking for iOS devices. Pricing starts at $27.00/year for five devices.
Mobicip vs Net Nanny (FAQs)
Question: Is Mobicip any good?
Answer: Mobicip offers a robust and ever-expanding list of features. It works across all devices, operating systems, and browsers. Mobicip's monitoring features are extensive with content filters, location tracking, and social media monitoring.
Question: Which is the best parental control app?
Answer: Bark is the best parental control app with more advanced and sophisticated features than any other app. It's more expensive, but it works across all devices, operating systems, and browsers.
Question: Does Mobicip filter YouTube?
Answer: Mobicip can filter YouTube searches for keywords and topics. It uses a video-by-video basis to block and allow content. Mobicip also filters keywords on search engines such as Google and Bing.
Question: Does Net Nanny track texts?
Answer: Net Nanny does not track texts. It also does not perform messaging monitoring on any messaging app. The app can only monitor incoming and outgoing communication attempts. It can filter web content for keywords and block or allow certain domains based on defined categories.
Question: Does Net Nanny actually work?
Answer: Net Nanny works, and it's one of the most popular apps in the market. It works on Windows, Mac, Android, iOS, and Fire OS (Kindle) devices. It boasts exciting reviews on most product support websites.
Conclusion
The battle between Net Nanny and Mobicip is a close competition. Both offer robust parental control features for smartphones, tablets, laptops, and desktops. The defining factors are pricing, interface usability, and device compatibility. 
Mobicip is more affordable and has a better user interface, but Net Nanny has a more robust set of customizable web filters. After an intense review of both apps, I recommend Mobicip for its affordability, ease of use, and device compatibility.