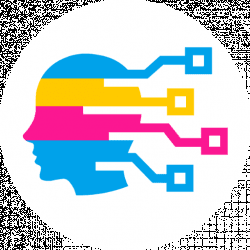 Latest posts by Digital Guyde Team
(see all)
SpiderOak is a rather popular online backup and cloud storage provider. In fact, Edward Snowden commented that they are a much more secure alternative to other services like Dropbox.
SpiderOak offers different products, but, their online storage and backup solution go under the name SpiderOak One. Despite the strange name, the software has extremely rich features and is available at a modest price. Today, we're going to pick apart different aspects of this service and weigh the advantages against the disadvantages. First off, we need to take a look at their pricing.
Pricing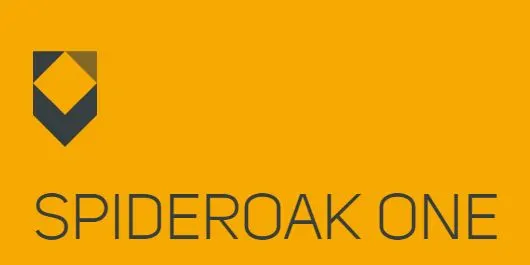 Who doesn't like free? SpiderOak One generously offers a 60-day free trial, which doesn't require payment card data (which is a standard ploy/hook used by other companies to bill you if you forget to cancel service automatically). The only downside is that the free trial is limited to 2GB, but it's still a great way to test out their service.
Users who opt for the 30GB plan only pay $7.00 per month, though the subscription length is only available in annual units. However, people who want an entire terabyte of storage only pay $12.00 per month with a yearly subscription, which offers a lot more value. Lastly, businesses can use their professional service for $25.00 a month, which includes 5TB of storage space.
Features
First off, note that SpiderOak One does support all the major platforms, which is easy to do since it is a cloud service. Many other providers only create backup software for computers and try to get by with a web-browser-based service for mobile devices. However, unlike many of their competitors, they have written their apps for iOS and Android.
And though they don't impose any bandwidth throttling or monthly data caps, they do provide tools in their software that helps a user divvy up their bandwidth. Users can prioritize files for upload/download and set data limits on specific backups.
And for users with NAS (Network Attached Storage) devices, SpiderOak One has a feature designed to backup entire NAS volumes, bit by bit. Two features I liked were their file versioning and the fact they keep files for as long as you're a customer – even if you've deleted them. This helps prevent data loss if you accidentally delete a file, folder, or archive.
Understand that because they focus their service on secure backups, they don't have as rich of a feature set in other areas of their service. That said, they do provide decent file syncing services. Users have the power to sync individual files and folders as they see fit selectively. Why would someone want to collaborate with others on their encrypted file backups, anyway?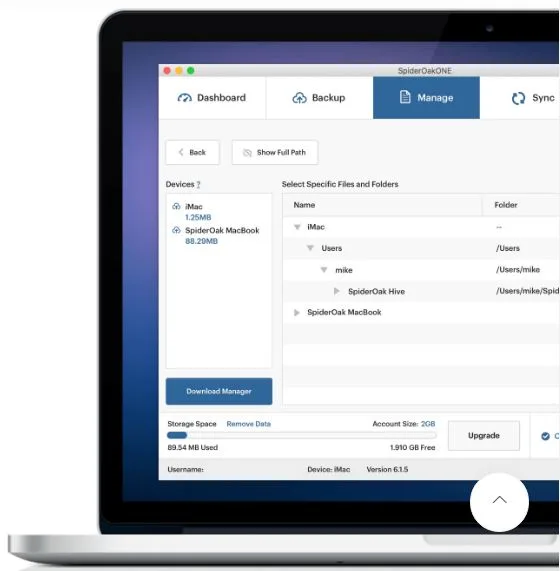 Last but not least…
It's worth noting that subscribers to get access to round the clock customer support. And though the customer support is available 24/7, it goes by email, which I don't like. Instead, I usually prefer a live chat feature on a website, and if that's not available, I prefer a phone number (though we all hate waiting in the support queue and listening to awful music). Unfortunately, SpiderOak One doesn't have a live chat feature or a phone number listed.
Nevertheless, their knowledge base caught me by surprise. It shows step by step how to use just about every feature of their product. The website is clean, attractive, and easy to navigate. I think most people could answer their questions in the knowledgebase without ever having to go through the painful hassle of contacting a support department.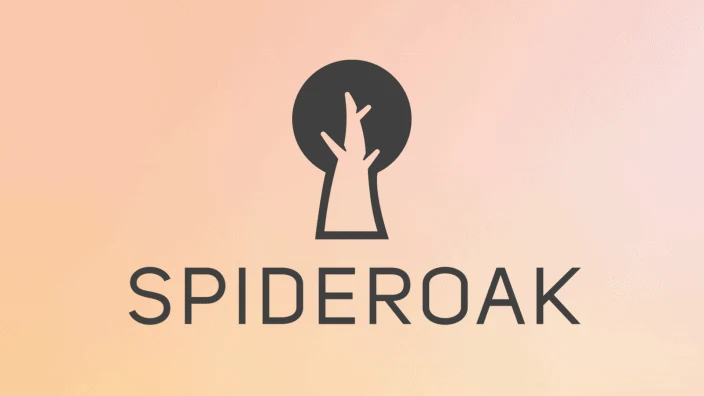 Security
Regarding security, SpiderOak One is among the best services in the industry. You see, many of their competitors will encrypt data as it is in transit to their servers via SSL/TLS (or other similar encryption methods). But once data reaches their servers, the data is decrypted and then encrypted once more with an encryption key controlled by the provider.
In these instances, it becomes possible for the service to decrypt and read user data. Furthermore, a hacker or wiretapping governmental agency to get their hands on the key and read your data, too. However, SpiderOak One doesn't use these flawed encryption techniques.
Instead, they use a type of security known as zero-knowledge or client-side encryption. As the name suggests, there's absolutely nothing they can do to read user data since they don't have the encryption key, which also makes it impossible for hackers, thieves, disgruntled employees, and the NSA to read your data, too.
Before data is ever sent to their servers, it is first encrypted on the user's local machine. Then the user can download the encrypted format of their data, and the encryption is used for local decryption. Basically, a user's data is protected 100% end-to-end, but there is a downside. Client-side encryption tacks on a significant amount of overhead, which makes the file transfer process much slower than a service that doesn't use local encryption.
But if you're a security and privacy nut (as I am), there's no substitute for local encryption.
Speed
Perhaps one of the most significant problems with SpiderOak One is its speed. Even though they have a fast network and fast storage servers, no one guarantees you a lightning fast user experience. In fact, you'll find that a lot of other cloud backup and storage providers are much quicker than SpiderOak One.
Because they are a zero-knowledge service, all data needs to be encrypted before it can ever leave your local computer. And the encryption process imposes some incredibly heavy demands on your computer. Even with one of the latest and greatest processors, you'll find that file transfers take exponentially greater amounts of time than with a service that only encrypts data during transport.
I tested uploading a 135MB video file, and I discovered that the total estimated transfer time was close to three and a half hours. However, note that I use a slightly slow 5Mbps ADSL Internet connection. But even if you have a 1Gb connection (such as Google Fiber), you'll still notice that SpiderOak is slower than other services – it's just a natural trade-off. Extremely strong security comes with the drawback of a slower service.
I shudder to think how long a file transfer would take if I tried to backup up all of my music, photos, videos, and personal documents in one go. Because of the speed issue (especially on slow Internet connections), it becomes necessary to keep large file transfers running in the background for extended periods of time.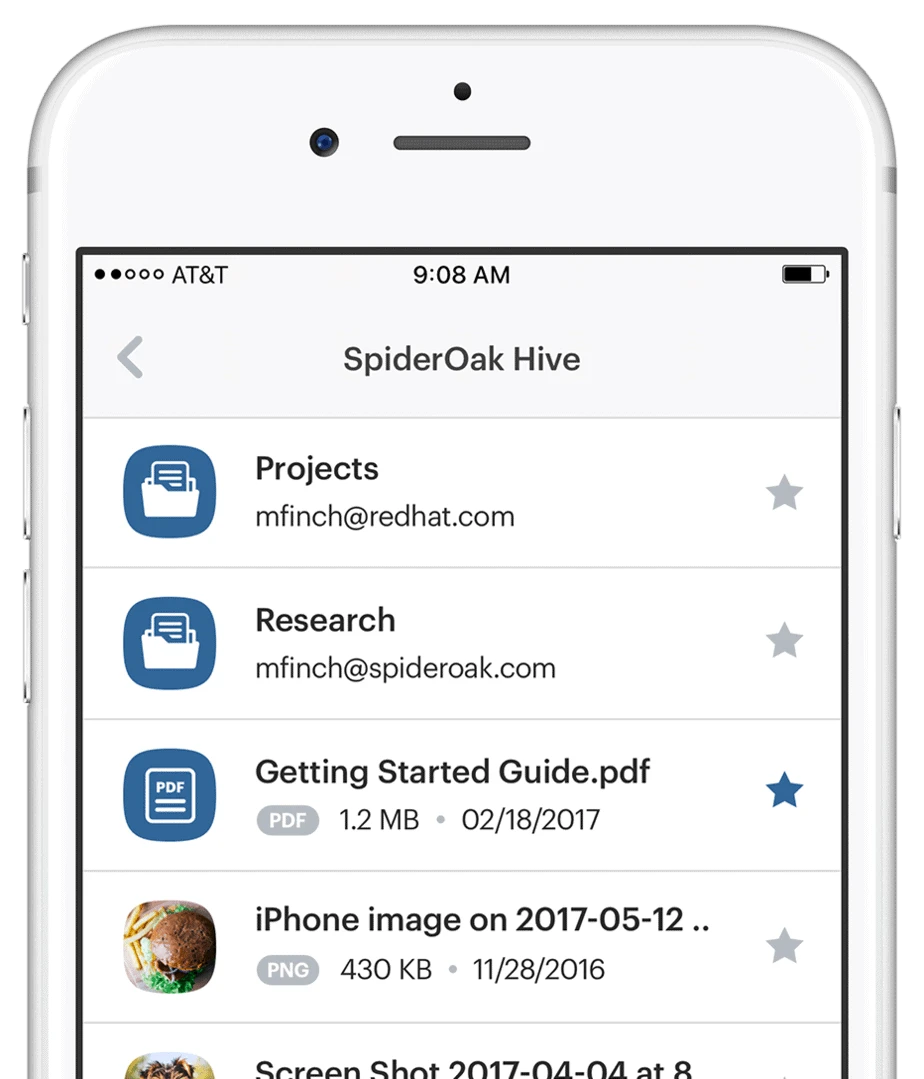 Final Thoughts
If you have a slow Internet connection, SpiderOak One might not be the right option for you. You don't have to encrypt every file locally. However, I'd highly recommend doing so. Not unless it's something unimportant like a folder of desktop wallpapers. Unfortunately for users who opt for local encryption, there's just an inherent tradeoff between speed and security. I would, however, recommend them as a much better alternative to Dropbox, which is so rife with security problems that Edward Snowden recommended abstaining from using their service.
I'd also like to add that I view SpiderOak One as a quality online backup provider. Trust me; there are probably cheaper options. However, many of the more affordable services lack strong security or the feature set included with SpiderOak One. Also, I wasn't too happy with their $7.00 per month plan, because it only provides $30GB of storage space.
Pragmatically, I think most users would need the $12.00 plan for an entire terabyte. This pricing model is an obvious and irritating attempt to upsell customers. That is, it's just a marketing ploy. I don't like services that try to game their pricing model to trick users into spending more money. But all in all, I was delighted with SpiderOak One and think they're a great alternative option for cloud backups.