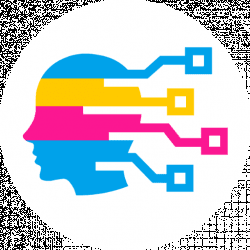 Latest posts by Digital Guyde Team
(see all)
Have you ever wanted to setup your own personalized Linux HTPC, but didn't want to spend hours at the terminal prompt running tedious commands? Perhaps you, like so many others, felt intimidated by the BASH shell.
I know I've had times when I wanted to pull my hair out because I was chasing a package dependency issue through the command line. Fortunately, there is a tool designed to drastically reduce the complexity, time, and frustration of setting up your own Linux HTPC, and it's called Atomic Toolkit.
Please note that it's proper capitalization is AtoMiC Toolkit, but for the purposes of this article, it will simply be referred to as "Atomic Toolkit," because it's much easier to read. Atomic Toolkit was designed to automate your media center, and it's available exclusively on Ubuntu systems (including Kubuntu, Xubuntu, Lubuntu, and Ubuntu server). After a ridiculously short install procedure, Atomic Toolkit provides access to a long list of software packages that would otherwise have to be manually installed one at a time via the shell.
When running Atomic Toolkit, you will be presented with a screen that looks fairly similar to a BIOS screen, and from this menu, you can easily manage a range of HTPC software packages. If you decide to install a software package, simply hit your "enter" key, and Atomic Toolkit will take over an automatically take care of the installation procedure for you. All you have to do is babysit the installation! Let's take a closer look at the best software packages Atomic Toolkit manages.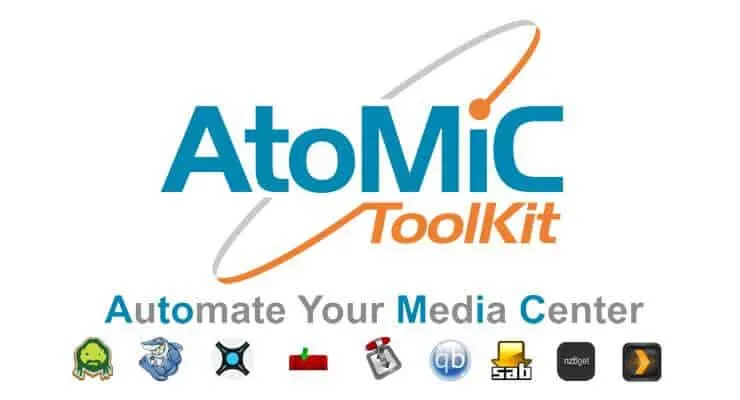 General Features
Before taking a look at the Sick Toolkits, I wanted to point out that the Atomic Toolkit provides access to a variety of forks of software that more or less have the same goal: to provide you with a way to identify, find, and download the entertainment media of your heart's desire.
In fact, many of the Sick packages are really forks of the same product, and other packages mimic the features provided by the Sick packages. However, I would encourage you to try out more than one and get a feel for them before deciding which one to use indefinitely.
Sick Toolkits
The first packages that Atomic Toolkit manages are a range of products all prefaced with the word "sick." Sick Beard, SickRage, and SickGear are all similar media software that enable different functionality. They each seem to provide the similar benefits of PVR features, though there are some differences among them; let's take a look at Sick Beard first.
Sick Beard adds PVR, or Personal Video Recorder, functionality to your HTPC. It does have some Bittorrent support, and serves as a way for you to collect all the latest live TV episodes and series content in one go. One feature I particularly adore is the automated episode download feature.
Basically, it will scan trusted content sources for newly posted content and download it automatically at your behest. Furthermore, it collects television metadata by connecting to a TVDB, and can even notify you of recent content and episode updates through Twitter, XBMC, Growl, Prowl, and more.
Next up is SickRage, which is essentially a fork of Sick Beard. By the way, who names these things? Similarly to Sick Beard, SickRage will automatically download your favorite content and store it in your library. It too makes use of The TVDB and TVRage. Overall, it seems to have a longer list of features than Sick Beard, including the following:
Failed download handling improvements
Real SSL certificate validation
Multi-episode torrent and NZB support
Updates Kodi Library
DVD Order numbering or Air-By-Date numbering
Identifies episodes you are missing in your collection
Episode status management
SickGear is the third similar tool provided by the Atomic Toolkit. I'd recommend trying each one out to see which fork you like the best. This fork, however, does have it's own personality and comes with episode download status types such as wanted, ignored, skipped, snatched, failed, downloaded, and archived. Furthermore, it comes with video quality presets designed to optimize picture quality as much as possible.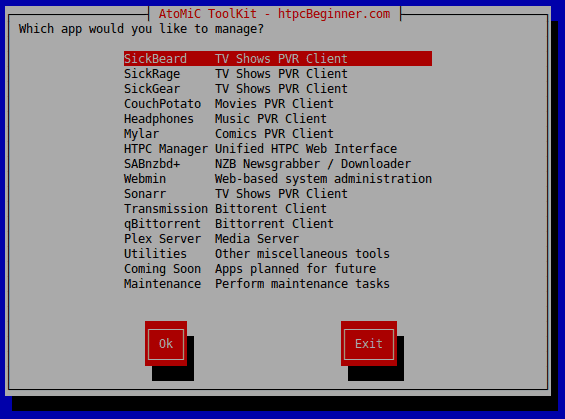 CouchPotato
What the previous tools were for individual episodes, series, and live television, CouchPotato is for movies. CouchPotato is similarly an automated tool, designed to help you find the highest quality videos as soon as they are accessible online.
Plus, I was happy to see that it has an extension for Firefox, Chrome, and Safari (though I prefer Firefox on Linux). The interface is fairly aesthetically pleasing, though I do find some of the configuration screens in the GUI to be a bit too busy.
Still, I suppose I shouldn't look a gift horse in the mouth, because it does come with an overflowing cornucopia of settings to fine-tune the download process. Interestingly enough, the developers of this tool seem to have partnered with VPN and Usenet providers, and sell subscriptions on their site as well. Plus, it's a highly modular software product that features a variety of downloaders, including uTorrent, NZBGet, NZBVortex, a BitTorrent, Transmission, rTorrent, Deluge, and Synology.
BitTorrent WebUI's
Transmission is a Bittorrent client that has been included on Linux distributions by default for years. It isn't my favorite Bittorrent client by any means, especially considering that I have always favored Vuze and qBittorrent. However, I have used Transmission frequently and think it's a wonderful and reliable client. Fortunately, to make your life easier, Atomic Toolkit includes an easy automated way to install the Transmission client's WebUI, which makes it easier to manage and track downloads.
Furthermore, I was pleased to see that Atomic Toolkit also includes the WebUI for qBittorrent, which I tend to prefer. You can, of course, decide to use other Bittorrent clients other than qBittorrent or Transmission, but since most people have a web browser open on their computer the majority of the time, it just makes sense to take advantage of a user interface designed for your web browser.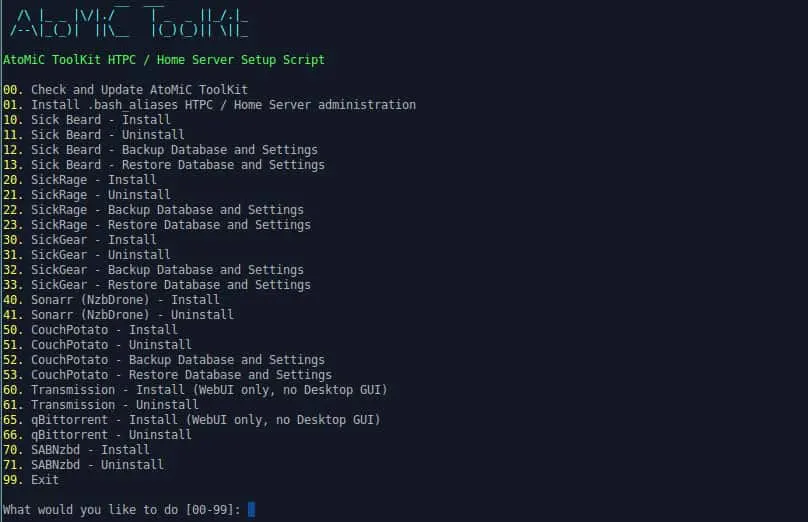 Mylar
Of all the home entertainment software included in Atomic Toolkit, I find Mylar to be the most eccentric oddity. When I think of digital home entertainment, I think of movies, TV shows, and music. But Mylar doesn't facilitate any of these types of media. Instead, Mylar is a tool intended for the type of person who loves to geek out over comic books.
Believe it or not, Mylar is a comic book downloader that utilizes NZBGet or SABnzbd to automatically curate your favorite graphic novels.
Additional Packages
There are, of course, other packages included with Atomic Toolkit that weren't already mentioned. I simply didn't want to go into great detail with competing media downloaders since they all provide the same core function – through their features do vary slightly. So, be aware that Atomic Toolkit also provides access to the following additional packages:
Sonarr
SABnzbd
Headphones
HTPC Manager
Webmin
Plex
Final Thoughts
It is possible to download these packages individually, but Atomic Toolkit makes the process unfathomably quicker and easier. If you're a media junkie, then taking full advantage of Atomic Toolkit is a must. I must admit, Atomic Toolkit doesn't include every desirable package under the sun, but it does provide a robust group of core HTPC applications that should satisfy the majority of your needs, and quickly, too.
If you want to try out Atomic Toolkit but don't have Ubuntu, then I'd recommend considering either a dual-boot setup or a virtualization setup. If you run Mac or Windows, you can easily take advantage of VMWare or Bootcamp to setup an Ubuntu environment on your system. After you've setup an Ubuntu environment and running an update, the next thing you should do to start easily and automatically building your HTPC is to download Atomic Toolkit!
Further Reads