Last Updated on
Our modern society is addicted to the Internet – there are no two ways about it. Our lives are dependent on the Internet more today than ever before. Between smartphones, desktops, laptops, and other mobile devices, it seems that we interact with the Internet in some way every hour of every day. That is unless we don't have Internet access.
Losing Internet access or only having bad connectivity can be an anxiety-inducing experience. That can make us feel closed off to the world. There are fair scenarios where only one device has an Internet connection, and others in the area don't!
Also, places like airports and hotels frequently charge for Internet usage on a per device basis. Wouldn't it be great if you could share the Internet connection among all the devices in your area?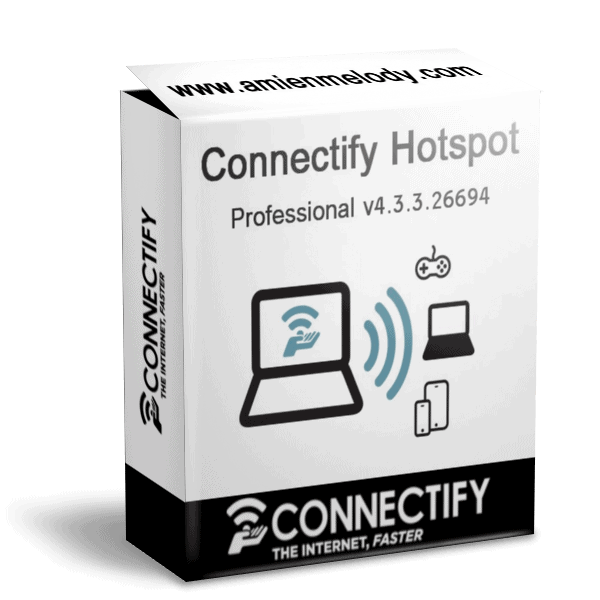 Well, believe it or not, you can. It does depend on what operating system you're using, but most devices have the ability to act as a wireless access point. But there's just one problem. Wireless settings are filled with so much jargon it seems like you'd need an advanced degree to configure your device correctly.
There is certainly a gap between the average user's knowledge of wireless technologies and the ease of configuration in the operating system software.
Fortunately, Connectify Hotspot identified that gap and sought to bridge it. So, let's take a closer look at their service, starting with pricing.
Pricing
Connectify Hotspot has an interesting pricing model, to say the least. They have several different packages, and each package has the option to purchase a lifetime version or the current years' version. It seems that they don't supply free and regular updates to their customers, which disappoints me. Just about every other software solution under the sun will give their users free updates.
First off is Connectify Hotspot Pro, which costs $19.98  for the 2016 version and $34.98 for the Lifetime version.
The upgraded service, named 'Max,' costs $34.98 for the 2016 version and $49.98 for the Lifetime version.
Lastly, you can purchase the full-featured Max-Lifetime bundle for three PCs at the one-time price of $59.98.
I should also point out that there isn't a free and watered-down version of their service. However, they do provide a generous 30-day money back guarantee, so you'll have ample time to test out their service.
Features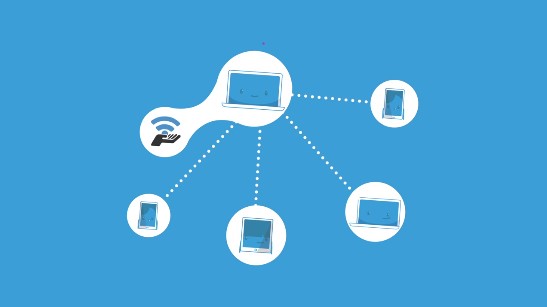 You must understand that Connectify doesn't support all the major operating systems. In fact, it only supports Windows 7, 8, 10, and Server 2012 – but I need to make an important distinction. The software to share the Internet connection can only run on Windows. That is to say that any other operating system can connect to the shared network interface.
Also, you'll be able to share any type of Internet connection you want, as long as you don't use the basic version. In addition to sharing wired Ethernet connections, you can even share 3G and 4G connections (available with the Pro and Max versions).
This can help you out of a bind where the only connection you have is through your smartphone. Another feature that I thought was really cool is the ability to track individual devices.
For instance, you can see which devices (and what type of device) has connected to your shared Internet connection. Furthermore, the software can even track how much bandwidth each individual device has used, and plot that data on a graph in real time.
That way you can see if a single device is hogging all the shared bandwidth. It can even measure the total amount of data that a device has sent – both upload and download – since the connection began.
I also thought it was pretty interesting that Connectify included 'file flinging' features. What the heck is file flinging, you ask? I was confused at first too, but it seems to just be a simple file sharing utility.
Since all of the connected devices are sharing the same Internet connection, it's like they are on the same LAN (Local Area Network). As such, the developers thought it would make a lot of sense to include basic file transfer mechanisms. In fact, you don't even need an Internet connection to share data among your various devices.
Advanced Features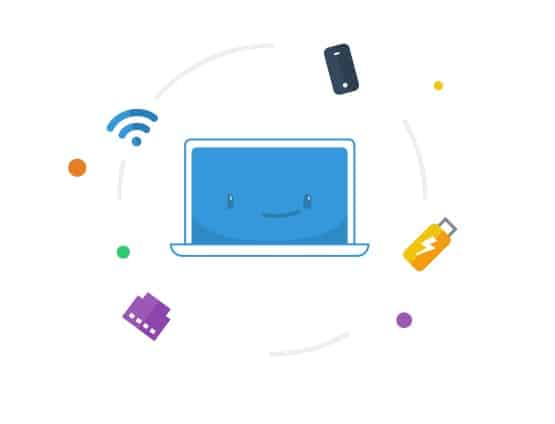 The basic version isn't full-featured, and you'll have to upgrade to a more expensive service for higher quality features. As I mentioned, the ability to share 3G and 4G connections are only available with the Pro and Max plans. In addition, you can't create custom names for the SSID of your shared wireless network unless you upgrade to one of these versions, either.
Furthermore, you'll need the Mac version if you want to turn your wireless device into a repeater. For those of you who didn't know, a repeater can amplify the signal of an existing wireless device, which will effectively boost its range.
And network geeks will love the fact that the Mac version has a Bridging mode. This mode allows devices that are sharing the Internet connection to communicate with other local devices as though they were connected to the same LAN.
With the Mac version, you can even custom configure your very own DHCP and IP addressing settings for connected clients.
Security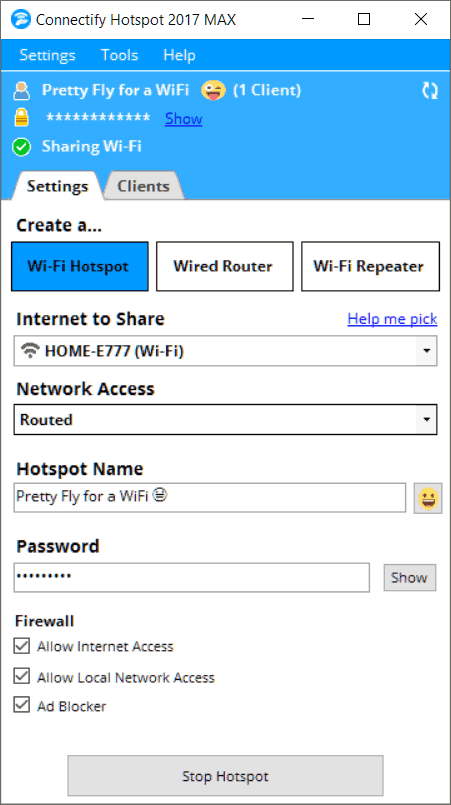 As you may already know, one of the biggest challenges in the wireless world is security. If you fail to secure your wireless access point or wireless connection with the correct security algorithm, hackers can crack your network password. In addition, they can launch attacks against your computer or mobile device.
While this may sound like something out of the movies, the ugly truth is that it happens hundreds (if not thousands) of times every day around the world.
WEP and WPA are flawed wireless security technologies, so you should even refrain from using them on the wireless router in your home. Fortunately, Connectify Hotspot has fantastic security and uses one of the strongest algorithms, which is WPA2-Personal (AES) encryption.
Final Thoughts
If you're in a bind and need to share your Internet connection with multiple devices, then Connectify Hotspot is the perfect solution. However, I'm not completely sold on the value of their product. For my own personal use, I don't think I could justify spending close to $50 bucks for all of its features. This no matter how cool they may be.
The fact remains that it's an extreme rarity for me not to have an Internet connection. Nevertheless, I think this product holds immense value, especially for people who travel a lot. If you find yourself in areas that charge for Wi-Fi or lock down connections with individual user accounts – such as airports and hotels – then the price of this tool is easily justifiable.
Finally, I'd like to say that on the whole, I'm rather impressed with Connectify. They make some truly innovative tools, their software is stable, and their pricing isn't obscene.
They even have a tool that helps you bundle multiple weak Internet connections into a single strong Internet connection. The tool's name is Speedy. I don't see any personal use in using Connectify products at the moment; but if you're in a bind with limited Internet access, they're a godsend.