(Last Updated On: August 19, 2018)
There was a time when Apple was thought to be the most valuable brand name in the world, and for good reason. Apple helped shaped the software industry through years of cut-throat and highly competitive competition with Microsoft. Most recently, Apple's greatest success revolves around the iPhone, but their Mac computer lines have gathered masses of devout and zealous followers who think Mac OSX is superior to Windows.
And in many rights, Mac OSX is higher quality than Windows software. Most of the coding is proprietary, and the software performs better than Windows in several key areas. It's more secure, it crashes less, and it even looks sleeker. What's not to love? Well, there is one problem that could be seen as the Achilles' Heel of Mac systems: software availability.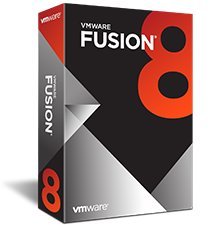 Since Microsoft Windows systems are much more numerous and prevalent than Mac systems, more software is written for Windows computers. There just aren't as many third-party applications written for Mac OSX. And if you've got a Mac computer, that means you could be missing out on the latest applications, security tools, and video games…unless you use virtualization technologies, of course.
It stinks when developers fail to port a great application over to the Mac world, but you can run virtual instances of code framework to virtualize a Windows system on your Mac. Today we're going to be looking at two of the most popular solutions: VMWare Fusion and Parallels Desktop. Before we begin, however, I do have one disclaimer to make. I am a huge fan of VMWare, and have been using their virtualization software for years.
Having said that, I will be as objective as possible to remove any bias. With that out of the way, let's take a closer look at these two cool virtualization solutions.
Pricing
Parallel's pricing model is rather complex. The price you pay is determined by a variety of features including the following:
Which version you want (Desktop 12 for Mac, Desktop 12 Pro for Mac, or Business Edition)
Whether you want a new license or you want to upgrade an existing license
Whether you want a 1-year subscription or a 1-time purchase
Though that may seem pretty contrived, I actually like how flexible it is for several reasons. First of all, you have a smattering of package options to choose from, so you can get exactly what you need without overpaying for extra features you don't want. In addition, users who have an existing license don't have to pay the entire cost of a new license when upgrading to a new plan.
The following outlines the pricing model for the Parallels Desktop 12 for Mac package:
1 Time Purchase
1 Computer, new license – $79.99
2 Computers, new license – $159.98
3 Computers, new license – $239.97
4 Computers, new license – $319.96
5 Computers, new license, 5 computers – $399.95
1 Year Subscription
1 Computer, new license, 1 computer – $69.99
2 Computers, new license, 2 computers – $139.98
3 Computers, new license, 3 computers – $209.97
4 Computers, new license, 4 computers – $279.96
5 Computers new license, 5 computers – $349.95
Upgrade from 10 or 11 – $49.99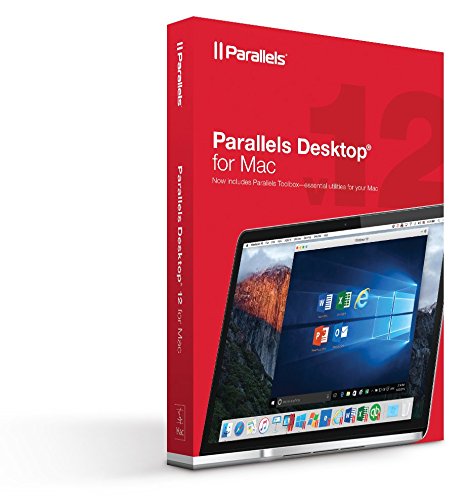 The Pro and Business versions have similar pricing plans, though they are a bit more expensive. I would also like to draw your attention to the price difference between the one-time purchase and the one-year subscription. You're really only saving about $10 per computer when you opt for the one-year subscription as opposed to the one-time purchase. As such, I'm not sure I see a lot of value in the subscription option, especially if you're only looking for a single license.
Why not spend an extra $10 and own the software for life? VMWare Fusion uses an eerily similar pricing model based on mostly the same factors. The largest difference is that VMWare doesn't offer a subscription model, and instead only charges for licenses of their software. And I think they're pretty price competitive, too. VMWare's pricing model for VMWare Fusion 8.5 is as follows:
1 Time Purchase
1 Computer, new license – $79.99
2 Computers, new license – $159.98
3 Computers, new license – $239.97
4 Computers, new license- $319.96
5 Computers, new license, 5 computers – $399.95
Upgrade from 4.5 and higher – $49.99
As you can see, the price to purchase either provider's virtualization software is exactly the same. I thought that was pretty odd since you usually see minute differences in two providers' prices as a way to undercut the competition. So, I'll sum up the pricing war in two simple thoughts. First of all, don't get the subscription version of Parallels Desktop since it doesn't really save you that much money. Second of all, if you're going to purchase the software, the cost is exactly the same. At least for now…
Parallels Desktop 12 Features
Parallels Desktop has a lot of great features, though its main purpose is to run applications as though they are running in their native environment. For instance, you can run Windows apps on a Mac without needing to reboot your computer or dual boot. The latest version does have support for Windows 10 and Mac OS Sierra, so you're covered with the latest and greatest operating systems.
Interestingly enough, Desktop 12 comes with 1 year of online backups, though the cap is at 500GB. Still, it's better than nothing if you're not already using a cloud backup service. There are some limitations on the virtual machines, but I didn't think they were really encumbering. Virtual machines are limited to 8GB of virtual RAM and 4 virtual CPUs for each VM.
Plus, it's worth taking a moment to talk about virtual machine creation. To create a virtual Windows instance, you'll have to essentially "copy" a Windows license. If you don't have one already, then you'll need to obtain a new Windows OS (legally), and then create a virtual machine of that installation in Parallels Desktop. Alternatively, you can create a virtual machine instance from a current installation, which is what I would recommend if the option is available to you.
That way, all of your software, settings, user accounts, and system files will be exactly the same. Doing so will allow you to essentially import all of your data into a virtual machine instance running on your Mac. And by using cloud storage, file syncing, or a shared local volume (on the local disk, and shared NAS partition, etc.), you'll easily be able to access data on both operating systems.
However, that's really all there is to the basic version. The Pro and Business versions have a lot more features, but they cost a lot more money, too. If you're just trying to run a few Windows applications on Mac, I'd recommend going for the basic version. Just so you know, advanced features in the Pro and Business versions include the following:
Enhanced virtual hardware (64GB vRAM and 16 vCPUs)
Support for Microsoft Visual Studio
Advanced networking features
Business cloud services support and premium 24/7 technical support
Enhanced management interfaces for administrators in business environments
Unified volume license key
Also, I'd like to mention that Parallels Desktop 12 doesn't only provide Windows support. It also supports a variety of Linux distributions including CentOS, Ubuntu, Fedora, and Debian distributions. It's also worth noting that a lot of traditional Mac users think the Parallels interface is more Mac friendly than the Fusion interface, which is little more streamlined and minimalistic.
VMWare Fusion 8.5 Features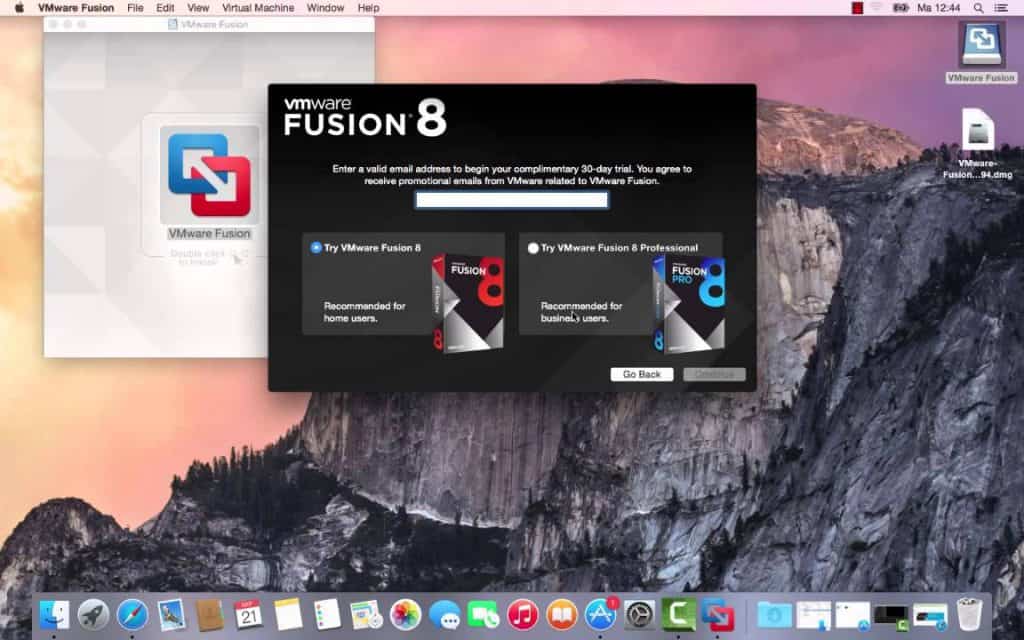 Likewise, VMWare Fusion 8.5 also has the ability run a smattering of Linux virtual machines in addition to versions of Windows. And like Parallels Desktop 12, you can run Windows applications side by side applications running on Mac OSX. It is, of course, designed to support Windows 10 and OS Sierra.
However, instead of bundling cloud storage in with Fusion, VMWare is currently offering a promotion that includes a McAfee Antivirus Plus 90-day subscription. I think that's awesome, because Mac users need antivirus as much as Windows users these days, and a lot of people forgo any antivirus protection at all.
In addition, after you have registered your license, you get 18 months of free email support in English. However, it's only email-based support, but I suppose it's better than nothing. And as far as support is concerned, there are plenty of how-to videos that show you how to make common configurations and perform a little bit of troubleshooting to get your software tweaked, personalized, and configured just how you want it.
Additionally, other notable features include the following:
Support for Windows Server 2016
Tabbed views
Support for Siri
0 users don't need to pay to upgrade to 8.5
Final Thoughts
This comparison was very close since both VMWare and Parallels Desktop 12 are extremely similar. And since the pricing models are nearly identical, you can't use cost as a way to justify one solution's value over the other. In the end, I think I have to go with VMWare Fusion over Parallels Desktop 12.
Believe it or not, Fusion is the more popular solution over Parallels. Despite Mac users' affinity for the Parallels user interface, more people still opt for the VMWare solution. And many users feel that VMWare's upgrade policy is less convoluted than Parallel's, especially since 8.0 users don't have to pay for an upgrade.
Lastly, as always, I highly advise you to take advantage of the free trial if you're still undecided. VMWare has been a leader in the virtualization industry for years, and have a long history of providing stable and cutting-edge virtualization technologies with innovative features. That said, if you're a born and bred Mac user, you may prefer Parallels since it has a sleeker and more Mac-like interface.