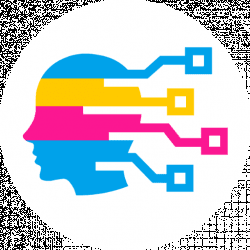 Latest posts by Digital Guyde Team
(see all)
VyprVPN, which offers quality VPN connections, is different from other VPN providers in many ways. They have some unique features that bolster security more than their competition, and they have an interesting pricing model. Whether you are simply looking for a way to keep governmental agencies and hackers from snooping around your personal data or you simply want a cost-effective way to access geo-restricted content, VyprVPN is a solid choice.
We've run a speed test to gauge the quality of their server connections, but first, let's take a look at the features that differentiate VyprVPN from other services.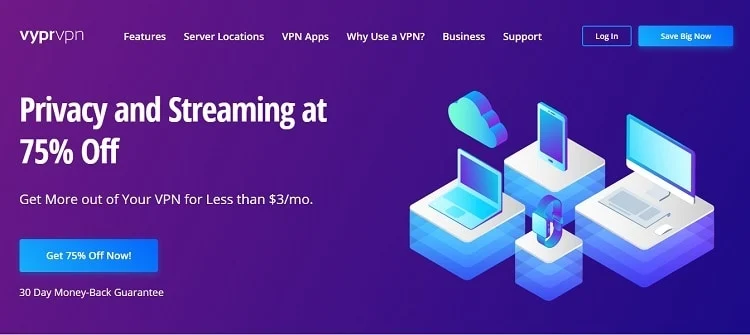 Features of VyprVPN
For starters, VyprVPN has a strong global presence. Right now they have about 700+ servers in 50 countries, and they are always adding servers to their network. Servers in 50 countries aren't phenomenal, but it isn't bad, either – meaning that they are average in terms of the number of countries that they provide connections to.
Being that they have servers in all the major geographic regions, they are a good fit for users who want to unblock geo-restricted content. UPDATE: They now boast 63 countries!
Users should also note that they are not based in the US. Their parent company, Golden Frog, is based in Switzerland, so even the most paranoid users won't have to worry about interference or coercion from the NSA.
Another great thing about their service is that they offer a multitude of extra features to enhance security. Apart from the strongest encryption algorithms including OpenVPN and L2TP/IPsec, they also provide an excellent NAT firewall feature for an extra layer of protection.
And their software was designed to increase security, as well. Not only do they have a VPN kill-switch mechanism to protect downloads in the event of tunnel failure, but they also include the ability to route desired traffic over the VPN tunnel. This feature makes their service very robust and flexible, giving users a high amount of control over which applications actually send data over the VPN.
Furthermore, users will love the fact that they offer a free trial – something that most other services lack. This gives users time to test their service risk-free, which is a huge benefit for people who want to test their service with a specific geo-restricted streaming content provider like Netflix, Hulu, Spotify, Pandora, and other services that have been known to block VPN providers' IP addresses.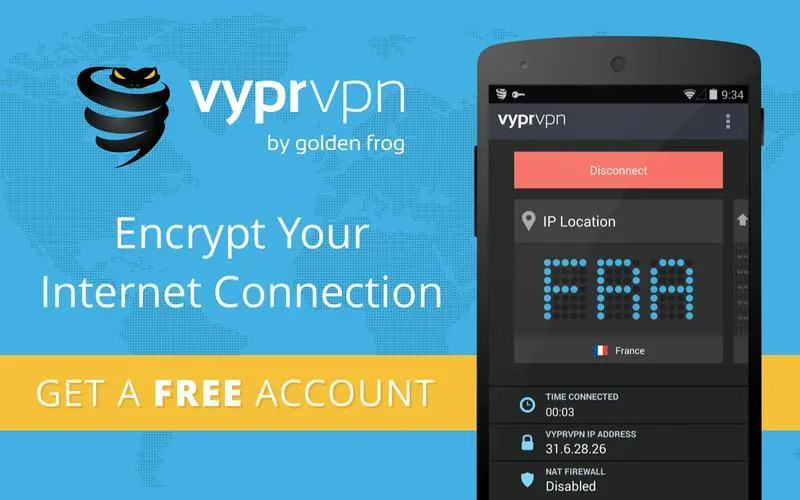 And believe it or not, they don't rent hardware or servers like some of their competitors. Instead, they manage a highly qualified in-house I.T. team to run their own data centers, cutting out any third parties that might be involved in the management of their service. Not only does this help them deliver higher quality service, but it also enhances security.
However, the free trial has a couple of drawbacks. Firstly, because they offer a free trial, they don't have a money back guarantee. In addition, the free trial is really only a way to test their service. It isn't feasible for most users to use the free trial indefinitely since it has a 3-day limit, whereas before it wasn't encumbered by time constraints. But still, it's a great way to try out their service.
Additional features of their service include unlimited data usage for paid users and 5 simultaneous connections per account with their premier package. Unfortunately, the pro version of their service only allows up to 3 simultaneous connections per account, and the basic plan only allows 2 simultaneous connections.
VyprVPN Pros
Free trial available (though it does have monthly data limits)
Based in Switzerland, so they are free from NSA interference
Ancillary security features such as a NAT firewall
Includes a VPN kill-switch
Per-application tunnel routing features
VyprVPN owns and operates all of its hardware and servers
VyprVPN Cons
No money back guarantee since they provide a free trial
The basic package is awful – it only allows 2 simultaneous connections and PPTP connections
The free trial requires payment card information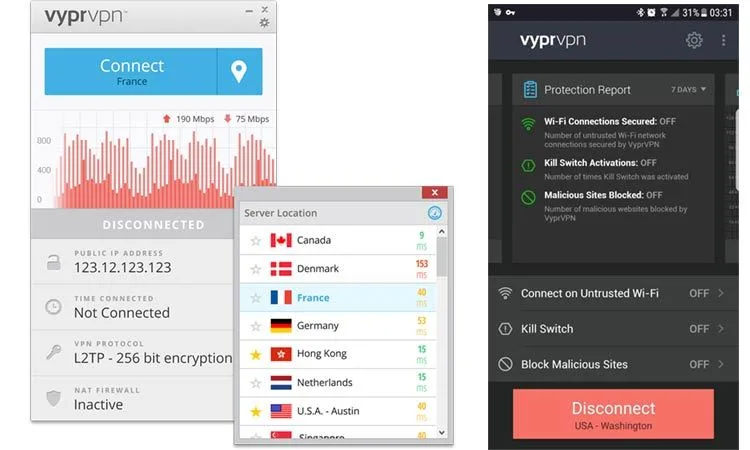 VyprVPN Speed Test
To measure the speed of VyprVPN's connections, I ran a standard speed test and also pinged Google's DNS servers to measure latency. Also, be aware that I am on an ADSL Internet connection with 5Mbps download and theoretical speed of 1Mbps upload. And lastly, note that I always run these tests by connecting to the same geographic region to ensure that we aren't comparing apples to oranges (Hong Kong for these examples).
The results of the VyprVPN speed test are as follows:
Download speed: 4.78Mbps
Upload speed: 0.92 Mbps
Speed-test server ping: 66ms
Google DNS ping: approximately 108ms
Compared to the other services I have tested, VyprVPN did pretty darn well. Though they weren't the fastest, they were pretty close. The majority of other services I have tested have slower download and upload speeds, and their latency was more than favorable.
Plans & Pricing
As mentioned previously, VyprVPN takes a different approach to their pricing model. Instead of simply discounting the monthly rate with longer-term subscriptions, they offer different packages that offer varying levels of security. First, let's take a look at the cost of each package:
In addition, each package has varying levels of features as follows:
Basic Package
2 simultaneous connections
Only allows PPTP connections
Pro Package
3 simultaneous connections
NAT firewall
PPTP, OpenVPN, L2TP/IPsec, and Chameleon VPN connections
Premier Package
5 simultaneous connections
NAT firewall
PPTP, OpenVPN, L2TP/IPsec, and Chameleon VPN connections

As you can plainly see from their tiered package and pricing model, most users should at least opt for the pro version of their service. The basic package only allows PPTP connections, which are inherently flawed and offer weak encryption. In fact, PPTP can be cracked so that third parties can read your data. As such, we recommend you avoid this type of connection at all costs.
Who Should Use VyprVPN
VyprVPN is so well-rounded that they are appropriate for a wide range of uses. This makes them a good option for international residents and travelers. With servers all over the globe in the most popular regions, they can help reduce latency by offering nearby servers to connect to. Furthermore, they are also a good alternative for users with a focus on unlocking geo-restricted content for two reasons.
Firstly, they have servers in just about any country you would want to connect to in order to gain access to blocked content. And secondly, they provide a free trial, allowing users to see if their favorite content service has blocked their IP addresses before committing to a subscription plan.
In addition, they are a perfect fit for users who want the strongest security available. Not only are they free from the involvement of the NSA because they are based in Switzerland, they have a smattering of extra security features such as a VPN kill-switch and NAT firewalls.
Final Thoughts on VypyVPN
Overall, I was very impressed with VyprVPN's service. Their speeds were more than reasonable. In fact, they were faster than most other providers I tested and the latency wasn't too high. However, realize that latency is ultimately determined by your geographic location as well as the location of the server you are connecting to.
In addition, I loved the feature-rich security mechanisms that VyprVPN provides. Few other services have all of these features.
In summary, VyprVPN offered fast and reliable server connections loaded with strong security features.
Pricing Update: VypyVPN is currently offering a special 25% off discount available here, which is quite generous relative to past deals.
How Does VyprVPN Compare to Others?