Read on our Veeam Review as we delve into this product, its features, and why you should purchase a license. We also look into worthwhile competitors and answer the questions you might have about Veeam and data loss protection as a whole.
It's no surprise that businesses are concerned about losing their data. After all, statistics show that 94 percent of businesses who suffered from disastrous data loss either do not reopen or shut their doors within two years. On top of that, one in every four PC users loses some form of data every year.
Regardless of whether you call it data protection, backup, disaster recovery, business continuity, data loss protection, or some other name, you can help mitigate the tremendous risks by getting a program like Veeam Backup and Replication.
What Is Veeam and What Does It Do?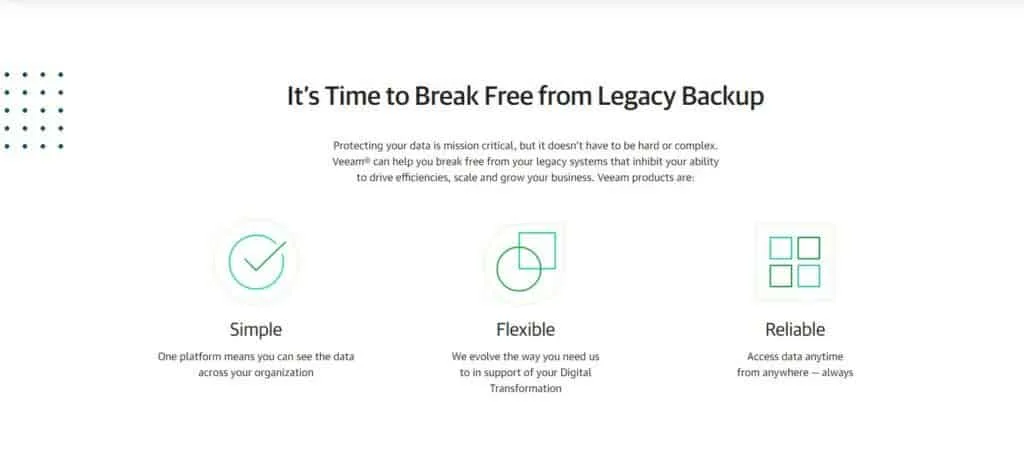 Veeam is a company that provides backup and recovery solutions to a wide range of organizations. Veeam's cloud data management platform helps protect your data, ensure data resiliency and recovery.
Backup and Recovery
If your organization is having problems with slow backups and recovery processes that take up too much time, or if you don't even know if your data is safe and will be available in the event of a disaster, then it's time to get the Veeam Cloud Data Management Platform.
The platform allows you to:
Protect your business data no matter where it is stored, be it at your offices, on a virtual machine, or on the cloud.
Have a disaster recovery plan that works, and be able to verify your DR strategies.
Ensure high availability and instant recovery.
Protect every byte of data.
Veeam Backup and Replication
The company's premiere product is the Veeam Backup and Replication. You get reliable availability for all your workloads. You can protect your data continuously and be able to get access to your data if there is a disaster.
What can you do with Veeam Backup and Replication?
The main functionality of Veeam Backup and Replication is to ensure that all your files and data are safely backed up. It also ensures that everything is recoverable, whether you need your entire system recovered, or just up to a certain point in time.
You can also use this to automate various aspects of your disaster recovery plan. You can prepare and test your DR strategy and even orchestrate and simulate different disaster scenarios.
What's more, you have full access to the cloud. You can easily send backups to the cloud and recover your files from it as well. You can access the backups from anywhere and because you don't need to invest in a physical storage solution, you will be able to save on costs too.
But the biggest advantage of using Veeam Backup and Replication is how secure it is. You can check how secure your backups are and compliance to federal and industry regulations is easier.
Key Features
Four in one solution that gives you a centralized management module for your backups, replicas, snapshots, and continuous data protection.
Protect your most critical apps and sensitive data constantly
It is 20 times more cost-effective than other similar products
Ransomware protection
Provides you storage spaces on Azure Archive and AWS S3 Glacier.
Works with Oracle, NAS, and Microsoft SQL, which means that workloads for these platforms are instantly recoverable
Value-Added Solutions
Veeam also offers other services and products that can complement Veeam Backup and Replication. These include:
Veeam DR Pack: Helps you ensure that your virtual machines will be accessible when disaster strikes
Veeam Availability Suite: allows you to add monitoring and analytics to your backup and replication strategies
What You'd Like About Veeam Backup and Replication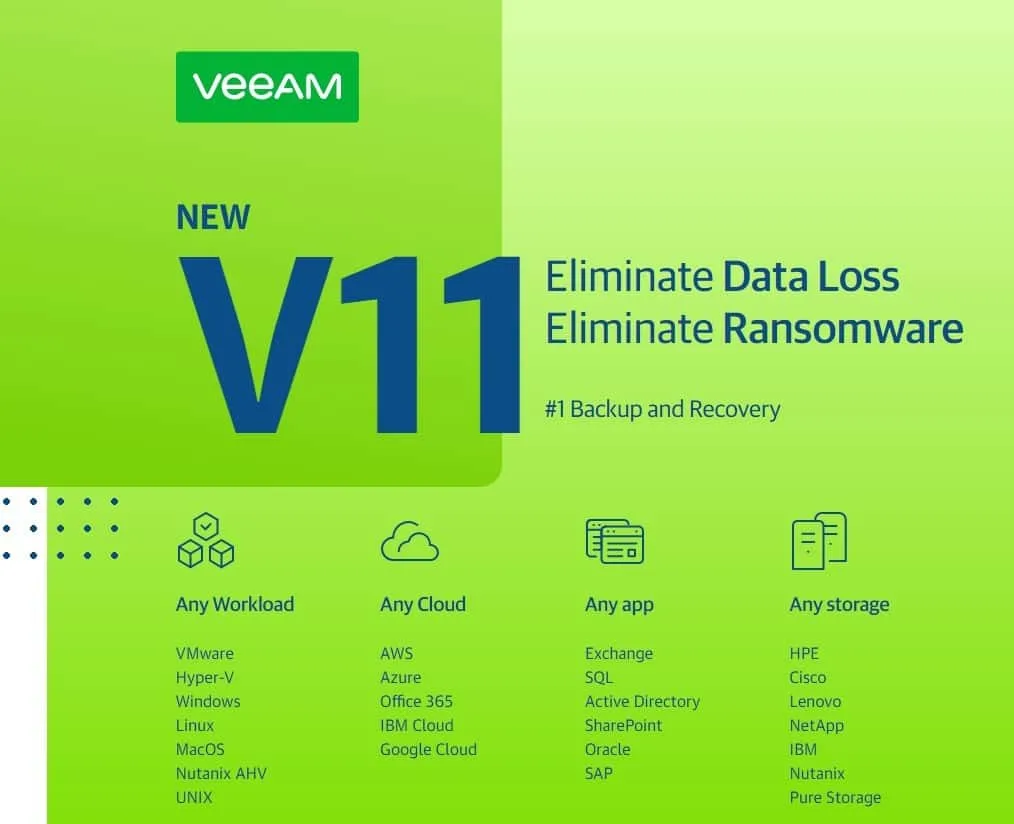 In a world where there are a lot of backup and disaster recovery solutions, it's quite amazing how Veeam is able to corner at least 83 percent of Fortune 500 companies. They have at least 400,000 customers around the world and that number is steadily growing.
Some of their notable clients include:
American Standard Brands
Hirslanden Private Hospital Group
MacLean-Fogg Company
National Bank of Abu Dhabi
Tata Global Beverages Limited
University of Florida
Vodafone
Welch's
Current customers are more likely to recommend this product to others, with a +75 National Promoter Score, which is 3.5 better than the average among all companies in the same industry providing the same service.
Gartner gives Veeam an overall score rating of 4.7, which makes it one of the top-notch and best-rating backup and replication tools available today.
Veeam makes backups, data recovery, data protection, and disaster resiliency very easy. You will work with a very easy-to-use platform that does backups really well. And if you have some problems, you can rely on excellent documentation for some help.
Veeam does backup and recovery really well.
Areas for Improvement
While current users of Veeam Backup and Replication like how it does backups and recovery, quite a few feel like the products' other features might be a little raw. However, Veeam has always been a company that offers backup services, so it's forgivable if they falter in other aspects.
The complaints are not deal breakers, however. Some of them are merely aesthetic, such as making the Web interface more visual, making it easier to use on the cloud, or having tighter integration with other solutions.
Other complaints are more administrative than the way the product works, such as being able to implement roles and duties wherein one user will be more accountable for backing up systems and serves, than others.
Other users also feel that the speed should be faster, as they note that Veeam tends to be slower when backing up and restoring your files, especially when compared to other similar services.
Probably the biggest thing about Veeam's products is that they can be very expensive for enterprise user. Because you are paying per server, per instance, or per workload, the cost of licensing can add up pretty quickly.
Pros
Excellent tool for backup and disaster recovery
The community edition is free and is ideal for small business to back up at most 10 virtual or onsite machines
Excellent protection against ransomware
Shines when it comes to virtualization backup
Cons
Might be more expensive than similar services
Minor improvements will do wonders for user experience
The user interface can be better and should be more intuitive
The Bottom Line on Veeam Backup and Replication
Veeam Backup and Replication does its job as a backup, replication, and disaster recovery software that can be used for both physical and virtual machines and servers. It supports software-defined storage, scalable backups, and keeps a working copy of physical and virtual servers.
It is not perfect, as it can prove to be more expensive than other similar products. However, with disaster recovery and business continuity as its main goals, the price is worth it.
Alternatives to Veeam Backup and Replication
Before you decide on Veeam Backup and Replication, you should do your due diligence and check out other similar products. This process will help you discover what features and functionalities are out there, and whether Veeam Backup and Replication is truly right for you.
Veritas Backup Exec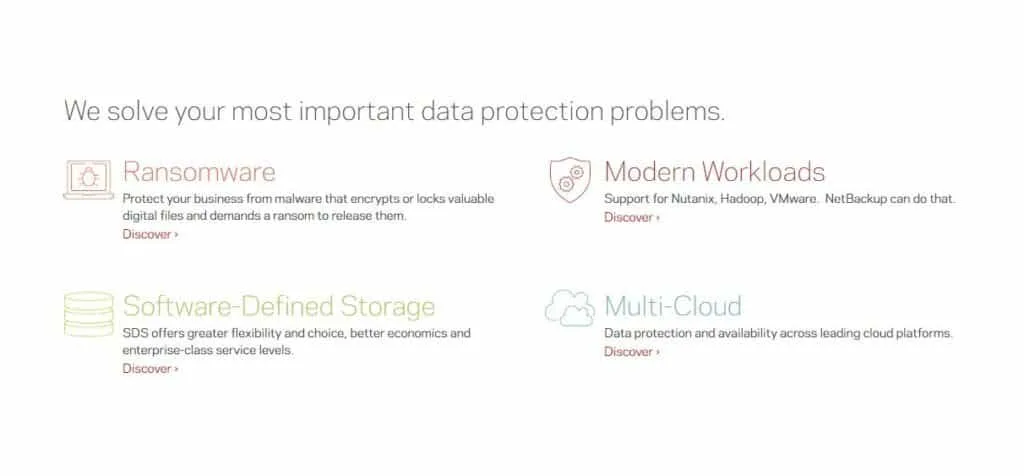 Veritas Backup Exec allows you to protect and recover your data no matter where you store it. The product is easy to use as you can manage every asset from one dashboard. You don't have to worry about getting different products for every point and you can set up your backups with a few mouse clicks.
What's more, this tool helps you track all your backups, recovery, and replication tasks. You will love how much time and resources you can save to deploy Veritas Backup Exec.
Veritas also protects your data on the cloud. You can easily deploy templates for Azure and AWS. You also have access to cloud connectors for major vendors, and even get an easy way to optimize storage and bandwidth using deduplication.
Disaster recovery is easy and fast. This tool will instantly recover all virtual machines and has ready integration with Azure Site Recovery.
What else can you expect from Veritas Backup Exec?
Protect your virtual workloads with incremental backups for your virtual machines. You can have all your virtual environments safe, while new VMs are automatically discovered and protected.
With Veritas, you are also protected from ransomware. What's more, this tool can make compliance a whole lot easier. You can also enjoy easy integrations with several software as service apps and workloads, including Google Cloud G Suite, Salesforce, and Office 365, among others. You can get instant recovery for various cloud-based assets while reporting is integrated.
How Veritas Backup Exec Compares with Veeam Backup and Replication?
While both products can do an excellent job at backup and recovery, Veeam's product does it a bit better when it comes to incremental backups, sending to the cloud, and has a better management dashboard.
Veeam also does a better job at snapshots and file compression. Customer support is also one of Veritas' weakest points, along with customer retention offers.
Pros
Simplified backup and recovery
Customizable views give you utmost visibility for your data
Cons
The user interface can be improved and made faster
Pricing might be a bit higher than other similar products
Less friendly to automation than Veeam
Support might need to improve
NAKIVO Backup & Replication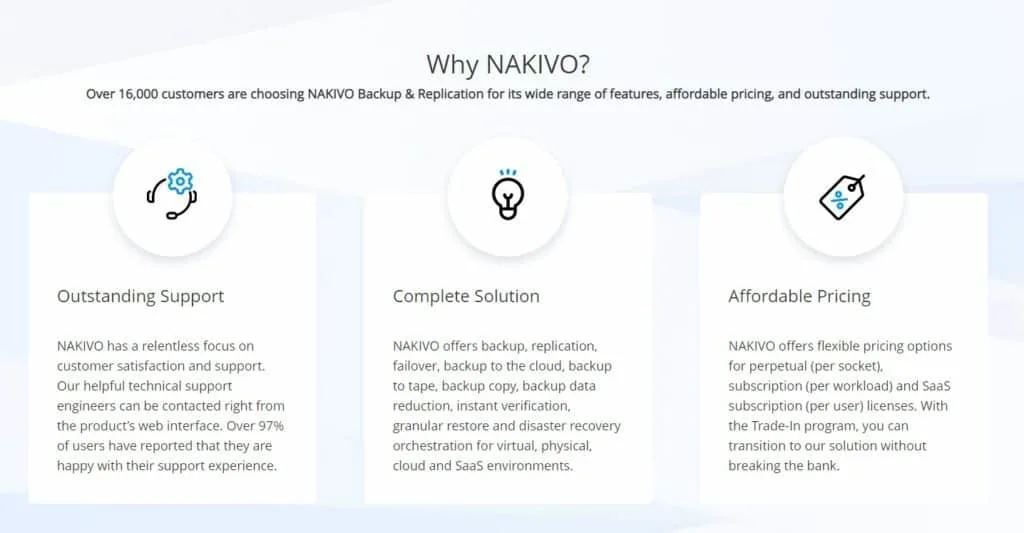 NAKIVO Backup & Replication protects your data by backing everything up and preventing data loss. You can use NAKIVO to upload and store your backups to the cloud or creating your own. NAKIVO also keeps everything secure.
NAKIVO has an easy-to-use interface for those who have experience with data protection and backup software. New users, however, might need to learn on their own as the interface does have some technical jargon that they might not understand.
The good news is that if they do have questions, it's easy enough to reach support on the NAKIVO website or call the hotline.
Features
NAKIVO gives you everything you might need when dealing with backup and data recovery, including cloud backups, failover, granular restore, backup copy, data reduction, verification, and others.
NAKIVO shines when it comes to backing up virtual machines and local backups. You can easily protect applications, files, company data, images, and other information. You can protect your Microsoft Office 365 files, allowing you to secure everything from our mailbox, OneDrive, Sharepoint Online, and other documents.
In short, this program can protect data no matter where they are at pricing that you will love.
Editions
When it comes to the editions, the Basic edition has very limited features, while the different tiers have different sets of features available to users.
Deployment
No matter which edition you choose, you can deploy NAKIVO on everything: Windows, Limus, NAS, Raspberry Pi. You can also deploy as an Amazon Machine Image or as a virtual appliance.
Data Protection
The Basic edition is enough if you're backing up virtual machines, as it offers application support and global deduplication of data.
If you do need to back a physical machine up, then consider getting a Pro or Pro Essentials plan, which gives you all the features of a Basic edition and physical machine backups, log truncation, data encryption, instant verification, and backups of Amazon EC2 instances.
If you need to send your backups to different cloud services such as Amazon S3 or Wasabi, you can get the Enterprise editions.
If you're using Microsoft 365, you should know that you will pay extra for backups for this platform.
| | | | | |
| --- | --- | --- | --- | --- |
| Product | Basic | Pro/ Pro Essentials | Enterprise/ Enterprise Essentials | Enterprise Plus |
| Application Support | Yes | Yes | Yes | Yes |
| Global Data Deduplication | Yes | Yes | Yes | Yes |
| VM Backup | Yes | Yes | Yes | Yes |
| Amazon EC2 Instance Backup | No | Yes | Yes | Yes |
| Backup Copy | No | Yes | Yes | Yes |
| Encryption in flight and at rest | No | Yes | Yes | Yes |
| Instant Verification | No | Yes | Yes | Yes |
| Log Truncation | No | Yes | Yes | Yes |
| Physical Machine Backup | No | Yes | Yes | Yes |
| Backup to Amazon S3 | No | No | Yes | Yes |
| Backup to Cloud | No | No | Yes | Yes |
| Backup to Wasabi | No | No | Yes | Yes |
| Deduplication Appliance Support | No | No | Yes | Yes |
| Native Backup to Tape | No | No | Yes | Yes |
| Policy-Based Backup | No | No | Yes | Yes |
| Backup for Oracle RMAN | No | No | No | Yes |
Data Recovery
The Basic edition only allows you to do a full VM recovery. All other editions allow you to do instant recovery on all assets you're protecting, including:
Virtual machines
Recovering files to source
Flash VM boot
Object recovery and resiliency for Microsoft Exchange, Microsoft Active Directory, and Microsoft SQL
Universal object, cross-platform, and physical to virtual recovery
Disaster Recovery and Business Continuity
When disaster strikes, the Basic edition will not be able to help you at all. Meanwhile, the Pro editions will be able to get you back on your feet if you don't need policy-based replication and site recovery orchestration. Aside from these two features, the Pro editions offers everything that the Enterprise Essentials and the Enterprise Plus tiers offer.
| | | | | |
| --- | --- | --- | --- | --- |
| Product | Basic | Pro/ Pro Essentials | Enterprise/ Enterprise Essentials | Enterprise Plus |
| Amazon EC2 Instance Replication | No | Yes | Yes | Yes |
| Application Support | No | Yes | Yes | Yes |
| Automated VM Failover | No | Yes | Yes | Yes |
| Disaster Recovery | No | Yes | Yes | Yes |
| Encryption | No | Yes | Yes | Yes |
| Hyper-V VM Replication | No | Yes | Yes | Yes |
| Log Truncation | No | Yes | Yes | Yes |
| Replica Verification | No | Yes | Yes | Yes |
| Replication From Backup | No | Yes | Yes | Yes |
| Swap Data Exclusion | No | Yes | Yes | Yes |
| VMware VM Replication | No | Yes | Yes | Yes |
| Policy-Based Replication | No | No | Yes | Yes |
| Site Recovery Orchestration | No | No | Yes | Yes |
Administration, Performance, and As-a-Service Features
Not surprisingly, the Enterprise editions make it easier for you to administer your backups and disaster plans. These plans even allow for self-service and branding services.
| | | | | |
| --- | --- | --- | --- | --- |
| Product | Basic | Pro/ Pro Essentials | Enterprise/ Enterprise Essentials | Enterprise Plus |
| Active Directory Integration | No | No | Yes | Yes |
| Advanced Bandwidth Throttling | No | Yes | Yes | Yes |
| Amazon EC2 Instance Replication | No | Yes | Yes | Yes |
| Application Support | No | Yes | Yes | Yes |
| Automated VM Failover | No | Yes | Yes | Yes |
| Auto-Update | Yes | Yes | Yes | Yes |
| Branding | No | No | Yes | Yes |
| Calendar Dashboard | No | No | Yes | Yes |
| Disaster Recovery | No | Yes | Yes | Yes |
| Encryption | No | Yes | Yes | Yes |
| Global Search | No | No | Yes | Yes |
| HTTP APIs | No | No | No | Yes |
| Hyper-V VM Replication | No | Yes | Yes | Yes |
| Job Chaining | No | Yes | Yes | Yes |
| LAN-Free Data Transfer | Yes | Yes | Yes | Yes |
| Live Chat with Tech Support | Yes | Yes | Yes | Yes |
| Log Truncation | No | Yes | Yes | Yes |
| Multi-Tenancy | No | No | Yes | Yes |
| Native Change Tracking | Yes | Yes | Yes | Yes |
| Network Acceleration | No | Yes | Yes | Yes |
| Policy-Based Replication | No | No | Yes | Yes |
| Replica Verification | No | Yes | Yes | Yes |
| Replication From Backup | No | Yes | Yes | Yes |
| Role-based Access Control | No | No | No | Yes |
| Self-Backup | No | Yes | Yes | Yes |
| Self-Service | No | No | Yes | Yes |
| Site Recovery Orchestration | No | No | Yes | Yes |
| Swap Data Exclusion | No | Yes | Yes | Yes |
| Tenant Resource Allocation | No | No | Yes | Yes |
| VMware VM Replication | No | Yes | Yes | Yes |
How It Compares to Veeam
NAKIVO is probably one of the closest competitors of Veeam, bringing much of the same features and functionality and delivering the same kind of service Veeam customers have come to expect.
The differences are minor, such as NAKIVO having better customer support and informative resources. You can't go wrong either way.
Pros
Easy to install and use
Excellent backup solution for virtual machines
More affordable plans
Outstanding customer service
Cons
Website interface might not be beginner-friendly
Cohesity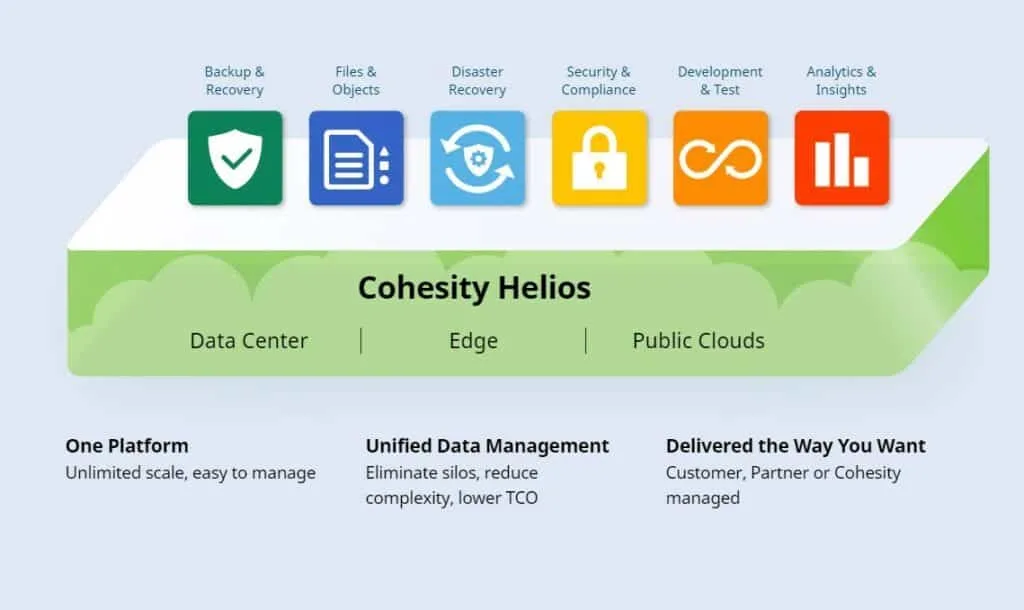 Cohesity is known for how easy it is to implement. It offers the backup and replication technologies you need to keep your data safe. Using Cohesity, you can store backups in the cloud and then recover them, even as individual files. The service is speedy, which means if you ever need something recovered, you can easily do so without dealing with too much wait time.
Cohesity Helios offers more than just backup and recovery services, but acts as a unified data management system. What we're most interested in is the Data Protect product that they have
Data Protect can be delivered as a service and all you need to do is to signup, set up, and start protecting your data. Everything is secure and done in minutes, and you don't have to worry about hardware and everything else.
You can automate backups and recovery with different policies, and even have everything done from one user interface. When you need to recover anything, you have rapid recovery points, mass restores, and global search to make things easy and fast.
Cohesity makes everything secure as well. It also offers ransomware protection and data resiliency. What's more, you don't have to worry about needing just enough storage with their deduplication technologies.
How Cohesity Compares with Veeam
Cohesity gives frustrated Veeam customers a worthy option. If you don't like Veeam because of its slow recovery times, you will love how fast Cohesity works when restoring files. What's more, Cohesity is less complex than Veeam when creating backups and recovering files.
However, Cohesity does take longer when creating snapshots. This might mean that in an emergency situation or disaster, you are more prone to lose data with Cohesity.
Pros
Excellent solutions for virtualized environments
Fast searches for easier file restorations
Fast recovery times
Granular recovery is possible
Frequently Asked Questions
In this section, we answer the questions you have about backups.
Question: What are the differenet backup types that I should know about?
Answer: Most people think that backups are just a matter of having a copy of your files. However, to be of any use and to prevent any loss of data, your backups should be updated. The more up-to-date your backups are, the less data you'd lose.
To ensure that your backups are updated, backup software performs three types of backups:
• Full Backup: where all your files and data are copied to another disk, media, or to the cloud.
• Incremental backup: Where only the data was changed since your last incremental backup was created.
• Differential backup: Where only the data that was changed since your last full backup was created.
A full backup will take a lot of time and if you do this it is going to take not only an inordinately long time but also you'd have to have a lot of storage space to ensure that your different backups are stored and secured.
To prevent data loss, Veeam and other tools will first create a full backup of your systems and then update it with an incremental or differential backup. So you get to save time while also ensuring that your most up-to-date files and systems are secure and properly stored.
Question: Why is the backup process important?
Answer: Backups allow you to have copies of your most important apps, programs, databases, and machines. You will find it useful in the event that a user deletes these files accidentally or a hacker maliciously wipes your systems down. You can also use these copies to continue operating in the vent that your office experiences some sort of disasters like a fire, flooding, and other calamities.
Another reason why backups are so important is the rising cases of ransomware. According to this page:
• Ransomware attacks grew by 350 percent in 2018
• There are 46 percent of new ransomware created in 2019 alone
What's more, businesses victimized by ransomware will be shut down for an average of 19 days after the attack. And it is expected that one attack will happen every 11 seconds.
Question: What should I look for in a backup software?
Answer: There are several considerations when choosing backup software. Some of the most important are:
• It offers all the features you need and supports all the environments that you have. Today's organizations work in different ways. It's not surprising that there are employees working virtually using cloud services and then having a virtual machine to use. Others work on their laptops. OThers use productivity platforms such as Google Docs or Microsoft Office 365. The best backup and replication software will support all the environments that you work in, whether it's physical, on the cloud, or virtual.
• It's easy to use. No matter how good a certain tool, software, or application is, it won't do you any good if you don't know how to use it. The good thing is that most backup and recovery programs are easy to use and they have excellent support that can help you figure things out.
• Scalable. Your backup and replication software should be scalable. As your business grows, there will be a lot more data from a lot of sources, and your backup solutions should be able to keep up.
• Speedy. Whether it's backing up data or recovering files, your chosen solution should not waste your time. Be sure that your backup software uses the latest deduplication, compression, and encryption technologies that will cut the time needed to transmit the data and lessen the need for more storage.
• Secure. When choosing your software, you should make sure that your backups are secure and it should be clear who has control of those backups.
Get Veeam Backup and Replication Today
When it comes to that all-important backup and disaster recovery processes, it helps to have the right tool for the job. Veeam Backup and Replication does it job really well, giving you easy to implement backups and good recovery times.
If for some reason you're not impressed, both Cohesity and NAKIVO may prove to be worth your consideration, while some smaller companies might find Veritas more suitable for their needs.
See how Veeam compares to other worthy competitors: