Disaster recovery is an essential process in ensuring that your company gets back up on its feet fast after disaster strikes. But if you still haven't implemented one, take heart that one in five companies even doesn't have a disaster recovery plan.
But this fact doesn't give you the excuse to just ignore disaster recovery altogether, and it's great that you're looking for solutions that can help you with that. If you're currently considering Veeam Backup & Replication V11, then you're on the right path.
If you're evaluating if it's right for you, it will help if you can compare it with some of its competitors.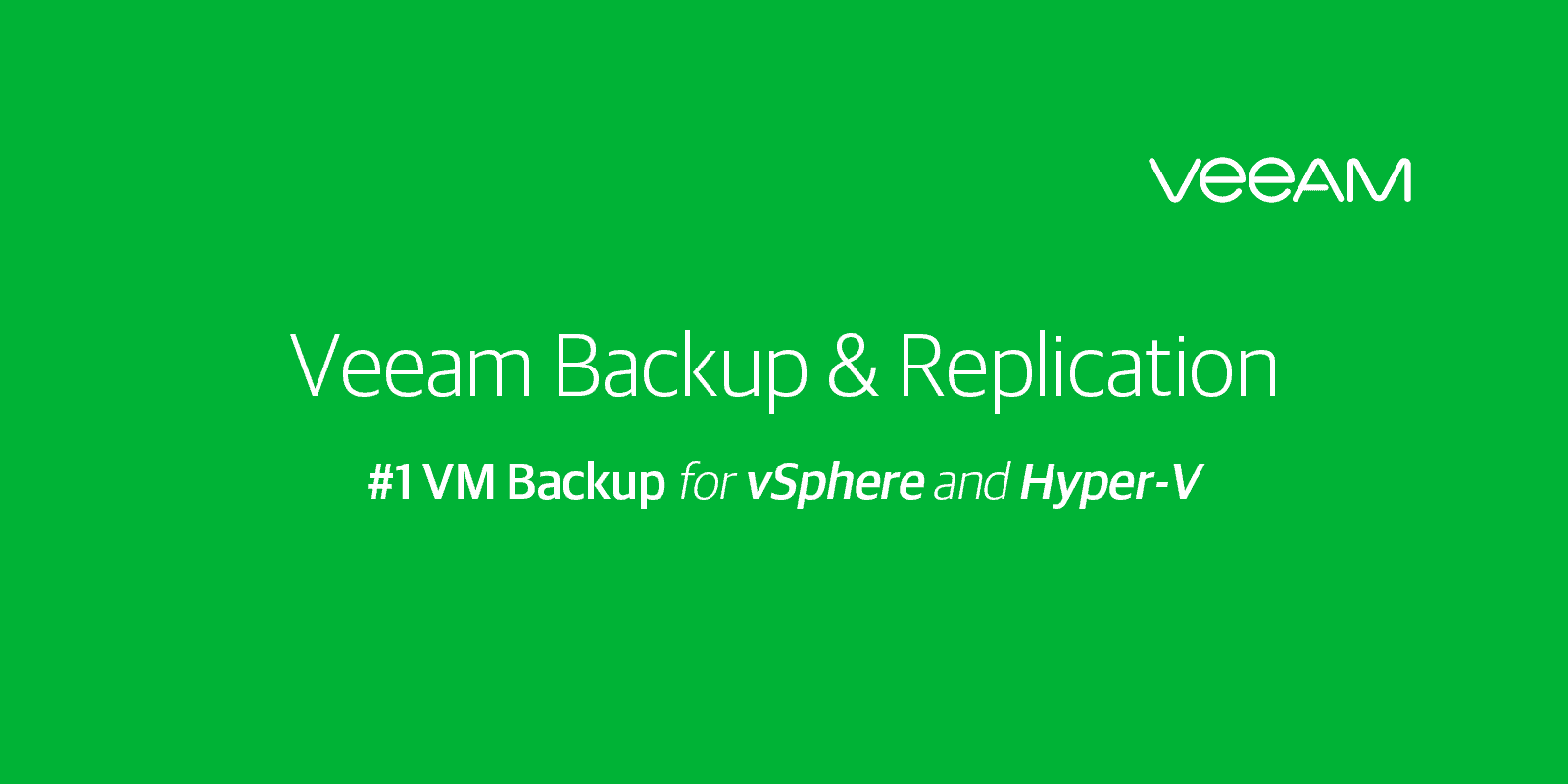 What Is Veeam Backup & Replication V11
Veeam Backup & Replication V11 helps you to protect your data and not worry about suffering from downtimes due to lost data. V11 brings together solutions for data protection, backups, storage, and replicas. Veeam V11 promises to deliver:
Fast, complete, reliable, and portable backups.
Instant recovery without the hassle
Cloud-based backup that you can scale when needed
Cost-effective storage that can also be scaled up or down depending on what you need
Automated workflows that make management and routine tasks a whole lot easier
Secure backups
Use your data for testing, DevOps, and data mining.
Easy replication on-demand on an as-a-service platform
Pricing
Pricing for Veeam differs depending on your region. For the most part, the company doesn't offer a bulk discount, whether you're buying one or 50 licenses, you will end up paying the same rate per license. They do, however, offer discounts for those who are committing to a longer-term deal, as those who get licenses for three or more years pay less.
Based on the region we're in, Veeam Backup Essentials are available for $420 for every five licenses. If you only need six licenses, you will need to pay for 10 licenses instead of just the number of licenses you need.
The storage is an extra cost. The provider requires you to buy a minimum of five terabytes, which costs $525. Each terabyte after that will cost $105.
If you want to protect users who are using third-party platforms, the rates are:
Office 365, minimum of 10 users – $189, with each succeeding user costing $18.90 each.
VMware, a bundle of 10 users, will cost you $1,575

One Dashboard for Everything
Veeam brings together backup and replication for a wide variety of deployments, including cloud, on-premises, and virtual machines. You only have one console to manage all of these.
Compare that to what some companies are doing, having different backup and recovery solutions for each type of deployment, or worse, using legacy systems for the longest time.
Veeamis also closely integrated with some third-party service and offers some of the most useful features that an IT executive would want:
Data loss prevention
Visibility
Recoverability
Leveraged data
High-speed recovery and restoration
It also has integrated protection for ransomware, straight to cloud backup and virtual machine recoverability checks.
Interoperability is also easier when Veeam collaborates with such names as Lenovo, IBM, Quantium, Nutanix, ExaGrid, NetApp, Dell EMC, HPE Nimble, and Cisco.
But the main deal is that you get a proven backup and replication offering from Veeam. Their system uses snapshots, and the restoration capabilities are excellent.
Alternatives to Veeam Veeam Backup & Replication V11
One of the things that you should do when
1. Zerto
Zerto makes it easier for you to do data protection and disaster recovery using only one platform that lives on the cloud. This capability means that it can protect anything from onsite systems to multi-cloud deployments and even hybrid clouds.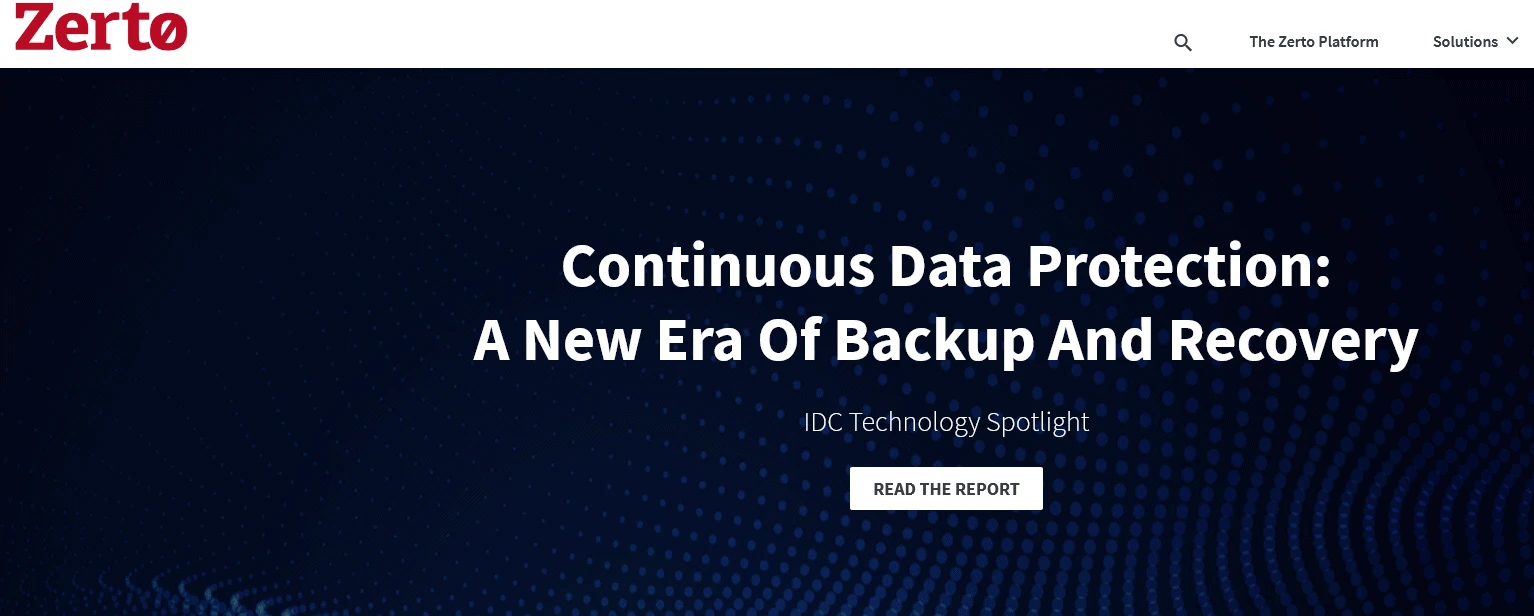 With Zerto, you don't have to pay too much to protect your data continuously. Instead, you only need the Zerto software and get the following benefits:
Disaster Recovery
Around 93 percent of companies who didn't have a disaster recovery solution in place and were hit by a major data loss went out of business within a year, And 96 percent of companies that employed a disaster recovery solution were able to beat ransomware attacks?
Zerto's disaster recovery module will make disaster recovery a breeze for you. It allows you to have always-on backups and restoration from thousands of recovery points.
This solution gives you fast recovery times for every contingency imaginable: hardware failure, service outages, disasters, and others.
Continuous Backup
Allows you to do daily backups and get them restored without any loss whatsoever. You will not have to worry about losing data or spend time trying to figure out what's missing.
Long-term Storage
When you're collecting and gather data, you might be legally bound to keep the data for a specific amount of time. For instance, the Sabarnes-Oxley Act requires you to archive information for seven years.
You might worry that keeping that much data for such a long time will mean having to pay for storage costs. With Zerto, you can have access to affordable and cost-effective on-premises or public cloud storage solutions.
You can now retain data, ensure compliance with data retention regulations, and save money.
Data Mobility and Easy Migration
Your data centers change, and so does your data. Zerto allows you to move your data around easily, which you may need to do at some point. For instance, if your current servers are flooded and you need to relocate to a safer area. Or if you have a new system and you need to consolidate your data.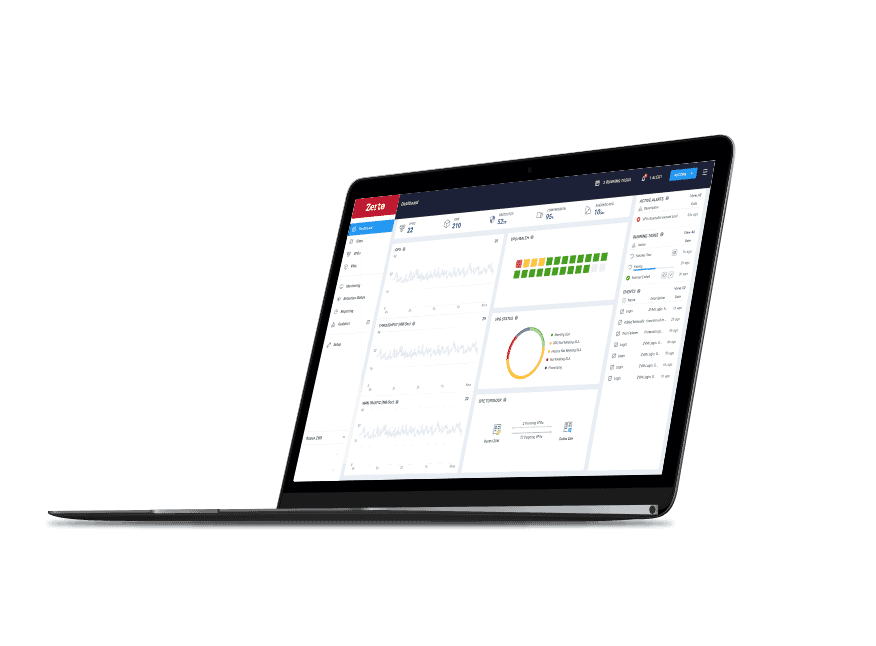 Test and Development
If you want to know if your disaster recovery protocols will work when you need them, you can create sandboxes that will allow you to test your programs without affecting your production. What's more, this sandbox environment can help ensure that patches and updates work seamlessly before you fully deploy them.
It can also be used to validate upgrades and conduct security scans.
Security and Compliance
Zerto makes your data more secure, allowing you to be more compliant with regulations and industry standards.
The Bottom Line
Zerto makes it easier to have a scalable IT resilience system with no frills. Their solutions allow you to have an always-on backup system while helping you when it's time to migrate data, replicate a restore point, and work in various cloud environments.
Read our full Zerto vs Veeam comparison here.
The Good
Reviewers say that Zerto is easy to administer with a console that's a breeze to learn.
Disaster recovery and on-demand restoration
The Bad
Zerto is not upfront with the cost of using their solutions, asking you to fill up a form to get a quote.
What Zerto Does Best
Zerto has a variety of points of focus for its product. First, you have long-term retention, which helps you become more compliant with federal and industry regulations.
Then they also focus on data mobility and migration. And then the test and development features that it offers.
As such, Zerto can help you recover from different types of cyberattacks while also making it easy to backup, store, and manage the data.
Zerto vs Veeam
Among these choices, Zerto seems to be the closest alternative to Veeam. You should know that they have different ways of approaching recovery point objectives and capturing data between these two. Veeam may be more suitable for you if you're looking to capture data efficiently and you intend to store these for a long time.
But Zerto captures and stores data much faster, needing only seconds to create an RPO. Meanwhile, earlier versions of Veeam need a couple of minutes to do the same. In any case, using Veeam, you may need to replicate data less frequently, like once a day. You can do better continuous replication with Zerto.
Of course, if you have the Veeam V11, this wouldn't be a problem as the software offers continuous data protection.
2. Commvault Complete Backup & Recovery
Like Veeam, Commvault Complete Backup & Recovery promises a single solution for all your disaster recovery needs. It helps you deal with data silos, data loss, and missing recoveries.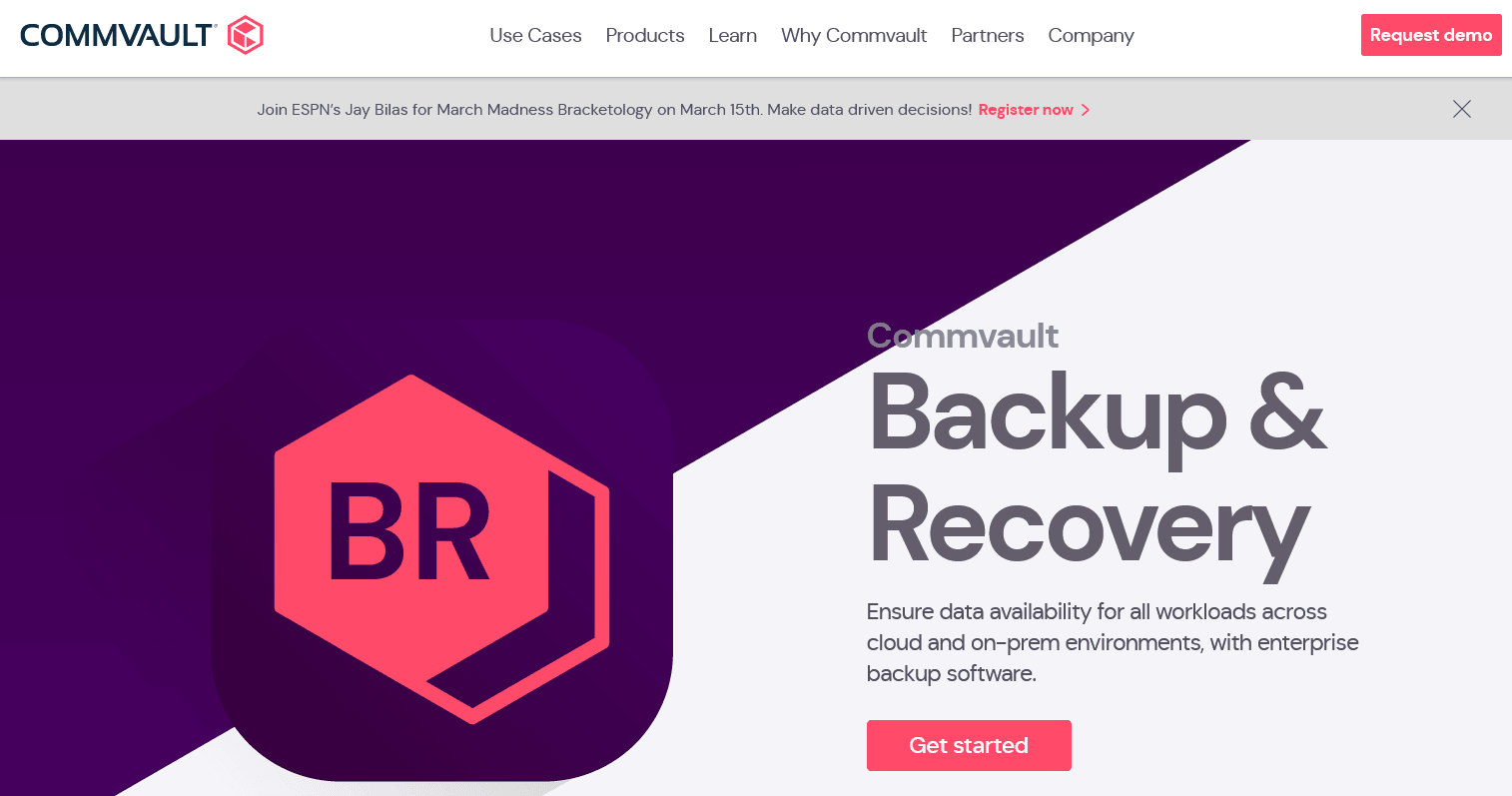 You can backup and restore every piece of data, regardless of where it is hosted. On top of that, Commvault Complete Backup & Recovery delivers:
Easy to use and intuitive browser-based interface
Flexible recovery options, from a single instance or file, to the entire system or application
You can backup file systems, databases, virtual machines, cloud-native SaaS, endpoints, applications, and others.
Automatic deduplication of data so that the data transmission and storage is more efficient
Security and protection for both data at rest and those being transmitted
Policy-based automation, reporting, and monitoring
Automated and customized snapshots
Utilizes clouds for easy scalability, availability, and mobility
No vendor lock-in for the services that you use
Data repurposing
Licensing
There are two types of licenses that Commvault offers. The first is for virtualized environments, wherein Commvault charges for every ten virtual machines.
If the environment is not virtualized, the company charges by the number of terabytes that will be protected.
3. Acronis Cyber Backup
Acronis Cyber Backup promises to keep your business up and running even with disasters happening all around you. You can prevent downtime by being able to restore every single piece of data that you have. What's more, it's a scalable solution that allows you to grow your business, protect any upcoming workload, and even get the best storage options.
Acronis promises that you will be back online in just a matter of seconds by allowing you to recover virtual machines even before anyone notices that there is a problem. You can also restore PCs and servers on bare metal and incompatible hardware.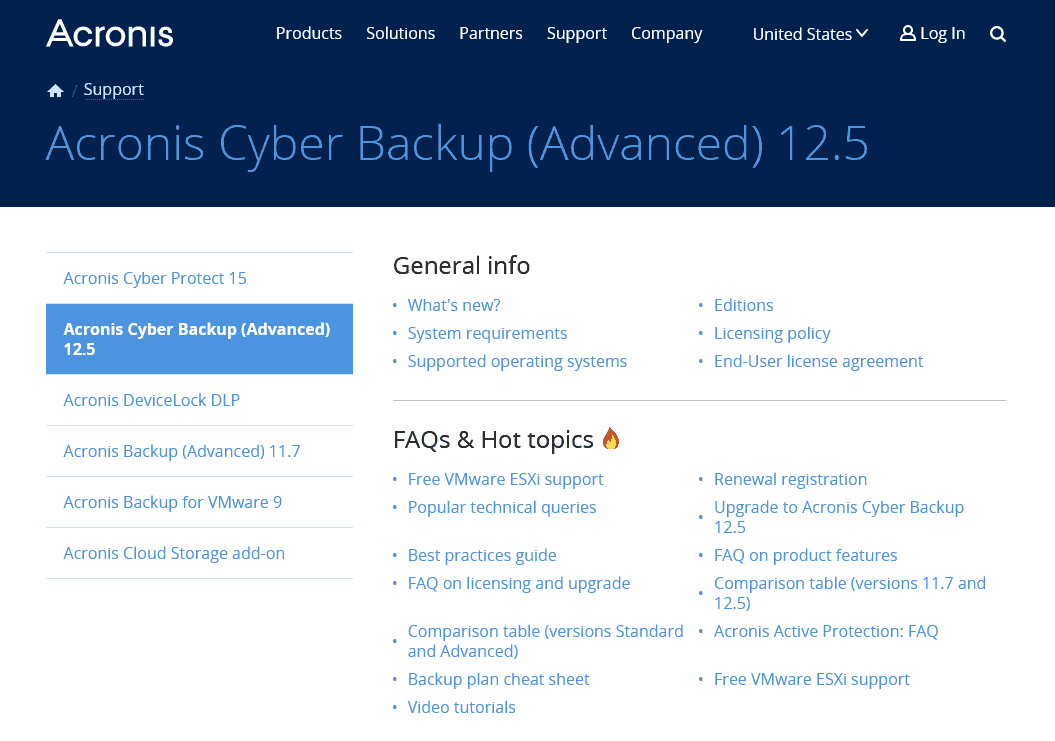 You also get to secure more than 20 platforms, including hypervisors, clouds, mobile devices, and apps. That means that you can easily safeguard your system regardless of what kind of technology you use. You can also scale operations and storage with ease.
With Acronis, you also get the fastest backups, off-host operations, and deduplicated data.
Features You Should Know
Acronis Cyber Backup offers:
Vulnerability assessments help you identify risks and vulnerabilities that you should plug in your machines and system.
Machine learning-based ransomware protection secures your data and devices from ransomware attacks.
vmFlashback allows you to restore your virtual machines fast without eating up your resources
Pricing
| | | | | | |
| --- | --- | --- | --- | --- | --- |
| Edition | Cyber Backup Standard | Cyber Backup Advanced | Cyber Protect Essentials | Cyber Protect Standards | Cyber Protect Advanced |
| Workstation | $69 | $99 | $59 | $79 | $119 |
| Server | $469 | $709 | $319 | $539 | $839 |
| Virtual Host | $559 | $929 | N/A | $639 | $1,069 |
| Windows Server Essentials | $229 | N/A | N/A | $259 | N/A |
| Microsoft 365 | $119 | N/A | N/A | N/A | N/A |
| GSuite | $119 | N/A | N/A | N/A | N/A |
Features for Every Edition
| | | | | | |
| --- | --- | --- | --- | --- | --- |
| Data protection features | Cyber Backup Standard | Cyber Backup Advanced | Cyber Protect Essentials | Cyber Protect Standards | Cyber Protect Advanced |
| Archive compression | Yes | Yes | Yes | Yes | Yes |
| Backup validation | Yes | Yes | No | Yes | Yes |
| Backup window | Yes | Yes | No | Yes | Yes |
| Bare metal recovery | Yes | Yes | No | Yes | Yes |
| Blockchain backup notarization | No | Yes | No | No | Yes |
| BMR to dissimilar hardware | Yes | Yes | No | Yes | Yes |
| ESXi configuration backup | Yes | Yes | No | Yes | Yes |
| File search across several archives | No | On-premises | No | No | On-premises |
| File-level backup | Yes | Yes | Yes | Yes | Yes |
| Image-based backup | Yes | Yes | No | Yes | Yes |
| Incremental or differential backups | Yes | Yes | Yes | Yes | Yes |
| Local backup | Yes | Yes | Yes | Yes | Yes |
| Mobile backup (iOS/Android) | Cloud Only | Cloud Only | No | Cloud Only | Cloud Only |
| Multi-destination backup | Yes | Yes | No | Yes | Yes |
| NAS/shares backup | Yes | Yes | No | Yes | Yes |
| Retention rules | Yes | Yes | No | Yes | Yes |
| XenServer, KVM, RHV, Oracle VM server | No | Yes | No | No | Yes |
| Cybersecurity features | Cyber Backup Standard | Cyber Backup Advanced | Cyber Protect Essentials | Cyber Protect Standards | Cyber Protect Advanced |
| #CyberFit Score | Yes | Yes | No | No | Yes |
| Antivirus and antimalware | No | No | Yes | Yes | Yes |
| Autodiscovery | Yes | Yes | Yes | Yes | Yes |
| Configuration Assessments of Acronis Cyber Infrastructure (Linux) | No | No | No | Yes | Yes |
| Continuous data protection | No | No | No | Yes | Yes |
| Corporate whitelist | No | No | No | No | Yes |
| Data protection map | No | No | No | Yes | Yes |
| Exploit prevention | No | No | Yes | Yes | Yes |
| Fail-safe patching | No | No | Yes | Yes | Yes |
| Forensic mode | No | No | No | No | Yes |
| HDD health monitoring | No | No | No | Yes | Yes |
| Microsoft Security Essentials management | No | No | Yes | Yes | Yes |
| Patch management | No | No | Yes | Yes | Yes |
| Ransomware and crypto-jacking protection | Yes | Yes | Yes | Yes | Yes |
| Remote desktop | No | No | Yes | Yes | Yes |
| Remote device wipe | No | No | Yes | Yes | Yes |
| Safe recovery of the backups | No | No | No | No | Yes |
| Scan backups for malware | No | No | No | No | Yes |
| Threat feed | No | No | Yes | Yes | Yes |
| URL filtering and categorization | No | No | No | Yes | Yes |
| Vulnerability assessments for Linux | Yes | Yes | Yes | Yes | Yes |
| Vulnerability assessments for macOS | No | No | Yes | Yes | Yes |
| Vulnerability assessments for Windows and third-party applications | Yes | Yes | Yes | Yes | Yes |
| Windows Defender Antivirus management | No | No | Yes | Yes | Yes |
| Management features | Cyber Backup Standard | Cyber Backup Advanced | Cyber Protect Essentials | Cyber Protect Standards | Cyber Protect Advanced |
| Active Directory integration for authentication | Yes | Yes | No | Yes | Yes |
| Centralized plans management | No | Yes | No | No | Yes |
| Dashboard configuration | No | Yes | No | No | Yes |
| Group management | No | Yes | No | No | Yes |
| Off-host data management | No | On-premises only | No | No | On-premises only |
| Reports | No | Yes | No | No | Yes |
| Shared protection plans | No | Yes | No | No | Yes |
Acronis Disaster Recovery
With Acronis Disaster Recovery Solutions, you have an easy and efficient way to ensure that your business continues even after suffering disruptions due to unforeseen events.
One thing that helps make Acronis stand out is that they allow you to implement your disaster recovery plans the way you want them. You will be working with their service providers to do so.
If you're thinking that having to integrate different providers will be a headache, Acronis has made it so that you get all the tools you're using in one very intuitive interface. The Acronis Cyber Cloud allows you to see your servers, devices, connectivity, backups, and plans in one dashboard. What's more, it's easier to see an overview of your systems and change the settings.
This service is an add-on to the Acronis Cyber Backup.
Frequently Asked Questions
We've fielded some of our readers' most often asked questions. And here are our replies.
Question: How to choose the best disaster recovery software?
Answer: One of the things that most people fail to understand when choosing the best backup and disaster recovery solutions is that higher numbers are not necessarily better in this area.
Not every backup and disaster recovery program out there can meet your needs, and each one has its own focus, methods, and supported workloads.
And that is why you should make sure that the software will support our work with the applications that you have. If there is a free trial available, avail of its before you commit.
Customer Support and Education
Even when some of the best disaster recovery and backup solutions offer intuitive and easy-to-use interfaces for their products, the fact remains that these softwares are not easy to learn. What's more, these critical functions can be a costly mistake for your business when done wrong.
When choosing a service that will protect your data and ensure continuity even in the face of disasters, you should choose one with a lot of resources, documentation, and tutorials already in place. These could be user manuals with a thorough step-by-step guide on setting up, configuring, monitoring, and managing the solutions.
Additionally, choose one with live customer support, whether via e-mail, chat, or phone. Training materials and seminars should be available, whether it's face-to-face or recorded videos.
Pricing
The best disaster recovery and backup solutions should fit your budget. Most services offer flexible pricing, and some can tailor their packages so that you're only paying for what you need and what you use, rather than having to shoulder costs that you don't benefit from at all.
One of the vital steps to choosing the best solution for your business is getting a quote that will help you know just how much you're going to spend a year on protecting your systems from data loss.
Features
Of course, you will also need to make sure that the solution you get has the features and functionalities you need. This will entail reading up on each of the products you are considering and see where their focus lies.
Some products are better at continuous backups, where others are great for data migration and reuse. What does your business need more?
Question: What is the difference between a backup and a disaster recovery solution?
Answer: Backups are simply a copy of your data and the systems that you have. If your system fails or falls victim to ransomware attacks, you can use the backups to bring everything online again.
A disaster recovery solution takes it a step further. On top of keeping copies of your system, it can help you resume workloads that are important to your business after a natural disaster, server failure, or if a cyber-attack happens.
A disaster recovery solution will have a backup feature as it gives you a copy or several copies of your data, which you will need to restore. You may mistakenly think that these are the same things, but think of this way: having a copy of your data and files is not enough for business continuity.
Question: What should be included in a disaster recovery plan?
Answer: As we have indicated, merely backing up your iles is not enough when it comes to disaster recovery. What is the stuff you should be considering when coming up with a good disaster recovery plan?
• Who will be responsible for your disaster recovery? In this step, you must identify the team members who will be in charge of each part of your disaster recovery, their responsibilities, and contact information.
• Identify, assess, and evaluate disaster risks. What are the risks and potential disasters that your business faces? These should include natural calamities, man-made disasters, criminal activity, and technology-related events.
• What are the tools and applications that you need? This is where you begin evaluating the many software and services that are available to you. A good disaster recovery solution addresses your specific goals, as well as helps you mitigate the risks you've identified beforehand.
• Lay down backup and storage procedures. If you are going to disaster recovery yourself, you will need to be clear just how you're going to do your ackups and where you're going to store them. It should b clear how often you'd be doing the backup, who will be responsible for it, and where you'd keep these backups. IF you're using a disater recovery service, it should be clear to you how they will handle the backup and storage.
• Test ad update your disaster recovery plan. Testing your disaster recovery plan is very important to ensure that all systems are working right, and when there is an emergency, you're sure that you'd have the backups ready and that your system will be back in no time. More importantly, because disasters and risks often change, it will be a good idea to evaluate and update your plan.
Want to Be Sure that Veeam Is for You?
Veeam Backup & Replication V11 is probably one of your best bets when it comes to getting an excellent disaster recovery solution. It provides you with fast and reliable backups, instant recovery, and cost-effective storage, along with some of the features that your CIO will love.
However, the pricing that is based on individual machines, servers, and regions may put some people off. It's best to request a quote with them, but Zerto, Commvault, and Acronis are all excellent choices if you're looking for alternatives.
Choosing the best disaster recovery solution for you will depend mainly on what you need and what your disaster recovery plan states. Zerto and Commvault both offer you turnkey solutions that bring your disaster recovery tools and data visibility into one interface.
Acronis does that too, but the service allows you to use their service partners and still have data and information from these third parties appear on your Acronis tab.