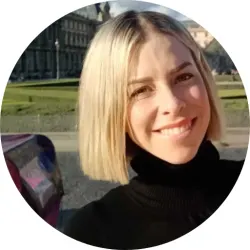 Latest posts by Jodie Chiffey
(see all)
In the year 2020, IBM security reported that $3.86 million worth of data was breached. If this kind of report stops you on your track, it's time to consider Zerto or Veeam products.
Data disasters have grown tenfold and a good deal of software and tools have been designed to counter this onslaught and guarantee you some level of security.
Today, we compare Zerto vs Veeam to determine which one gives value for money. Stick with me a while.
Main Differences Between Zerto vs Veeam
The main differences between Veeam and Zerto are:
Zerto aces out Veeam in terms of the many disaster restoration features, whereas Veeam counters this by providing more storage space for data from non-virtual devices.
Zerto has superior recovery point objectives (RPOs), whereas Veeam betters backup and recovery services with excellent data retention capacity.
Zerto supports continuous data backup as soon as fresh information is created, whereas Veeam has up to one hour between one backup session to the next.
Zerto can be deployed in a variety of devices including desktops and mobile phones, whereas Veeam can only be deployed on Linux, Mac, Web-based, and Windows desktop.
Zerto is more suited for large enterprises, whereas Veeam cuts across small to large businesses.
Zerto has a simplified user interface that easy to operate through straightforward instructions whereas Veeam, though has an easy user interface, is a tad more complex compared to Zerto.
Exploring Zerto and Veeam features
Virtualization
Veeam is designed to take snapshots for virtual environments for backup and replication, enhancing large data storage and automation whereas Zerto transfers replication of data to hypervisors allowing it to provide enhanced virtual RPOs and RTOs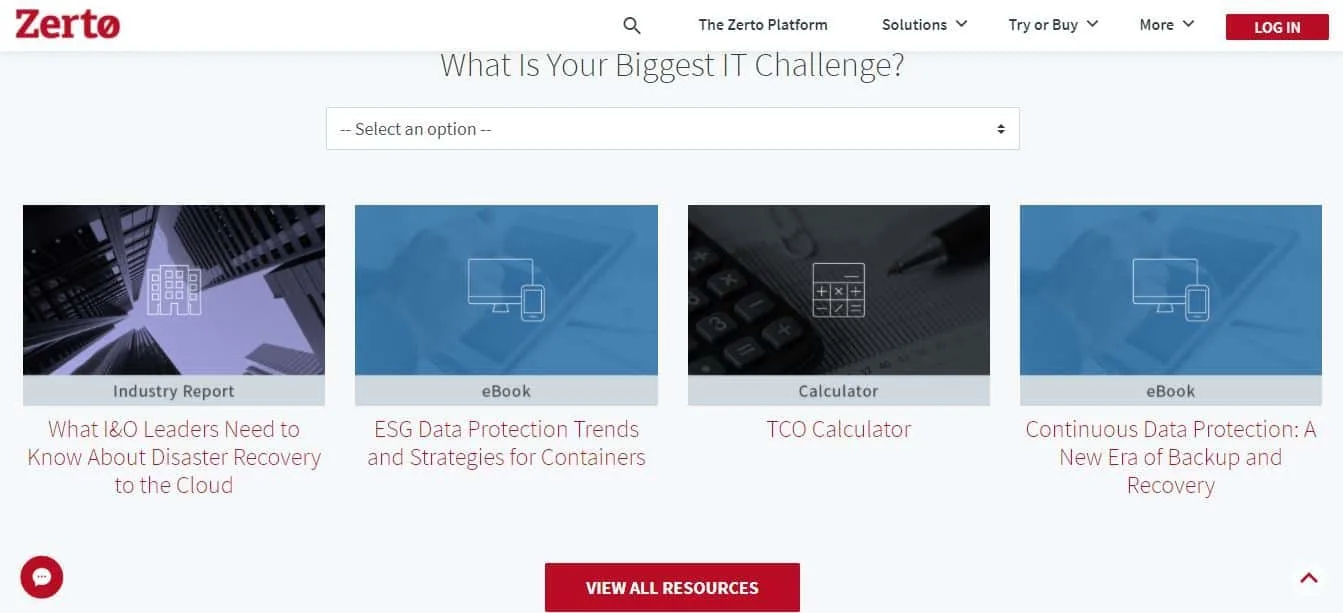 Backup strategy
Veeam integrates its Veeam One solution to help users navigate issues arising as a result of backing up. This integration enhances access to storage and usage analytics, allowing for deep visibility and better reporting for disaster preparedness whereas Zerto doesn't.
Zerto leverages their protection of large data and apps through consistency grouping application which enables users to easily rewind their back up to the point of interruption without order modification whereas Veeam doesn't.
Zerto continuously backs up data as it gets created thereby easily restores the latest version of the same data in case of a disaster whereas Veeam backs data every one hour, exposing data to loss between one backup period to the next.
Zerto can easily be deployed on Cloud, SaaS, Web-Based, Mac and Windows desktops mobile phones like Android, iPhone, and iPad whereas Veeam can be deployed on Linux, Mac, Web-based, and Windows desktop only.
Disaster Recovery
Zerto has an automatic failback data resolve system to handle actual attacks, due to its integration and continuous backup between the on-premise to cloud environment whereas Veeam lacks this capacity.
Product Features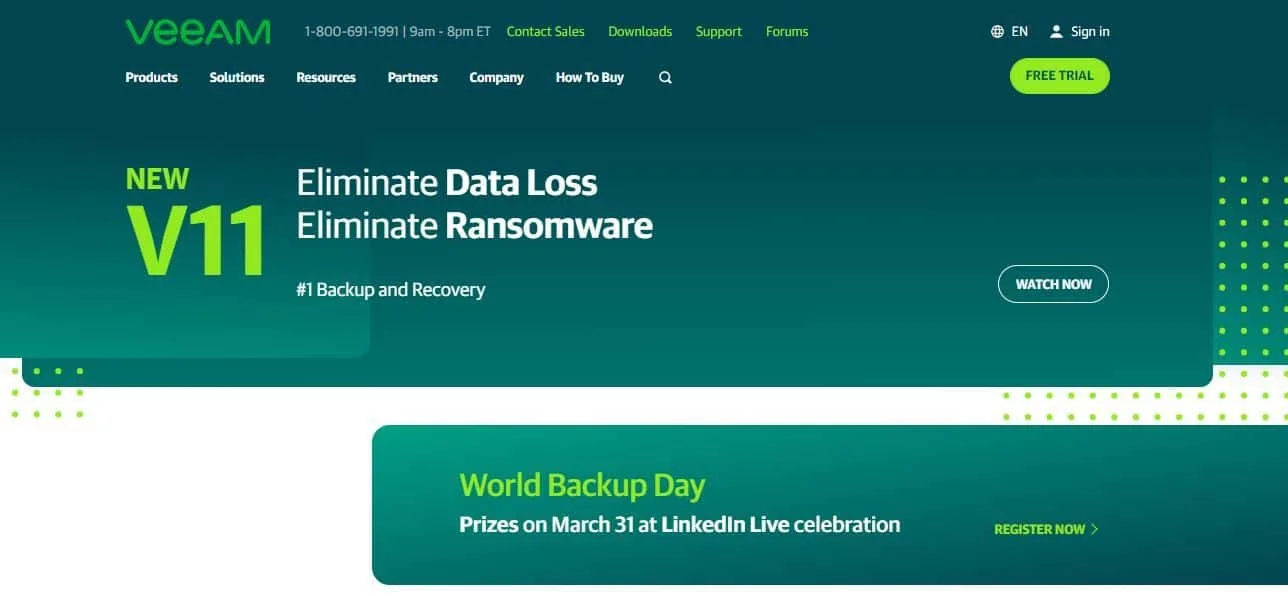 Veeams has laudable features include proactive backup alerting, Storage capacity planning, and DRaaS cost information for efficient budget planning whereas Zerto features like Infrastructure flexibility, and quick recovery point objectives (RPOs make up for any limitations it has.
Veeam assures your data safety by deploying cyberthreat alerts whereas Zerto uses Line data protection reporting.
Zerto leverages its simplified and non-disruptive failover testing whereas Veeam bolsters automatic failure remedy.
For your backup features, Zerto tuck under its belt features like Backup Log, Backup Scheduling, Compression, Continuous Backup, Incremental Backup, Local Server Options, Remote Server Options, and Web Access / Restoration whereas Veeam only has Cloud Backup, Compression, and Encryption.
For business continuity, Zerto has Multiple System Support in addition to the backup features whereas Veeam packs up heavily on Virtual Machine features like Backup and Recovery, Graphical User Interface, Remote Access/Control, Virtual Machine Encryption, Migration, Monitoring, and Virtual Server
Zerto vs Veeam – Customer Support
Veeam has excellent customer service who are knowledgeable especially when handling generic backup and restoration problems whereas Zerto has also invested in training through in-person, live online, webinars, and documentation for better product adoption.
Zerto has a robust support team available on call, through an email or help desk, 24/7 (Live Rep), and Chats to attend to their customer needs whereas Veeams technical support is majorly easily accessible through email and phone.
Comparing Zerto VS Veeam – Pricing
Veeams pricing caters to different levels of needs. Clients who need data backup and restoration services can pay just $400.00 yearly. If you need more features like analytics, however, be ready to invest up to $1,200.00 yearly. These prices are dependent on your need assessment and request for a quote.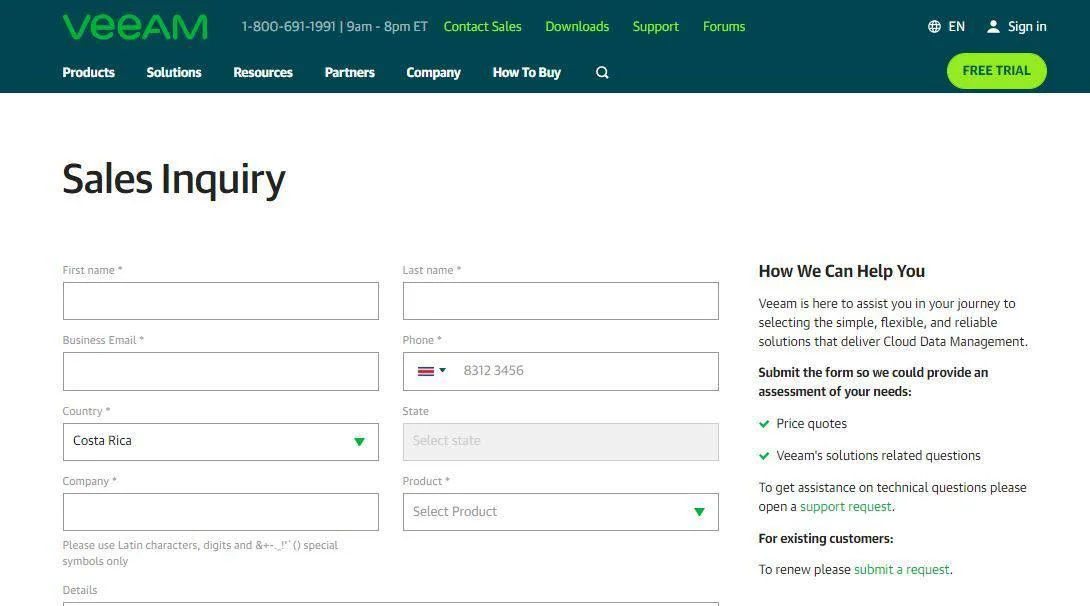 Zerto gives their cost via a quote request. However, their starter pack begins from $745 yearly. You also have the valuable 14 days free trial period to determine if you are a great fit.
Veeams' cost is justified at the point of Recovery Point Objective (RPO) because whereas it needs 10 minutes depending on the number of external links Zerto delivers the same in just seconds. This forces most businesses to replicate just once a day to minimize cost.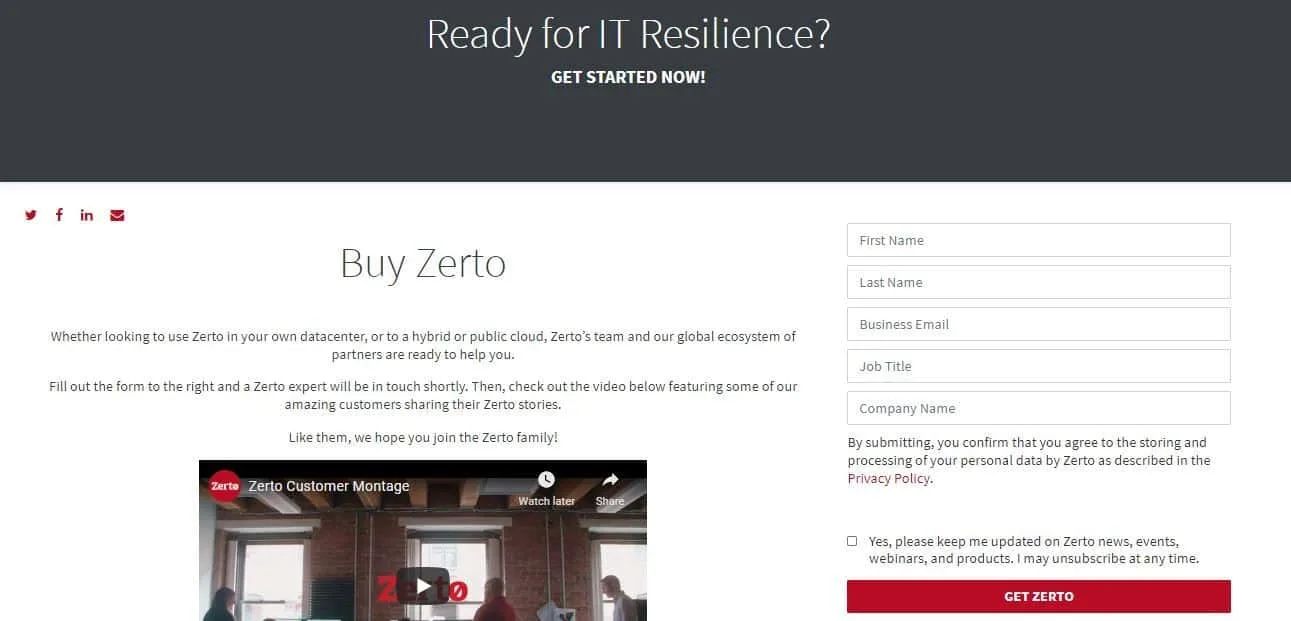 Zerto vs Veeam – Ease of use
Most customers hail Zerto as easier to use compared to Veeam. Zerto simplified their user interface making it a breeze for even non-techie people to navigate whereas Veeam requires a little learning curve to get it right, though the process is not exactly that difficult.
How do Veeam And Zerto rank on market share reports?
Zertos' 298 current customers account for its 0.30% market share whereas Veeams has a 2.99% market share thanks to its 3,016 current customers.
Veeam has penetrated most markets within the United States with 23.04% Germany with 9.22% and the United Kingdom with 39(9.22%) 137(5.29%) customers whereas Zerto is more preferred in the United States with 50.74% United Kingdom with 6.62% and Canada with 4.78% customers.
Most customers who use Veeam are from Software, Information Technology, and Consulting industries whereas Zerto also serves the same customers in addition to Business Continuity and Backup and Disaster Recovery categories.
Pros and Cons
Veeam
Pros
Valuable for companies that require low RPO.
Simple user interface
Good stability and highly scalable through integration with third-party products.
Compresses files while backing up, saving up on space and time
Proactive customer support
Cons
Snapshot- backup is done hourly. Should a disaster strike before the next backup period, a whole hours' data will be lost.
High overhead cost due to the need for additional licensing from third-party products.
Slows down when large data is backed up in one large go.
Has an archaic Web interface that could do with facelifting.
Zerto
Pros
Continuously back up data as it gets created thereby minimizing the amount of data that can be lost in case of a disaster.
Efficient for companies that require fast RPO.
Effortlessly replicates VMs through the clusters with real-time RTO and RPO.
Simplified and straightforward setup and configuration.
Offers reporting on live data protection.
Cons
Continuously backing up virtual machines can be uneconomical for clients whose data can easily be handled by a snapshot process.
Licensing is expensive
Its high bandwidth does not support low bandwidth thereby limiting its usage by small businesses.
Are there any Alternatives?
Datto
Datto has emphasized stopping ransomware before any attack by offering IT managed service providers (MSP) innovative technological tools that help them safeguard small and medium firms as well as limit downtime for such business.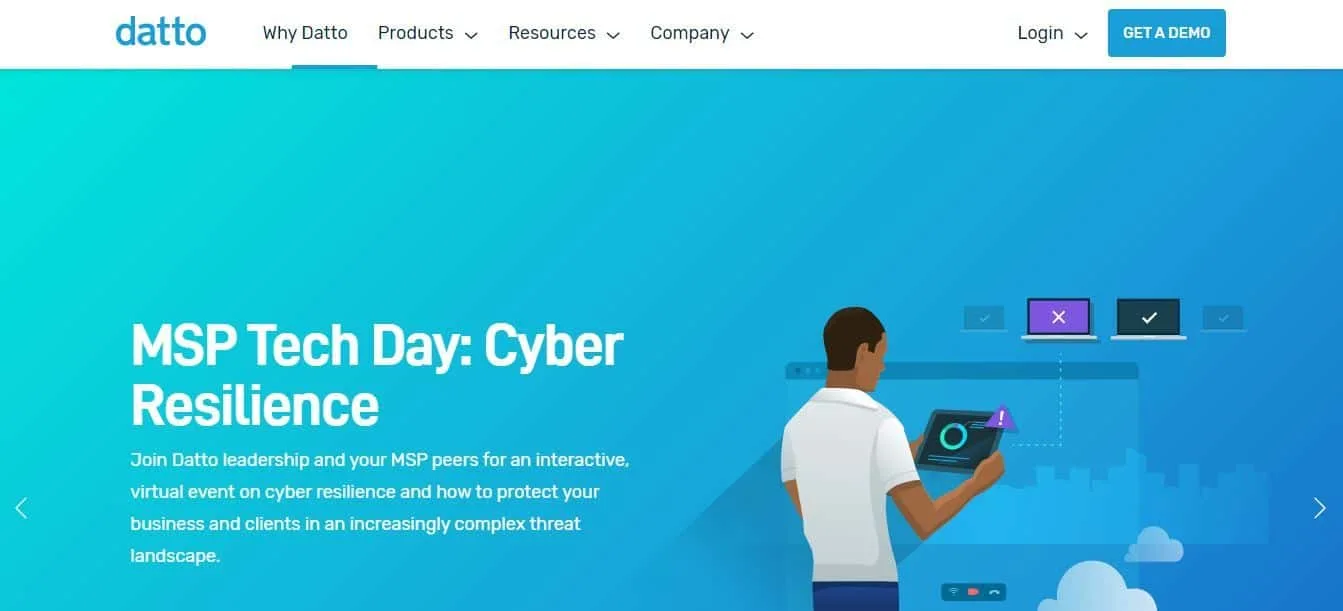 Since Datto deals with a reseller model, one has to be a partner to get a custom quote. The lack of unified, structured pricing can be a little frustrating to some prospects.
On the bright side, Datto offers comprehensive solutions like Datto SIRIS for physical and virtual environment recovery from a unified platform. Datto ALTO for snapshot backup solutions in a hybrid environment for small companies, Datto Nas to secure, share and file large data for its large partner network.
MSP ITs can be assured of quick virtualization of on-premises servers as well as experiencing a fast bare metal restoration of both physical and virtual servers.
NAKIVO Backup & Replication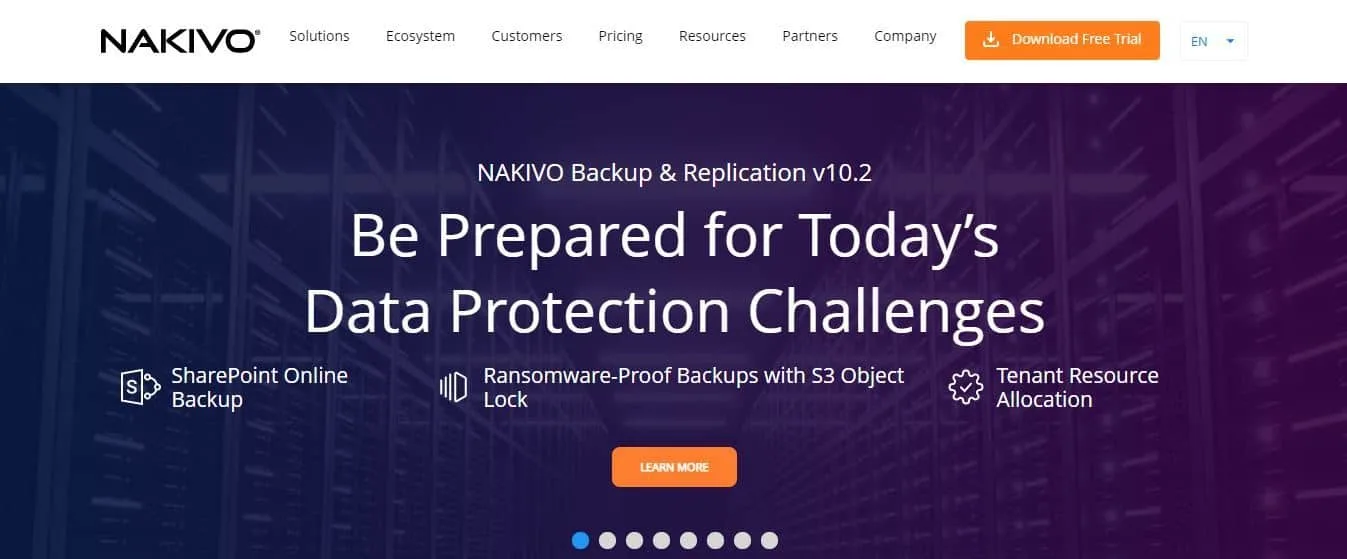 While shopping for your backup tool, NAKIVO Backup & Replication may be one of the alternatives you consider for Linux and Windows-based physical servers and devices. It not only executes incremental, application-aware backup deduplication and compression mechanisms helps use storage space more efficiently.
Nakivo gives customers a chance to have a demo before price quotation. However, the basic edition of the software goes at only $99 per socket and the Pro package at $399. Keep in mind that depending on your unique needs, your package can be customed within their Enterprise/Enterprise Plus package. Customers can play around with the system through a downloadable free trial set.
Pricing also depends upon the device or infrastructure you want to handle. That ranges from IT infrastructure, backup for Nutanix, VMware and Hyper-V, Microsoft Office 365, Oracle RMAN, or even physical devices.
Nakivo has ensured its user interface is simple as they keep adding features to respond to the dynamic market needs. Nakivos' has fully automated its G-F-S creation and virtual server backups.
It also easily compresses and deduplicates data to maximize the storage space as well as seamlessly restores the same on demand.
You can also be assured that Nakivo's market standing is stable with a 0.02% market share with 24 current customers. Of course, deployment is higher in Blogging Platforms, Communication Hardware, and Computer industries.
SolarWinds Backup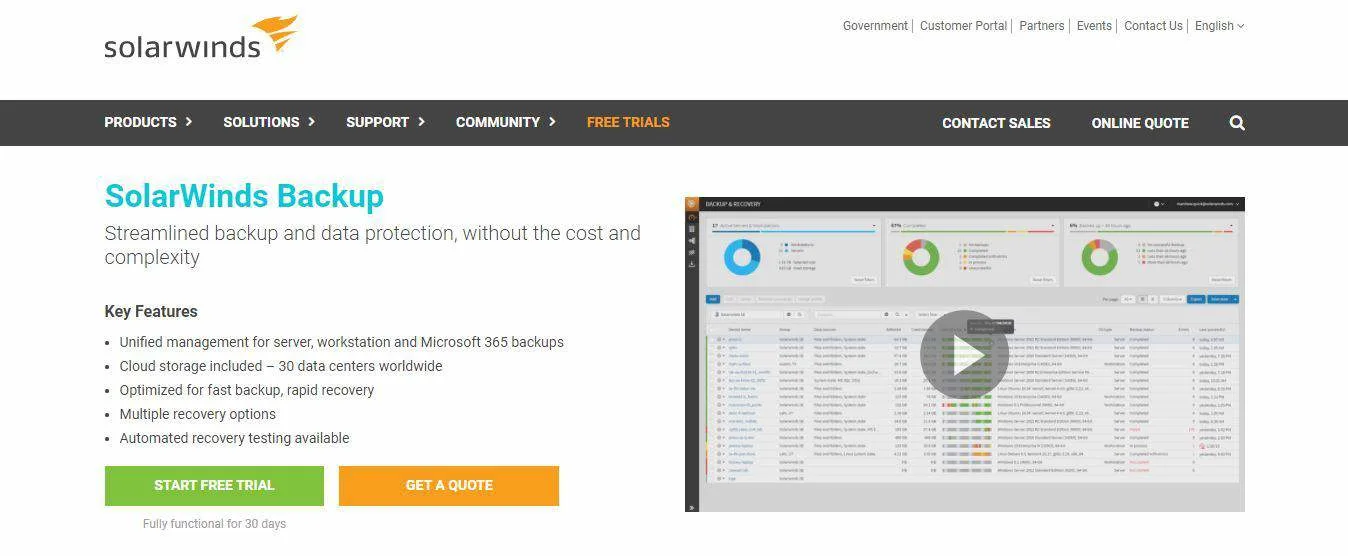 Managed from a centralized console, SolarWinds Backup offers cloud data safety for servers, Microsoft 365, devices, and important business files. Packed with speedy backup and restoration capabilities, it seamlessly optimizes the transfer, deduplication, and compression of data within the private clouds globally.
The most outstanding feature is that you can automatically test the recovery without interfering with your actual data. Besides that, SolarWinds' unique design allows for incremental backups small, fast, eliminating downtime.
As a hosted SaaS application, SolarWinds Backup does not require the tedious process of download and set up, instead, all you need to do is configure it and you are good to go.
Even though the price is offered by the requested quote, most users find it competitive. You also got an obligation-free 30 days free trial to test if you are a good fit.
Frequently Asked Questions about Veeam and Zerto
Question: Is Zerto better at replication services than Veeam?
Answer: Both Zerto and Veeam are authorities in their niche, with both designed for virtual environments. However, they slightly differ in a few features which also determine their suitability for your business. Whether you are more concerned with RPO for your DR or better compression, storage, and retention features.
Question: Why is low or fast RPO an important feature to consider in data backup and disaster recovery software?
Answer: Recovery Point Objective (RPO) determines until what point in terms of time a business recovery process can continue tolerably considering the amount of data loss within that given interval. Zerto delivers RPOs in seconds, whereas Veeam needs about 10 minutes to achieve that.
Question: Between Veeam and Zerto, which one is better suited for your business needs?
Answer: Review your company objective and list what priorities you've got. While both Zerto and Veeam are almost equaled at data backup and recovery, your strategic plan on disaster recovery as well as risk management needs to match the features of your chosen solution. Veeam has a higher retention and storage capacity, whereas Zerto offers a quick recovery option.
Question: I need my data backed up but I am a small business without an IT technician, which between Zerto and Veeam can I use more easily?
Answer: Two areas to address here. If you need a backup solution that is a breeze to set up and configure for non-IT staff, Zerto will do the trick. Its user interface is so simplified you will not need hours to master the setup. If however, you want software that will be more economical for your small business, then Veeam would be better suited for you. It has encryption and compression capabilities which will save you on space and time resources.
Conclusion – Our Preferred Solution for Backup and Disaster Recovery
Both Zerto and Veeam are authorities in data backup software and recovery solutions within virtual environments. The ease with which Zerto can be set up and configured is so easy a non-IT professional can follow its simple instructions effectively.
Choosing between these two giants is a tough call, however, the unique needs of your organization will help you choose one over the other.
If your company is dependent upon fast recovery point objectives RPOs recovery more than time objectives (RTOs), Zerto will deliver in seconds whereas Veeam needs up to 10 minutes.
Zerto is designed to serve large enterprises and will give an excellent continuous backup and replication to eliminate the risk of losing any data between backup, and while Veeam effortlessly serves small, medium, and large enterprises, it is way expensive for the small businesses.
Users of Veeam while paying more for additional licenses for third-party products, also enjoy the flexibility and high scalability brought as a result of these additional integrations.
We love to hear your data backup and recovery journey and how this article has added value to you. Leave us a comment below!