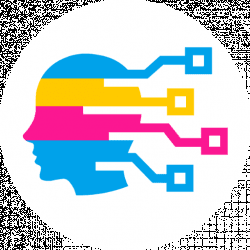 Latest posts by Digital Guyde Team
(see all)
Windows Server has been a popular server solution for decades and is an integral part of modern computing. The only problem? You guessed it…it's Windows software, which is a problem in and of itself, after all. Windows is widely known for its flaws and bugs, such as the infamously iconic Blue Screen of Death.
And even though Windows Server updates its code with patches to improve its stability, any enterprise whose employees weren't born under a rock knows how necessary backups are. To be fair, Windows Server does come with its own native backup software that's built straight into the operating system.
I can't believe I'm saying this, but the native data backup software actually has a lot of great features, such as the following:
Volume Shadow Copy Service for faster backups
Ability to backup programs, application data, user data, and system files
Ability to revert to previous versions
Optical drive and removable media support
Windows command-line support
Disk usage management
Many other features
Since Windows comes with its very own backup software, you may be wondering why you would need a third party solution in the first place. Well, there are really two main answers to that question. The first answer is that third party storage and backup providers often designe software that's superior to the native Windows Server backup tools.
There's a ton of features that add value to a business, such as security tools, auditing tools, and centralized management. The second reason is that more often than not, any competent backup software provider is also going to host servers in the cloud that you can use to store backups on offsite, which is a big deal for disaster recovery.
Furthermore, many of these backup providers have courier services, which help by shipping hard copies of your data in an encrypted format to avoid lengthy downloads. I would also like to point out that there are hardly any (none that I can think of) services that support Windows Server exclusively.
When you start talking about enterprise software that needs to backup servers, the software developers typically write backup services that integrate with other business systems.
For instance, many of them will support other server platforms, such as Linux, or integrate with other tools such as Active Directory, LDAP, and other similar services. At any rate, I've compiled a list of the best backup services for Windows Server, starting with EaseUs Todo. So, without further adieu, let's
get started.
EaseUs Todo Backup Server 10.5
One of the reasons I love EaseUs Todo, despite its long list of features, is its price. It's actually one of the cheaper Windows Server backup systems on the market, and only costs $199 (For the latest prices and discounts, check here)  for the current version. Alternatively, you can pay $359 (For the latest prices and discounts, check here) for a lifetime upgrade, which will always allow you to download and install the latest updates for free.
In fact, right now they are bundling the Backup Server software with Partition Master Server and Data Recovery Wizard Pro for only $268.77 (For the latest prices and discounts, check here), which is a 40% discount.
And if your business or IT department is international, there's no reason to worry. This software supports over 10 languages, including English, Deutsch, Español, Français, Italiano, Português, Japanese, Mandarin, and more. And it's backup functionality is full-featured.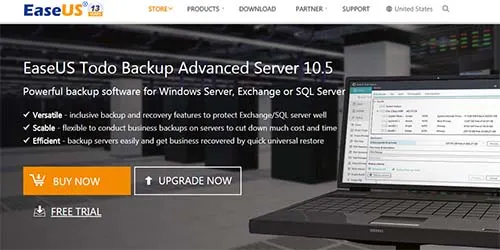 You can make a complete system backup, which is essentially an entire copy of the state of your operating system. That's analogous to a restore point in the Windows world, but you also have the ability to make full disk images, which are bit-for-bit copies of an entire volume.
Furthermore, there's a hot backup feature that will backup files and resources that are currently in use. Sometimes Windows Servers need to be highly available and can't suffer downtime, making it nearly impossible to back everything up. But the hot backup feature alleviates this problem.
Lastly, note that it comes with other standard Windows Server backup features like Outlook Email backup, full backups, incremental backups, differential backups, and scheduled backups.
Acronis Backup and Disaster Recovery
Acronis is yet another competent backup service provider that is adept at protecting your Windows Server data. But Acronis doesn't focus solely on Windows platforms; instead, it seeks to support a wide range of business-class server distributions.
In addition to Windows Server, Acronis also supports popular platforms such as Citrix XenServer, database and SQL servers, Linux, VMWare, and even Oracle virtual machines. This international service does business in over 90 countries and has worked with over 30,000 businesses, so clearly they're doing something right.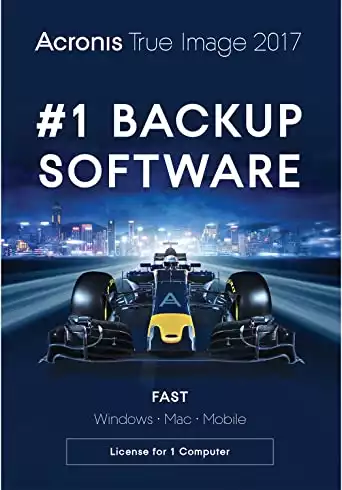 Acronis True Image
Check Price
We earn a commission if you click this link and make a purchase at no additional cost to you.
09/24/2023 03:59 am GMT
But its features far surpass backup operations. And despite its being a business-class solution, the interface is surprisingly easy to navigate and use. Naturally, as you'll find with most other server backup solutions, Acronis does include support for Active Directory and mobile device integration.
And to help accommodate the needs of a security department, the software comes with an auditing system that logs system activities with timestamps and includes encryption features as well.
Interestingly enough, this solution even comes with a remote wipe feature that allows you to delete data, sensitive or otherwise, remotely. Last but not least, it does, of course, come with 24/7 support.
Symantec
The Symantec Corporation is a veritable dinosaur in the computing era and has been developing security and backup software for more than three solid decades. As such, it only makes sense Symantec would have a backup solution for Windows server.
There are four main backup services, including Backup Exec for Windows, System Recovery Server Edition for Windows, Backup Exec for Linux, and  System Recovery Server Edition for Linux.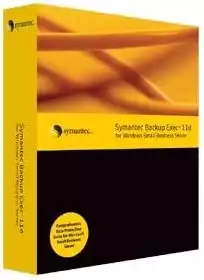 As you would expect, the Backup Exec for Windows does support Windows Server 2012 and Windows Server 2012 R2 and will protect backed up data using the strongest protocols. The encryption forms used, including both AES-128 and AES-256, are strong enough for banking and military applications.
And since it was built with businesses in mind, it was also designed with a central management console that has the ability to monitor all backup jobs. Furthermore, it can even recover individual files, such as work documents and Microsoft Office documents. Last but not least, note that Symantec also offers personal backup solutions as well.
R1Soft
R1Soft was founded back in 2003 and is our last great alternative for Windows Server. The service has a wide range of backup options and features and supports a lot of other platforms in addition to Windows Server.
For instance, it also supports backups of systems such as Microsoft SQL server (2005 through 20012), Hyper-V, Virtuozzo, and VMWare based machines. Furthermore, it will also backup email systems such as Microsoft Exchange Server, including versions all the way back to 2007.
Furthermore, the service was designed to be highly efficient, since server backup jobs can be massive. To accommodate large backup jobs, the service will perform incremental backups at block level, and it has the ability to recover massive file systems and servers very quickly.

As you would expect, the backup system uses security checks as well, such as military grade encryption. It actually uses AES-256, which is so powerful that it would take the world's fastest supercomputers billions of years (it's virtually impossible).
Additionally, it comes with a management interface that can be accessed via the web, making it possible to monitor servers anywhere you have an Internet connection. You even have the ability to apply bulk actions that affect more than one server at a time for efficient management.
Last but not least, note that the software was designed to be fast and easy to install. In fact, you can install the software within five minutes.
Final Thoughts
If ever an operating system needed to be backed up, it's Windows. And even though Microsoft Windows Server comes with native backup software as part of the operating system, you would do well to invest in a third party backup system.
There are just too many features missing from the Windows native backup solution, and you may want to look into a cloud service that uses encryption to secure backed up data offsite. Though in small business, you might be able to get away with only making local copies of backed up data, larger organizations require data to be stored offsite in the unfortunate case of unforeseen disasters.
Cloud storage will help store data offsite, and even increase data security by introducing redundancy. You see, customers' data is the bread and butter of any cloud backup service. If that data was lost, the cloud storage company would be dead in the water. So naturally, cloud storage companies keep redundant copies of their customers' data as well.
There are just too many benefits of third-party cloud storage and backup services for Windows Server to be ignored. Lastly, I'd like to give you a final warning: if you don't backup your Windows Server, it's not a question of if you'll lose mission-critical data, but when that data will be lost.