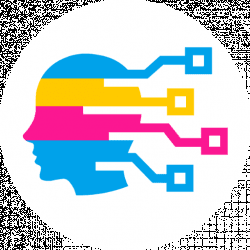 Latest posts by Digital Guyde Team
(see all)
The way people watch their favorite shows and films has been changing rapidly over the past 10 years. In the past, the only real option available was to sign up with a cable package, and tune in when it was time for your favorite programming. But technology changed the archaic television model with tools like video records and DVRs.
The latest trend in television history is on-demand streaming content and over-the-top content providers, which basically means that content is delivered through your Internet connection as opposed to being sent through your cable provider.
20 years ago, this wouldn't have even been possible. This because the speed of web servers and Internet technologies weren't fast enough to support tons of high-quality multimedia downloads.
But today, that's all changed, and chances are you can find just about any show or video content online. The problem is that if you don't have a Smart TV, your television can't inherently access streaming Internet channels.
Good news everyone! You can use a Kodi box (or the Kodi software) to aggregate all of your favorite online channels and stream them directly to your TV.
But part of the problem with Kodi devices is a blessing in disguise. The problem is that many old, traditional remotes aren't universal, and were designed to be used with a specific make or model of television. Furthermore, some of the cheap replacement universal remotes don't have all the buttons and tools you need to browse through content in the Kodi interface without a hassle.
However, there are two pieces of good news.
First of all, there is an incredibly massive number of cheap remotes you can find to pair with your Kodi box or device, and many of them double as television remotes too.
Secondly, many of them have advanced features and even keyboards that make the process of searching and querying for content one heck of a lot easier. In fact, some of them also have voice-activated controls.
So, let's take a look at the five best Kodi remotes, starting with the Rii i8+ Mini Wireless Keyboard (say that five times fast).
Rii i8+ Mini Wireless Keyboard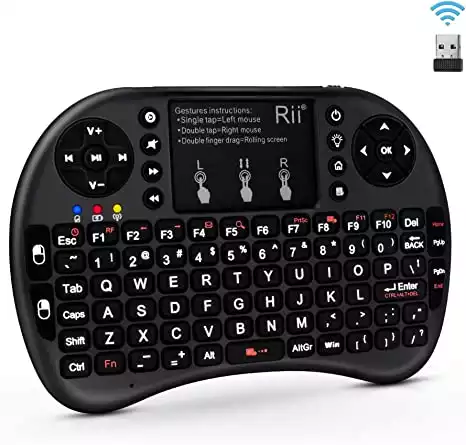 What I really love about this model is its form factor. This model is something of a video game controller and QWERTY keyboard hybrid. It fits better in your hands than many of the other QWERTY/remote hybrids and was designed to be comfortable and functional.
Plus, I think this is an excellent model for laptop and Mac users due to the touchpad. Mac users tend to feel at home on a touchpad, though personally, as a Windows and Linux user, I tend to prefer wireless mice.
Still, the touchpad is a great feature, and the keyboard is loaded with special characters that aren't often found on simple remote control keyboards. It's even has a back-light, so you don't have to ruin the ambiance of dim lighting when you're watching your favorite movies.
I guess I'm a little boring since the black plastic is good enough for me, but for those of you who care about decorative details, it does come in a wide range of colors. And it's pretty darn cheap too. You can find it on Amazon for a mere $19.95, which less than the price of a meal at a casual dining restaurant. Check out the latest price!
Pendoo Air Mouse Wireless Mini Keyboard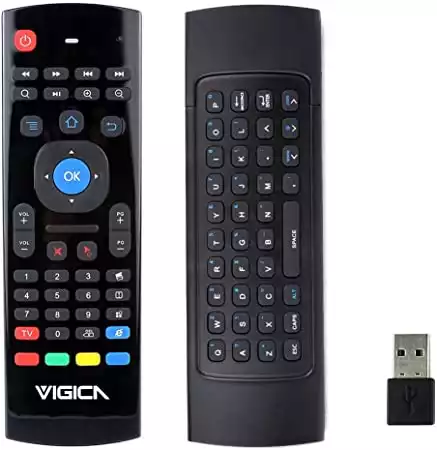 This model is very similar to the Rii Mini i25 in several key regards. First and foremost, like the Rii Mini i25, it uses a wireless radio in the 2.4 GHz frequency, which is the same as some wireless technologies.
However, if you're worried about interference, note that most modern wireless technologies can switch between the 2.4 GHz and 5GHz frequencies, or run in one band exclusively to avoid interference.
This model is also plug & play, and it comes with a full QWERTY keyboard on the back as well. On the front are all of the regular television remote buttons that I'd expect.
In fact, I like the standard remote buttons configuration on this model more than the previous model, since it comes with the standard number keys layout that makes it good for browsing cable channels. And naturally, it does come with mouse features as well.
But there's one key feature that differentiates this model from the Rii Mini i25: the Pendoo Air Mouse comes with built-in voice input features. I used to abhor voice input when it first came out because it was so flaky, but as long as you're not at a noisy party, you can use voice input to do your bidding reliably.
Lastly, despite all of its advanced features, it won't cost you an arm and a leg. Instead, it's rather modestly priced and only costs $14.99 on Amazon. Check out the latest price!
Rii Mini i25
One of the best Kodi remotes is the Rii Mini i25, because it's essentially a handheld keyboard. I absolutely detest keyboard layouts on some remotes because it takes years to type in what you want.
For example, point and click keyboards, such as that on the Wii, or visual on-screen keyboards operated by up, down, left, and right arrows take forever. Most search interfaces do an excellent job of intelligently guessing what you're trying to type out before you finish the whole title, but it still irks me.
The Rii Mini i25 is inexpensive, and it doesn't have a steep learning curve either. Anyone who has used a computer will be able to type text without thinking. However, note that this is rather a simplistic model, and doesn't come with hardly any bells and whistles. But did I mention it's cheap? You can snag this remote for only $29.95 – $35.95 on Amazon.
It does, however, also come with most of the standard buttons you'd expect to see on a remote, such as volume control, a search button, a home button, and basic input controls (DVD, TV, VCR, SAT, etc.). Last but not least, it does even have a mouse mode feature that will help you navigate GUI interfaces to select media, such as any media interface like the Netflix layout.
Logitech Harmony 650

I've always been a huge fan of Logitech on the whole. They make a ton of different accessories that are designed to cater to different market segments. Regardless of what accessory you're looking for, you can usually find entry-level, mid-market, and high-end Logitech models. And in my experience, Logitech devices aren't cheap pieces of junk and tend to hold up over time.
This model is more expensive than the two previous remotes, yet still modestly priced at only $24.99 on Amazon. Check out the latest price!
The Logitech Harmony 650 is extremely different from the previous two models in two significant ways. First of all, this model lacks a full QWERTY keyboard, which is a shame, although it does have many other redeeming features.
For instance, it has a color display in the middle that displays favorite channels with buttons next to each icon. It mainly works as a shortcut or macro to take you to a predetermined channel. I hate getting lost in deep menus, so the color display is a huge plus.
Furthermore, note that this is a universal remote and can be paired with just about any device you can think of. It doesn't only work on Kodi boxes and supports a whopping 225,000+ different devices (darn near a quarter million different devices).
Lastly, note that this model is a great all-in-one replace for up to eight remotes since it can be programmed to support up to eight of your television and media devices.
IPazzPort Wireless Mini Handheld Keyboard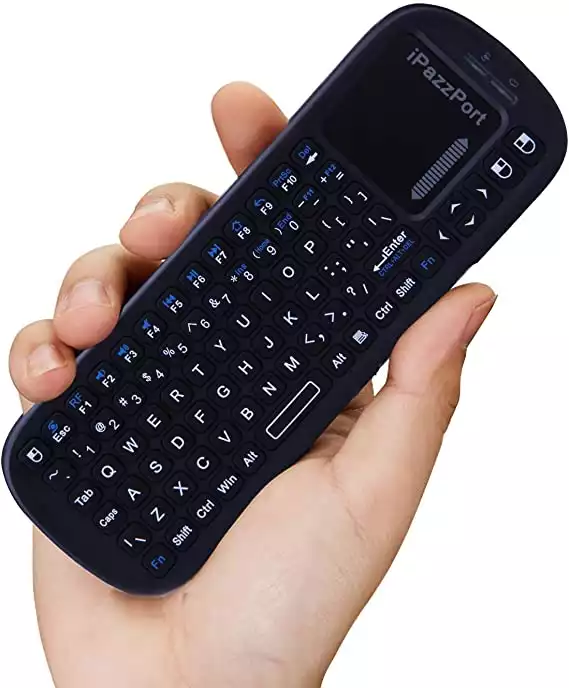 I really wish someone would give these devices better names instead of just trying to describe them. At any rate, the IPazzPort Wireless Mini Handheld Keyboard rounds out the list of the five best Kodi Remotes. It's pretty darn cheap too and costs a mere $10.99 on Amazon if you want a new version. Check out the latest price!
It's so cheap that I wouldn't even bother with getting a protection plan, though several years of protection costs less than a couple bucks.
Like the other remotes on this list, the IpazzPort Wireless Mini Handheld Keyboard is compatible with multiple types of systems including Kodi devices, Raspberry Pi, HTPC, XBMC, PCs, laptops, and other forms of Android TV boxes. And like the other remotes already mentioned, it uses radio frequencies in the 2.4 GHz range to transmit input data to the receiver.
And like most other remotes, it uses triple-A (AAA) batteries. There really aren't too many extra fancy features with this model, which is one of the reasons why I ranked it fifth.
However, do note that the keyboard is fully functional, and comes with mouse-click keys and function buttons. It's basically a miniature version of a fully fledged keyboard with all the special characters you would expect.
Final Thoughts
I think one of the most significant considerations you need to make before selecting a Kodi remote is whether or not you're going to use the remote with other devices. And if you are, to what degree?
If your remote is just going to double as a channel flipper for your basic cable package, then there's no reason to spend money on a more expensive remote. After all, a simple wireless QWERTY keyboard with a standard television remote on the back will do just fine.
However, if you're a tech-head who loves your entertainment center and you have tons of devices filling up your power strips, I'd recommend a remote that has macro and programming functionality. That way you can set, configure and customize your remote to different settings for different devices. Lastly, I'd recommend checking out these devices on Amazon if you have any further questions.
They're all pretty cheap already, but you can find even less expensive deals if you opt for a used remote instead of a brand new one!