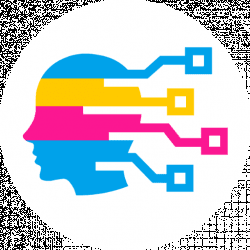 Latest posts by Digital Guyde Team
(see all)
If you're not already using some type of password manager, you're leaving yourself at risk. I think everyone should incorporate password managers as one of a default list of programs designed to protect data, anonymity, and privacy.
For instance, everyone should be using antivirus or antimalware tools, a VPN tunnel, and a password manager (among a few other tools) to prevent the vast majority of online threats.
However, there has been a trend in password managers in the last decade or so. Once cloud technologies started booming, everything – and I mean everything – starting moving to the cloud…even password managers.
Still, there are plenty of stand alone password managers that can be downloaded and installed for free, but there's one caveat. Stand alone password managers only keep local copies of the password database, which introduces several problems.
If you want to duplicate your list of usernames and passwords from one device to another, you'll have to manual copy the encrypted database file over to a new computer.

But that introduces a whole new set of problems. What happens if you add a new username and password pair to one database, but not the other? If you want to keep using stand alone password managers like KeePass or KeePassX, by all means, please do. At least you're smart enough to use a password manager.
However, there is a decent solution for this password database syncing problem: just use a could storage service with a free syncing or automatic backup feature. Better yet, just host the password database in the cloud. That way any changes you make get automatically synced and pushed to all of your other devices.
Unfortunately, setting that up can be a little bit of a pain, and it does take a bit of time. If you're looking for a  more elegant solution, then I highly recommend using a cloud-based password manager, such as LastPass or RoboForm.
But which one is better? I hope to help you answer those questions by picking apart each provider piece by piece for a side by side comparison. Let's start by comparing each provider's pricing model.
Price Comparison: RoboForm vs LastPass
I think the first thing people look at before buying software is the price, which is only natural. However, I would caution you to look at the features as well, because you don't always get what you pay for.
In the case of password managers, note that either solution is still going to provide you with the core functionality of encrypting a database of passwords, and then securely copying those passwords into forms without the need to type them out.
At any rate, let's take a look at each competitor's respective pricing models. Also, note that RoboForm does have a free trial in addition to the paid subscription options. The following outlines RoboForm's pricing model:
The following outlines LastPass's prices:
I should also mention that there is a completely free version of LastPass, which not only serves as a way to test the software but can actually be used in the long term. But if you want to unlock all the extra features of LastPass, you'll have to subscribe.
Having said that, I doubt even the most price-conscious consumer would have any problem paying a measly $1.00 per month for a subscription. In my opinion, that's dirt cheap, and cheaper than just about any other software or subscription service I've ever seen.
LastPass Key Features

At first glance, it may seem that LastPass was only designed to store username and password pairs. And while it may be true that usernames and password storage is the core function of LastPass, the fact is that it was also intelligently designed to store other types of data in a conveniently laid out forms.
For instance, it can also securely store insurance information, digital payment card data, account numbers, membership data, Wi-Fi network parameters, and more.
And unlike most stand-alone password managers, you won't have to copy and paste each credential into text boxes and online forms. It comes with a secure auto-fill mechanism that does all the heavy lifting for you.
Oh, and guess what? Since your passwords are securely stored in the cloud, you'll be able to access them on an unlimited number of devices, without having to worry about synchronization issues. In addition, since it's accessed through a web based console, you can access your data on any device that's capable of running a web browser.
In summary, the following outline LastPass's features:
Securely stores passwords and sensitive data in the cloud in an encrypted format
Available on Windows, Mac, Android, iOS
Can be independently accessed via a web browser
Includes auto-fill features for forms
Biometric fingerprint reading feature for database access (which could eliminate the need to remember a master password, but biometrics are still notoriously flaky)
How Does LastPass compare to Others?
RoboForm Key Features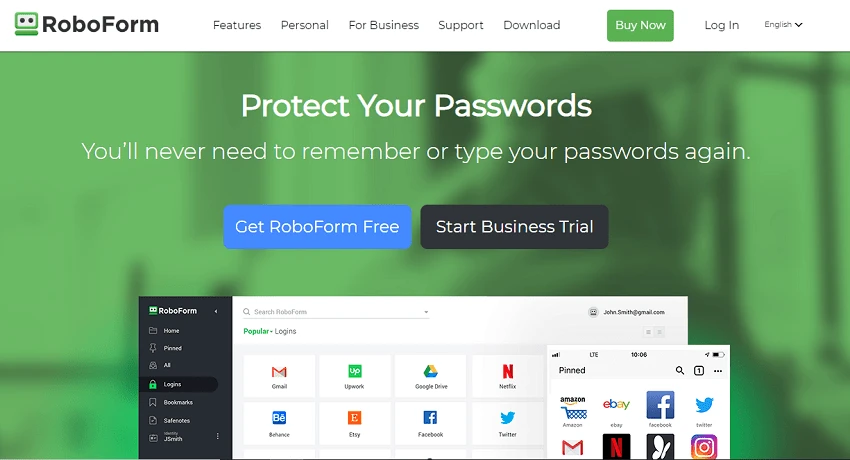 RoboForm includes a lot of similar features, but it seems to have a few features that LastPass lacks. Nevertheless, like LastPass, RoboForm encrypts your usernames and passwords with AES-256 and SHA-256.
And like LastPass, RoboForm shares common features like platform independent web access, the ability to automatically fill in forms, and store data other than passwords in an encrypted format. For example, you can store sensitive information such as a software license key securely in the cloud.
Additionally, RoboForm will automatically save any new passwords that you enter into a website, so you won't have to retype them into the password database, which I thought was really convenient.
And finally, RoboForm comes with a random password generator. However, I didn't see that as a very special feature, since most other password databases have them as well. In fact, you can run a Google search for a free random password generator.
In summary, the following outline RoboForm's features:
Includes an interface with links to a website; by clicking the link, you simultaneously log in and pull up the web page
Random password generator
AES-256 and SHA-256 protected passwords
Automatic form filler feature
Encrypted text fields for notes (for private data, misc. data, software keys, etc.)
Support for Windows, Mac, and mobile
Accessible by any device with a web browser
Automatically stores newly entered passwords
Final Thoughts on Choosing RoboForm or LastPass
This was an incredibly close comparison; so close, in fact, that I doubt anyone would really see a significant change in value between providers if your main goal is to securely store encrypted passwords in the cloud. Let's face it – that's the main meat and potatoes of this service. As long as that base is covered, most other features are bells and whistles to me.
To muddy the waters even further, both of these services are cheap – dirt cheap. The bottom line is that you're only going to be paying about a buck a month, which is something to sneeze at. I did think that RoboForm had some very strange subscription term lengths, but that aside, they're both extremely cheap and affordable. Heck, even a college kid on a modest budget and a diet that consists mainly of Ramen noodles could afford this service without batting an eye.
That said, I did think that RoboForm was a little bit better because it had some better automatic features. I really like the fact that it remembers new passwords, and I think the interface is a little more attractive.
Bottom Line: Lastly, even though it was an incredibly close competition, I think RoboForm wins by a hair, but I still encourage you to try out LastPass if you don't like RoboForm. It gets the job done too.
Recommended Reads