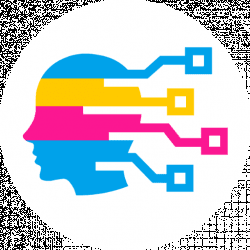 Latest posts by Digital Guyde Team
(see all)
Everyone who uses a computer needs antivirus software, though I still find loads of people who aren't protected. Without antivirus software, the issue isn't if you're going to get a virus, but when you're going to get a virus.
And these days hackers have become pretty darn sophisticated. What may look like a harmless file download may end up installing innovative and opportunistic background processes that remain invisible to the end user.
And the results could be awful. Perhaps your file system will become corrupted or you'll lose all your data. Other times, a virus might record all of your keystrokes, including private chats or even work data. I think one of the worst-case scenarios, however, is identity theft and the unlawful seizure of payment card data, usernames, and passwords.
Why take the risk? An ounce of prevention is worth a pound of cure, as they say, and you're far better off using antivirus software to thwart the vast majority of online threats. But which provider do you choose?
There seem to be as many antivirus applications as there are stars in the sky, and you can bet that some of them are lemons. Today we're going to be taking a closer look at PlumBytes to see if its a hero or a zero. So, let's get started with the pricing model of PlumBytes Antimalware.
Pricing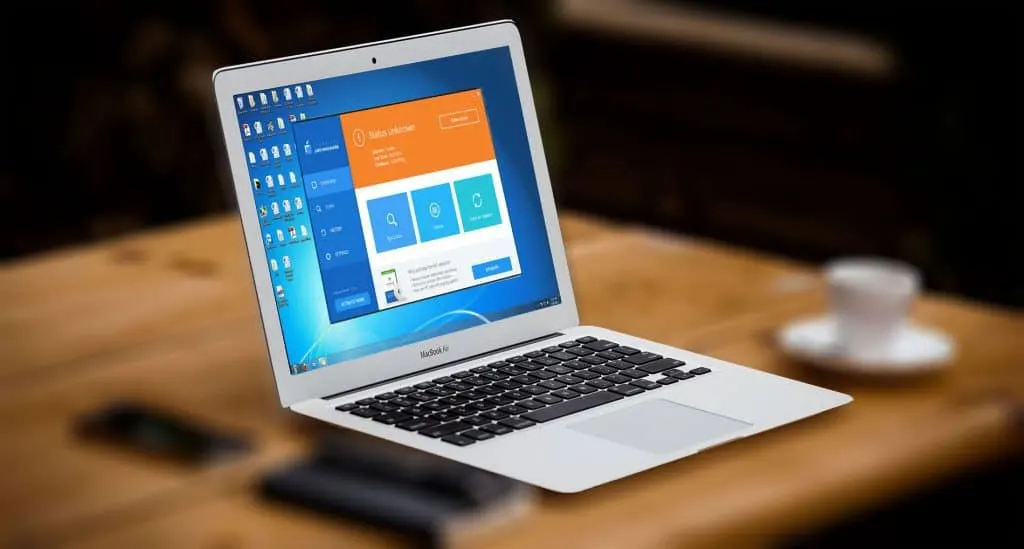 PlumBytes Antimalware does have a free download and scan option, but if you want the full-featured version of their antimalware solution, you're going to need to pay for it. And I have to say, I wasn't too impressed with the pricing model. It's rather flat and static, and not the hottest deal on the market. At the same time, it's not the most expensive tool either.
You can purchase PlumBytes Antimalware for $49.99 (check here for the latest price & discounts). While that's not exactly outrageous or exorbitant pricing, I think it could be a little bit cheaper. You'll find a lot of simple virus scanning, detection, and removal tools in the $25-$35 dollar range for one-time purchases. A prime example includes MalwareBytes, which is a fantastic tool for eradicating viruses.
However, I would like to point out two things. First of all, note that there really aren't any savings discounts. For that reason, if you want to secure a large number of computers, I'd recommend looking for a provider that will discount your rate based on the number of devices you need to secure. PlumBytes doesn't do anything to incentivize customers to buy more than one copy.
And secondly, note that this isn't a subscription-based service. Once you buy it, it's yours for good. I suppose that in the long run, it could pay for itself through what is called the "buy back period" in economics, but that's only if you use it for several years in lieu of a subscription service.
To sum up the pricing model, it's not outrageous, but isn't a jaw-dropping Black Friday deal, either.
Features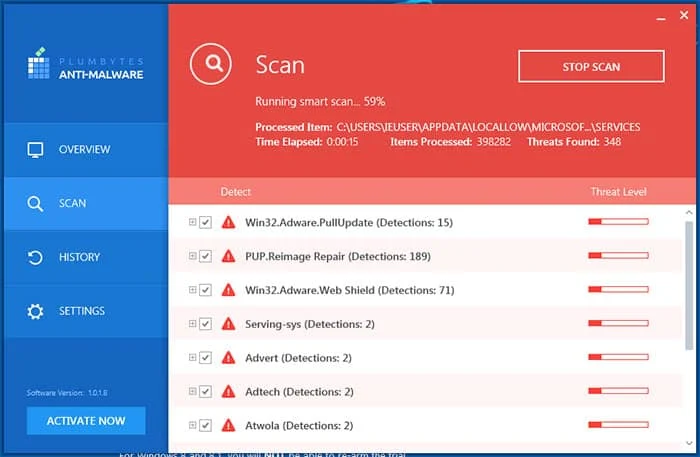 To be completely honest, I wasn't that impressed with the features included in the PlumBytes Antimalware software. That's not to say that it's bad software; in fact, it's very adept at catching viruses.
However, I would have preferred to see a lot more features, especially since it costs about $50.00. Still, I suppose it's value is determined by how long you use the software since it isn't a subscription model like many competing services, such as BitDefender.
First off, the software has the expected core feature of malware and spyware detection (adware, spyware, Trojans, worms, rootkits, and PUPs). There was absolutely no mention of protection against ransomware specifically, though I suppose they could fall under the malware umbrella.
I do wish I had an objective malware removal benchmark to compare PlumBytes with other antivirus and antimalware vendors, but I wasn't able to find that data.
Typically I look at av-tests.org since they do a great job of calculating a number of successful virus blocks, failures to protect against a virus, and the number of false positives. However, I wasn't able to find any data for PlumBytes. Since the data was missing from av-tests and because I wasn't able to find a benchmark anywhere else, I have a few trepidations.
It does also help protect online against bad domains. As just about any other antivirus and antimalware program, it can detect basic threats by checking URLs against a blacklist of websites that are known to be malicious. Furthermore, it does offer some web browser security and anti-hijacking features to ensure that your web browser isn't exploited.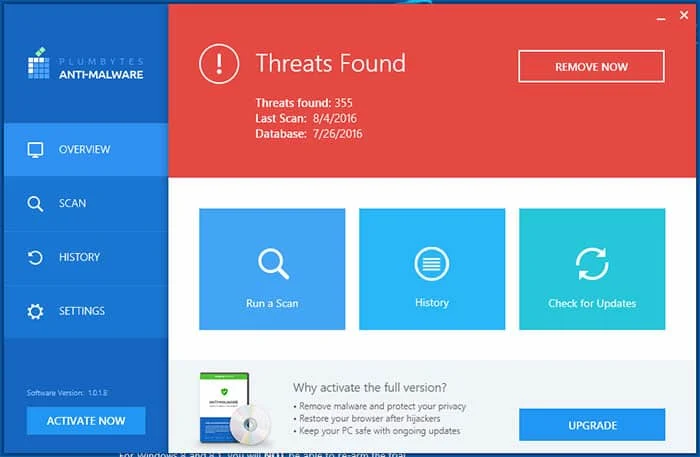 In summary, the following lists the features of PlumBytes antimalware:
malware and spyware detection and removal
safe Internet browsing
anti-hijacking browser features
multi-threaded scans for fast completion time
24/7 technical support
regular virus signature updates
To be completely honest, even though this is a decent set of features, it doesn't really keep up with a lot of other competitors' software. I suppose that's the difference between subscription-based services (which seem to be the norm) and purchasing a stand-alone application license. I feel that it's missing some features and even extra goodies.
For instance, it's become commonplace for most basic antivirus and antimalware tools to include more online protection with features like secure payments and PCI security. Also, it would have been nice to see that there was a feature designed specifically for real-time protection, though that feature wasn't even mentioned.
Additionally, a lot of premium antivirus solutions include extra goodies, such as an advanced software firewall, file shredders, and file encryption tools. In fact, I've seen several of the leading brands' package in a free password database license for password security. But PlumBytes, while retaining core functionality of virus detection and removal, lacks all the extra bells and whistle.
I suppose that could be a good thing if you're a non-technical user and just want a simple interface, an easy installation, and little to no software configurations before you can run a virus scan. For me, however, I would have liked to have seen more features.
Final Thoughts

Though this software was designed primarily to detect and remove malware, I felt it didn't have as many advanced features as the competition. And since it costs $50, I had high expectations. I'm not sure that I would recommend this as the first and best option. In fact, I have seen some free trials and free versions of software that have a lot more to offer.
I think AVG's free antivirus solution can match, if not beat, PlumBytes – though that is a subjective opinion. What isn't an opinion, however, is that AVG has more features, and it actually has lab data to back up its claims regarding protection and reliability. I would have preferred to see some lab data for PlumBytes, but I wasn't able to find any.
To put it in a nutshell, this is a decent service that will help ward off viruses and malware, but the pricing model is mediocre at best. There weren't any real savings discounts or pricing advantages over the competition. Nevertheless, if you're curious about using PlumBytes Antimalware, then, by all means, treat yourself to a free scan and see what you think.