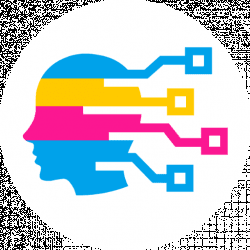 Latest posts by Digital Guyde Team
(see all)
Sometimes it feels like if you've seen one VPN provider, you've seen all of them. But this simply isn't true, because VPN providers have varying levels of quality of service, support, price, features, and speed among other qualities.
And truth be told, I was a little hesitant when I heard about Windscribe. First of all, their brand name doesn't include some clever play on words about "Hiding my ass," or allude to speed like ExpressVPN.
Unfortunately, I don't like the fact that Windscribe is based out of Ontario, Canada. I suppose that's better than being based in the United States, but there are some security and privacy skeptics that are worried about Canadian services since it is a member of the Five Eyes surveillance sharing network (as are the UK, the US, New Zealand, and Australia), according to Edward Snowden.
That said, I personally tend to distrust US-based services more, though I really prefer off-shore VPN providers. At any rate, they have one heck of an attractive free plan, so they've more than piqued my curiosity. Let's start digging a little deeper, starting with their pricing model.
Pricing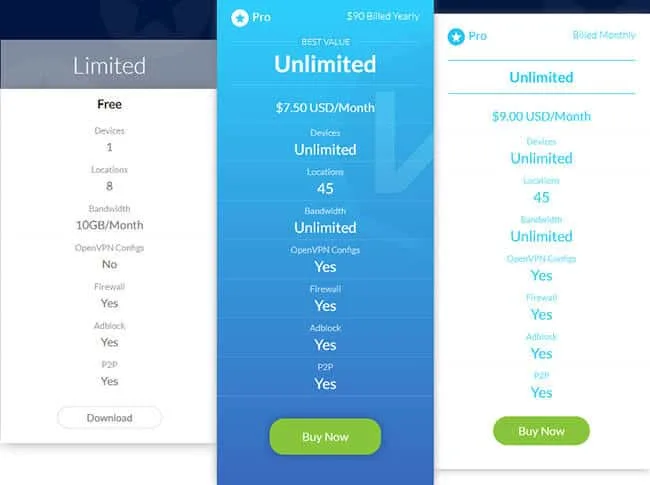 First off, I'd like to say that I was surprised to see that Windscribe offered a completely free version of their service. And the free version doesn't have any bandwidth restrictions. As we'll discuss in the next section, it does have a data cap. Still, it's a great option for short-term use while traveling so you don't have to commit to a long-term subscription.
Apart from the free plan, their pricing model is extremely basic, as follows:
Compared to other providers, Windscribe is a tad bit on the high side. To help give you some perspective, consider that PIA VPN only costs $3.33 per month with an annual subscription, though services like ExpressVPN cost $8.32 per month with an annual subscription. So, I'd say they're just a little bit above average, though it is rare to see a provider offer a free service.
The only other service I can currently think of that offers a completely free service is TunnelBear VPN, though both TunnelBear and Windscribe have similar constrictions on features.
Also, I was pleased to see that Windscribe accepts a smattering of different payment options, such as Visa, MasterCard, American Express, and PayPal. They even accept more anonymous forms of payment such as Bitcoins, which is fantastic (not all providers do).
With that out of the way, let's take a closer look at the free version of their VPN service.
Free Version
I really think that the free version is only useful in two scenarios. The first scenario is when you're traveling abroad and need a VPN tunnel in the short term to unblock restricted content. The second scenario is taking advantage of the free service as a means of testing out the VPN connections for yourself risk-free.
Regardless of what you use the free VPN service for, note that it has some tough restrictions. The first of which is that free users don't have access to the entire range of servers. Some of them are reserved for paid users so the free users don't bog down all the servers. Free users get access to servers in Canada, the US, the UK, Hong Kong, France, Germany, Luxembourg, and the Netherlands.
In addition, free users don't get to enjoy the luxury of simultaneous connections. In fact, they are restricted to a single device. And even though there isn't any bandwidth throttling, there is still a cumbersome 10GB monthly data cap. After the limit has been reached, the account becomes defunct, and you'll have to sign up for a new free trial or become a paid subscriber.
Despite these limits, I am still pleased with the free trial. Consider that TunnelBear only allows up to 500MB per month with their free trial, which is only 5% of what Windscribe allows. Just remember that if you want access to all the servers and an unrestricted data plan, you'll need to subscribe.
Paid Versions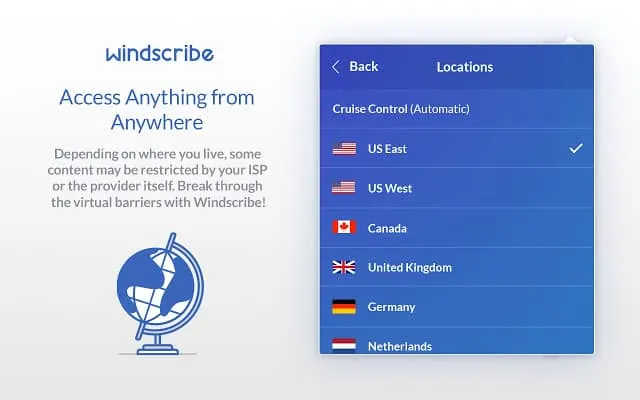 The first feature I'd like to draw your attention to is the fact that Windscribe is available on all the major operating system platforms. Part of this is due to their browser extensions that operate at the application level. You can use Windscribe on Mac OSX, Windows, Android, iOS, Linux, Firefox, Chrome, and Opera.
Also, I thought it was very odd that Windscribe made one small feature distinction between monthly and annually-billed customers. Only annually billed customers to get access to the full 45 countries in which Windscribe hosts servers.
For some strange reason, the users who are bill monthly only have access to 40 countries. I can't see that access to an additional five servers is going to influence anyone's subscription choice, but nonetheless, it's the only difference between the two packages other than discounted rates.
I am happy to announce that they do provide support for P2P traffic, and have created full VPN clients for supported operating systems (as opposed to using an operating system's native VPN connection software). Furthermore, the software comes with a firewall feature that behaves as a kill-switch, so your true IP address won't be seen by others online.
Browser Extensions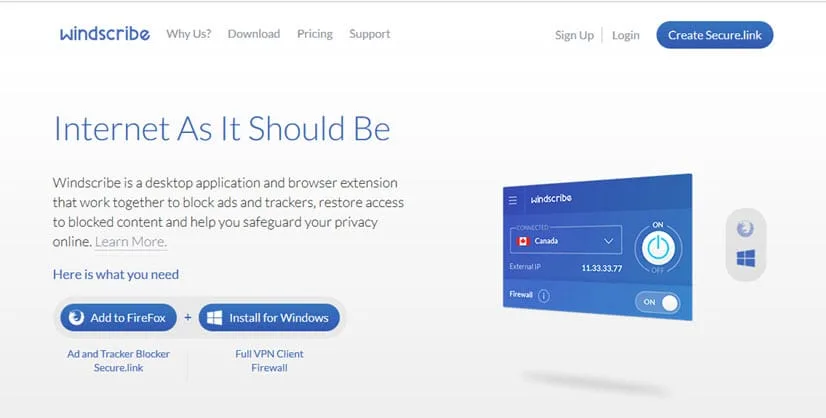 It's fairly uncommon for a VPN provider to also include browser extensions, so I have to commend Windscribe on a job well done. You should be aware, however, that the browser extension does not behave the same as the desktop client.
While the desktop client will send all traffic through the VPN tunnel by default, be aware the browser extension only sends data contained in the web browser through the VPN tunnel.
Furthermore, it helps anonymize your identity online by blocking targeted advertising and other tracking techniques. To further protect your identity, the browser extension can even block social media buttons that are used for ad and activity reporting, such as "like" buttons.
The browser extension is also adept at mitigating the effects of browser fingerprinting, which is yet another tool used by online entities to track data about specific users.
However, note that no single VPN service will ever succeed in making you completely anonymous, so you should still use good judgment online and take advantage of other privacy tools. For instance, if you're a fan of the Tor anonymity network, it will still compliment the Windscribe desktop client and browser extension nicely.
Speed Test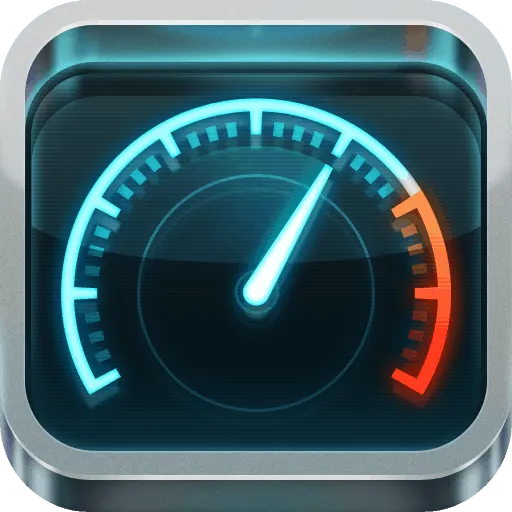 I went to speedtest.net to see just how well the VPN server handled throughput, and I wasn't disappointed. I wasn't exactly "wowed" either, but Windscribe did better than I thought they would (my expectations were pretty low). The following outline the results:
Latency:271ms Download:4.53Mb Upload:.50Mb
You should be aware that my Internet connection only has 5Mb download and 1Mb upload bandwidth. Still, I was disappointed to see that I lost nearly 10% of my download bandwidth and about 50% of my upload bandwidth. Having said that, I could browse the Internet and download streaming video without any real problems.
Final Thoughts
So, is Windscribe worth its salt? Well, I do think that it is a genuinely good service, but perhaps not the best alternative. To put things candidly, competition is fierce, and there are many alternatives with more features for a fraction of the cost.
Keeping that in mind, I think they have one of the best free VPN services I've ever come across. TunnelBear's free service is adequate, but it only allows 500MB of monthly data. The Windscribe free service allows a whopping 10GB monthly data limit, which is pretty astounding. So here's what I would recommend – I'd be sure to use Windscribe if you're in the need for a temporal VPN solution.
On the other hand, if you're curious, why not go ahead and download the free version? Test things out and see how you like it. If you like it enough, by all means, subscribe.
Also, I do genuinely believe that Windscribe is the best solution for folks with large families or a lot of personal devices to connect. The ability to secure an unlimited number of devices is unheard of, especially at such a low price (that feature really blew me away).
But I would like to present you with an alternative before we wrap up. Consider that VyprVPN is a cheaper alternative, allows up to five simultaneous connections, has a larger network of servers, is based out of Switzerland, and has superior security via a proprietary Chameleon encryption technology. Other providers, you may be interested in include ExpressVPN, IPVanish, and PIA VPN.
On the whole, I was impressed with this service – but I'm not sure they'd be my first choice.
How Windscribe Compares to Others?