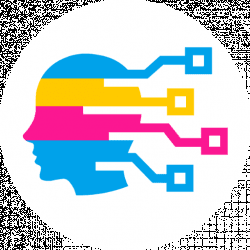 Latest posts by Digital Guyde Team
(see all)
Every serious gamer knows how important it is to have a router that won't bottleneck LAN traffic and cause undue amounts of latency. If you're using a router that's several years old, your gaming stats are probably suffering. Newer generations of routers are equipped with the latest and greatest technology to help you stay milliseconds ahead of the competition, and today we're going to take a look at the best gaming routers for PS4 in 2018.
But before we get started, I wanted to first discuss the PS4's networking capabilities and hardware specs, so you can better understand how the best gaming routers for PS4 affect performance. Let's take a closer look at the PS4's network hardware.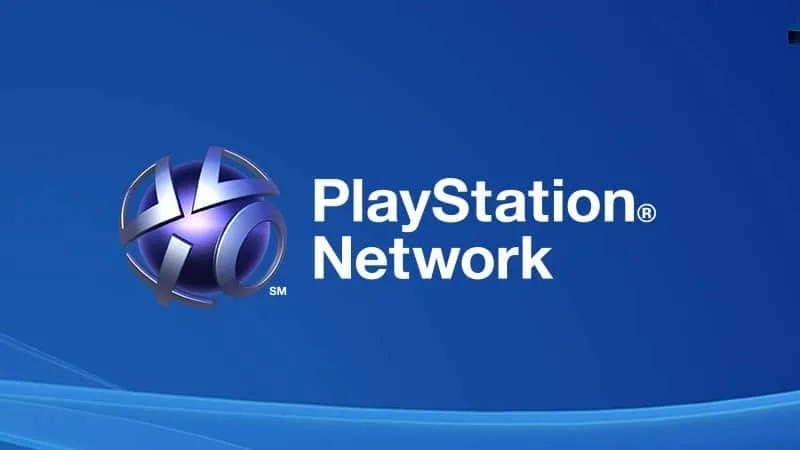 PS4 Networking Hardware and Capabilities
The PS4 has all the latest and greatest hardware with regards to networking. The fastest Ethernet standard available in consumer products like the PS4 is 1000Base-T, which is more commonly known as Gigabit Ethernet.
Although there is such a thing as 10-Gigabit Ethernet, it isn't yet found in common consumer products. Basically, the theoretical maximum throughput of the PS4's Ethernet card is one Gigabit per second (1Gbps). However, do note that it is backwards compatible with 100Base-T, more commonly known as Fast Ethernet.
So even if you connect it to a legacy Ethernet port, it will still function, though it will function at the slower rate of Fast Ethernet. The same concept holds true for the wireless card, which is capable of connecting with the latest 802.11AC wireless standard. The 802.11AC wireless standard has a theoretical maximum bandwidth of 1.3Gbps, but before your jaw drops, know that this speed must be taken with a grain of salt.

The theoretical speeds are never going to be reached by a consumer. They are simply the results of lab tests, and a great variety of factors will drastically decrease the real-life bandwidth speed, such as distance to the router, interference from other wireless devices, multiple users connected to the router (wireless is only half-duplex, after all), signal attenuation, obstructions like doors and walls…the list goes on.
In real life, you can expect the actual maximum speed to be somewhere in the ballpark of 250-300Mbps, which isn't bad at all, especially when considering its about 2.5-3 times faster than fast Ethernet. However, if you have Gigabit Ethernet available, I highly recommend taking advantage of it.
A Note Regarding Latency
Typically, bandwidth isn't the most encumbering factor for a gamer. Sure, bandwidth plays an important role in the quality of your experience. For instance, if you backup data online, download new games, or use your console as a media center, then having an adequate amount of bandwidth is a must. But with regards to playing actual games, latency is usually the greatest concern.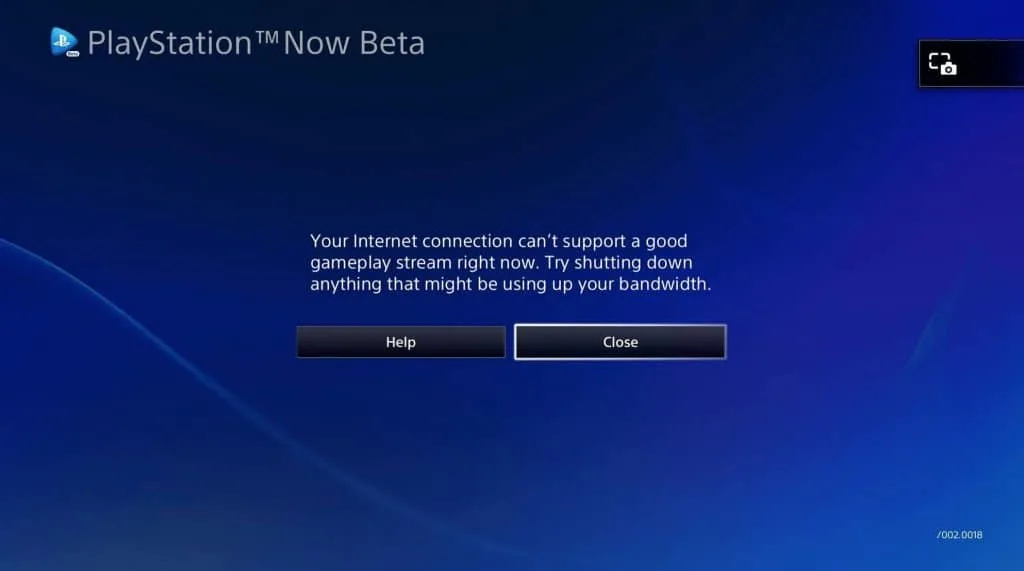 If your latency is too high, online games will jerk and twitch, and you'll be the laughing stock for your competitors. To reduce latency, it's better to opt for Ethernet when its available. Wireless technologies usually have higher latency than wired connections. So not only is a Gigabit Ethernet going to provide more bandwidth, its also going to reduce latency, making it the optimum connection medium for gamers.
The Bottleneck in Your Network
I also wanted to take a moment to clear up a common misconception most people have when buying a router. It seems that a lot of people are confused with the concept of a Local Area Network (LAN) and a Wide Area Network connection (WAN). Some people, unfortunately, are misguided, and think that buying a wireless router with Gigabit Ethernet capabilities will provide them with a 1Gbps Internet connection.
Unfortunately, this is not the case. More often than not, the bottleneck in your network is going to be your connection with your ISP. If your ISP connection is only 5Mbps, you couldn't ever hope to achieve a 1Gbps Internet connection. However, on your local network, connections between devices connected to your router would be able to take advantage of Gigabit Ethernet or 802.11AC speeds, but only if the device is equipped with a compatible network interface.
So, be warned: buying an extremely fast gaming router won't necessarily make your Internet connection faster, because the upstream connection with your ISP is usually the bottleneck. With that said, let's take a look at the best gaming routers for PS4 in 2018.
Netgear Nighthawk AC3200
First up is the Netgear Nighthawk AC3200. Previous models of the Nighthawk were also the best and brightest during their generation.
As expected, the latest and greatest Nighthawk model doesn't disappoint either. However, you should be warned: it's certainly not the cheapest model on the market.
The Nighthawk AC3200 costs about $300 new, though you can find deals on used models. I especially love the QoS features, which has the ability to prioritize types of traffic or traffic to a specific host.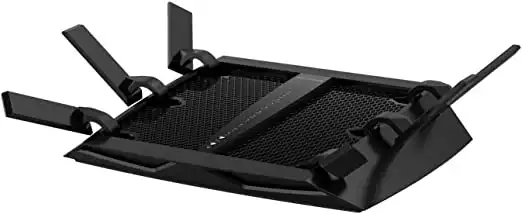 With this feature, you can ensure that your video game connection always takes first priority over other types of traffic during times of network congestion. That way, if someone else on the network has initiated a huge download, they won't be able to hog Internet bandwidth and slow down your game.
Most standard consumer grade routers have severely watered down QoS features – or none at all, so kudos to Netgear for including this feature.
Asus TR-AC88U Wireless Router AC3100
This behemoth of a wireless router was designed with gamers in mind, and sports four external antennas, as well as four internal.
It was designed so that four antennas transmit data and four receive for increased throughput. Although I would recommend keeping it as close to the PS4 as possible with a wireless connection, this model has a jaw dropping coverage of up to 5000 square feet. Furthermore, it has plenty of room for hardwired clients since it has eight Gigabit Ethernet ports on the back.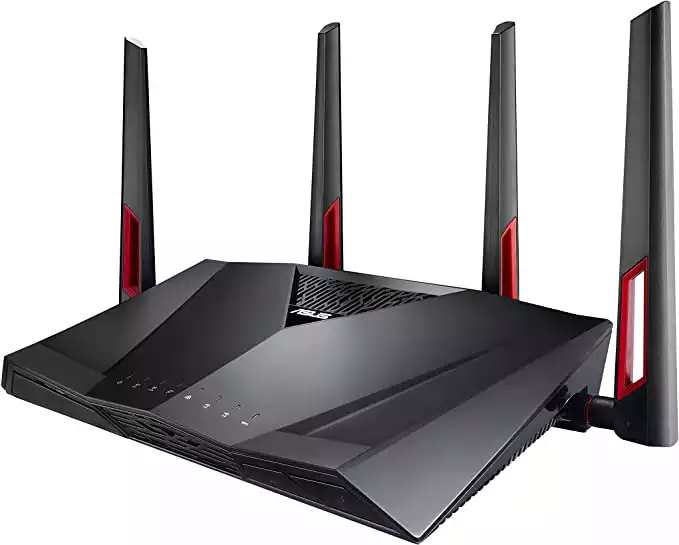 And it's loaded with a dual core processor clocked at 1.4 GHz for faster processing of overhead, such as encryption (which is crucial if you're playing through a VPN tunnel to reach a specific server).
Plus, it has two wireless technologies that drastically speed up connections. The first is Smart Connect, which will automatically choose the best and fastest wireless bands available for you to avoid drawbacks like interference.
Lastly, it has 1024-QAM (Qaudrature Amplitude Modulation) technology which makes the theoretical maximum transmission throughput in the 5 GHz range 80% faster, and 66% faster in the 2.4GHz range.
D-Link Wireless AC1900 DIR-880L
I think every household in America (and most of the world, for that matter) is familiar with D-Link wireless routers. This model is a dual band Gigabit router with total wireless throughput of 1.9 Gbps (600MbpsN + 1300Mbps 802.11AC).
I also like this model because it comes equipped with beamforming technology, which can shape the wireless signal to effectively point at the connected device for a stronger and faster connection.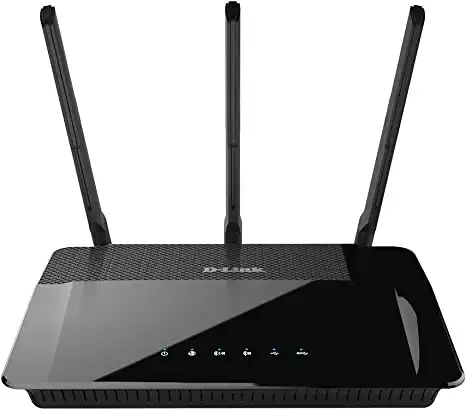 You can find it for $149.99 on Amazon, which isn't too bad considering how fast it is as well as its list of features. Though I prefer DD-WRT, I was impressed that D-Link added granular QoS controls in the firmware that allows you to prioritize traffic. If you wanted to, you could prioritize gaming traffic so it is always sent first instead of being queued, which would increase latency.
I was a little disappointed to see the size of the switch on the back, however. The switch does include Gigabit Ethernet technology, but it only offers four LAN ports, which I suppose is satisfactory for the vast majority of users – especially if you're going to be connecting a lot of clients via wireless.
ASUS RT-AC1900 Wireless Router
ASUS makes its share of fine networking equipment, and this model is another great alternative for PS4 gamers, whether you want to connect via wireless or an Ethernet connection (though serious gamers will always connect via Ethernet because it reduces latency).
This model does have five Gigabit Ethernet ports for hardwiring devices, and it does have the latest and greatest wireless technology. It is a little more expensive than the last model, and is priced at $189.00.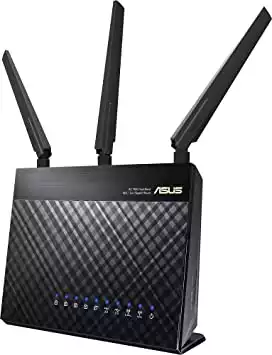 The RT-AC1900 model is equipped with Broadcom TurboQAM technology that boosts the speeds of 802.11N connections to make them 33% faster. Additionally, it comes with 802.11AC capabilities, which is, to date, the fastest wireless standard available to consumers.
Interestingly, this model also has AiProtection, which is a Trend Micro feature for added security in addition to Parental Controls to help protect children. Last but not least, note that it does come with a USB 3.0 port and on USB 2.0 port.
ASUS OnHub AC1900
Last but not least is the ASUS OnHub AC1900, which is cheaper than the other alternatives and priced at a reasonable $119.99. Honestly, I don't care for the form factor of this model, because it looks a bit like a nuclear plant silo.
Still, I suppose it's more self contained and doesn't have any obnoxious external antennas sticking out that would make it hard to place.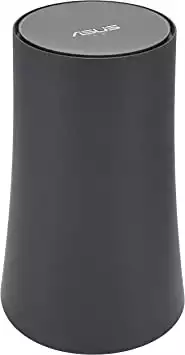 And it comes with an ASUS version of QoS called Wave Control, which allows a user to prioritize connections with merely the wave of a hand. Furthermore, I was pleased to see that it has an eight port switch, but then disappointed to realize that they're Fast Ethernet ports (100Mbps).
In fact, it only has one Gigabit LAN port, which is better than nothing. The less you pay, the less you get, I suppose, and this model is definitely designed for more price conscientious consumers.
Final Thoughts
Last but not least, I must remind you to consider how fast your upstream connection is to your ISP. Buying a Gigabit Ethernet router won't instantaneously magic your bandwidth to Gigabit speeds, and always remember to exploit wired connections when possible to reduce latency.
If you wanted to test latency, simply run a ping command on computer and measure the difference between the wired and wireless connections. Nevertheless, one of the aforementioned best routers for PS4 are undoubtedly ideal choices to connect your console to game servers with the latest and greatest speed.
Further Reads