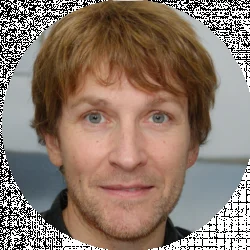 Latest posts by John Hughes
(see all)
Parental control software tools play a critical role in ensuring your child's safety online. These tools foster a sense of trust and security and give parents peace of mind when children use the internet.
But with so many features, varied pricing plans, and different levels of protection on offer, the available software options can be downright confusing.
Qustodio and Norton Family stand out as two of the most popular parental control apps. Both have exciting features that make them appealing to parents. However, they also have differences that set them apart.
This article will compare Qustodio vs Norton Family, highlighting each app's features, benefits, and drawbacks. You'll also learn which app best suits the needs of your family.
Bottom Line Up Front
The main difference between Qustodio and Norton Family is that Norton Family focuses on having a collaborative family approach to parental controls, whereas Qustodio takes the stealthy and more secretive parental control app approach. Qustodio is the better option because it offers more features for the price, is more discreet, and is easier to use.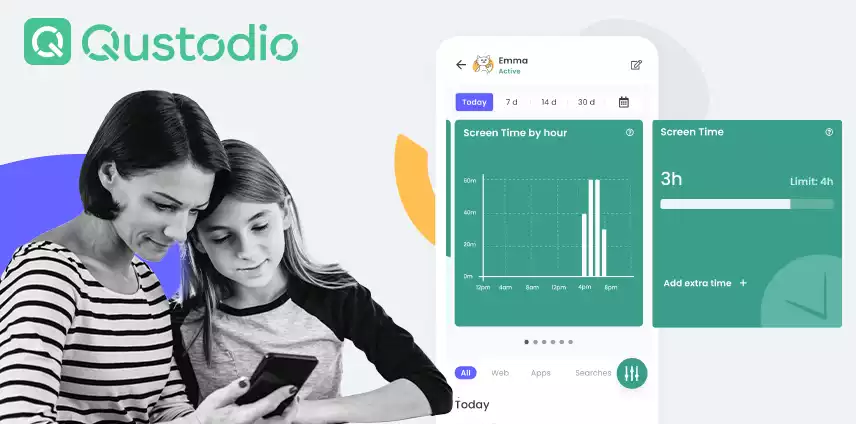 Main Differences Between Qustodio vs Norton Family
The main differences between Qustodio vs Norton Family are:
Qustodio takes a more authoritarian approach to parenting by strictly monitoring and regulating children's online activities, whereas Norton Family fosters a collaborative relationship between parents and children, teaching kids to be responsible digital citizens.
Qustodio has a free plan with limited features, whereas Norton Family has a 30-day free trial for all of its plans.
Norton Family is more restrictive than Qustodio regarding device compatibility, not supporting Kindle or Fire devices, Huawei, and Chromebook, whereas Qustodio supports Kindle devices, Chromebooks, and Windows phones.
Qustodio filters and blocks websites based on content type and categories, whereas Norton Family filters content based on predefined filters and tags, which are often misleading.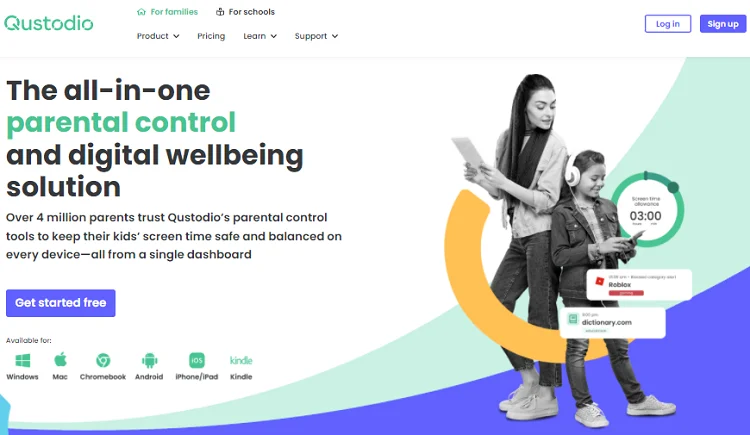 Qustodio is a parental control utility designed with all the perks a top-tier monitoring app should have. It boasts an extensive feature set that goes beyond basic parental controls. Furnished with a sleek and modern look, the app's interface design is a popular pick for parents.
The provision for cross-platform support is a significant plus for Qustodio. It works on all popular operating systems and platforms, making it an excellent choice for families with multiple devices. You can use it on Windows, Mac, Chromebook, Android, iOS, and Kindle.
Qustodio doesn't seclude its services to parents. It also offers a school edition that helps educators watch their students' online activities. The business edition is perfect for companies that want to keep their employees productive and away from online distractions.
While each product's offering features may be similar, the pricing is not. Qustodio offers a free trial, but the app's full features are available only with a paid subscription.
Qustodio Features
Filter content and apps
Activity Monitoring
Time limits management
Reports alerts and SOS
SMS and Call tracking
Location Monitoring
iOS calls & messages monitoring
Multi-parent management (for Android)
Qustodio Care Plus (for US market) – Priority support
Qustodio Pros
Flexible pricing
Extensive feature set
Cross-platform support
Intuitive and easy-to-use interface
Qustodio Cons
The free plan lacks all features
Limited social media tracking
Gets expensive with more devices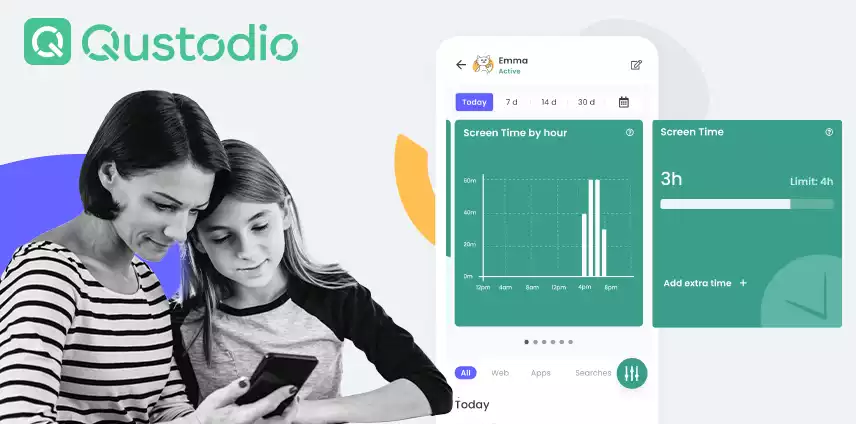 Norton Family Overview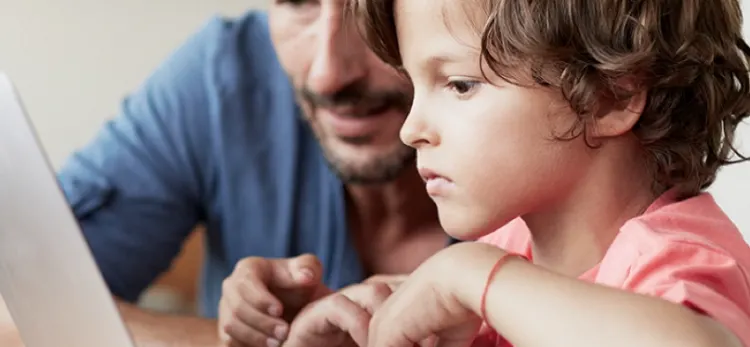 Norton Family is a parental control software with a long-standing history. It was one of the first apps on the market and has since garnered a large following. Norton Family, formerly Norton Family Premier, is available on Windows, Mac, and iOS. However, it doesn't support Chromebook, Huawei, and Amazon devices.
It supports all popular browsers such as Chrome, Firefox, and Internet explorer. It also comes with its browser, the Norton browser, that gives parents access to the full benefits of the app.
While other tools consider stealth mode a central part of their offering, Norton Family encourages parents to be open and communicative with their children about online safety. It provides parents with the tools they need to have informed conversations with their kids about their internet usage.
Parents can monitor their kid's activities through the web or the parent option on the app. They can also sign in to my.norton.com and use parental control via the browser. We can say that Norton Family is more of a collaborative tool between the parents and children, just as it is an app for parental control.
Norton Family Features
Blocking and filtering websites
App monitoring
Activity reports
Time management
YouTube video monitoring
Norton Family Pros
Straightforward pricing
No limit on devices monitored
Exceptional Geofencing technology
The setup process is simple
Norton Family Cons
Does not support Kindle, Huawei, and Chromebook devices
Lack of social media tracking
Some users may not appreciate the collaborative approach
Qustodio Vs Norton Family: Feature Comparison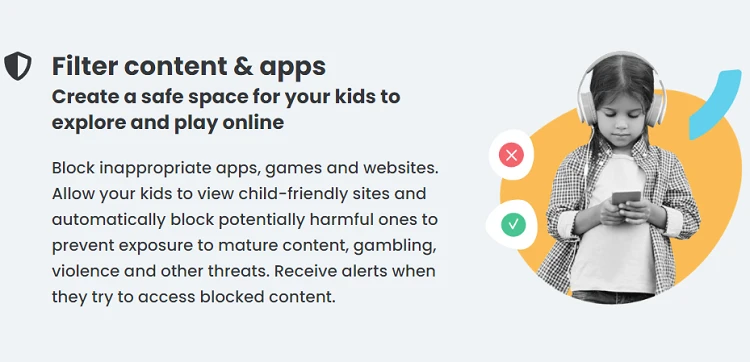 Both Qustodio and Norton Family offer extensive options for parents to monitor their children's online activity. However, there are some key areas where one app excels over the other.
Below is a detailed feature comparison between Qustodio and Norton Family.
Blocking and Filtering
One of the core features of any parental control software is filtering and blocking content. Both tools have strong filtering capabilities and can block websites based on predefined categories. In addition, parents can add custom websites to the blocked list.
The "block" and "allow" features are a little more refined in Qustodio. However, both apps can block and allow access to websites for each device. The "allow" option lets kids access certain websites, but the block function will restrict access.
The "alert" or "warn" functionality makes sure that parents receive notifications of allowed websites and warning alerts on attempted access to blocked websites.
The difference between the two apps is that Qustodio offers more granular control over filtering. It allows parents to block specific content such as profanity, pornography, and violence. Norton Family limits parents to predefined filters, which are often intentionally misleading, or to some extent, outdated.
Winner: Qustodio has a more advanced filtering and blocking system.
Location Tracking and Geofencing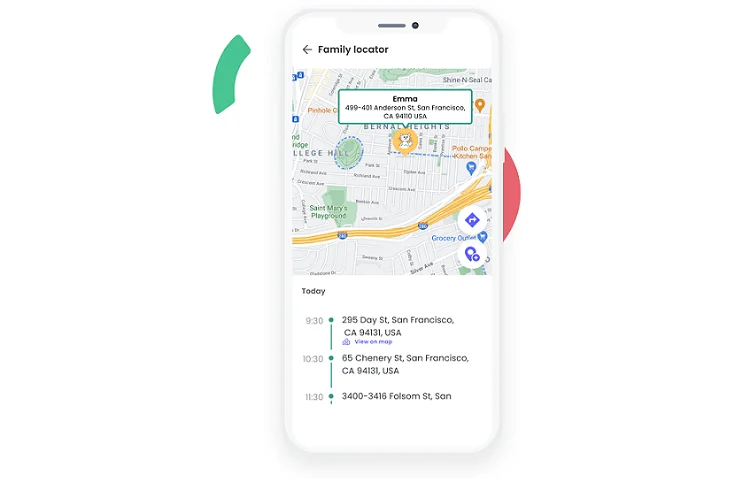 Kids become more independent as they grow. With independence comes the desire to explore new places, often without telling parents. Location tracking ensures parents always know where their kids are. Both Qustodio and Norton Family allow parents to track their children's location.
Qustodio's Family Locator feature lets parents see their children's last known location on a map. In addition, they can access a timeline of their children's locations. The feature also includes geofencing technologies referred to as "Your Places" on the app.
Geofencing creates a virtual boundary around a designated area. The predefined regions could be the child's school, home, or a friend's house. When the child enters or leaves one of these areas, parents receive an instant notification on their phone.
Norton Family's location tracking features display your child's location in real-time. Like Qustodio, it also includes a timeline of your child's locations. In addition, Norton Family offers parents the ability to set up geofencing features which it refers to as "Favorite Locations."
The software will send alerts when your child enters or leaves a Favorite Location. To foster the collaborative aspect of parenting, Norton Family also includes a "Child Check-In" feature. This feature allows children to send their current location to their parents with a single tap.
Winner: Norton Family-I found the location tracking feature more comprehensive than Qustodio.
Time Management
One challenge to parenting is ensuring kids have enough time for homework, extracurricular activities, and downtime. Time management tools help parents track how their children spend their time. Both Qustodio and Norton Family offer parents time management tools.
Qustodio's Daily Time Limits lets you control the time of day your child can access the internet. Parents can set caps on how much time their children can spend online each day or week.
In addition, Qustodio includes a Lock Navigation feature that you can use to either lock the device entirely or lock certain navigation features, such as the internet browser. The software will send parents a notification once the time limit elapses.
Norton Family offers a different approach to time management. The tool comes customized with time management features based on your child's age. The preset time categories don't work for every family, but the app does allow for a good deal of customization.
Parents can change the schedule to better reflect their family's needs. They can do these changes in hourly increments, down to the minute. If a child hits a preset time limit, Norton Family will block access to apps, websites, or the entire device.
One difference between the two platforms is that Norton Family's time management features are strictly per device. Children can switch to a computer or another device and circumvent your set limits. Qustodio has the option to either set this on a per-device basis or overall, across all devices.
Winner: Qustodio-I preferred the granularity of the time management features in Qustodio.
Call and SMS Tracking
Another safety concern for parents is contact with strangers. Parents can use call, and SMS tracking features to monitor their children's phone conversations. The most recent Qustodio update on the Google Play store doesn't offer call and SMS tracking features. If you want these features, you can get them from the app downloadable from the official website.
The paid version of Qustodio gives parents access to the contact details of the person your child calls or texts and even the message content. Qustodio logs the date, time, and duration of calls and texts. If you block any contacts, Qustodio will automatically block all communication with that contact, including calls and texts. However, you'll receive an SMS notification for each blocked communication.
Norton Family offers SMS and MMS tracking features. Parents can see the contact information of the person their child communicated with and the date, time, and duration of the communication. The app will notify the parent of a blocked communication.
Winner: Qustodio-I found the call and SMS tracking features more comprehensive in Qustodio.
Social Media Monitoring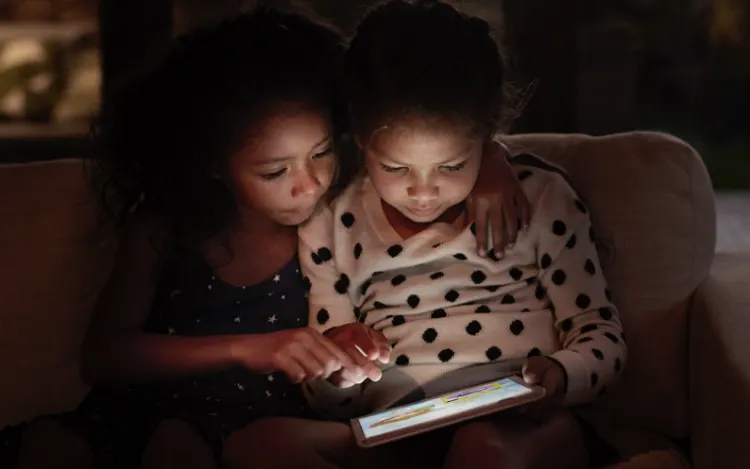 Parents can keep track of their children's online activity by monitoring their social media accounts. Sadly, both Qustodio and Norton Family offer limited social media monitoring features.
Qustodio's Social Media Monitoring feature lets you see who your child is communicating with on Facebook, Skype, Snapchat, TikTok, and Instagram, but won't show you the content of the messages. However, it'll show you the time spent on each app and even set time limits.
Norton Family limits its social media monitoring to YouTube. It doesn't offer the ability to see the contact information of the person your child is communicating with, nor will it show the content of the messages. It, however, provides an environment where you can have solid conversations with children about social media usage and internet safety.
Winner: Draw-Neither platform offers comprehensive social media monitoring features.
Video Monitoring
Video monitoring is a great way to watch your child's activities. Several video streaming services have explicit content that isn't appropriate for children. Qustodio and Norton Family offer different video monitoring features.
Qustodio offers YouTube monitoring, which lets parents see the type of videos their children are watching on YouTube. However, it doesn't work on iOS YouTube apps but will work on the YouTube website. Parents have no option but to block YouTube access, using the blocking feature to control what videos their children watch.
Norton Family monitors the videos your kids watch on YouTube and Hulu. These streaming services are popular with children and offer a wide variety of content. Norton Family will list all the videos watched, including the date and time. Unfortunately, it doesn't extend its services to other video streaming platforms like Netflix.
Winner: Norton Family- I found Norton Family's video monitoring features to be more comprehensive than Qustodio's.
Reporting and Alerts
Not all parents have the time to constantly monitor their children's activities, even with the monitoring tools in place. The "Reporting and Alerts" feature ensures that parents are in the loop about what their children are doing. Both Qustodio and Norton Family have a dashboard that gives parents a comprehensive report of their children's activities.
You can set email alerts within a certain range of time for Qustodio. For example, you can choose to receive an email alert every day at 6 pm, letting you know how much time your child spent on their phone that day. Norton Family doesn't have this feature but does offer weekly and monthly reports either to your inbox or the Norton Family portal.
Winner: Qustodio- I found Qustodio's range of email alerts more comprehensive than Norton Family's.
Other Important Comparable Factors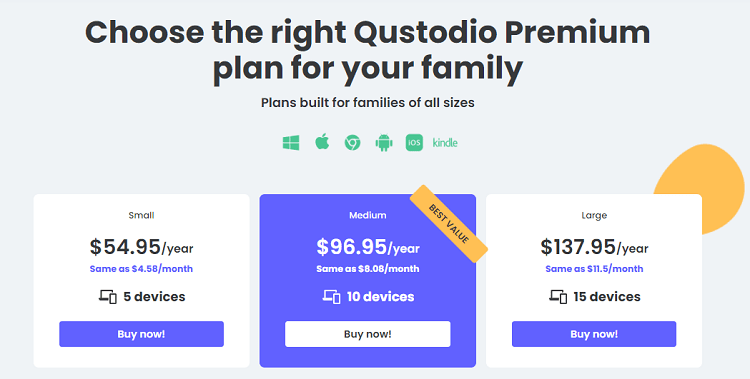 Apart from the features mentioned above, there are other factors worth mentioning.
Price Comparison
Value for money is an essential factor in choosing a parental control app. Below is how the two parental control apps compare in terms of pricing.
Qustodio Pricing
Qustodio has three pricing plans.
Small: $54.95/Year
Medium: $96.95/Year
Large: $137.95/Year
The pricing plans offer similar features, with the major differences being the number of devices each plan supports. The small plan supports up to five devices; the medium plan ten devices and the large plan supports 15 devices. Qustodio also has a free plan but with limited features.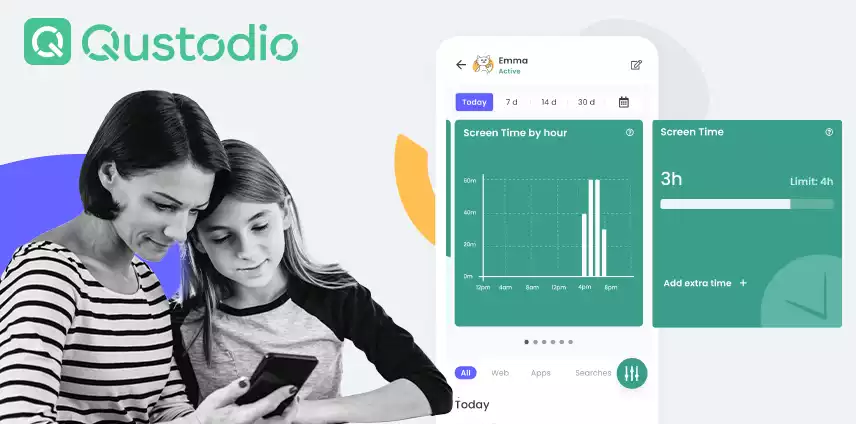 Norton Family Pricing
Norton Family offers a flat pricing plan of $49.99/Year. This plan gives access to all the app features on an unlimited number of devices. There's also a 30-day free trial but no free plan.
Winner: Norton Family is cheaper than Qustodio. It offers a flat-price plan with no device limit plus a 30-day free trial.
Compatibility
The compatibility of a parental control app with devices is an essential factor to consider. Both Qustodio and Norton Family have apps for Mac, Windows, Android, and iOS devices. Qustodio has extra compatibility capabilities for Kindle devices.
It also supports Chromebook devices but not Windows phones. Norton Family is more restrictive such that it doesn't support Kindle or Fire devices, Huawei, and Chromebook. The software doesn't work on Windows 10/10s mode.
Winner: Qustodio has more device compatibility than Norton Family.
Ease of Use
How easy the parental control app is to use is an important factor. Both Qustodio and Norton Family have user-friendly interfaces. There are no major differences in terms of ease of use.
However, Qustodio does have a slight edge as its interface is slightly more user-friendly. Norton Family is an old dog learning new tricks in that it has a more cluttered interface than Qustodio.
Winner: Qustodio is marginally more user-friendly than Norton Family.
Technical Support
Both Qustodio and Norton Family offer technical support. Qustodio support is available through email. The tool also has a comprehensive online help center that answers most of your questions. Norton Family offers support through chat and phone agents. The chat support will provide personalized support to each user.
Winner: Norton Family offers better technical support than Qustodio.
Qustodio vs Norton Family Compared (FAQs)
Question: What Can Qustodio See?
Answer: Qustodio can see all the websites visited, the apps used, and all the social media activity on installed devices. Parents can also see messages and calls sent and received on the devices. From this information, they can block or allow websites and apps.
Question: Is Qustodio a Good Parenting App?
Answer: Qustodio is one of the best parental control apps on the market. It offers parents a wide range of features, such as website and app blocking, social media monitoring, and call and message tracking. Parents can also receive email alerts for specific activities on the child's device.
Question: How Good is Norton Family?
Answer: Norton Family is a good parental control app. It offers website and app blocking, social media monitoring, and SMS and MMS tracking. Its flat-rate pricing plan is also a plus. However, it doesn't have the device compatibility that Qustodio has.
Conclusion
Qustodio and Norton Family are both good parental control apps. They offer a wide range of features that cater to the needs of parents. However, Qustodio is better as it provides more device compatibility and is more user-friendly. It also has better technical support than Norton Family. If you are looking for an excellent parental control app, I recommend Qustodio.