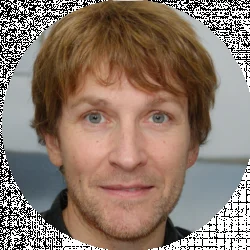 Latest posts by John Hughes
(see all)
Here, we will break down two popular parental control services, Net Nanny vs Norton Family, and give you an idea of the best one for your needs.
Most modern-day kids have never known a world where they could not connect to the whole world through the internet.
In fact, kids probably spend more time online than anybody else today. This is a huge problem for parents and guardians as the internet contains lots of toxic, disturbing, and explicit material that is not suitable for kids.
Exclusive Offer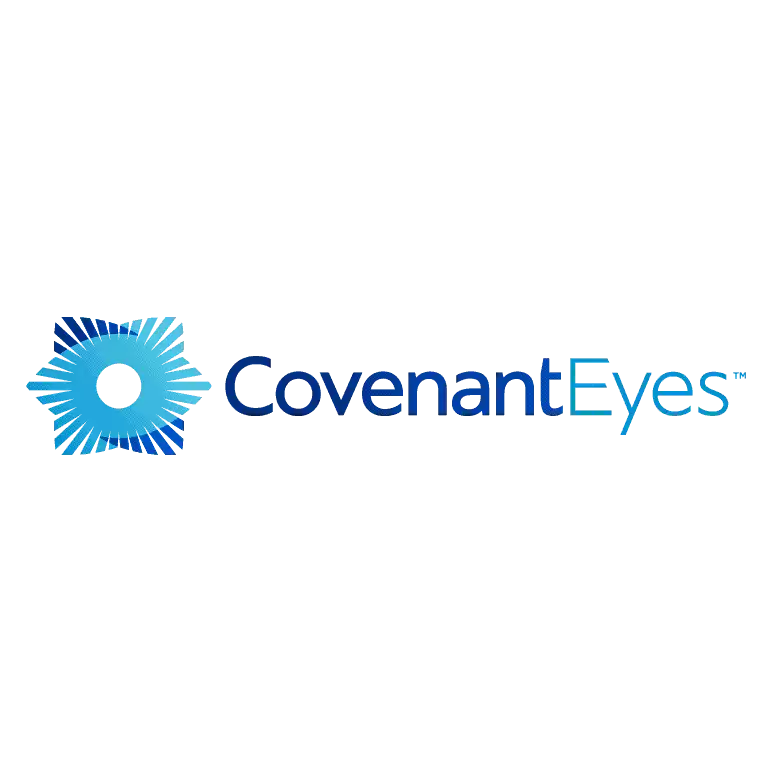 Defeat Porn With Covenant Eyes
Covenant Eyes helps you live porn-free with confidence. Get 30-days free using code: VENTURE4TH.
Get 30-days Free!
We earn a commission if you click this link and make a purchase at no additional cost to you.
Luckily, you can take advantage of parental control services to help you monitor what your kids are doing on the internet. These online security services let you control the devices children use. It is advisable to learn how your connected child uses the internet before enforcing any restrictions.
There are two sides to the coin here, as you do not want them to feel as if their privacy has been infringed, pushing them to find solutions that will bypass your controls.
Bottom Line Up Front: For most families, I prefer the more affordable and standardized pricing value offer with Norton Family here. While it's somewhat limited on social monitoring, Norton does have SMS monitoring (Net Nanny does not). I might consider Net Nanny specifically for teens due to the social monitoring aspect, while Norton is suitable for younger kids and/or blended age ranges.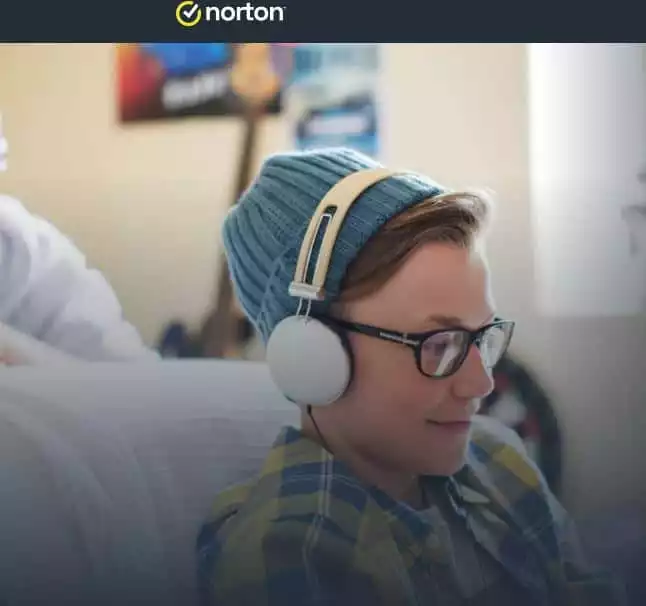 Read on…
Main Differences Between Net Nanny vs Norton Family
The Main Differences Between Net Nanny vs Norton Family are:
Net Nanny can become very costly for a high number of devices whereas Norton Family has a standard price regardless of the number of devices you want monitoring
Net Nanny has social media monitoring whereas Norton Family has very limited social monitoring
Net Nanny has no SMS monitoring whereas Norton Family has this feature for Android devices only
Overview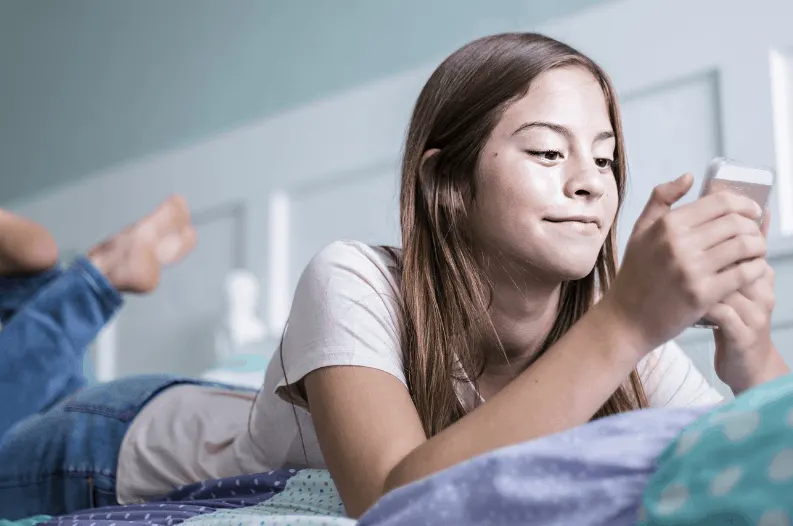 Net Nanny is one of the first companies to offer internet filtering services to customers. It has been in this space for over two decades and continues to deliver advanced dynamic filtering solutions to customers. Gordon Ross designed and created it in 1993 in Vancouver before moving to Bellevue, Washington, in 2000.
Over the years, Net Nanny has changed ownership several times, but this did not deter them from their main course of keeping children safe when using the internet. With this service, parents can track their children's location, manage settings for internet filtering, block websites, check the applications stored in their phones, see online searches, and receive alerts, among others.
Norton Family is owned by Symantec, a well-known company for its anti-virus and firewall service Norton Security. Norton Family is a parental control service that was first debuted in 2009 as Online Family.
It can monitor the internet activity, messenger, social traffic and enforce policies while reporting individual accounts activities. It is run on the policy that parents and children should be transparent and advocates for an open dialogue on what is good and bad for the child's benefits. This is actualized by an open tray icon on the kid's device that is meant to show the software's presence.
Continue reading our complete Norton Family Review.
Features
The feature-set is an essential aspect of any parental control service as it dictates how much control you can get over your kid's internet usage.
Net Nanny
Net Nanny has an app for the parent and kid. This is in the spirit of implementing a transparent model of online control. The child uses their app to see how much screen time they have left, a good way to make them plan for their time online better.
All the control services can be accessed through a mobile app or web portal. A quick login into the parental dashboard shows a summary of the kid's usage, with an option to double click and see the details such as searches, screen time, alerts, and location. You can also block the phone and disable all applications apart from the phone on this dashboard.
Some of the top tools available here include;
Family Feed
This tool lets you get a high-level view of what your kids are doing on the web without going to an individual's profile.
Searches
This part shows you what your kids are searching online. One caveat with this tool is that it only records the searches done through mainstream browsers. Those done through the Google App are not logged.
Location
The tool shows you where your kids are on a map, using GPS technology. You can geofence them, but it still has a few flaws. Your kids can change their location preferences on their dashboard or turn off GPS on their phones. Location control requires a lot of trust between you and the kids.
Screentime
This feature lets you check how much time kids spend on their devices.
YouTube Monitoring
This feature works by recording any views and searches on YouTube without necessarily restricting them.
Blocks and Alerts
This part is distinct for each child. It shows all the things that were blocked and any alerts that need your attention.
On the parental portal, you can create filters and block certain websites and applications. This allows you to personalize your kids' access to the internet and restrict what you do not want them to access.
Besides, you can schedule the times you want your kids to use the device in a timetable format. This lets you block them say during school hours before allowing them to use the device after school.
Net Nanny can block fifteen categories of content, namely; Porn, Mature, Adult, Anime, Nudity, Abortion, Strip Clubs, Provocative, Gore, Gambling, Drugs, Weapons, or Suicide.
All these categories are listed, and you can set them on either Allow, Alert, or Block. In addition to these preset categories, you can create custom filters using keywords that Net Nanny will use to detect. You can also whitelist or blacklist websites using URLs as the filters can easily flag the wrong sites. Lastly, Net Nanny can mask profanity on sites by placing ### on web content.
See how Net Nanny compares to other popular parental control solutions:
Exclusive Offer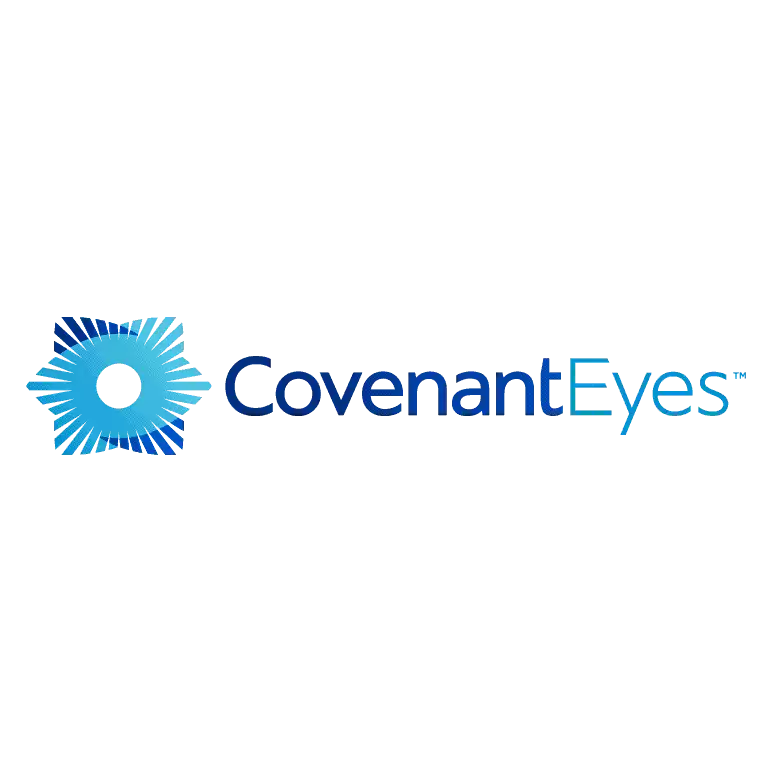 Defeat Porn With Covenant Eyes
Covenant Eyes helps you live porn-free with confidence. Get 30-days free using code: VENTURE4TH.
Get 30-days Free!
We earn a commission if you click this link and make a purchase at no additional cost to you.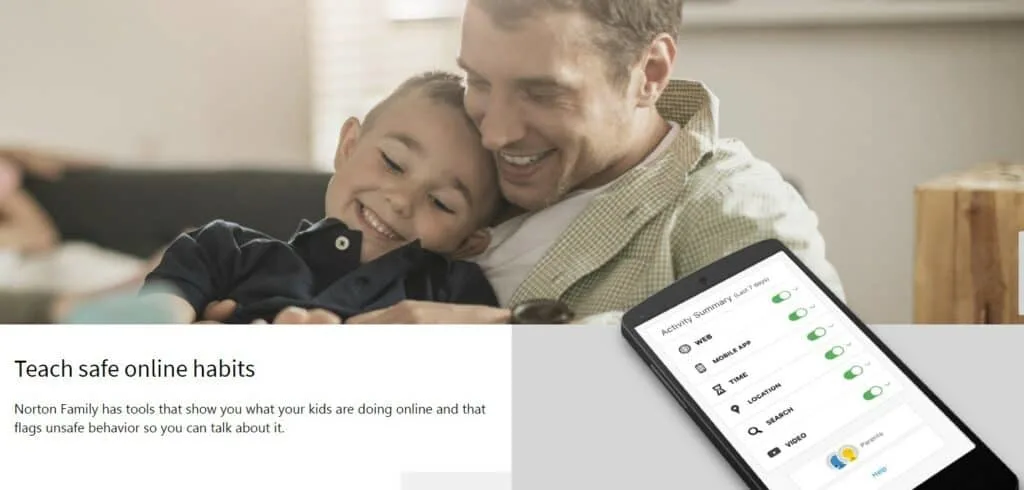 The first set of parental monitoring presets is based on age. They are as follows;
Very High- Kids younger than eight years
High- Ages 8-11
Moderate- Ages 12-14
Low- Ages 15-17
Norton Family uses an AI engine to analyze every site or application a kid visits. There are a total of 47 categories to choose from, and you can customize them based on the level of restriction you want to achieve.
The three levels of control are monitor, warn or block. Monitor turns off all restrictions on the child's device but sends alerts to the parent on the accessed websites. Warn will inform the kid that the site they are accessing is inappropriate, and they can choose to heed to it or ignore it. Block will not open the website and alert the child that their access has been denied.
For screen time control, you can set a daily usage plan in 30-minute blocks. The overall daily limit is available in one-hour blocks. This can be improved as people's days are not always divided into perfect blocks.
The instant lock option blocks all devices under the account, and kids can only unlock any of them using a 4-digit PIN. This is useful if you monitor multiple devices and only want them to use one, say a computer. The additional time request allows a kid to ask for more time, which alerts the parent to either accept or deny.
App usage control lists all applications on the device and lets you block or allow them. You can monitor the usage of individual apps and see where your kid spends most of their time.
The location tracking feature is limited to very few countries, namely the US, UK, Canada, New Zealand, Australia, and Japan, for windows devices. Those using iOS devices can track all the mentioned countries, plus Indonesia, Hong Kong, and South Africa.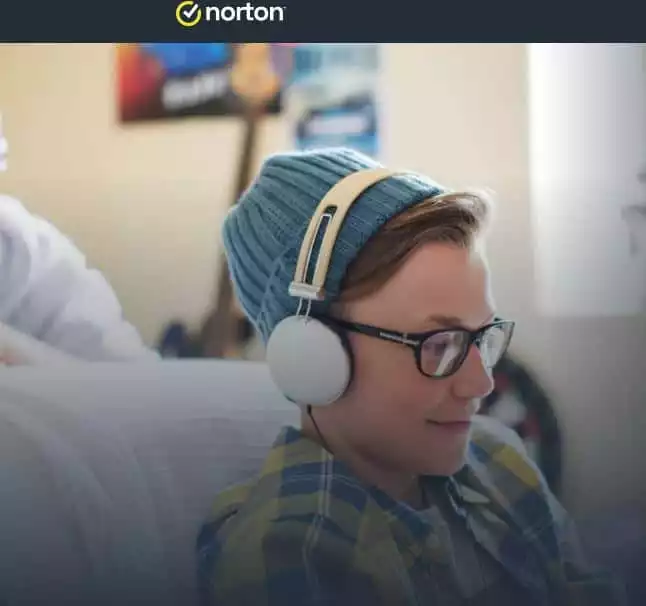 Setup
The first step is to get a Net Nanny subscription from their page. From here, you can download the app for your device from the respective app store. For the parenting side, all you have to do is install the app and sign in as a parent. This will direct you to the parental dashboard, and the welcome window will take you through a few tips to get you started.
The setup is a bit more complicated for the child side since you will have to adjust a few settings to let the application monitor the device. The download and sign-up steps still suffice, but the app will walk you through a few more steps while highlighting the changes it needs to apply for it to work optimally.
More importantly, you will need to grant the app administrator access to monitor the device, which can attract a few warnings, but it will be good to go once you accept them.
Setup is not all that different for Norton Family as you have to create an account first before downloading the apps for the parental and child sides. Log in using the credentials, and Norton Family will ask if it is the parental or child side. You will have to give the application administrator rights on your child's device to ensure it works optimally. You can make any changes to your app or the Norton Family web portal.
Support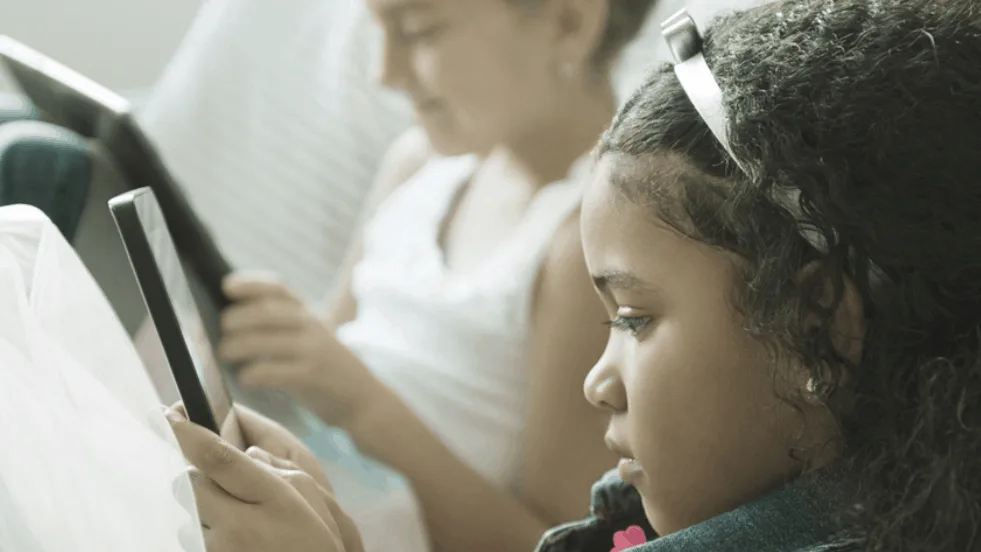 Net Nanny has three main channels through which you can get assistance if you encounter any difficulties. These are the email, live chat, and a deep FAQ section. The live chat is only available from 10 a.m. to 7 p.m. EST time. The advantage is that during these hours, you can interact with human customer support staff and not bots that give prerecorded answers.
Norton Family provides customer support through tutorials, FAQs, and chat. The downside of the self-help guides is that everything under the Norton Online Security tools is bundled here, and it can be a bit crowded if you are looking for resources on their parental control tool. The customer service representatives are fully engaged and will go all out to ensure that your problem is solved.
Plans and Pricing
Net Nanny offers their monitoring service in three plans. Note that they constantly offer deals and discounts depending on the season, but most of these apply to the first billing period, after which the actual price comes into play.
Their entry-level plan protects one desktop and costs around $49.99 a year. The medium-tier plan covers five devices at around $79.99 a year, and their highest plan protects 20 devices for around $129.99 a year.
Norton Family parental monitoring service costs around $49.99 a year, limited for domestic use only. If you find it difficult to add a device, contact their support, and they will gladly help you do it. You might find some difficulties doing this due to the restrictions meant to ensure this software is retained for domestic and not commercial use.
Net Nanny vs Norton Family Pros and Cons
Pros of Net Nanny
Great web filtering tools
Easy to manage multiple devices and users from the admin portal
Robust social media monitoring
Cons of Net Nanny
No text or call monitoring
No trial version
Pros of Norton Family
Affordable
Excellent web filtering and app blocking tools
Simple admin portal
30-day free trial
Cons of Norton Family
Cannot block calls and limited SMS monitoring
No social media monitoring for mobile
Child locator has no geofencing
Location features limited to a few countries
Net Nanny vs Norton Family Alternatives Parental Control Software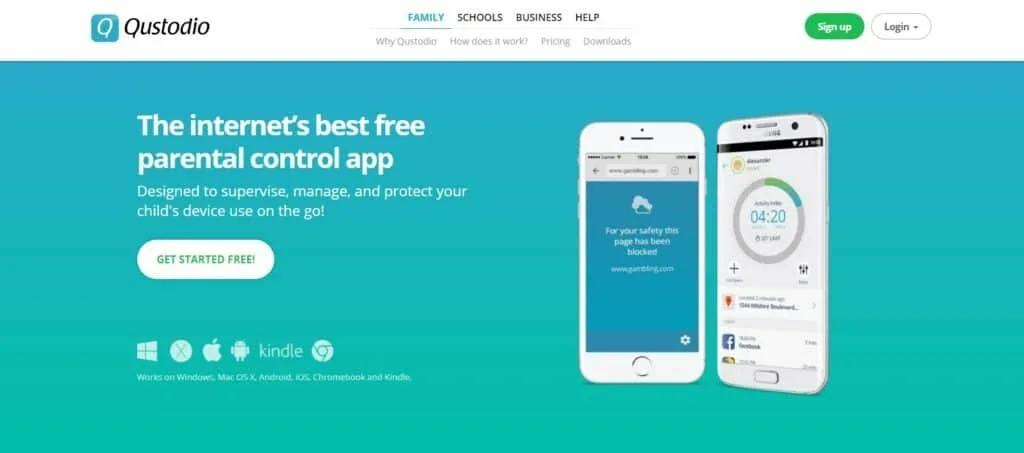 This is a user-friendly, highly customizable, and reliable tool that helps to keep a close eye on your child's activities on Windows, Mac, iOS, and Android devices. It has just about any feature you might want, including web content filtering, robust app blocking, and a comprehensive activity log.
Its advantages are the well-designed user interface, comprehensive-time restriction, and cross-platform support. The downsides are that it is a bit expensive, virtual private networks can bypass web filters on a desktop browser, and social tracking is limited to Facebook.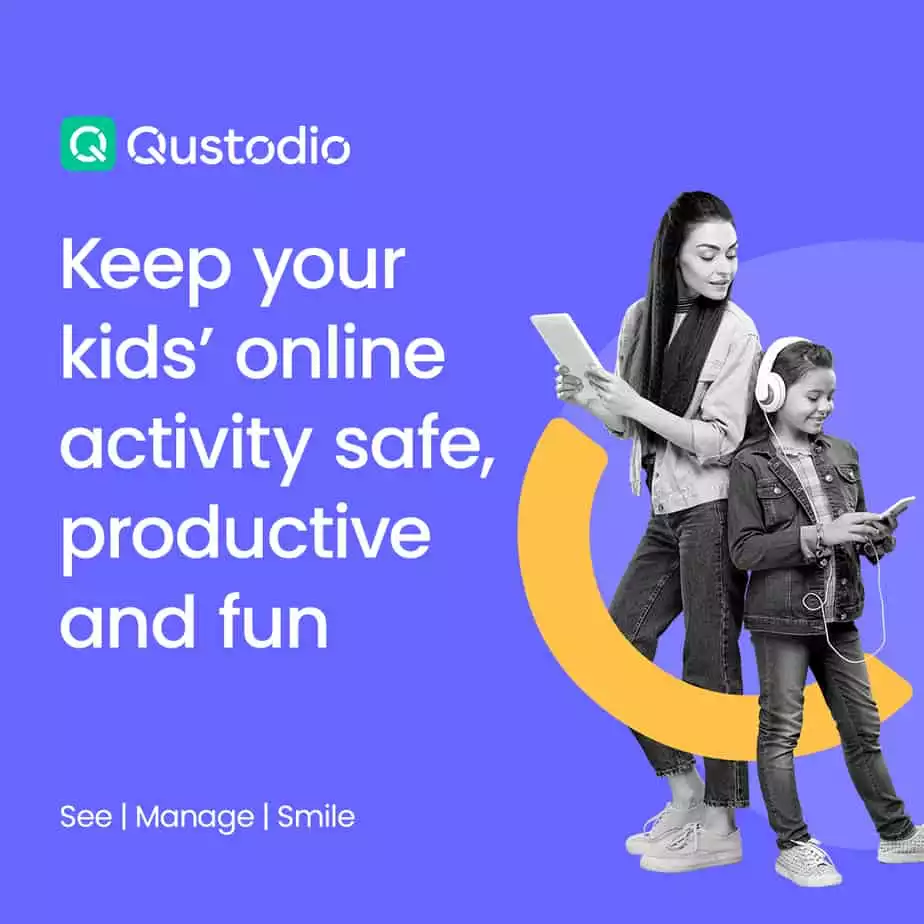 I Prefer Qustodio
I really like Qustodio because they offer a robust FREE version that is actually usable AND offers best in class emergency alerts, geo-tracking, and social media safety tools.
Try Qustodio First
We earn a commission if you click this link and make a purchase at no additional cost to you.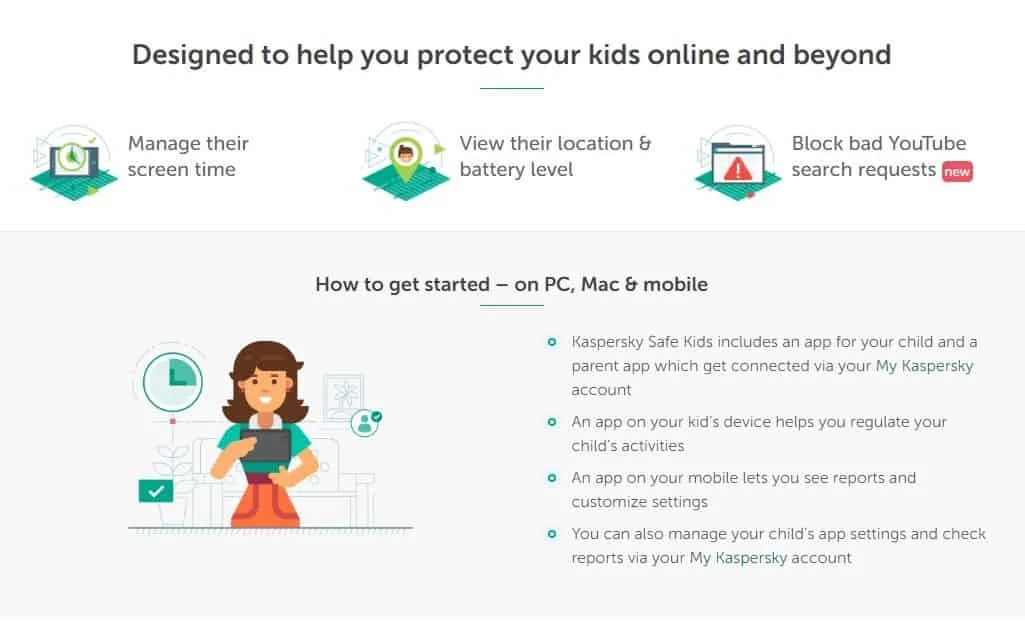 This is a full-featured, affordable parental monitoring service for desktops and mobile platforms. This service's standout feature is that it does not impose limits on the number of devices you can monitor, making it a suitable choice for large families.
At only around $14.99, this service has flexible control of device and app usage, robust web filtering features, and an extensive alert system coupled with geofencing capabilities. The downsides are that it has several limits on iOS, content filtering is limited to select browsers and a not-so-great web interface.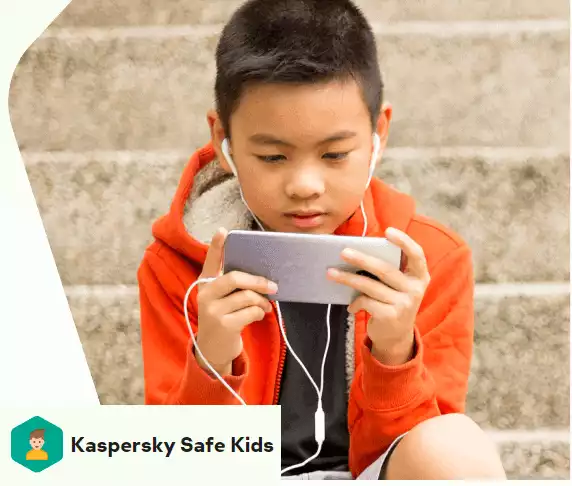 Parental Control Software | Kaspersky
Protect your kids online and offline with award-winning parental controls. Get flexible tools that help you safeguard their activities, monitor their behavior and teach them self-control. 
Check Price
We earn a commission if you click this link and make a purchase at no additional cost to you.
At around $7.99 per month, McAfee Safe Family offers multiple parental control tools and can monitor an unlimited number of devices. It does not support macOS devices, has no web interface, and the Windows app is sluggish. Its strengths are with the time management and app blocking features, and geofencing capabilities. The downsides are that it has no uninstall protection on windows devices.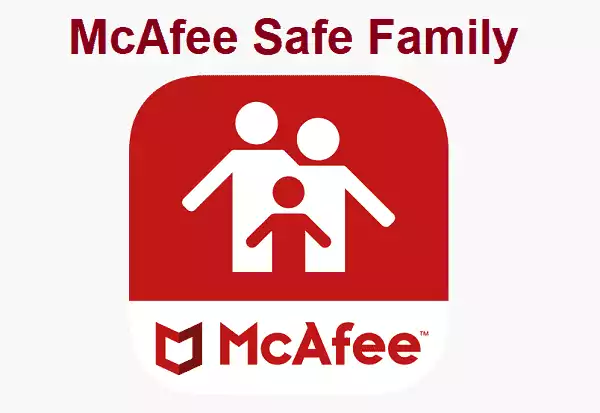 McAfee Safe Family | McAfee
Know what your kids are up to, guard them from harm, and limit their screen time. Make the digital world a safer place for your kids.
Check Price
We earn a commission if you click this link and make a purchase at no additional cost to you.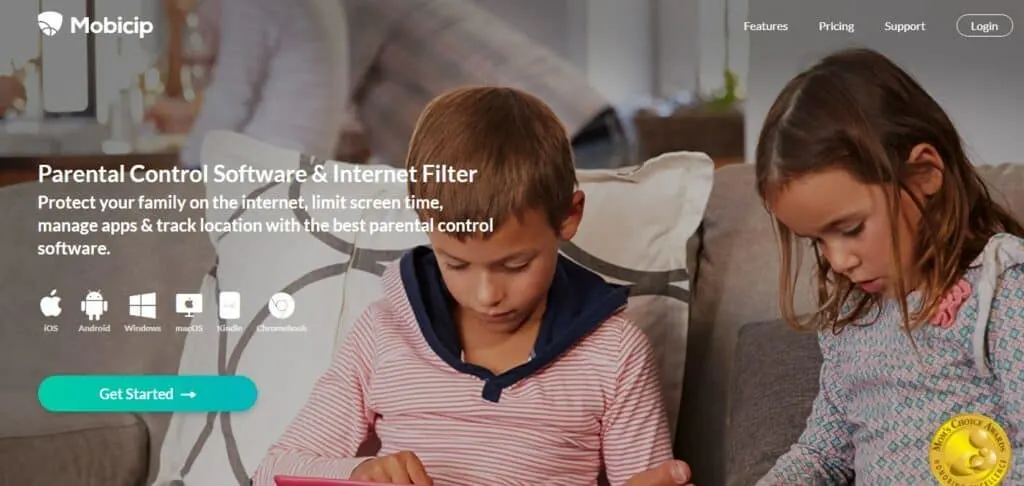 This parental control service has a good range of parental control features and well-designed apps. However, it is a costly solution and requires complicated configurations that not everyone might be familiar with. On the downside, it does not offer geofencing or a screen time cap on device usage. The service sends out real-time notifications or requests and activity, which allows you to know what your kids are doing. It costs $9.99 per month, billed annually.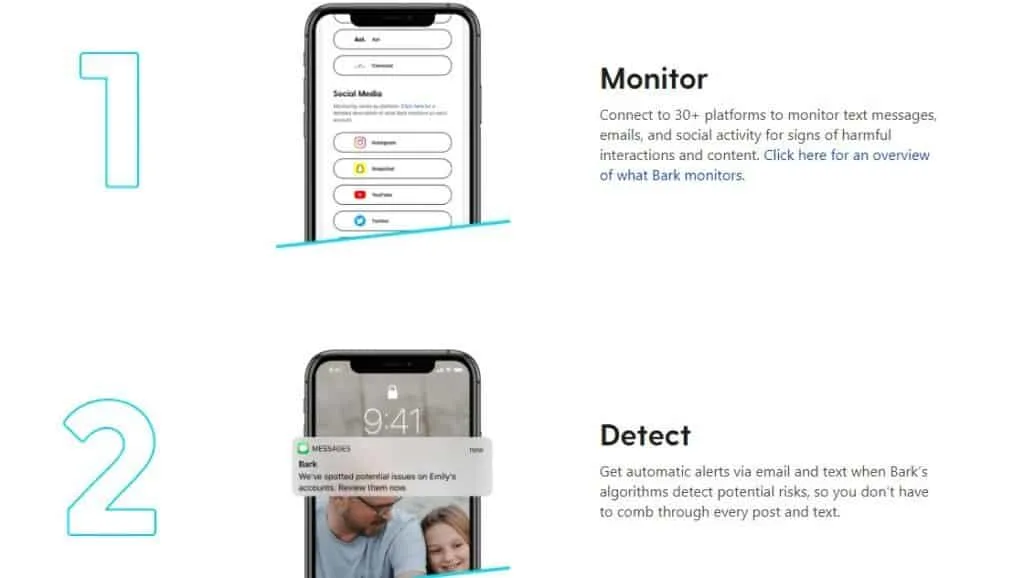 This is a simple parental control app that delivers powerful protection, especially for social media. It costs $99 a year and allows you to enforce social media monitoring for 24 different apps and social networks, including Facebook, Snapchat, YouTube, and Facebook.
It also implements email monitoring for service providers Gmail, Outlook, AOL, iCloud, and Yahoo!. Lastly, it lets you monitor text messages on the primary SMS platform and other instant messaging apps like Slack.
Frequently Asked Questions about Net Nanny vs Norton Family
Question: Can my child delete Net Nanny?
Answer: Net nanyn has inbuilt removal protection. Your child will need an administrator username and password to delete this app.
Question: Are there loopholes my child can exploit to bypass parental control software?
Answer: Kids are always resourceful and can employ a few tricks to bypass Net Nanny and Norton Family. The first way of avoiding this is by keeping your login credentials safe from the kids.
However, both these parental control services are built on a transparency model that encourages children and their parents to have an honest conversation before the software is installed. This reduces cases where children feel that their privacy is being undermined and move to seek solutions to bypass these monitoring solutions.
Besides, ensure that you are always using the latest version of the applications. The developers are continually improving it by fixing loopholes that reduce the efficiency of the service.
Question: Can Net Nanny work with a VPN?
Answer: This is perhaps the biggest drawback of parental control solutions. They do not prevent kids from using a VPN, and even the basic ones that come as browser extensions will allow them to browse the web freely.
To block VPNs, you will have to add the custom block feature and add keywords such as VPN and proxy to restrict the kids from using this to bypass your controls. However, VPNs that do not have these keywords won't be blocked, somewhat reducing Net Nanny's effectiveness.
Final Take on Norton Family vs Net Nanny
Net Nanny and Norton Family parental control software are impressive and have a great feature set needed to stay on top of your children's internet usage. However, they have a few downsides that can go a long way to determine which side you lean on.
For instance, Norton Family is not great for social media monitoring, something that can be a huge concern due to these social media sites' nature and the impact they might have on your child. This software's location feature is limited to a few countries, and if you live in another country, you won't use it.
Net Nanny is excellent, but its price point is a bit higher than the average market price. There is no huge disparity between its set of features and the Norton Family's to justify the difference. It has no trial period, which lets you check out the application to see whether it is suitable for you or not.
Between Net Nanny and Norton Family, I would recommend Norton Family for most users and Net Nanny specifically for teens where you suspect social activity is a prime area of concern. 
Bottom Line: For most families, I prefer the more affordable and standardized pricing value offer with Norton Family here. While it's somewhat limited on social monitoring, Norton does have SMS monitoring (Net Nanny does not). I might consider Net Nanny specifically for teens due to the social monitoring aspect, while Norton is suitable for younger kids and/or blended age ranges.