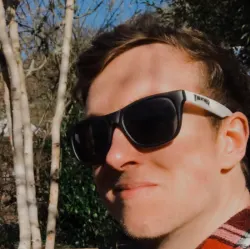 Latest posts by Andrew Nile
(see all)
Before we start – full disclaimer. I don't have kids, but I do know my way around the digital world as a current IT professional. There are also a lot of young kids in my family, and it seems any waking moment they can spend glued to their screens, they will. Now, I don't want to claim that my cousins are helping nurture a generation of iPad babies, but perhaps some screen time limits would be beneficial. Besides, protecting your family online is a must.
But with so many options for parental control applications these days, it can be a minefield determining which one is best for your needs. Maybe you just want to limit the sites and applications your little ones can access, or you wish to set time limits on attention-grabbing games and streaming services. Either way, you'll need to know some basics about parental control options before deciding on the best solution for your needs.
Bottom Line Up Front:
Parental control software and applications are vital for protecting your kids online or simply setting some boundaries. Want to block access to a specific app or site? You can do that. Want to ensure your kids can't be glued to their screens when they should be asleep? It's as easy as a few clicks.
Apple's built-in offering is free, reliable, and easy to use. It also offers more than enough control for most users. However, parents with Android devices or wanting to protect devices outside the Apple ecosystem will want to look elsewhere.
Qustodio is an excellent option if it's within your budget, and offers a host of great features available from the get-go on their freemium platform.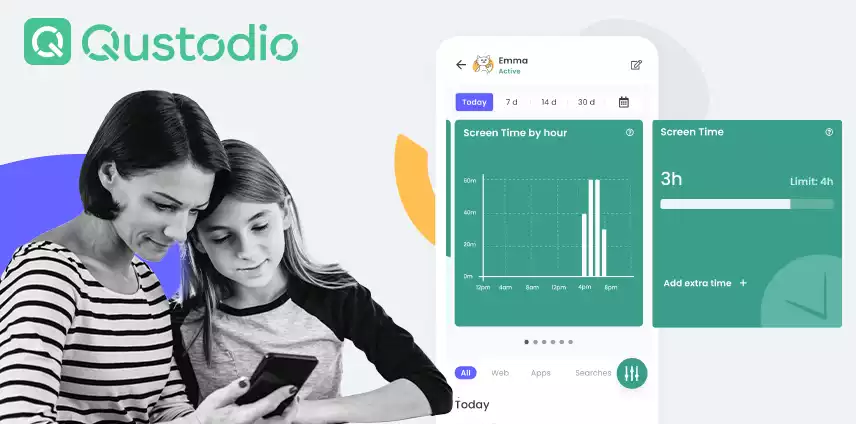 Main Differences Between Qustodio vs Apple Screen Time
The main differences between Qustodio vs Apple ScreenTime are:
Qustodio operates on a freemium model, whereas Apple Screen Time is entirely free
Qustodio is multiplatform, whereas Apple Screen Time is limited to iOS and Mac
Qustodio requires installation and setup, whereas Apple Screen Time comes pre-loaded
Qustodio has built in location tracking , whereas Apple Screen Time does not and would require the setup of Find My Friends
Qustodio allows for tracking calls and SMS, whereas Apple Screen Time does not
The 3 Key Areas of Parental Control
Most applications work in the same way, to varying degrees of success. A good parental control app can help you take control, set limits, and, most importantly, protect your family from online threats. There are three critical areas that parental control software covers.
Some may lack in certain areas, so it's best to understand what they are, how they work, and if they meet your requirements. The process can be overwhelming for someone who doesn't know what they're searching for. I've created this guide to make the process as accessible as possible.
Monitoring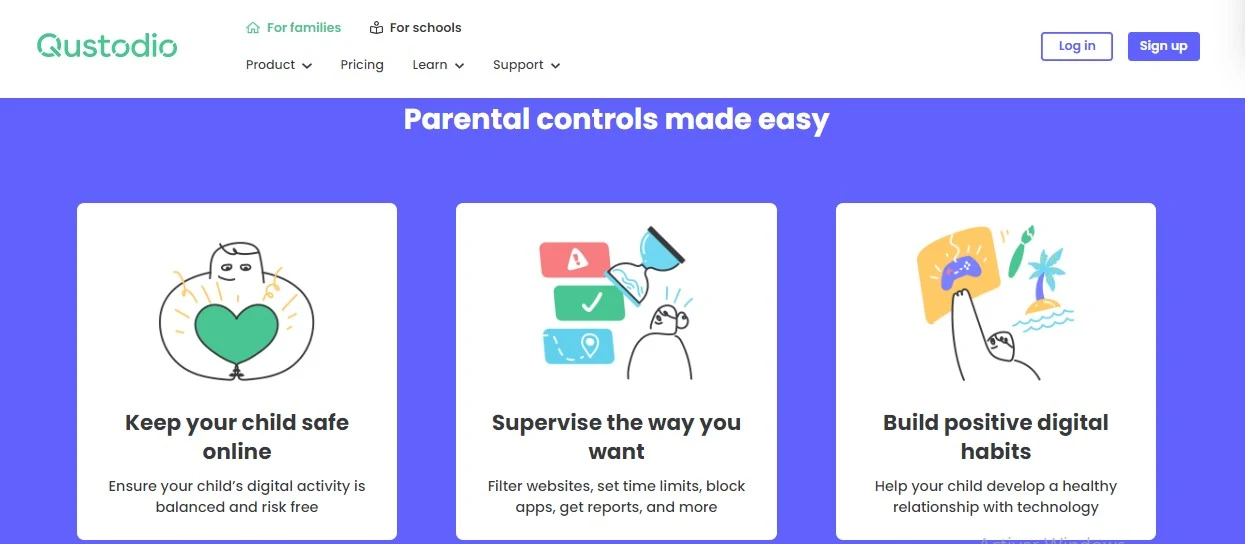 Monitoring will show you what's happening on the device, notify you of any concerning behavior or usage, and allow you to check reports. Monitoring options vary heavily by platform and device type, something I'll explain further as we dig into this guide.
Filtering
Filtering is arguably the most crucial aspect of any parental control software. Especially if you'd instead set up what you want to be blocked and leave them to it. Protect them from anything you don't want them to see or visit, set varying access levels, and revoke access if required.
Management/Control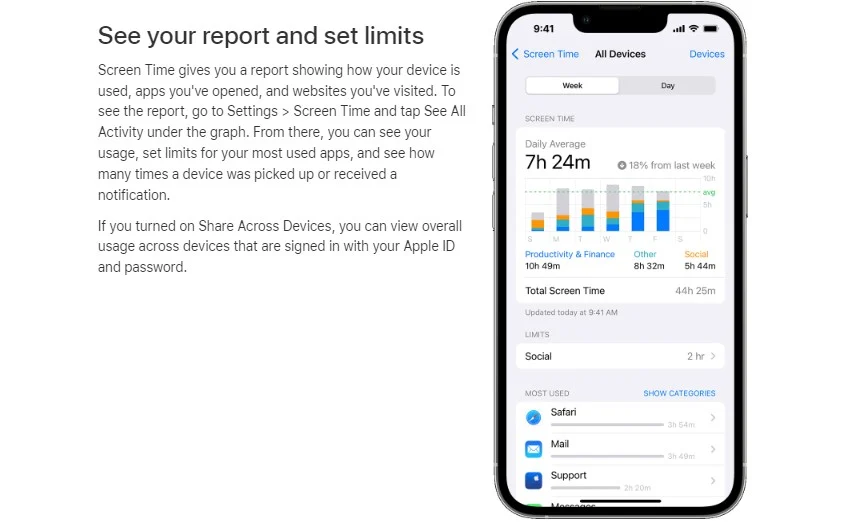 Management or control functions are how you are going to limit access. For example, determine what apps they can access, what they can do inside them, or how much time they can spend on them. 
Apple or Android
Apple and Android devices handle parental control very differently. Depending on your requirements, you may find it best for your kids to be on Android devices. You will have far more fantastic options, and monitoring, in particular, will significantly benefit from Android.
Having an Apple device for your kids may go as far as becoming a hindrance as Apple is so concerned with privacy. They don't allow 3rd party applications to have windows into other applications and areas of the device. Which is great for the security conscious but perhaps not so great if you'd like a more significant degree of control when protecting those you care about.
Now, it doesn't particularly matter what device you have. What matters more is the device the child has. You can manage an Android device just fine with your own Apple device. However, you will have issues if you're on Android and your kids are on iOS.
Exploring Qustodio And Apple Screen Time Features
Now that we understand the benefits of parental control applications let's take a closer look at two of the most popular options on the market today, Qustodio and Apple Screen Time.

Key Features
Content & App Filtering

Set Time Limits

Location Tracking

Track Calls & SMS
Qustodio is considered one of the best parental control options in 2022, and it's easy to see why. It comes with all the tools you need to protect your family online, with a clean, streamlined user interface that makes it easy to set up and manage. I had a trial of their premium offering set up on my device in minutes. It's as easy as setting up a profile and installing a local client on any device you want to manage.
One thing that should be mentioned here is Qustodio's "silent install" option. Effectively this hides the presence of Qustodio from the owner of the monitored device. In my opinion, and I'm sure some parents would agree, this is problematic. Parental control applications should be well-communicated and consensual. Help your kids understand why you are using these systems, don't hide it from them.
As advertised, the app lets you filter content and apps, monitor activity, set time limits, track calls & SMS, and get reports, alerts & SOS. However, it's worth noting that Panic Button is only available on Android, so I could not test this feature in my own setup.
The Free version can only protect a single device and includes only basic protection features. Premium plans start at $54.95 a year for up to 5 gadgets, granting access to what Qustodio refers to as Premium features. These include Location Tracking, Call and Text Tracking, and App Control. If you need more devices covered, Qustodio offers plans for 10 or 15 devices at $96.95 and $137.95 per annum, respectively. 
Qustodio isn't faultless, however. It absolutely gobbles RAM. While not an issue on my iPhone 12 Pro Max, this will be an issue for those on older, less powerful handsets. I found it is also possible to bypass web filtering with a VPN. However, this probably won't be worth worrying about unless your child is particularly tech-savvy.
What may be the cincher here for parents is the wide availability of Qustodio. The application is available across iOS, Android, Windows, Mac, and Kindle. A considerable advantage for those with a wide range of products in the home and a potential deal sealer for those, not all in on the Apple ecosystem.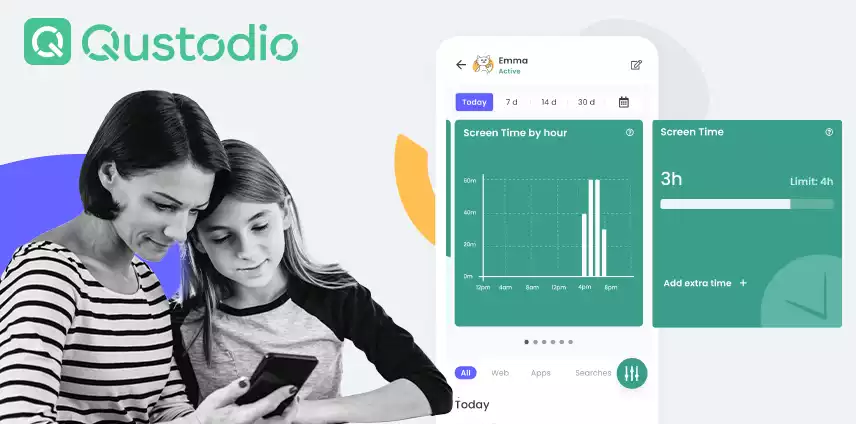 Check out how Qustodio compares to others:
Qustodio– Pros and Cons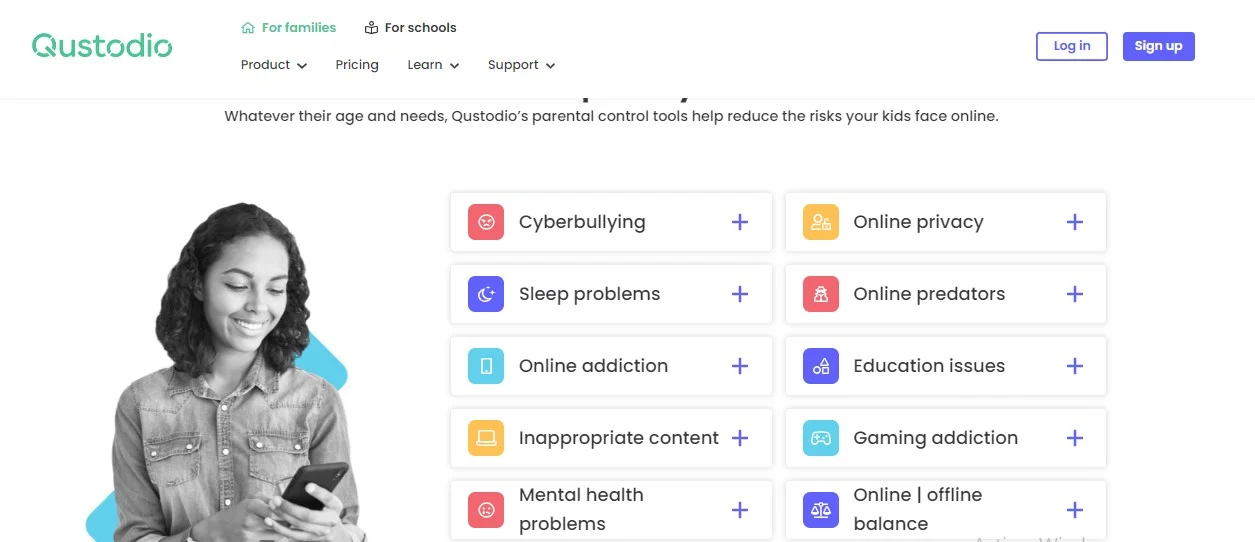 Pros
Available on a wide selection of platforms

User-Friendly Interface

Exceptionally feature-rich
Cons
One of the more expensive options on the market

Uses a ton of RAM

Website blocking is hit and miss

Bypassable with VPNs
Apple Screen Time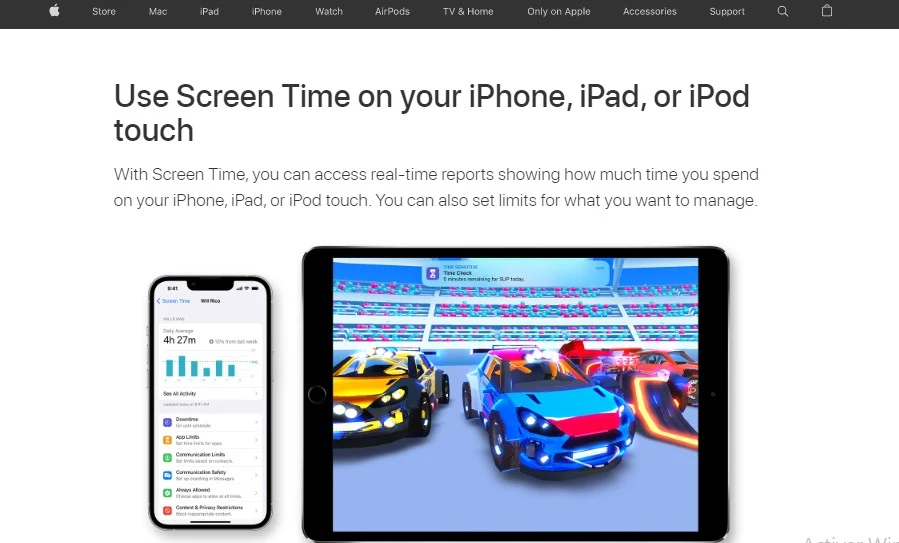 Key Features
Set Downtime

App Limits

Communication Limits

Always Allowed List

Content & Privacy Restrictions
For those with iOS devices, Apple's built-in and free offering, Screen Time, may be all you need. It's easy to set up too. Simply set up your children's Apple IDs under yours in a family sharing plan, and away you go. Being account-based, this is a fantastic option for kids with multiple Apple devices.
If you don't have an Apple device, setting this up will be very hard. You can set it up on your child's device with a pin code. However, you'll miss out on a lot of core functionality alongside running the risk of them cracking the pin code and granting themselves access to things you'd rather they didn't.
Screen Time allows you to control and manage a host of things on your family's devices, including how long they use certain apps (or the whole device). There are also options for blocking downloads of unapproved apps. However, I found there are issues with this. If for any reason, you accidentally approve an app you don't wish for your child to access, it's tough to roll back on this. You can't simply revoke access. The best workaround I found was to set up as minimal a daily time limit as possible for the app, so the app shut within moments of launching. A pain for sure, but not necessarily a breaking issue.
You may find particularly crafty kids find a way to get around any restrictions you put in place. A quick Google search will show you an overwhelming number of guides on bypassing Screen Time. In addition, specialist software is available that claims to be able to crack your password or exploit vulnerabilities. Despite this, the risk is low. Once again, as long as you're having healthy discussions with your kids about why you're setting up parental control, you're unlikely to run into issues.
Overall, Apple Screen Time is a brilliant option for managing your family's devices. It covers all bases. It's easy to set up, secure, and has more than enough functionality for most users. If your family is fully committed to an Apple lifestyle, this may well be the perfect option for you. Any non-Apple devices will cause issues and create limitations, so you may need to look elsewhere. Remember, though, Apple is very security first. Any 3rd party applications you turn to will struggle with device monitoring functionality – unless they get a little creative.
Apple Screen Time – Pros and Cons
Pros
Free and built-in to Apple devices

Simple to setup

Well Optimized
Cons
Functionality is limited if you have an Android device and non-existent if any of your kids are on Android.

Monitoring options are limited on iOS and Mac

Less feature-rich than some of the paid options

It can be circumvented by crafty kids
Are There Any Alternatives?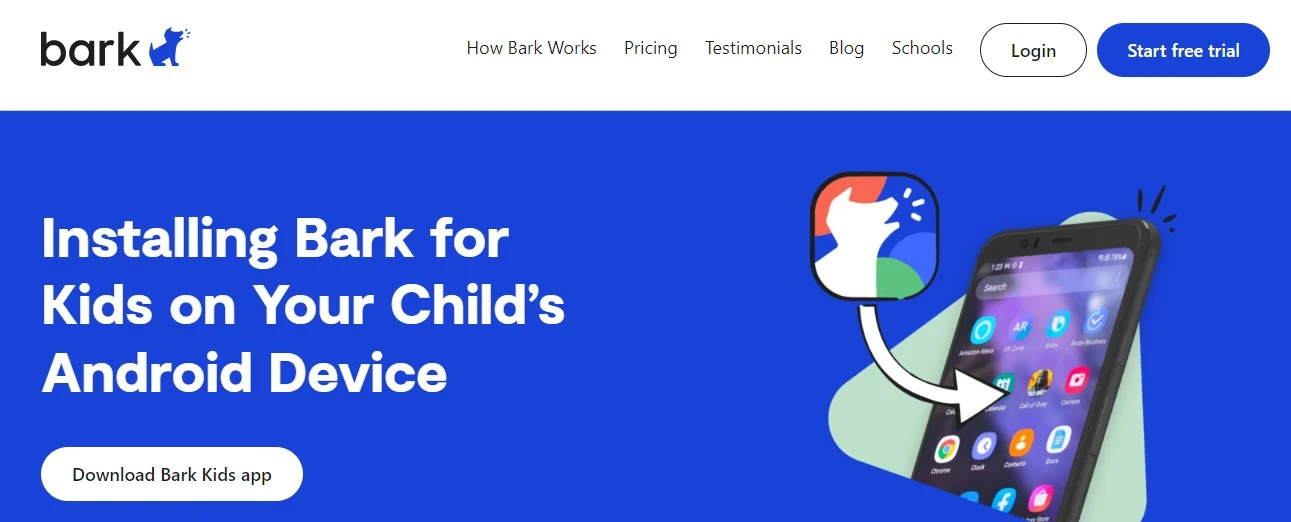 Several great alternatives are available if Qustodio or Apple Screen Time don't take your fancy or meet your budget. Some worthy mentions include KidsGuard Pro, Bark, Norton Family, Net Nanny, and MMGuardian.
There's not much difference between most of these services, but they are all valid options and strong contenders. Once again, deciding which is best for your family will likely come down to budget and feature requirements.
Qustodio leads the pack regarding device support and functionality. Still, if you have more minor needs, one of the budget-friendlier options is likely to better serve you and provide a better bang for your buck.
Qustodio or Apple Screen Time? Overall Recommendation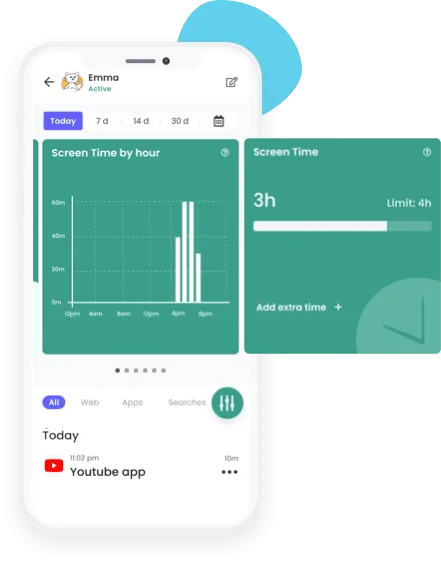 After comparing both options' features, pricing, and compatibility, it becomes clear that Qustodio is the better option for most users. Apple's closed-down ecosystem may offer more security, but it limits device integration, and most parents are likely to want the opportunity to protect other devices.
Qustodio's setup process, while simple and easy to follow, still requires more leg work than Apple Screen Time. Screen Time takes the cake for easy setup because it comes pre-loaded and involves nothing more than an Apple ID. Qustodio makes up for this with a more significant number of features. However, whether or not any of these will benefit you will be down to personal preference and your individual use case. 
Getting the right combination of parental controls for your family is likely to come down to a blend of open conversation and trial and error. Setting limits is important, but so is privacy.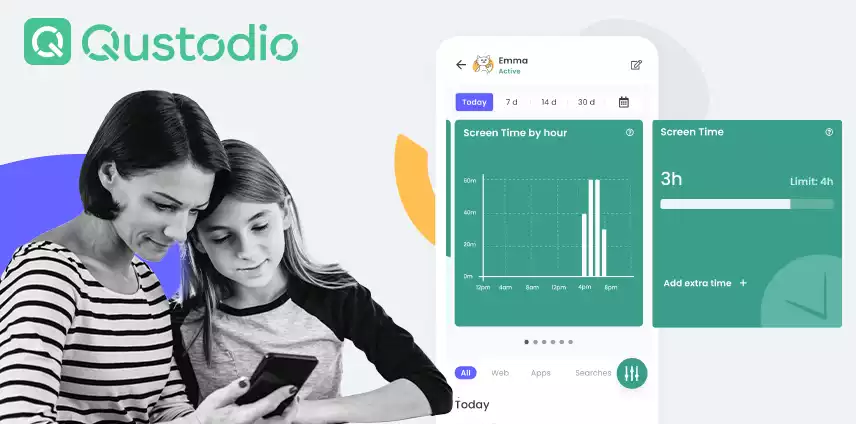 FAQs
Question: What is the best parental control app?
Answer: This will depend mainly on your budget, the number of devices you wish to cover, and the types of devices you have. I think there are plenty of great options, but Apple Screen Time and Qustodio are two of the best. Personally, Apple Screen Time serves my needs just fine, but if I were to require coverage on other devices, I would be looking towards Qustodio.
Question: Does Apple Screen Time include all devices?
Answer: Apple's free, built-in offering is only available on iOS and Mac but is an excellent option for Apple users. Mainly if both the parent and child use iPhones. One minor caveat is that Screen Time is only available on iOS 12 or above. So any older or hand-me-down devices your kids may be using may not be compatible.
Question: Is Qustodio safe to use?
Answer: Qustodio is trusted by over 4 million parents. User data is secured using industry-leading security standards. Qustodio is also fully compliant with LOPD and GDPR. After reviewing the service myself, I can assure any concerned parent that Qustodio will protect your family from online threats and your sensitive user data.
Bottom Line:
Qustodio offers more versatility, features, and control options in almost all use cases. But there are plenty of other options available for the budget conscious.