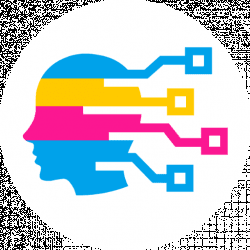 Latest posts by Digital Guyde Team
(see all)
HideMyAss is easily one of the most memorable VPN brands on the market, due mostly to its edgy and ribald branding strategy. On the other hand, Hola VPN has gained plenty of popularity due to negative press and offering a version that's free to use indefinitely.
Without knowing much about either of these services, they might both look the same on the surface. But these two providers are drastically different, and their company histories and reputation are complete opposites.
First off, you should know that HMA VPN was originally founded by a UK company name Privax, but was acquired by AVG in the last year.
On the other hand, Hola VPN, despite its Spanish sounding name, was founded in Israel back in 2008. Before we go any further, I'd like to encourage you to read the full review before making a snap decision, because there are many caveats to Hola VPN. Having said that, let's get started with the pricing model.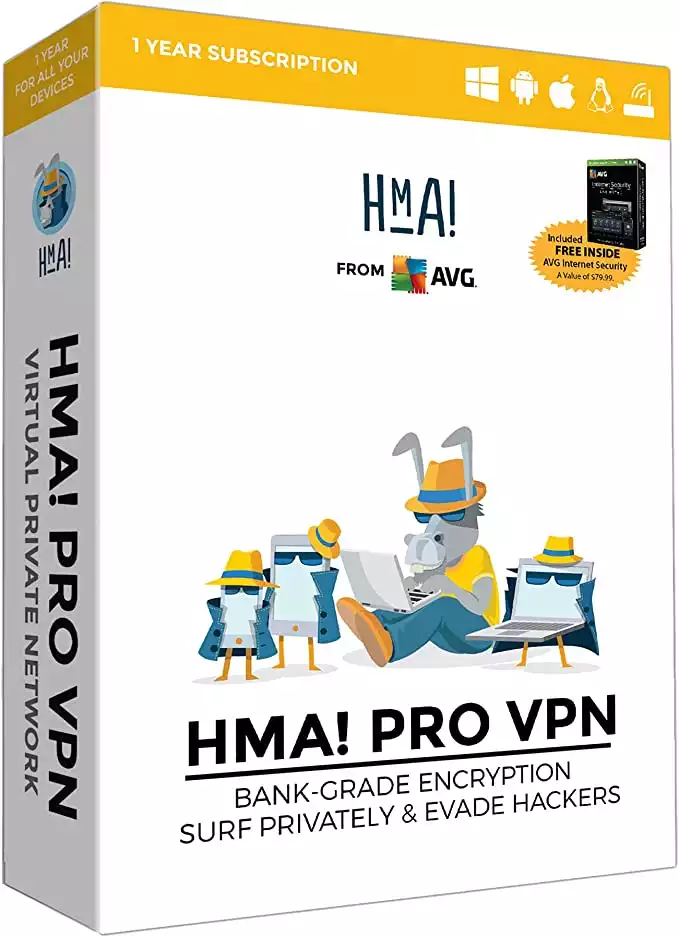 Price
Unfortunately, HideMyAss VPN doesn't have a free version or a free trial. That said, HMA VPN does provide several free services that you can use anonymously – meaning that you don't have to sign up, register, or provide an email address. For instance, HMA VPN posts an HTTP proxy tool on its website, which you can use to unblock web pages for free.
In addition, HMA VPN has an anonymous email service. But if you want the added benefits of security and encryption that are provided by a VPN tunnel, you'll need to subscribe. The following outlines HMA VPN's pricing model:
Personally, I think that the one month plan is far too expensive. The annual and six month plans are much more affordable and are comparable to other services with mid-market pricing.
Even though the annual plan doesn't offer the cheapest pricing in the industry,  it's far from being the most expensive. For these reasons, I would recommend taking advantage of the annual plan's savings.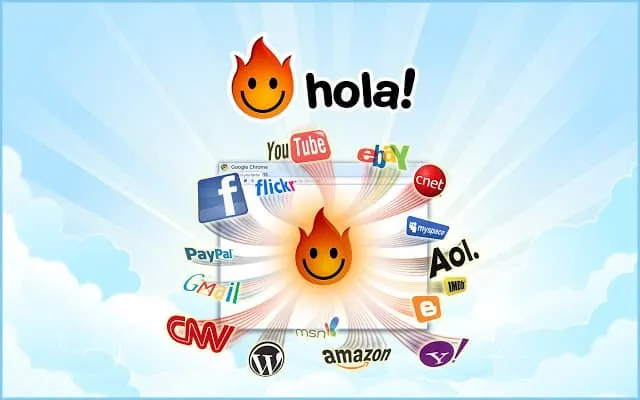 On the other hand, Hola VPN may seem infinitely more attractive due to a much simpler pricing model. You can use Hola VPN completely free (without ads), or you can pay $5.00 per month for the premium subscription (check here for the latest price & discounts). But there are a lot of things you need to know about Hola before making a final decision, so I implore you to read through the remaining sections.
Technological Differences
Before digging into the individual features of each service, we need to discuss some elementary differences between the core technology of each service. HideMyAss is a genuine and traditional VPN service that leverages encryption to keep your data safe online and unblock content.
Once you are connected to the VPN server, all of your Internet traffic is secured unless you setup special rules omitting certain types of data.
Hola, on the other hand, is a bit novel due to the fact that it's a P2P VPN network, which utilizes spare capacity of network interfaces of its user base to create foreign connections (more on this later). But if you're using it as a browser extension, only your browser data will be encrypted.
In fact, there are some settings that don't encrypt your data at all. So even though websites accessed via your browser will be secure, loads of other data (such as app data, client-based email, and so on) will not be encrypted.
This fundamental difference is, in my opinion, the biggest factor that influenced my decision between these two providers. But let's take a moment to discuss the individual features of each service.
HideMyAss VPN Features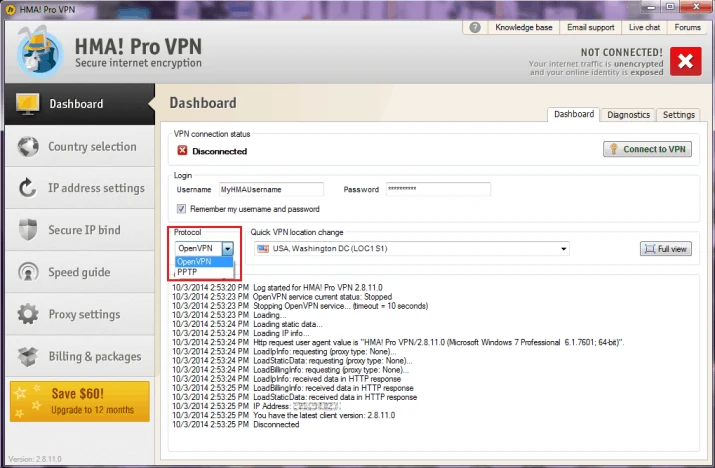 HideMyAss has a very robust and competitive set of features that make them a clear leader in the industry. Perhaps its best competitive advantage is the fact that HMA VPN operates servers in more countries than any other provider.
Even though the exact number fluctuates over time as new servers are brought online and old servers are deprecated, HMA VPN still operates servers in about 180+ countries around the world.
With so many options at your fingertips, it's a simple matter to find a server near your geographic region, which will help reduce latency. Also note that for some users trying to connect to countries off the beaten path of the Internet, HMA VPN may be the only viable option.
Most providers locate servers in the most popular regions, such as Hong Kong, the US, Canada, the UK, Singapore, and other high traffic areas where a lot of services are hosted.
However, if you're trying to connect to a smaller country, HMA VPN may be the best and only option. And apart from the vast size of its network, HMA VPN has some other rather useful features, such as anti-DNS leak mechanisms for increased security and a per-application tunnel routing feature. This feature helps you easily exclude traffic from the VPN tunnel at your discretion.
And I really love the strength of its security. HMA VPN still uses OpenVPN connections that utilize AES-256-BIT encryption, which is so strong that it's still used in high-security industries, such as military applications and the banking industry.
I do wish that HMA VPN allowed more simultaneous connections, but two concurrent connections should be enough for most people. Other notable features include the following:
Free anonymous email and web proxy
Blocks malicious attacks, malware, and ad tracking
Optional web browser extensions (which only encrypt data sent through the browser)
P2P and Bittorrent friendly
Ability to bypass Internet censorship
Hola VPN Features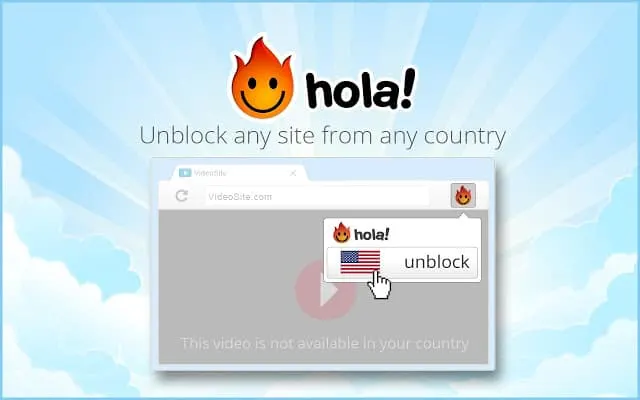 Hola VPN, on the other hand, has much fewer features than HMA VPN. Just like HMA, Hola will allow you to bypass Internet censorship restrictions by allowing you to connect to a peer or server that acts as a proxy. The following is a list of features including some notes regarding the value and validity of each point:
Bypass Internet censorship – so can every other VPN/proxy service
Speed up web browsing – so can every other VPN/proxy service
Save on bandwidth costs – not sure precisely what is meant here, but I expect it's a reference to the fact that it allows unlimited bandwidth (i.e. no bandwidth throttling)
Improve privacy online – so can every other VPN/proxy service
No ads – the same with every other VPN/proxy service
Unlimited use per day – so can every other VPN/proxy service, with the exception of simultaneous connection limitations
All of these features are included in the free plan, but to tell you the truth, it's a bit of a rip-off. You see, the free version doesn't give you the option to opt out of being a peer. Whether you like it or not, you will be a peer for other users, and their data will flow through your network card. If, on the other hand, you subscribe to the paid version, you can opt out if you wish (as far Hola says, anyway).
Dire Warning Against Using Hola VPN
I would highly recommend that you avoid using this VPN provider at all costs. The ugly truth is that it takes advantage of its free users by using their network interfaces as VPN endpoints. When the service first launched, this was unknown to many of its customers.
In fact, a lot of security software flagged this "VPN provider" as a potentially harmful application, and engages in some shady business practices. Remember that the whole point of using a VPN tunnel is to increase security. By allowing hoards of strangers to use your computer's network interface as part of a P2P network, you would actually be decreasing security.
Furthermore, we still don't really know how the internal software works. Hola VPN says that premium users can opt out of the P2P network and never be a peer, but does that really work in practice?
How do we know the software doesn't slip in some data from other peers here and there at small enough levels that it isn't noticeable? I just don't know what's happening on the back end, but given that Hola VPN has suffered a firestorm of negative press in the past, I'm certain I don't trust them.
I would much rather use HMA VPN and connect with a bona fide VPN server instead of a peer. When it comes down to it, the bottom line is that HMA VPN is a lot more credible, especially since it was acquired by AVG.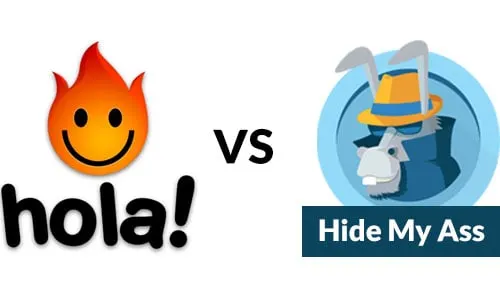 Final Thoughts 
To be perfectly clear and unabashedly blunt: do not use Hola VPN! If you were on the fence between HMA VPN and Hola VPN, HideMyAss is the clear winner. It doesn't cost too much more for the annual subscription, and HMA VPN doesn't have all the strange shady connection sharing security holes.
Plus, HMA VPN has better security, and its owned by one of the security software industry's leading brands: AVG.
If we take a moment to put the obvious security risks of Hola VPN's back end aside, let's take a moment to talk about the value of HMA VPN. With the monthly subscription, it only costs about a dollar more per month than Hola VPN.
Plus, it has a ton of great features that surpass the functionality of Hola VPN. In my opinion, the only real downside to HMA VPN is its allowance of only two simultaneous connections per account, but I do love how it has servers in nearly 200 countries around the globe.
For me, the choice is clear –  but before I go, I would like to offer one final warning: even if you're tempted by Hola VPN's free service, please don't use it. I'd rather people stay safe online instead of being victimized by morally gray software. If you're looking for a free service, then feel free to check out TunnelBear or another free competitor instead of risking your security with Hola VPN.