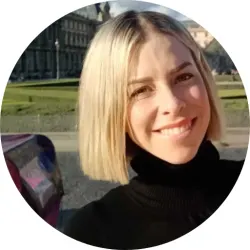 Latest posts by Jodie Chiffey
(see all)
Social Media Today's analysis indicates that we create 2.5 quintillion bytes of data every day. With such huge data, logic demands that you invest in seamless management backup and recovery solutions such as Cohesity vs Rubrik.
I enjoy sequences and the ability to find my documents whenever I need them, without the fear of losing my files. What's more important, however, is the assurance that my data is seamlessly backed up, safe, and retrievable at the tap of the finger.
Cohesity and Rubrik (Full Review Here) are causing such a storm in the data management, backup, and recovery industry. Looking into detail, there is a fantastic reason for the buzz besides the fact that their founders were once workmates.
Did they carry the rivalry into their new ventures? Let's analyze the details to uncover whether one data recovery backup tool is better than the other.
Main Differences between Cohesity vs Rubrik
The main differences between Cohesity vs Rubrik are:
Cohesity allows several users to operate the platform at the same time but still maintain individual backup control due to the multi-tenant option, a feature that is also widely used in Rubrik.
Cohesity offers a more seamless global search option, whereas Rubrik provides DR Orchestra real-time search for files located anywhere within the globe
Cohesity is less expensive because of the automation of most tasks, whereas Rubrik is more costly because of the enormous amount of human support it requires.
Cohesity deploys an architecture that allows up to 256 nodes scalability, whereas Rubriks' architecture offers infinite scalability.
Both Rubrik and Cohesity have a simple-to-use interface. Cohesity however has an intuitive web interface which makes it less easy to navigate compared to Rubrik.
Cohesity UI can restore VMs to a standalone ESXi host, whereas Rubrik can only restore via API.
Cohesity usage is Web-based, SaaS, and Cloud, whereas Rubrik can be used in installed Mac and windows besides Web-based, SaaS, and Cloud.
Exploring Cohesity and Rubrik features
Hyper-converged Backup
Cohesity has a data protection feature that allows for quick and instant recovery of data from all workloads, proxy, media, and even cloud gateways. The system automation and user- agreed policy ensures all businesses are SLA compliant.
Users enjoy critical business application protection SaaS, NAS, databases, and Public cloud environment security cover.
The Rubrik Polaris avails all your data irrespective of its storage location through its unified system of records while Rubrik Mosaic, designed for NoSQL, facilitates data management.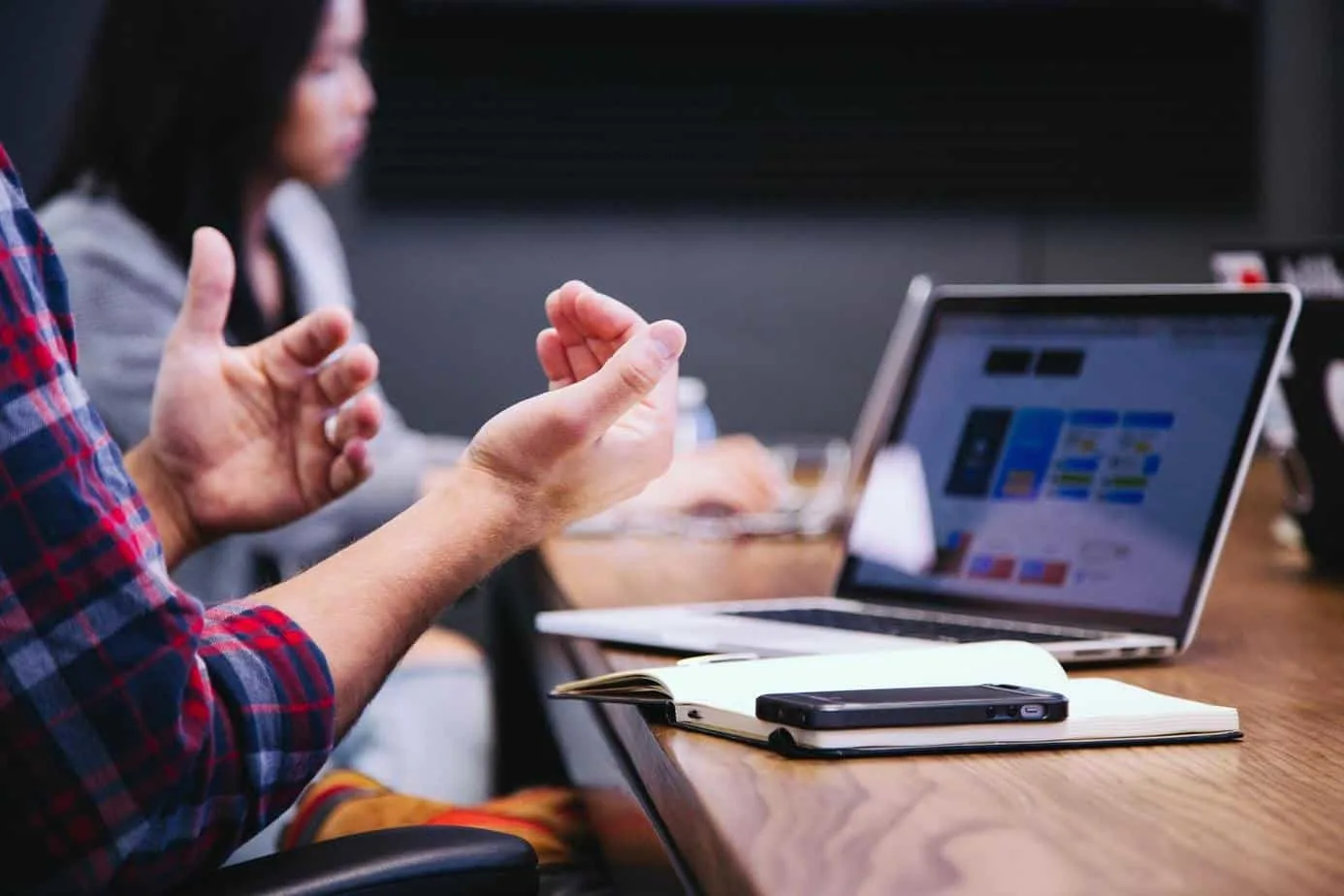 Business Continuity
The design of Cohesity has business continuity at its core function. It easily allows for encrypted file compression with intermittent backup and scheduling to remote servers' option. It assures safe data storage and multiple system support to businesses with great web access and restoration.
Rubrik however ensures Backup Log, Backup Scheduling, continuous Backup, Encryption, Incremental Backup, Remote Server Options, and Secure Data Storage.
The difference between the two is that Rubrik offers a backup log as well as Continuous Backup whereas Cohesity doesn't, and Cohesity offers Web access and restorations well as multiple System Support whereas Rubrik doesn't.
Archiving
Whereas Cohesity lacks in this feature, Rubrik assures its clientele of access control permissions, storage, and retention management. Cohesity meanwhile has a unified interface connected core to cloud and edge which manages and provides data security services.
Backup
Within its backup features, Cohesity offers Cloud Storage Backup, Compression, Continuous Backup, Encryption, Incremental Backup, Local Server Options, Remote Server Options, Secure Data Storage, Web Access / Restoration, and backup scheduling whereas Rubrik offers all these except compression.
Cloud Management
Cohesity clients are assured of Multiple-cloud management and SLA management for their data, whereas Rubrik handles access control permissions and performance analytics besides multi-cloud management. SLA management is silent in the Rubrik cloud management feature.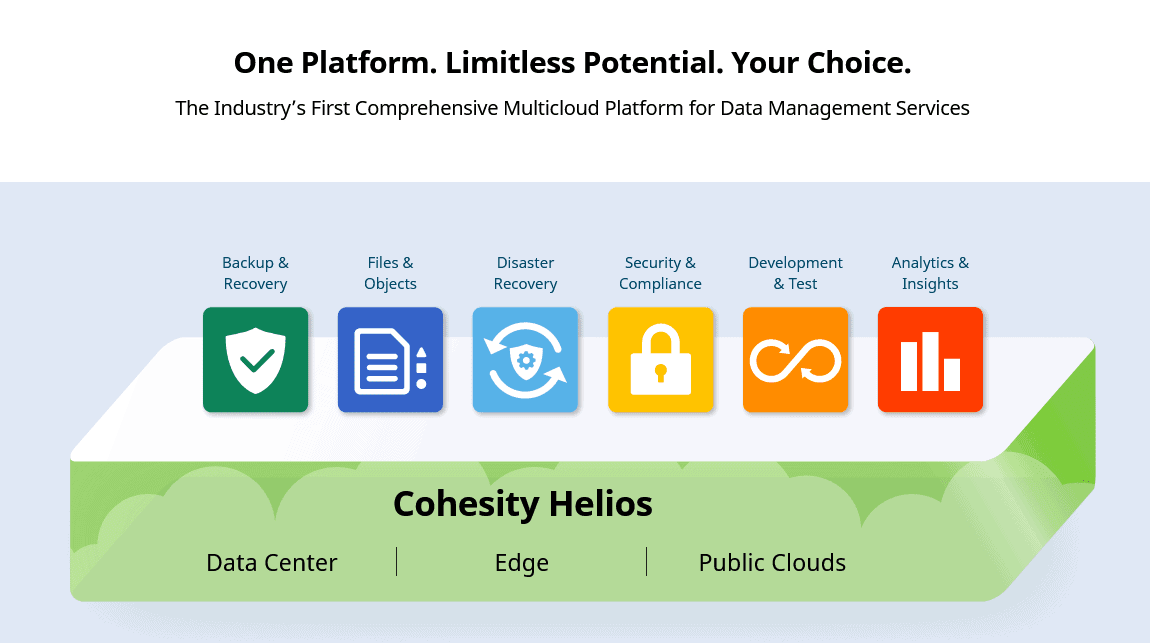 Data Management
Cohesity Data Management feature handles Customer Data, Data Analysis, Data Security, Data Capture, Data Migration, and Master Data Management.
Rubrik has gone a step further to include Data Integration, Match & Merge, Information Governance, Data Quality Control, besides what Cohesity offers with an exception to Data Capture. This ensures that extra insulation in terms of safety, trends, policy compliance, and retrieval of information is not a gamble.
Server Backup
It's not enough to back up your data. There is an added security with server backup that Cohesity offers. Within this feature, the options include Backup Scheduling, Bare-Metal Restore, Compression, Disaster Recovery, Encryption, Incremental Backup, and VM Backup.
Rubrik invested more in Backup Scheduling, Bare-Metal Restore, Continuous Backup, Disaster Recovery Encryption, Incremental Backup, and VM Backup
The two differ in that Rubrik does not undertake Compression, whereas Cohesity doesn't handle Continuous Backup.
Server Management
Cohesity offers daily server management. With this feature, clients enjoy Patch Management, Scheduling, Server Monitoring, Virtual Machine Monitoring, and Event Logs.
Rubrik ace out Cohesity in terms of the number of features within its arsenal. It provides security by carrying out threat intelligence, incident management, vulnerability management, encryption, and intrusion detection system. Cohesity is silent on this feature.
Features like Database Management, data governance, and data center management make Rubrik a step ahead of Cohesity.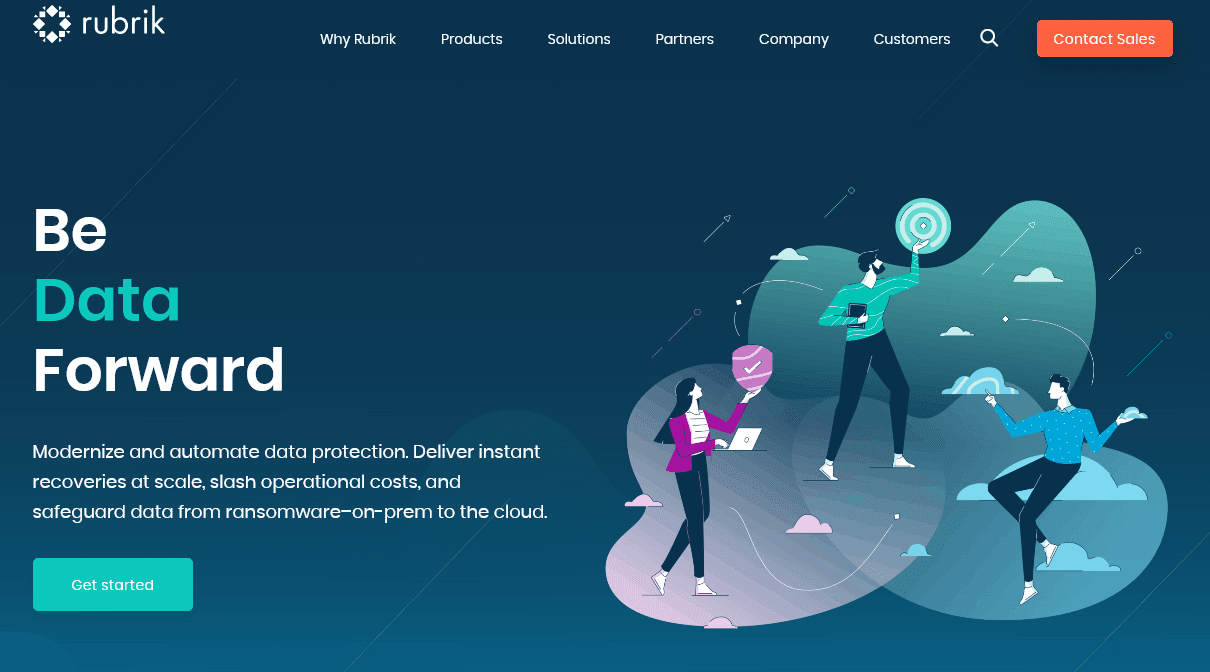 Cohesity vs Rubrik – Customer Support
Cohesity has heavily invested in automation, minimizing the need for extensive customer support. However, they have easy-to-access 24/7 live support available at the tap of a button during working hours, whereas Rubrik has 24/7 live support accessible even beyond working hours to compensate for its support-heavy features.
Comparing Cohesity vs Rubrik – Pricing
Even though both Rubrik and Cohesity offer a free demo, they are silent on their pricing and you will need to get a quote depending on your unique requirement. This may be a turnoff to some prospects who would like to compare prices of different vendors.
Cohesity vs Rubrik – Ease of use
Cohesity has won over the hearts of many users due to its ease of installation. It is known to be intuitive, customizable, and stable. What's more, features are constantly added to further enhance its capabilities.
Rubrik has an advantage of its deduplication capabilities, restoring your data exactly where you need it while also archiving your copies giving you a level of assurance.
Cohesity has one of the fastest recoveries of data. VMware backup VM up recovery takes less than one minute! This is essentially important for time-sensitive industries.
How do Cohesity and Rubrik rank on market share reports?
Cohesitys' 274 current customers account for its 0.27% market share in the back-up and recovery category, whereas Rubrik has 0.36% as a result of their 335 current customers.
Cohesity has been extensively adopted by the information technology industry accounting for 140 whereas Rubrik trails with 88 accounts.
In terms of the Software industry, Cohesity boasts of 74 whereas Rubrik stands at 41 accounts.
Whereas Cohesity has a wide adoption within the consulting industry with 34 accounts Rubrik spread its wings to the Security industry instead, with 17 active accounts.
Of course, Rubrik has an additional stake in other industries category namely; Data Management, System Administration, Cloud integration, and business continuity whereas Cohesity has a deeper penetration of Backup and Disaster Recovery industries.
Rubrik has become the favorite tool for data backup in the United States with 56.66%, 3.75% in the UK, and France accounting for 3.41% client base whereas Cohesity has top users based in the United States with 55.85%, 6.37% within the UK and 3.70% from Canada.
Cohesitys' top competitors are Iland and Microsoft Azure Site Recovery with 10.41% and 6.93% market shares respectively whereas Rubriks top three competitors are Rapid Recovery with 65.26%, Business Continuity with 25.11%, and Sonian 1.65% market share.
The top three countries to adopt the usage of Cohesity includes the United States with 55.85%, UK accounts for 6.37% while Canada has 3.70% of the total client base. Rubrik's United state client base, however, accounts for 56.66%, UK 3.75% while France accounts for 3.41%.
Pros and Cons
Rubrik
Pros
An easy initial setup and configure.
Has laudable customer support available 24/7.
Efficiently backup SQL Server natively
High scalability as adding new nodes is easy.
Restores servers fast and efficiently.
Enable users to easily navigate because of their self-learning mechanism deployed.
Through native snapshot technology, Rubric executes direct live MVs backup.
Constantly improving their systems to meet customers' needs.
Cons
Requires improved protection from ransomware.
SLA retention is longer than 999 days.
Limited AWS integration.
Cohesity
Pros
Recovers VMware backup VM up fast
Features are easy to use and manage.
Infinitely scalable
Has no disruptive upgrades with no downtime
Provides analytics on storage allowing the business to plan on advance
Data encryption is reliable.
 Cons
Lack of data management and security analytics needs improvement.
The support team needs constant training to provide a central solution center.
Are there any alternatives?
Altaro VM Backup
Altaro VM Backup offers robust support for businesses that require an efficient backup and replication and a data recovery solution for their virtual environments. It also allows IT resellers Managed Service Providers (MSP) to effectively offer VM backup & recovery services.
It allows for a 30days free trial with another free usage on 2 VMs. With over 50,000 customers in 115 countries and 24/7 customer support, Alro VM Backup is always on the lookout for another feature that can improve user experience.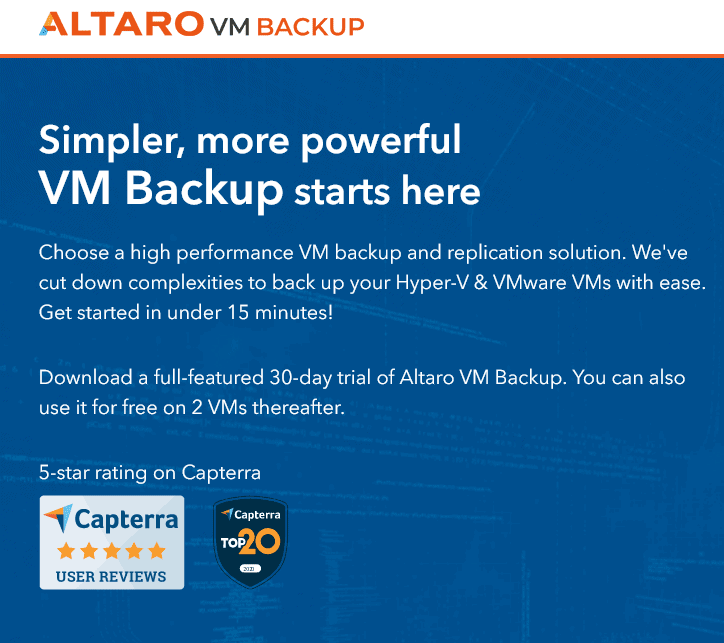 Altro VM Back up has categorized its price into two, i.e. perpetual license (with a renewable Software Maintenance Agreement) and an annual subscription starting from €765 per host and €77.99 per VM per year, respectively. The two options both offer a free edition for Micro businesses.
Spinbackup
Consider an alternative to Rubrik before settling for a preferred software. While Altro VM Backup is still an alternative option to Rubrik, Spinbackup is another great option.
As an API-based Cloud Access Security Broker, Spinbackup protects various small and large businesses like non-profits, enterprises, and schools against ransomware, insider threat, and human error.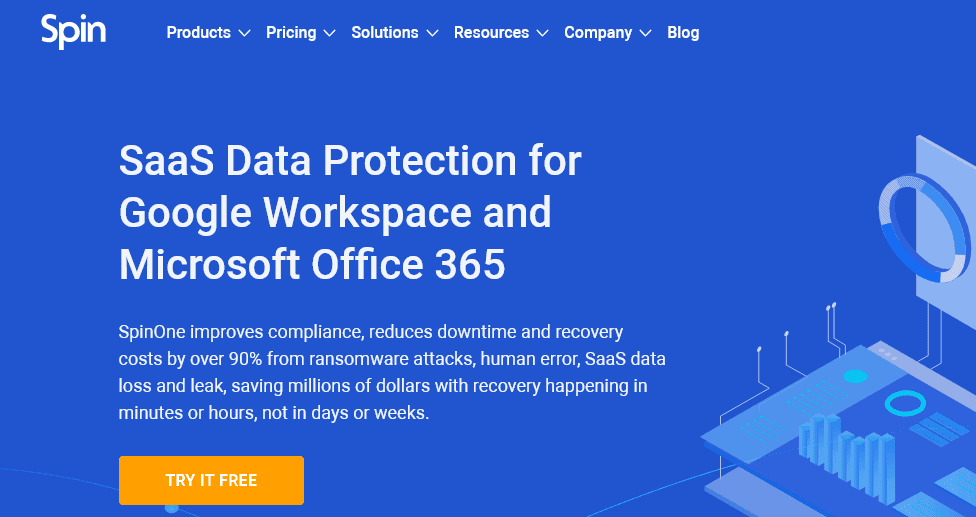 Spinbackup has invested in three sets of payment plans. There is the pricing for ;
G-suite data protection: three packages, namely SpinOne for $6.00, SpinSecurity for $5.00, and SpinBackup at $3.00 per month.
Office 365 and Backup and security: SpinBackup for O365 priced at $4.00 and SpinSecurity for O365 at $5.00.
Individual Google Account Backup: Pay as you go priced at $48 per year for 50GB storage and a free version for 4GB.
Spinbackup G-mail cloud backup software feature is a good selling point because businesses have that added advantage of security solution and data backup and storage in the cloud.
Frequently Asked Questions about Cohesity and Rubrik
Question: What is the ideal number of users for either Cohesity or Rubrik?
Answer: Rubrik will efficiently serve 1-49 accounts, whereas Cohesity can handle over 1,000 accounts.
Question: Where is it more efficient to adopt Cohesity or Rubrik?
Answer: Cohesity is invaluable for enterprise, whereas Rubrik cloud management can well be utilized by mid-sized to large organizations keen to manage data search, undertake analytics, recovery, retrieval, and compliance across various data centers.
Question: Which one is potentially more pricy between Cohesity or Rubrik?
Answer: Even though prices for both can only be accessed through quote requests, Cohesity is highly automated, reducing the amount of human support required, hence reducing the operational cost, whereas Rubrik has several tiers that require customer support. This essentially increases the overhead cost.
Conclusion: Our Verdict on The More Efficient Data Recovery & Backup Software
Rubrik and Cohesity are justified to cause an enormous storm in the backup and recovery industry being new entrants. They come with a robust, much-needed ease of operation and friendly user interface.
They also provide an almost similar level of data recovery and backup solution and their major differences lie in their pricing. We hail Cohesity for keeping their ears on the ground and constantly improving following user feedback. This is a very important factor in the dynamic field of data backup and recovery.
Large enterprises will find Cohesity more suited for them considering the amount of data they handle every day, while medium too large will find Rubrik more cost-effective.
We hope this article has helped you decide which recovery and data backup software to go with.